How to Edit Sounds by TikTok and Delay Music
Background music is quite an important part of your TikTok video. When you record and make a video within the TikTok app, you should know how to add and edit sounds. TikTok collects lots of songs for you to use. Moreover, it offers many editing options and sound effects to customize how the audio appears in your video.
This post will give you a detailed guide about how to add and edit music while creating a new video using TikTok. Considering that, many users are searching for the TikTok delayed effect, here we also share a simple way to delay music with TikTok.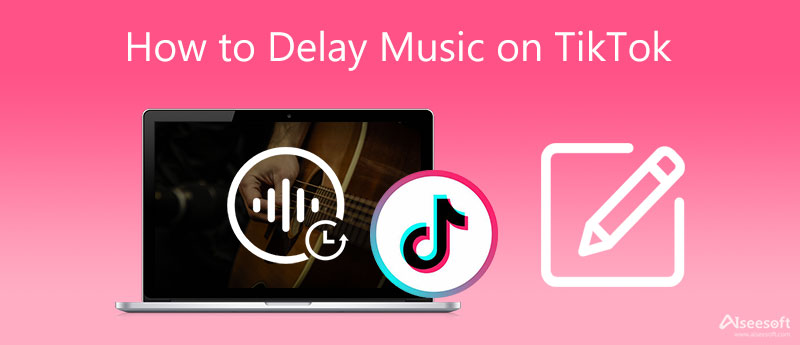 Part 1. How to Add and Edit Sounds with TikTok App
First, we will guide you to add a song to your videofor TikTok. In addition, we will show you how to edit sounds and apply effects to audio through TikTok.
Step 1:
Open the TikTok app and tap on the
+
icon at the bottom central part of the screen. Then you will be guided to the video recording and creating interface.
Step 2:
You can either directly capture a video, or select an existing video file by tapping on
Upload
. To add the background music to a video for TikTok, you should use the
Sounds
feature which is designed at the top of your screen. You can tap on
Sounds
to enter the TikTok audio library. Here you can look through various songs.
Step 3:
You are allowed to preview the music and check if it is fit for your video. Just tap on the song, and it will be added to the video.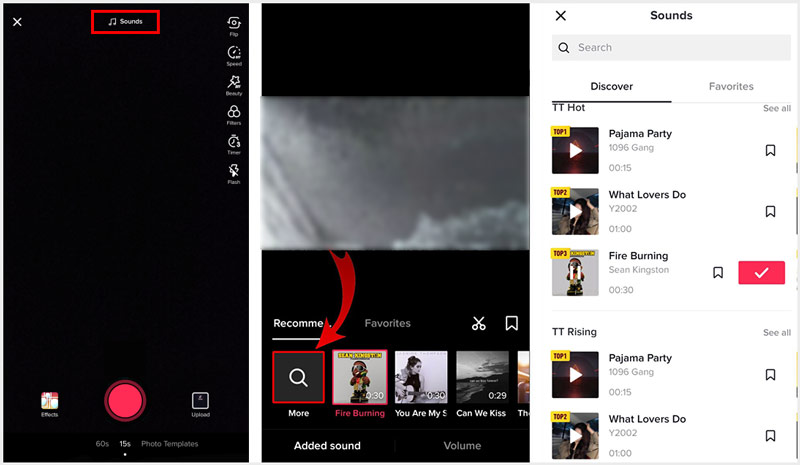 Step 4:
When you want to edit the background music, you can tap the
Volume
button on the right-hand side, and then freely adjust the original sound and added sound.
Step 5:
If you need to edit the added song length with TikTok, you should tap the scissors icon to arise the sound wave. Then you can drag to adjust the sound.

Step 6:
TikTok also allows you to record a voiceover and use different voice effects. You can find the specific options on the right side of the screen.
Part 2. How Do You Delay Music for TikTok
For some purposes, you prefer the music starts later in a video for TikTok. So you may wonder if there is a TikTok delay effect. However, the TikTok app doesn't offer a feature to delay music for now. To do that, you have to rely on a professional video editor. Here we sincerely recommend an easy-to-use TikTok video editor, Video Converter Ultimate for you.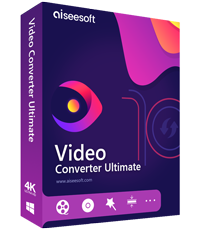 Downloads
Aiseesoft Video Converter Ultimate
Add music and delay the audio track on video for TikTok.
Edit video for TikTok, add texts and background music, and adjust image/sound effects.
Carry many video and audio editing features to edit the video for TikTok.
Offer multiple effects, themes, filters, and options to custom video for TikTok.
Step 1:
To delay music on video for TikTok, you should first download and run this video editor for TikTok on your computer. Ensure you are under the
Converter
feature, click the
Add Files
or the
plus
icon to add your video file.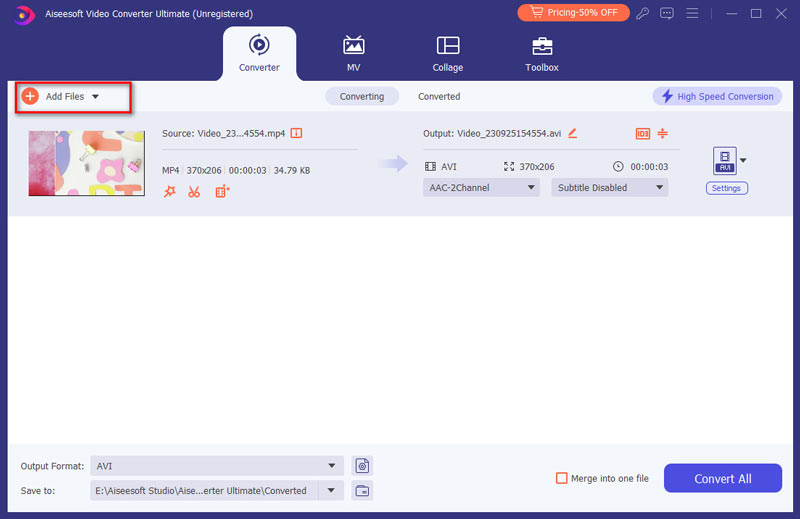 Step 2:
Now you can use the Edit, Cut, and Enhance Video features to edit this video. If you want to edit the audio track, you can click on the
Edit
icon. In this function, you also can
crop videos for TikTok
.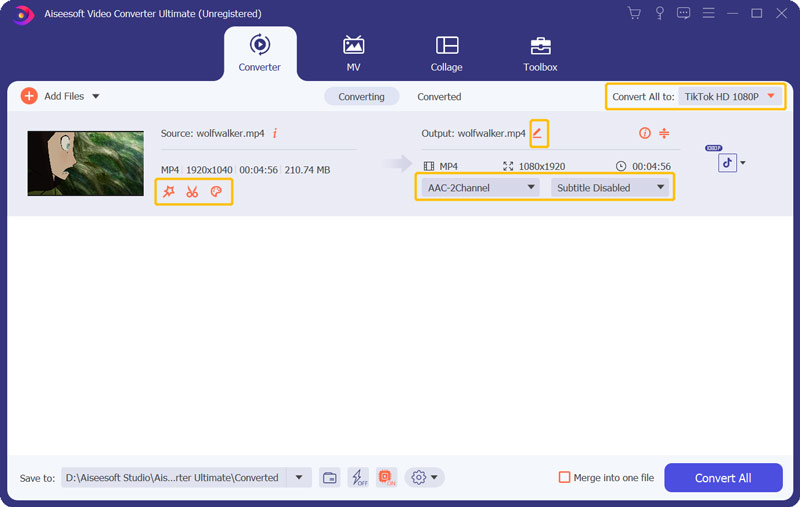 Step 3:
Click on the
Audio
tab to find the
Delay
function. You can use it to delay music based on your need. A built-in media player is designed in this video editor. You can adjust the delay result based on it. During this step, you are also allowed to change the audio track and customize its volume.
Step 4:
Select a TikTok supported format from the drop-down list of
Convert All to
. Then you can click the
Convert All
button to confirm your editing operations and save the video on your computer.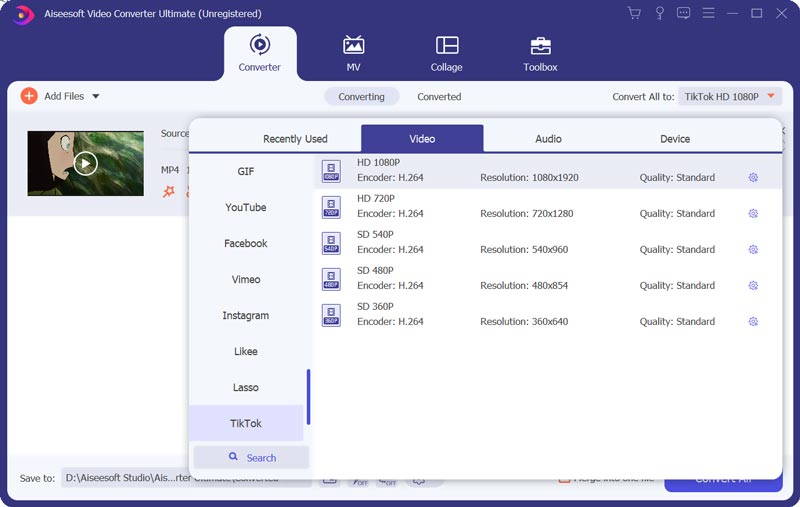 Part 3. FAQs of TikTok Music Delay
1. How long can I make my TikTok video?
TikTok has raised the length limit to encourage users to create video content. Once, the max length for TikTok video was 1 minute. But now, you can make a video up to 3 minutes in length. And you can adjust the video length for TikTok too.
2. How to mute the original sound of my recorded TikTok video?
After you add the new background music to your captured TikTok video, you can tap Volume on the right side of your screen, and then drag the volume bar of the Original sound to 0.
3. How to add songs to Favorites on TikTok?
When you enter Sounds and find some songs you may use later, you can choose to add these songs to your Favorites category. Just tap on the Favorite icon of each song to add it.
Conclusion
Want to delay music for TikTok but don't know how? Truth is, you can't directly make an audio track start later in a video within TikTok app. So this post shares another way to edit the background music of your video and delay its music with ease for TikTok.

Leave your comment and join our discussion