How to Delete Your Yahoo Mail Account and Data on iPhone
In the past few years, Yahoo underwent a tough and terrible period due to some not-so-great revelations. It is well known that security breaches and illegal spying are the main reasons resulting in the privacy and security violation of over 500 million users. That's why more and more and more people has already switched to another emailing service or is going to close down their Yahoo Mail accounts.
When you choose to delete your Yahoo Mail accounts on your iPhone, there might remain account emails and data. So, a completely data cleaning for iPhone can be a simple way to achieve it as they intend to free up more space and permanently delete all of data of your accounts on iPhone.
If you are tired of Yahoo's data breaches and intend to delete emails completely, perhaps it is time to take your internet privacy into your own hands. This guide will show you how to delete your Yahoo Mail account on iPhone and how to delete its emails.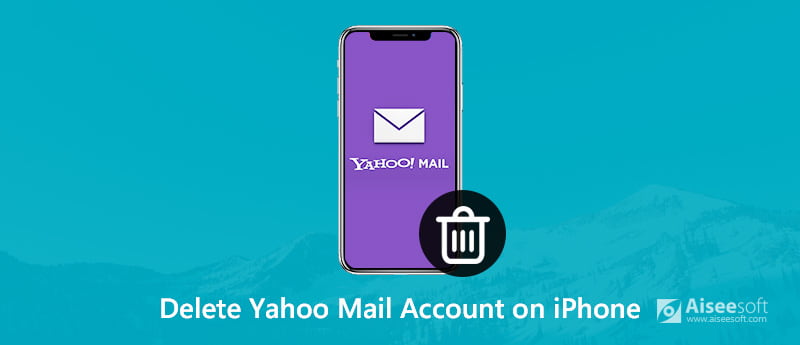 Delete Yahoo Mail Account on iPhone
Part 1. How to Delete Yahoo Account on iPhone
What do you need to know before deleting your Yahoo Mail account?
Since you're closing Yahoo Mail account, you should be completely sure you don't actually need that email address and you have cancelled any paid Yahoo service and saved your Flickr photos before continuing.
Many online services—from bank, credit card, and investment accounts to social media services like Facebook and stores like Amazon.com—rely on your email address. Ensure you have a new email address associated with all your important online accounts before continuing. If you delete your old email address while important services are in connection with it, you may miss important email notifications and you won't be able to use your email address to recover your password.
Step 2.
You will be asked to Sign in using your existing ID and password. Type in the CAPTCHA code to confirm you are a human and not a bot.
Step 3.
Read the text on the page titled "Before continuing, please consider the following information." It details what you will lose when you delete your Yahoo Mail account. Press Continue.
Step 4.
Enter your email address once more into the field provided.
Step 5.
click Yes, terminate this account. You will know it worked if you see a message that reads "Your account has been deactivated and scheduled for deletion."
1. You have up to 90 days from the time of deletion to recover your account. After that point, you won't be able to recover the account, as it would have been forever deleted from Yahoo servers.
2. As soon as you close your account, senders trying to message your deleted Yahoo Mail account's address will receive a delivery failure message.
3. When your account is permanently deleted, your username and email address will be available for others to use in the future. Thus they might receive messages supposed to send for you if you don't send notices of address change.
Part 2. How to Delete Yahoo Emails Stored in iPhone
Just deleting your Yahoo Mail account maybe is not enough to achieve all-data cleaning. You still need to delete the remaining emails and data from your account to free up more space on your iPhone and protect your personal privacy. Here we recommend you a professional iOS Eraser — Aiseesoft FoneEraser to help you. FoneEraser is the most professional utility to erase all iPhone data permanently and thoroughly. With three erasing levels to select, you can erase any data on iPhone/iPad/iPod (iOS 10.3, iOS 11, iOS 12, iOS 13 and iOS 14 supported) to protect your privacy. You can free download and install it on your computer.
Step 1.
After finishing installing, run FoneEraser and connect your iPhone to computer. If your iPhone has a passcode you will receive a popup message stating that "unlock iPhone to use accessories". Then confirm that and enter passcode.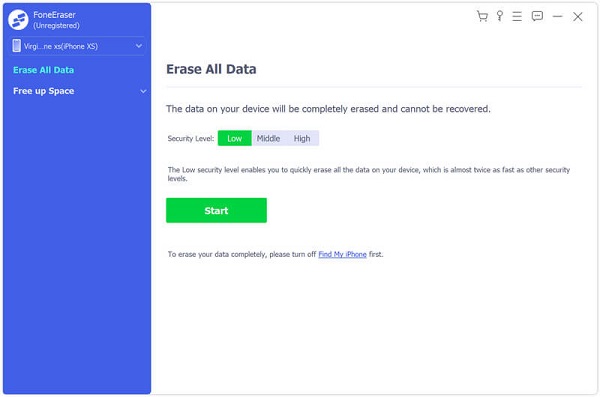 Step 2.
If you want to delete all emails and data left from your account thoroughly, we recommend you to select high level erasing for this.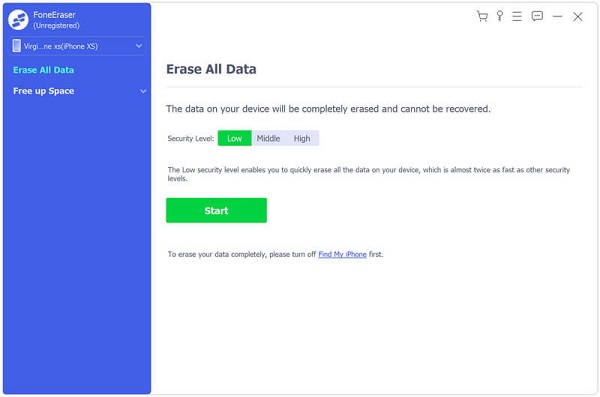 Step 3.
Erase with clicking Start button. You will delete all remaining emails and data from your iPhone.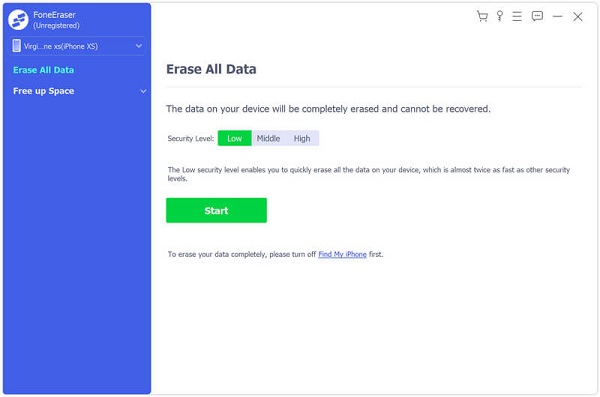 This software can completely clear all remaining account emails and data on your iPhone a few minutes later. Please kindly notice that this software is an iPhone erasing software, which can thoroughly deleting all data including remaining emails on your iPhone. Therefore, please think it over when you just only delete some of data on your iPhone. In contrast, if you want to free up more space on iPhone or don't want to use this iPhone any more, this software will be definitely good for you.
Conclusion
In this guide, we mainly share how to delete Yahoo Mail account on iPhone. We also recommend a professional iPhone Eraser to delete all data on your iOS. Hopefully you can protect your internet privacy and free up more space on your iPhone.