How to Completely and Securely Erase iPhone
When giving away your old iPhone, you must want to wipe all content and settings from iPhone in order to preserve your privacy. And you may also expect that all your personal information stored on iPhone can be erased securely, completely and irretrievably.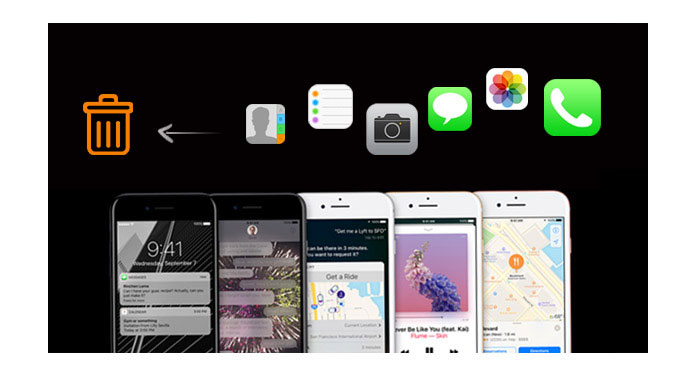 Luckily, iDevice has a built-in method for you to fully erase all data on your iPhone, iPad or iPod touch. It is very simple. Just follow the steps: go to Settings > General > Reset > Erase All Content and Settings. After a series of taps on your iPhone, iPad or iPod touch, are you really sure that these erased data could not be restored any longer? No, that being said and proved, those data erased by the above-mentioned method could be recovered by using certain Data Recovery tool. That is to say, the built-in option in your iOS device is not an ideal way to remove everything from your device. Here, we recommend you a better way to erase all contents and settings on iPhone.
You may be interested in: Recover Deleted or Lost Data from iPhone.
How to securely and permanently erase all data from iPhone with FoneEraser
FoneEraser is a third-party Data Eraser tool which is specially designed for Apple users to erase all data from users' older iPhone, iPad, or iPod touch. It has the ability to erase photos, songs, Apps, contacts, text messages, notes, and other contents and documents on iPhone SE/6s Plus/6s/6 Plus/6/5s/5c/5/4s/4/3GS. The greatest strength of this Data Eraser is to erase your iPhone, iPad or iPod touch permanently and securely. Namely, the iPhone erased by FoneEraser is just like a new one without any old users' information. In this case, you will be assured to give away your older iPhone to others. The following part shows the detailed steps of erasing iPhone with FoneEraser. Now, let's get iPhone history deleted!
FoneEraser - iPhone Data Eraser
Erase various contents and settings permanently.
Clear Safari cache and browsing history on iPhone.
Clear app cache and cookies on iPhone completely.
Meet your personal needs with three erasing levels selectively.
Available for all iPhone X/8/7/6s/6/5s/5/4 in iOS 7/8/9/10/11.
Step 1 Download and install FoneEraser.
After downloading FoneErase, install it on computer.
Step 2 Open FoneEraser and connect your iPhone to computer via USB.
Open up FoneEraser and connect your iPhone via USB to computer.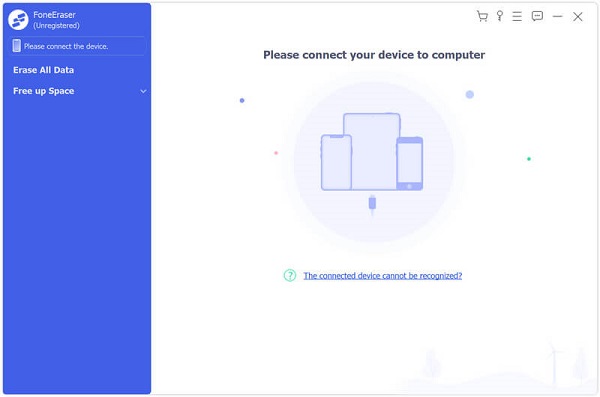 Step 3 Choose devices and the erasing level
Once connected to computer, a table is shown in the left side of interface. Choose your iPhone and the erasing level (Low, Medium and High level) to erase.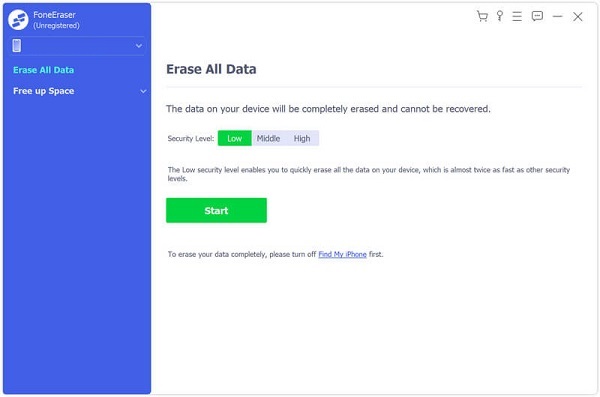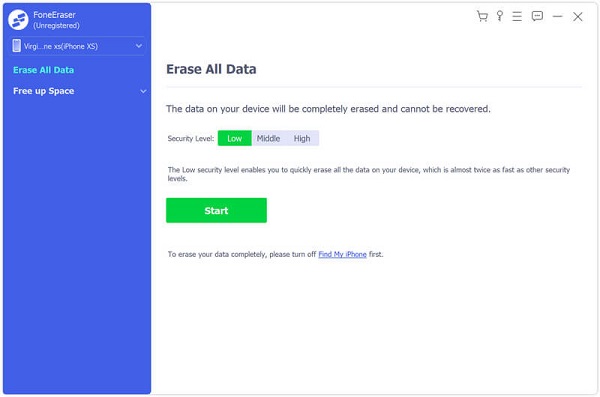 Step 4 Erase your device
After selecting device and the erasing level, click the Start button in the right side of the interface to erase iPhone.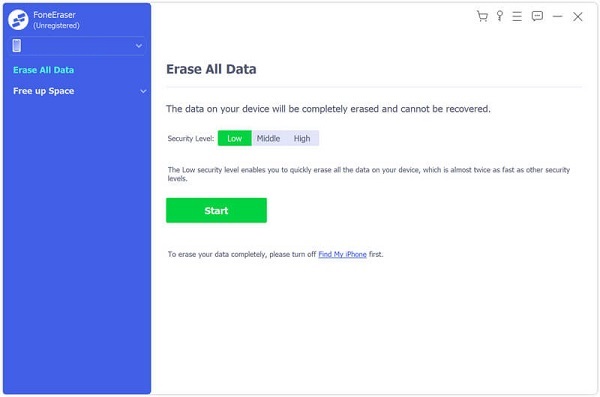 It is worth noting that you should back up all contents and settings on your iPhone before erasing in case that you need them in later days.