Tutorial to Help You Export Video from After Effects Quickly
While After Effects is an awesome video editor project, many people said that it was too professional to use. There are many guides related to the best video editor and this article focuses on how to export video from After Effects.
When you finish video editing and go to the Export menu, you will face a number of options, such as Media Encoder, Render Queue and more. It is difficult to choose the right method to save your videos.
In fact, both Media Encoder and Render Queue are able to output a video. We are going to tell you how to choose the better one to export video from After Effects.

Export Video from After Effects
Part 1: How to export video from after effects with Media Encoder
Adobe Media Encoder is used to create a high-quality video file for the web, DVD, or other optical discs. It provides the flexibility to continue working in After Effects while your video file is being processed. More importantly, with Media Encoder, you can adjust additional presets and options that are not available in Render Queue.
Step 1 Locate the Project Window and select the video or video project that you want to export.
Step 2 Go to File -> Export -> Add to Adobe Media Encoder Queue to add the video to the Queue.
Step 3 When the Media Encoder dialog pops up, you can change the preset. For regular video, for instance, use 1920 Screening ProRes 422 LT. If you need to export video from After Effects with a transparent layer, select CCAM ProRes 4444 Playback to create an alpha channel.
Step 4 Press the text in the Output File area and set a location to save the video. Next, click the Save button to confirm the setting.
Step 5 Once hit the green play button at top right corner, your video will be exported to your computer, and you can play it directly with Adobe Flash Player.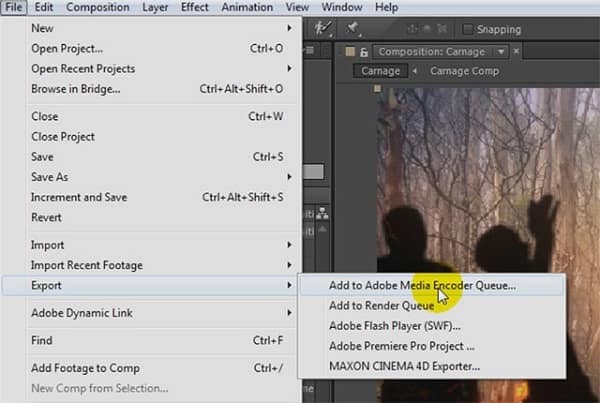 Part 2: How to export from after effects using Render Queue
Unlike Adobe Media Encoder, Render Queue is able to produce high-quality videos or image sequences that are used in another video editing application. It is the primary way to export video from After Effects, and you can render multiple videos in batch.
The downside is that Render Queue only offers the basic options.
Step 1 After editing your movie, navigate to Composition -> Add to Render Queue, or you can go to File -> Export -> Add to Render Queue to open the Render Queue dialog.
Step 2 Next, change the Outfit Module option to Lossless. That will prevent from quality loss during rendering. Then pick up your favorite video format from the Format menu.
Step 3 For regular video, select RGB from the Video Output option. If your video includes an alpha channel, choose RGB + Alpha. Make sure the Audio Output setting defaults to Auto.
Step 4 Click on the OK button, and then drop the name and destination, and hit OK to continue.
Step 5 Press the Render button at the upper right corner to begin exporting video from After Effects.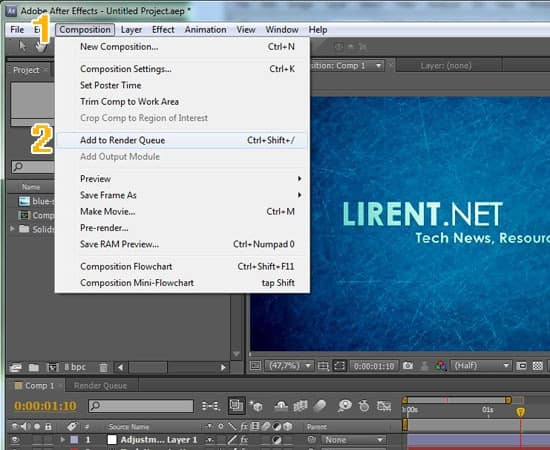 Part 3: Convert exported video to other editor/player
If you want to watch or edit the video exported from After Effects, we recommend you to try Aiseesoft Video Converter Ultimate.
Convert videos to another multimedia formats (over 1000) in one click.
Produce the highest video quality automatically.
Offer a wide range of custom options.
Integrate a video editor and a video enhancer.
Compatible with Windows 10/8/8.1/7 and Mac OS X.
Apparently, it is the best option to convert your videos after exporting from After Effects.
How to convert exported video with Video Converter Ultimate
Step 1 Get the best video converter application
Download and install Video Converter Ultimate to your computer, and run it. Click the Add File menu to import the videos that you want to convert, or you can drag and drop the video files into the interface directly.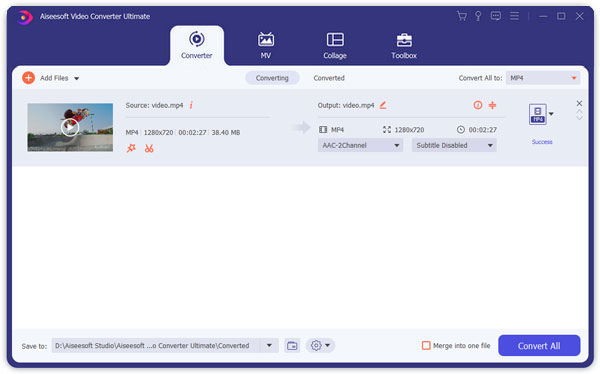 Step 2 Convert the videos to your desired format
Next, select a proper video format from the Profile dropdown menu, click the Browse button and choose the specific folder to save the output. You can find other custom options by hitting the Settings button. Click on the Convert button to initiate the process.
If you would like, just try its editing feature to edit video or audio file in this program.
Note: Video Converter Ultimate can deal with multiple videos at the same time using hardware acceleration technology.
Conclusion
In this tutorial, we told you how to export video from After Effects. As you can see, there is more than one way to complete the task. Adobe Media Encoder allows you to edit the video further during exporting, and Render Queue has the capacity to export multiple videos at the same time. Plus, we also share the best way to convert your videos, Aiseesoft Video Converter Ultimate. It is able to simplify the process and generate high-quality videos for playback on smartphone or computer. We hope that our guide is helpful to you.