Fast and Free Advices to Acquire More Likes on Instagram
Instagram allows users to post images or create short videos to share with friends around the world. For Instagram users, attracting new followers or increasing your brand's customers and likes is almost everything on Instagram. Don't know how to get more likes on Instagram? Let's read on.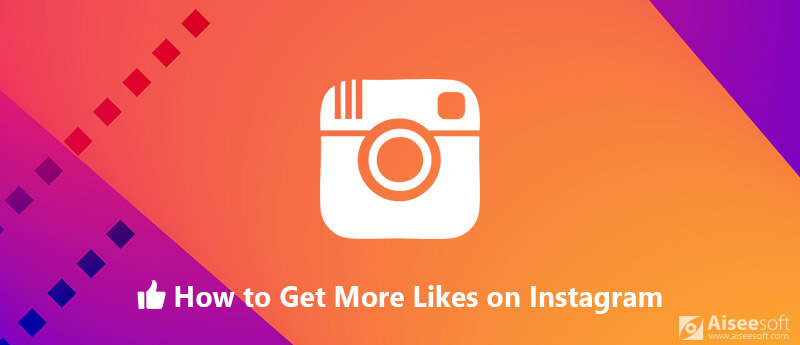 Part 1. 10 Easy Ways to Get More Likes on Instagram
1. Post High-quality Contents
Likes are the driving force of your productivity. In order to gain more likes from your followers or audience, please post high-quality images or videos.
You should think twice or three times before you post. Planning what to post and dedicating which will be welcomed are both important. Only when you post some interesting ideas, the quantity of your likes will be increased.
When you have indeed devoted your time to thinking the ideas posted on your account, you will have a harvest of likes.
Please also pay attention to the resolution of your photos. It would be terrible if you have posted a wonderful image with obscure view.
2. Create Excellent Video
Sometimes, people are not interested in regular images as they are always static. Compared to common pictures, a wonderful Instagram slideshow could erase the bad experience of static pictures. It could share a mix of up to 10 photos or videos as a single carousel post, which has a big advantage to tell followers a story. Now, you could make Instagram slideshow and post it for followers to swipe through.
Please also note that Instagram users are allowed to browse the posts without audio. You should also pay attention to your video content, like filters, composition, tone, light, and so on. For example, if you capture videos in landscape mode or horizontal mode on smartphone, you should rotate the video before posting it on Instagram.
PS: As for how to make excellent videos in detail, you can direct to part 2.
3. Keep Consistent Style
In order to create perfect content, you should try to focus on a particular field, thus your followers won't be confused or disappointed. Creating a visual recognition among your followers is helpful for you to get more likes on Instagram.
The same or similar filters could also do you a favor. By doing so, followers will recognize your account at once. Thus, they will give you a like without hesitation. They are more likely to download your Instagram photos as wallpaper or save your Instagram videos for further watching. If you change your styles frequently, followers will scratch the screen and ignore your account.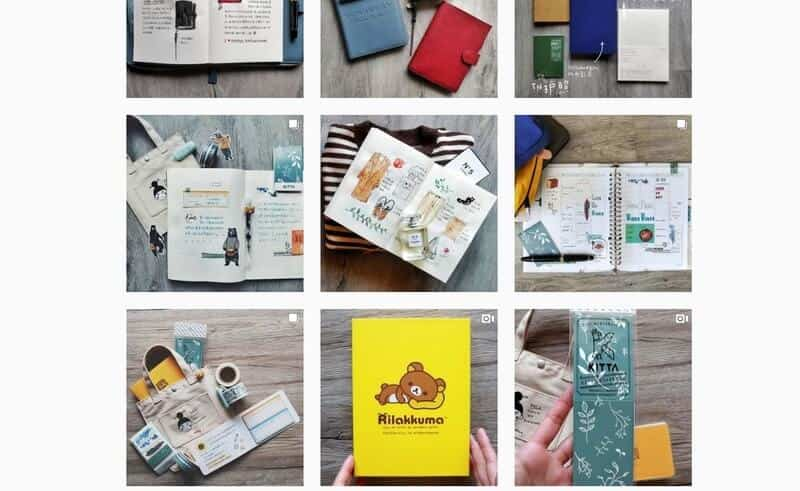 4. Add Hot-topic Hashtags
Many users are used to searching hot-topic hashtags. They are interested in what has happened in the world. When you add the hot-topic hashtags with your great content, your images will be reached by more Instagram users. Therefore, you can get more likes quickly.
Please also note that you should add appropriate tags to your photos. That means you could add the popular tags regarding to your posts, instead of adding hashtags as much as possible. Suitable hashtags will push your posts to more Instagram users. The more users click and view your posts, the more likes you would get. By doing so, your images or videos will be recommended to more users according to the algorithm of Instagram.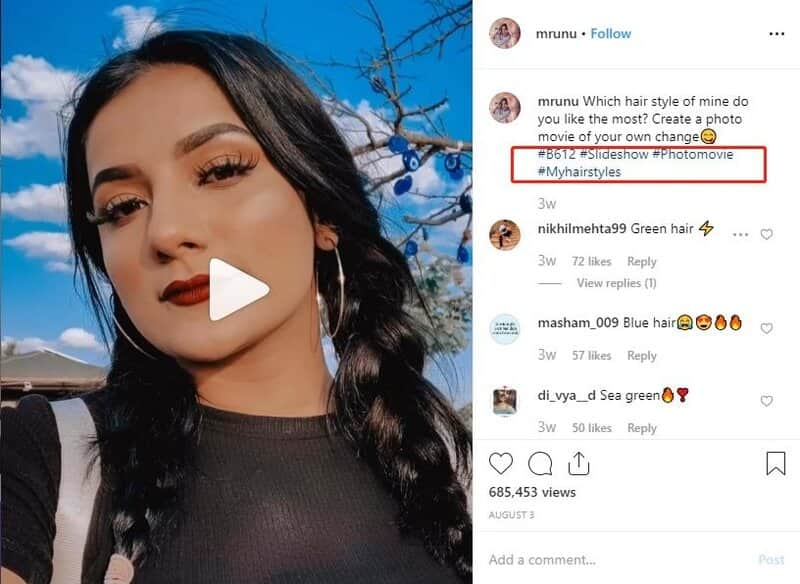 5. Tag Your Location
In order to get more likes quickly and freely, you must be smart about using tags. Tags can help you get much more attention quickly. Tag your location is such a case. Especially for official accounts, it is wise to add geographic location. Because Instagram users will search the geographic tag and easily find your posts. Eventually, you will get more likes.
It is very easy to tag your location. You just need to click "Add Location" and choose the correct place.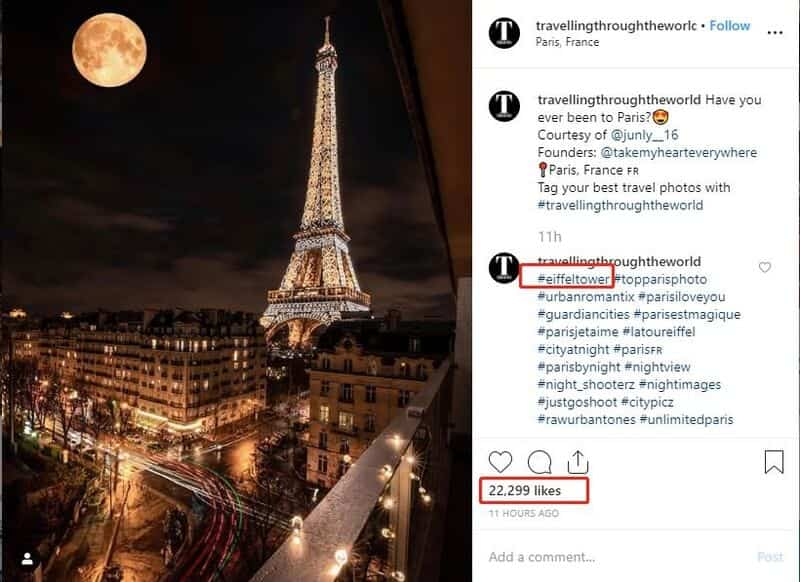 6. Update Frequently
Everyone has short attention spans. Therefore, you should update your account frequently. If you post photos or videos twice a year (exaggeration example), how could you get likes from your followers? So, please evaluate your previous posts and see which has got the most likes. You can create the same or similar content and share it via your Instagram account frequently. Updating consistently also helps you in such a world with Big Data.
7. Share across Multiple Platforms
You can also share your content on other platforms at the same time. For example, Facebook, YouTube, Tumblr, Twitter, Tik Tok and so on. Maybe not everyone will browse all the popular social platforms. Therefore, it is of great importance for you to update across multiple platforms, which can multiply the likes. For example, you could post your YouTube videos to Instagram. If you update your content all the time, users from other platforms will rush to your Instagram account in the end. Therefore, don't be bother to sharing across multiple platforms.
8. Pay Attention to Posting Time
If you have noticed all the tips above, but you posts still get few likes, you should pay attention to your posting time. It seems very simple. However, you must think more about this matter and research your followers' response. It would be frustrated if you have uploaded the images with much efforts and only a few people give you likes. Therefore, you should find the appropriate posting time for your target followers by trial and error.
9. Frequent Interaction among Followers
The engagement of followers is also important. If you interact with your followers frequently, they will find connections to your life and have no sense of distance. They will be willing to browse your posts and give you more likes than before. If you always post your life and stories on your own, which would be dull and boring. Try to interact with your fans more frequently now.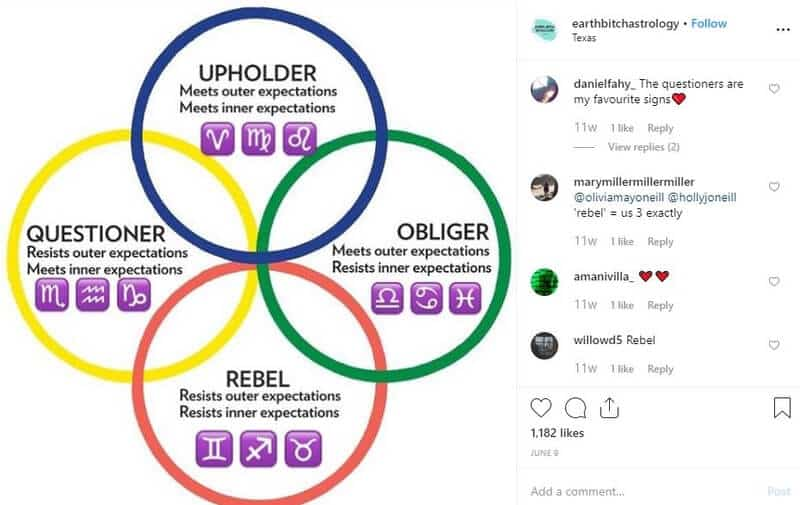 10. Tag Influential Accounts
You can tag some influential Instagram users in your post, but you couldn't tag so much in case that your post will be viewed as a spam. When you tag other accounts, they are usually grateful for your appreciation and reply with likes or comments. It is a good way to increase the possibility of being viewed. Then, you will get more likes with the help of influential accounts. Or you can cooperate with some influential accounts to launch some special events and get more likes on your posts freely. It's also a good way to increase your follower base.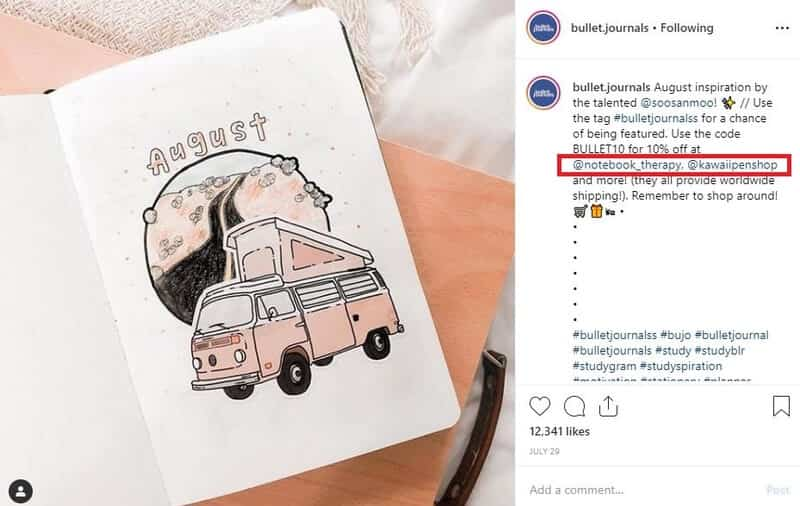 Part 2. Make Attractive Instagram Videos with Slideshow Creator
You can make Instagram videos with Slideshow Creator. With Slideshow Creator, you can create much more perfect and interesting videos, which could help you receive more likes.
Slideshow Creator is the best movie maker and video editor. It will add life to your photos by turning them into video and adding background music. Various photo formats are supported, including JPG, JPEG, PNG, BMP, TIF, TIFF, ICO, DIB, JFIF, EMF and GIF. This is a great way to share your stories and memories on Instagram. Also, if you have several video clips shot in your journey, you can use this movie maker to make a travel vlog. Turning your photos and videos into movie, and adding your own narration or music files as the background sound, these are basic and main functions of this Slideshow Creator.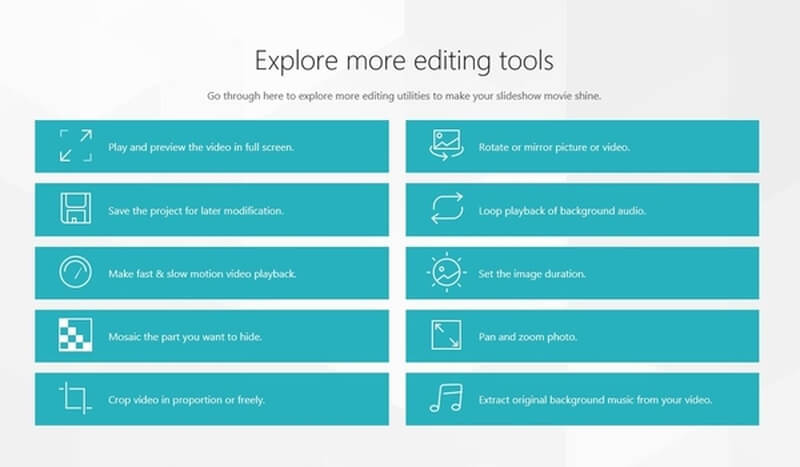 Let's see how to make an excellent video for your Instagarm via Slideshow Creator. Even without professional knowledge, you can use this slideshow creator in simple steps by yourself.
Step 1.
Download, install and run Slideshow Creator.
Step 2.
Add files, including photos, pictures, videos into Slideshow Creator. Also add the background music if you want to use.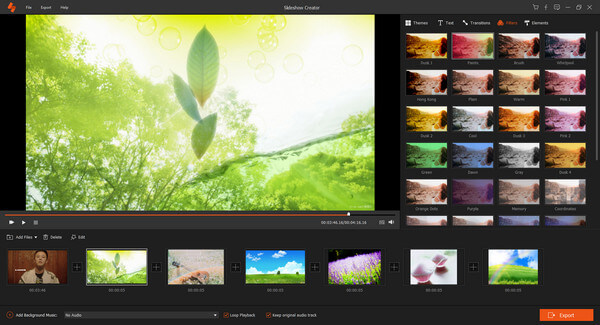 Step 3.
Edit the style of your video. Choose your favorite theme, add elements, texts, choose transition effect and filters as you like.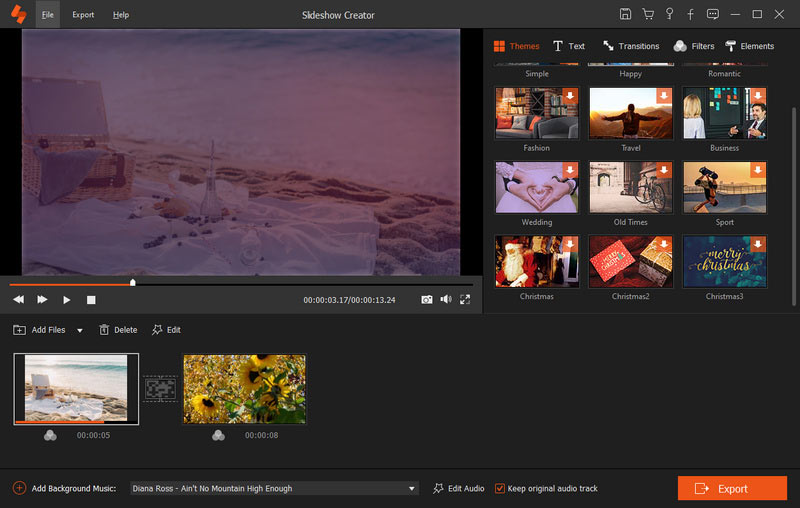 Step 4.
Choose the output format you want and export the slideshow video you made in order to share on Instagram.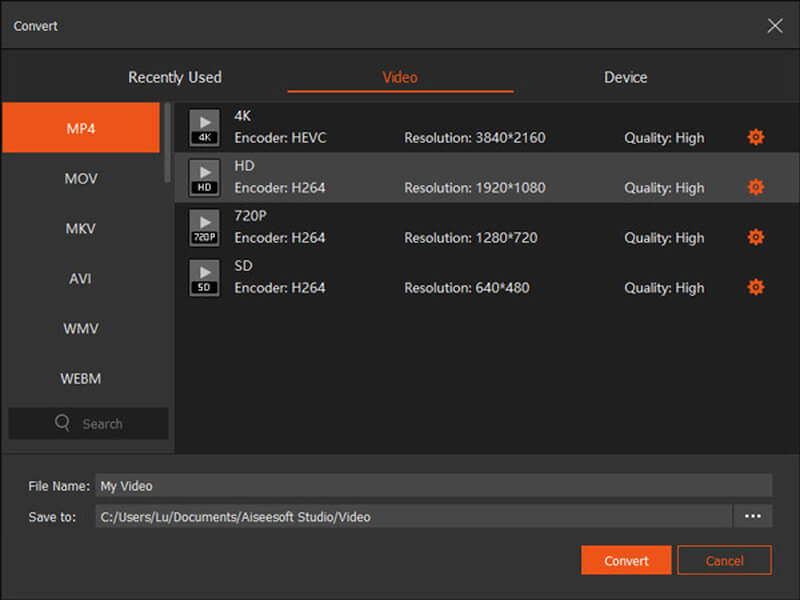 Step 5.
Find a suitable time to upload the video on Instagram. Then you can get more likes.
Conclusion
When you want to get more likes freely and quickly, please try to consider the methods above. They are all effective ways for you to increase your follower base and get more likes on the Instagram. Please don't forget to create your excellent videos via Slideshow Creator. It helps you get more likes on your Instagram posts.