Part 1: What does Offload App Mean
Offload Unused Apps is a concept specified by Apple. As you can see in the description for it in your iOS settings, Offload Unused Apps means "Automatically remove unused apps, but keep all documents and data. Reinstalling the app will place back your data if the app is still available in the App store."
In other words, after you offload an app, the program itself will be deleted but the associated settings, documents, using habits, and game progress will stay on your iPhone.
Note:The steps below to offload apps do work on iOS 11 to iOS 15.
Part 2: How to Manually Offload Unused Apps in iOS
For the users of iOS 11 or higher, your iPhone allows you to offload unused apps manually. This is different from removing or deleting apps from your iPhone because the data of the offloaded apps will remain on your iPhone. Here we provide both manual and automatic methods to offload unused apps.
Steps to manually offload an unused app in iOS settings:
Step 1.
Unlock your iPhone, find the
Settings
app (a gear icon), and tap to open it.
Step 2.
Swipe upward to find the
General
button and tap it.
Step 3.
Tap to enter the
iPhone Storage
option.
Step 4.
After several minutes' scanning, you will see the complete
iPhone Storage
screen. Here you can see how much space is left on your iPhone on the top screen. Beneath are the apps and the space they take. Under an app's name, you can see when this app was last used.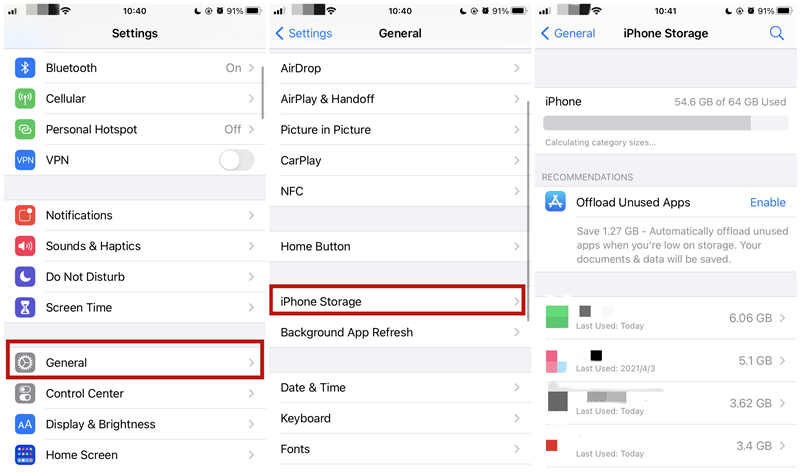 Step 5.
If you want to offload any of these apps, just tap it and you will see how much storage the
App Size
and the
Document & Data
takes respectively.
Step 6.
Tap the
Offload App
button. iOS will prompt you that "offloading this app will delete the app but keep its documents and data." Just tap the
Offload App
button again to confirm the action.
Steps to make iOS automatically offload unused apps:
Step 1.
Enter the
Settings
app from the home screen.
Step 2.
Swipe up to find the
App Store
option and tap it.
Step 3.
At the bottom of the
App Store
page, you can find the
Offload Unused Apps
button. Switch it on, and iOS will automatically offload unused apps but keep their documents and data from then on.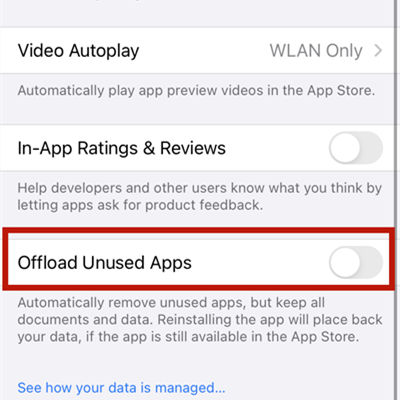 Part 3: How to Delete Unused Apps with a Professional Tool
Aiseesoft iPhone Cleaner is a professional tool to delete apps on your iPhone. More than that, it is able to clear many other kinds of unnecessary data to free up your iPhone storage. If you are also suffering tons of large photos and video records, Aiseesoft iPhone Cleaner can help you deal with them efficiently, too.
Key Features
1. Detect and present all applications on your phone for you to delete
2. Scan out and clean various junk files such as crash logs, iTunes cache, etc.
3. Free up storage space by properly managing large files
4. Compress and export all of your photos and videos
Steps to delete unused apps thoroughly:
Step 1.
Download, install and launch Aiseesoft iPhone Cleaner on your Windows 10/8/7. Then connect your iPhone to your computer via a lightning-to-USB cable.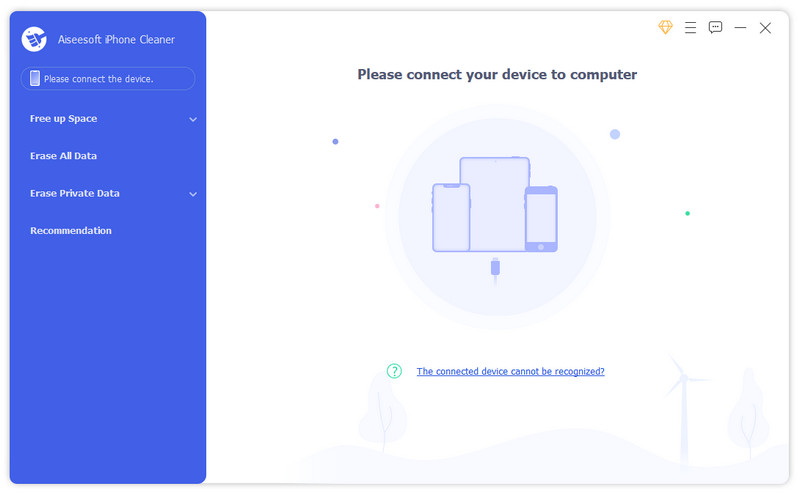 Note: Please make sure you have installed the latest iTunes on your Windows.
Step 2.
Pay attention to your iPhone screen after plugging in the cable. When you see a notice pop up, just tap the Trust button.
Step 3.
Back to the iPhone cleaner's interface, you can click the
Quick Scan
button on the bottom.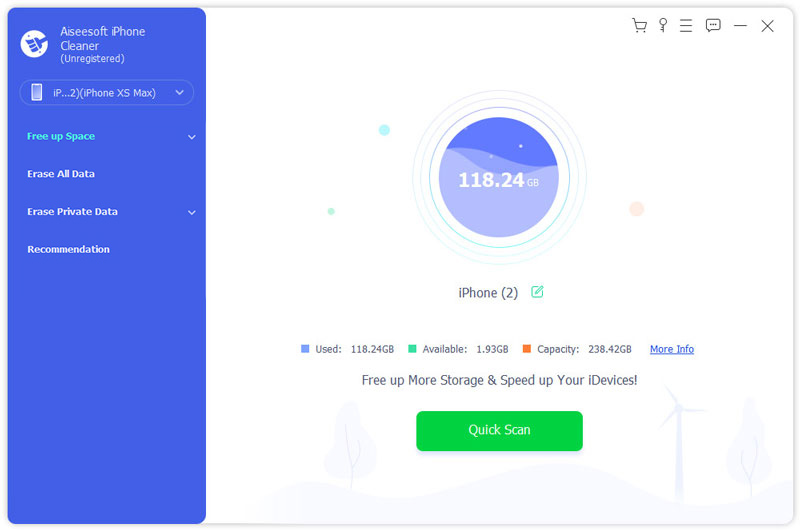 Step 4.
Then you will see how much space every app takes up. Here you can click the
Erase
button to uninstall applications.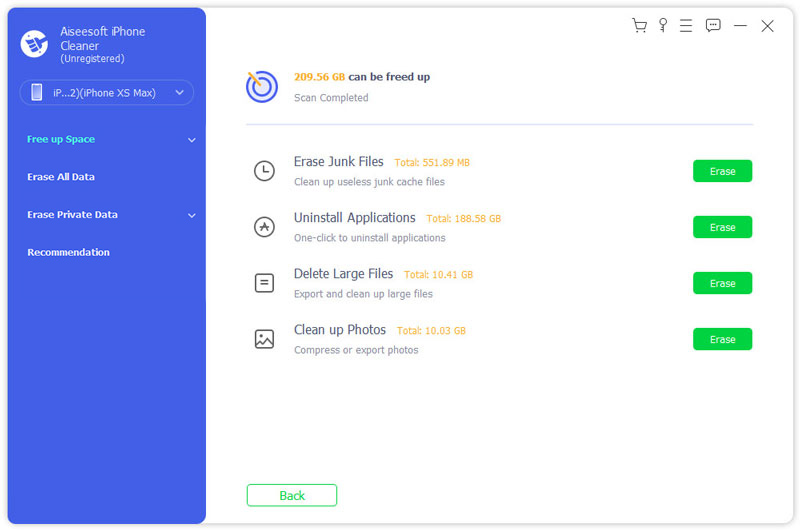 Step 5.
Then the iPhone cleaner will show you all the applications installed on your iPhone. You can also see their version numbers and occupied storage.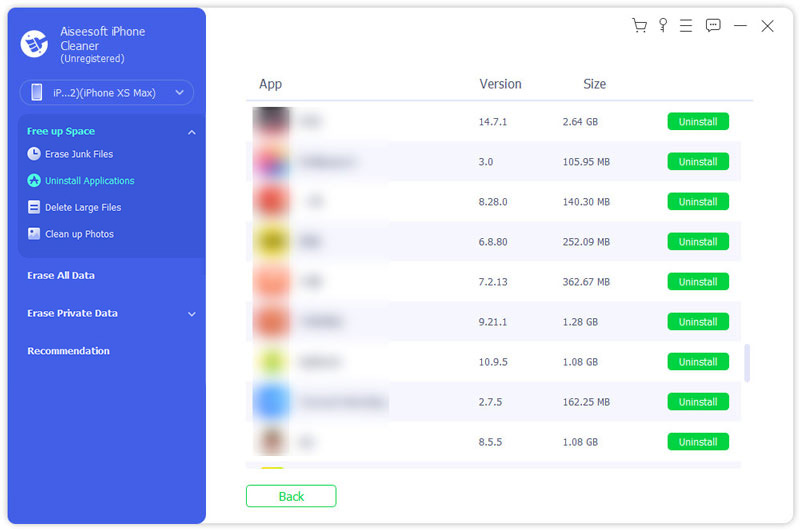 Step 6.
If you want to delete an app from your iPhone, just click the
Uninstall
button on the right side of it. Then, you will free up more space on your iPhone.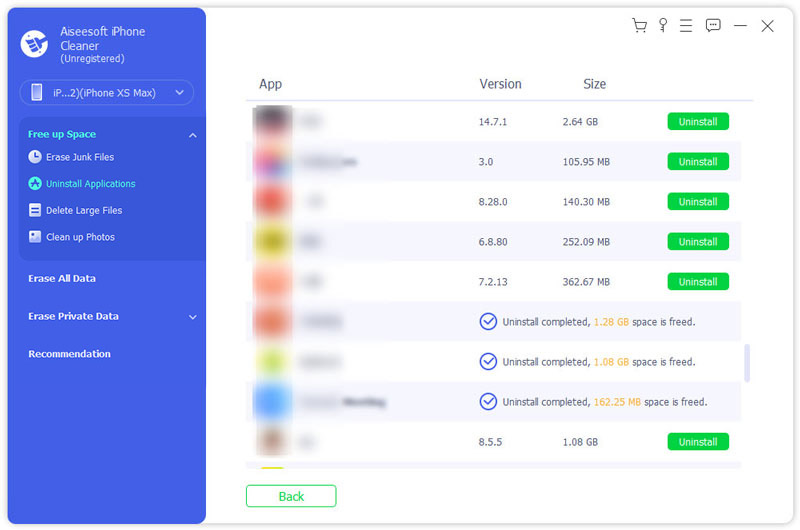 Want to know more tips about uninstalling apps from iPhone, read on How to Uninstall Apps and Games from iPhone and iPad Permanently and Completely.
Part 4: FAQs about Offloading Unused Apps on iPhone/iPad/iPod Touch
How does iOS know an app is unused?
iOS can infer what apps are unused analyze the frequency you use these apps. But Apple yet did not publish their calculating method to do so.
Which one is better, delete apps or offload apps?
It depends. We don't recommend you offload or delete the apps you often use. If you want to do so, you can delete the apps without important data. As for those with important data, only offload them.
How do I reinstall the offloaded apps?
The offloaded apps will stay on your home screen with a cloud icon beside it. You can tap the app to re-download it or download it from the App store.
Conclusion
Since iOS 11, iPhone users can offload unused apps on their iPhones. Unlike deleting apps to remove the app and the data, offloading apps will only remove the app but keep the data of it. It is handy to solve the "Not Enough Storage" problem by turning on the automatic Offload Unused Apps feature in the iOS settings. If you want to manage your apps and large files in a more customized manner, we recommend you use the Aiseesoft iPhone Cleaner. You can also use this iPhone cleaner to clear iPhone cache, temporary files, large files, and more. Do you have any better ideas about offloading apps? Let us know by leaving your comment.

Leave your comment and join our discussion