Part 1: How to delete songs from your iPod touch directly
If you get an iPod touch, then you are fortunate enough to delete songs from iPod touch directly. Apple offers users two ways to erase iPod music by itself.
Method one: Delete songs off iPod touch selectively
Open "Music" App – select "Songs" on the bottom – Check the songs that you want to erase – Slide to left and find the red "Detele" button – tap "Delete" to remove song from iPod one by one.
In this way, you could erase iPod music without computer, but you have to delete the songs from iPod one by one.
Method two: Erase all music from iPod quickly
If you want to delete all songs from iPod touch, then you can try this way. Open "Settings" App on iPod, go to "General", find "Usage", select "Manage Storage", tap "Music". Tap "Edit" on the top right and choose "All Songs". Hit the red "-" icon to delete all the songs when the "Delete" button shows on the right.
This way allows you to erase all iPod music quickly. But those deleted songs could be recovered with the help of some kind of recovery tools.
Part 2: How to delete music from iPod with iTunes
Method three: Remove iPod songs from iTunes
For such classic iPod devices as iPod Nano, iPod Shuffle and iPod Classic, you have to erase them on your computer via iTunes. Steps are as following,
Step 1:
Connect iPod to computer with USB cable.
Step 2:
Run iTunes on your PC and find your iPod (The iPod mark is below the menu bar, next to the apostrophe on the top left.) on iTunes.
Step 3:
Click "Summary" to find "Manually manage Music and Videos" from "Options".
Step 4:
Click "Music" at "On My Device Column" and click the songs that you want to erase from your iPod on iTunes. Click "Delete" to erase music from your iPod Nano, iPod Shuffle and iPod Classic.
This way works a little complicatedly, and you must perform it with caution. Besides, you could only remove songs from your iPod, but they still keep in your iTunes library and computer.
Part 3: The best way to erase music from iPod completely and permanently
Method four: Erase your iPod music with iPod Eraser
The three ways mentioned above can help to erase your music form iPod touch, iPod Nano, iPod Shuffle and iPod Classic. But you could recover the deleted music from iPod easily with the help of recovery tools or iTunes library. So we will recommend you the safest way to erase music from iPod permanently. Before continuing the next steps, you need to download and install iPod Eraser to help you.
Note: Apart from erasing all iPod music, this program will erase all content and settings from your iPod. It deletes all data on your iPod completely and securely and keeps those deleted data from being recoverable. So, before you proceed the following actions, kindly check your iPod and you had better back up iPod to computer.
Step 1:
Run this program on your PC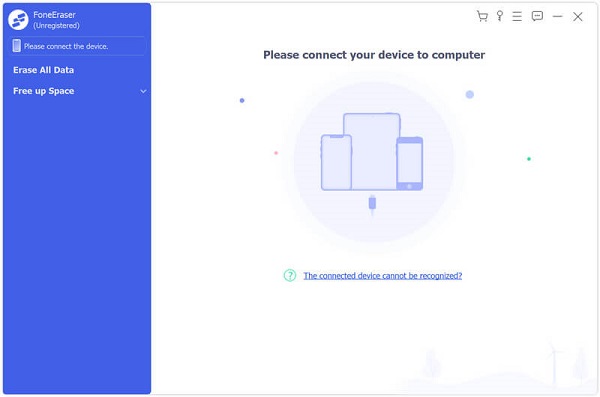 Step 2:
Connect your iPod to PC.
Connect your iPod to PC, and wait seconds, this program will detect your iPod automatically.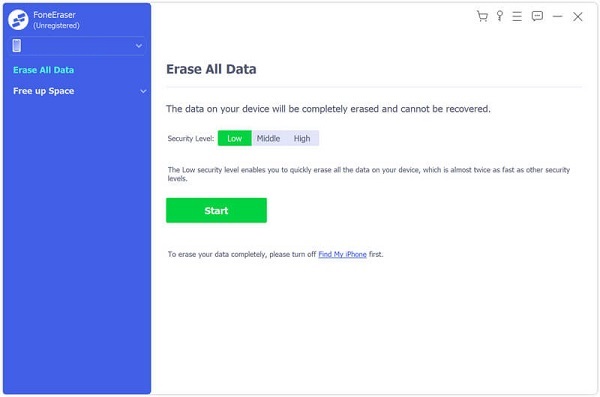 Step 3:
Select erasing level
Select erasing level (Low, Medium and High) to erase your iPod music as you wish.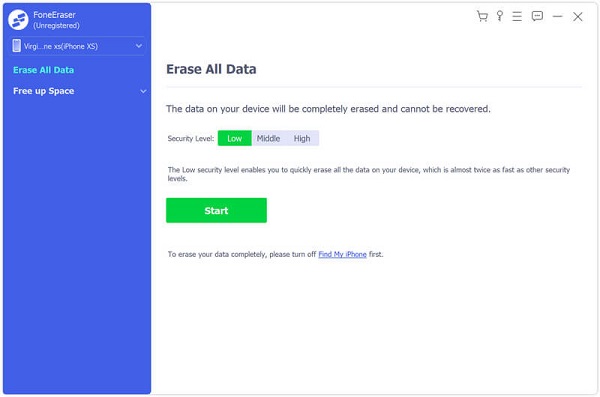 Click the Start button to erase all music from your iPod.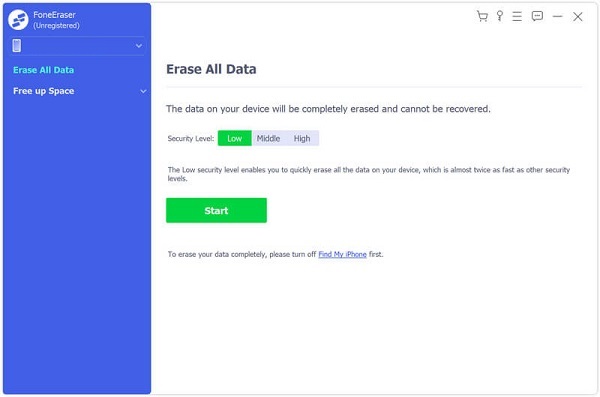 Part 4: How to clear unwanted music tracks and caches on iPod
Erasing all your music from iPod means that there is no chance of recovering the data again. That will erase all data whether it is the sound, album, cache, or other private information. But if you just want to clean up unnecessary music tracks, albums or other invisible files on your iPod, you can choose a cleaning tool to free up more space of your iPod. That's what Aiseesoft iPhone Cleaner software can do for you. With this software, all the junk files will be automatically detected and cleaned from your iPod in one click, including app crash logs, app caches, download temp files and many more.
How to Clean iPod with Aiseesoft iPhone Cleaner.
Step 1:
Free download Aiseesoft iPhone Cleaner, install and launch it on your computer.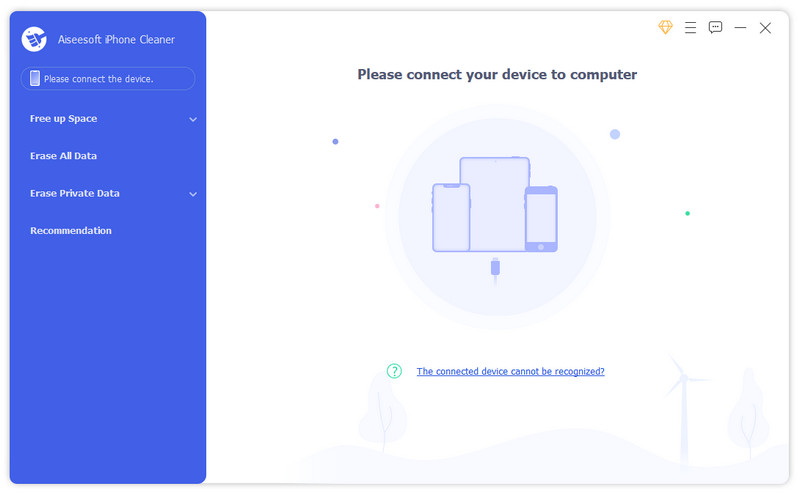 Step 2:
Get your iPod connected to the computer with USB cable, Then, you can see the below interface. Click on the
Quick Scan
button to preview more detailed information.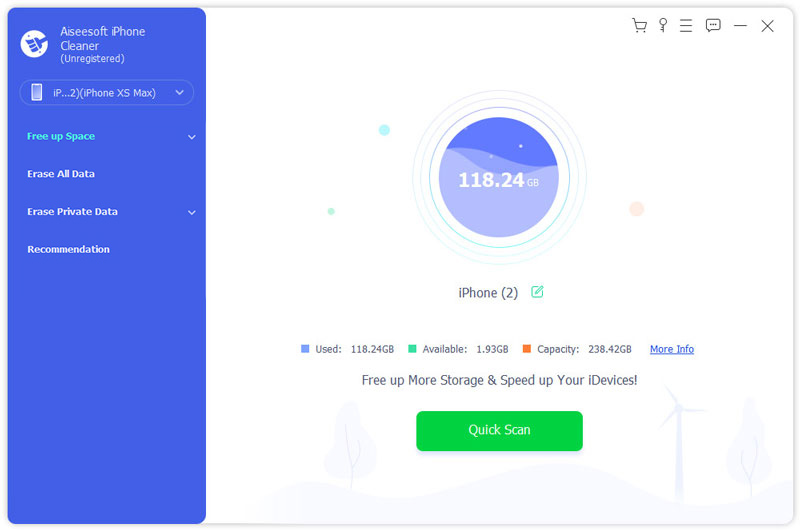 Step 3:
Here you will find 4 available options to clean up your iPod. To clear your music junk files, find the first option –
Erase Junk Files
and then click the
Erase
button to move on.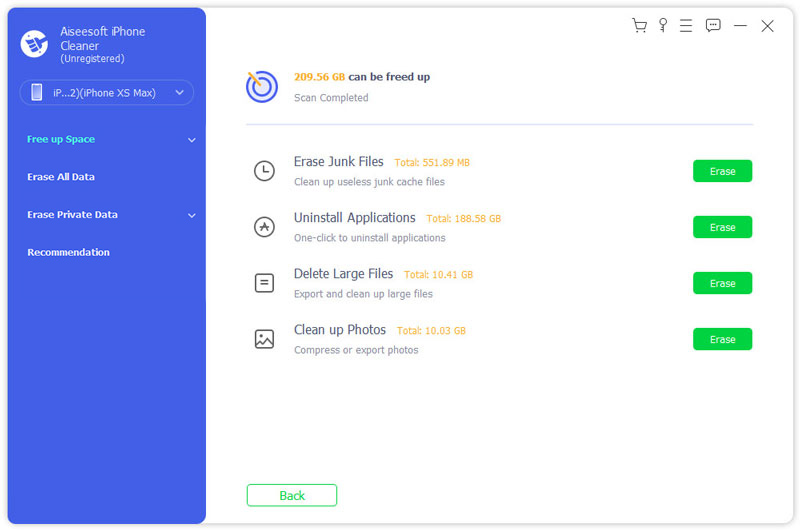 Step 4:
Now, you will choose the files you want to remove from iPod and hit on the
Erase
button to clean them from your iPod. Now, just wait for the process to get completed within a little while.