How to Reset a HP Laptop and Restore Data
Summary: Want to factory reset your Windows 10/8/7 HP laptop to fix some issues but don't know how? Worry about all the personal data loss after the HP laptop rebooting? This post will show you how to reboot HP laptop in details. Moreover, you will learn how to restore lost data due to the resetting.
"How do I reboot my HP laptop and make it work like a brand new computer without losing important data on it?"
"I am using a Windows 10 HP laptop and want to factory reset it to fix some issues. I google how to reboot a HP laptop and many results are guiding to remove battery and press power button and something like that. Is it really work to reboot a HP laptop?"

Want to fix some performance issues or erase malware? You may start to think about rebooting your HP laptop and try bringing it back to brand new condition.
This post will mainly talk about how to reboot a HP laptop. This HP laptop reboot is not mean to simply restart the computer, it refers to reset it to factory settings.
HP laptop rebooting process is different in Windows 10, Windows 8 and Windows 7. We will tell you specific solution to reset your HP computer. You may know that, factory resetting HP laptop will remove all existing data. You can also get a simple and effective way to restore HP laptop from this post.
Part 1. How to reboot HP laptop in Windows 10
Sometimes, rebooting HP laptop is a good way to fix your computer. One thing you should know first is that, a factory reset will remove all personal data. So you are suggested to back up all files you want to keep before the resetting. Then you can take the following guide to reboot your HP laptop.
Step 1 Press the Windows key on keyboard and then choose the Settings option.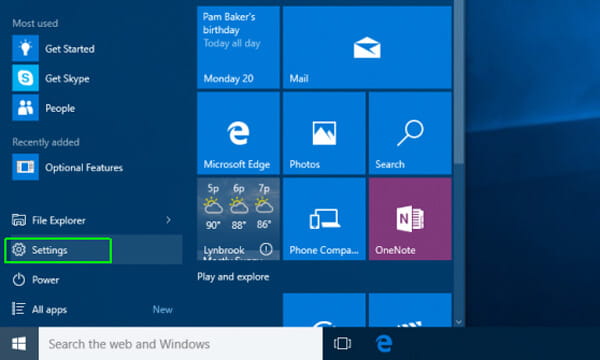 Step 2 When you enter the Settings window, locate and click on Update & security.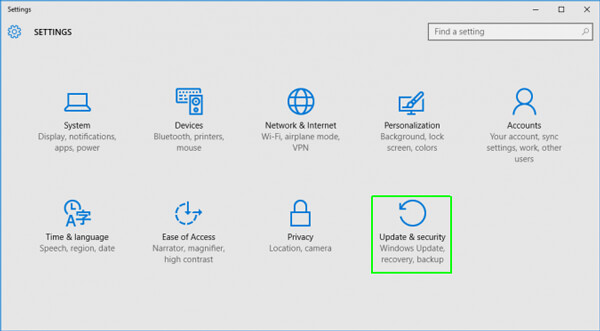 Step 3 On the left pane, click the Recovery option. You can get three options here, Reset this PC, Go back to an earlier build and Advanced startup. If you want to reboot HP laptop and bring your computer to a brand new condition, Reset this PC is your best choice.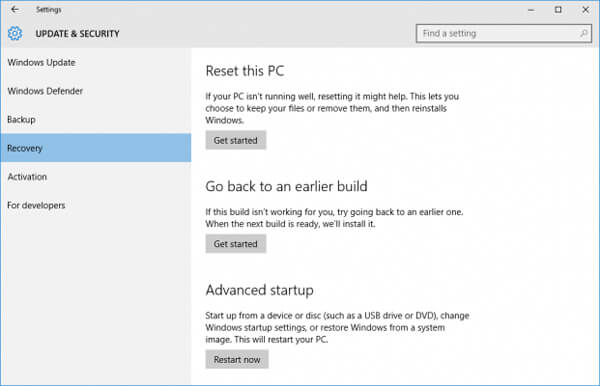 Step 4 Click on the Get started button under "Reset this PC" to begin the rebooting process. A new window will pop up and offer you two option, Keep my files and Remove everything.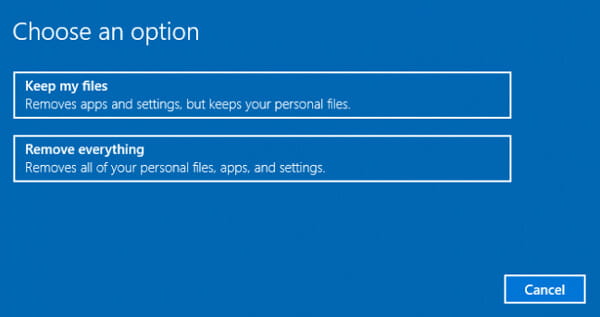 Basically, you will prefer the first option. You can make your own choice depend on your need. Both of two options will bring all Windows settings to defaults and uninstall all software.
Step 5 Click on Remove everything and you will see the Just remove my files and Remove files and clean the drive options. Make your decision based on your need.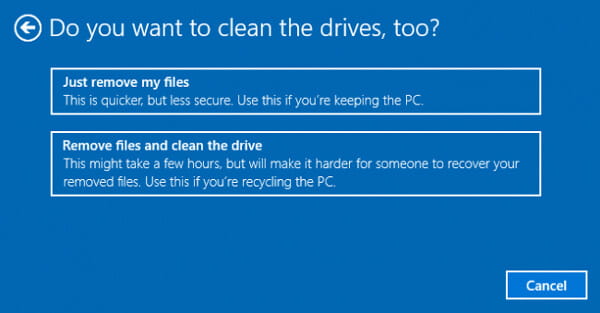 Step 6 During this step, you will get a warning prompt that, your PC was upgraded to Windows 10, resetting PC will go back to previous version. Click Next to confirm the operation.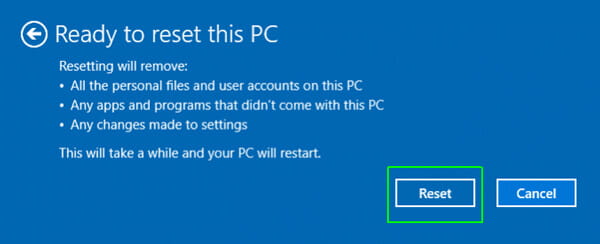 Step 7 Click on Reset and then Continue to reboot HP laptop and take it back to default condition.
Part 2. How to reboot HP computer in Windows 7/8
In general, you won't think about rebooting computer to erase data or solve problems. Under most circumstance, you have no choice but to reset HP laptop to bring it to normal condition. For instance, your laptop won't start up or stuck on startup process. If you are facing the same situation, you can follow the next steps to reset HP laptop.
Step 1 Turn off your HP laptop and disconnect any external device like keyboard, mouse, flash drive, memory card, and so on. Cut off the power and turn the laptop upside down. At this step, you are required to take the computer battery off.
Step 2 Keep pressing the power button for more that 15 seconds and then release it.
Step 3 Connect your laptop with a power adaptor and then press the power button to turn on the computer. You will see the Windows desktop, that means your HP laptop is resetting.
Step 4 When you enter the windows, click Start and then select Shut Down to turn off your laptop again.
Step 5 Reload your computer battery and then press Power button to turn on your computer. After that, the HP laptop reboot process will complete.
Part 3. How to reset HP laptop with HP Recovery Manager
Nowadays, many reset and recovery tools on the internet can help you reset your HP laptop to factory settings. Actually, most HP computers come with a HP Recovery Manager can easily get the job done. This part will show you how to reboot a HP laptop with HP Recovery Manager.
Step 1 First, ensure you install HP Recovery Manager on your computer. Then restart your HP laptop.
Step 2 While rebooting, keep pressing F11 on keyboard and then choose HP Recovery Manager when the option appears.
Step 3 Launch HP Recovery Manager on your laptop and choose System Recovery when you enter the main interface.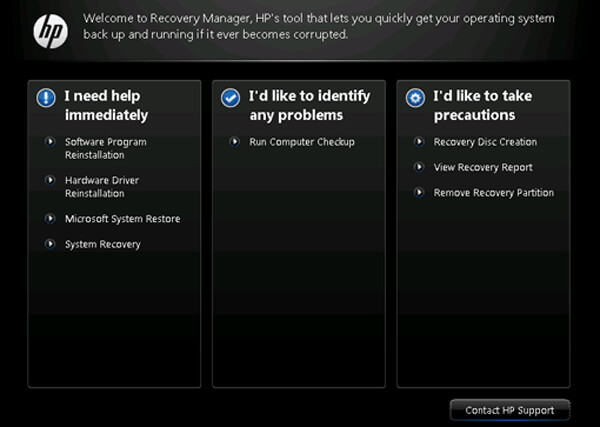 Step 4 You will be offered two options to restore your computer to its original factory condition, Back up your files first and Recover without backing up your files. This operation will erase all data on your laptop and reinstall the original factory image on the system partition.
Step 5 Tick Recover without backing up your files and then click Next to move to the next step. Now you are in Welcome to HP Recovery Manager window.
Step 6 Detach all external derives before you reset the HP laptop to its original factory condition. Click Next to confirm the operation to reboot your HP laptop.
Part 4. How to restore HP laptop
In case you lose some important files after the HP laptop reboot, here we sincerely recommend a professional Data Recovery to help you restore HP laptop.
Data Recovery is the professional and easy-to-use Windows data recovering software. It enables you to restore any frequently-used data type like image, document, email, video, audio and more. Moreover, it supports computer recovery from Lenovo, Dell, etc. If there is no backup file and you really need to recover your deleted/lost data, it can be your best choice.
Steps to restore HP laptop
Step 1 Free download, install and launch this powerful HP laptop data recovering software by double clicking the download button above.
Step 2 Choose the specific data type you want to recover in the interface. Then select specific hard drive you want to restore data.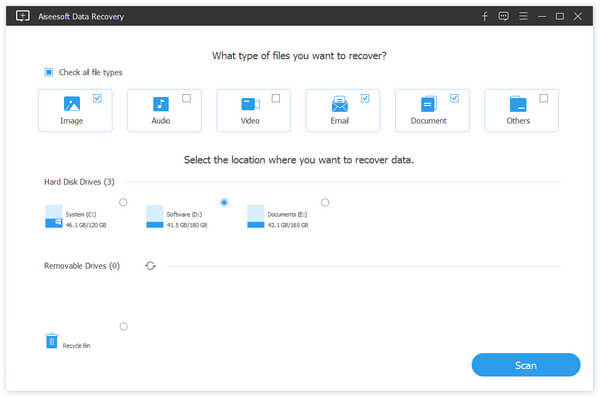 Step 3 Two scanning ways are offered here to scan all missing files on your laptop, "Quick Scan" and "Deep Scan". Click Scan button to start a quick scanning.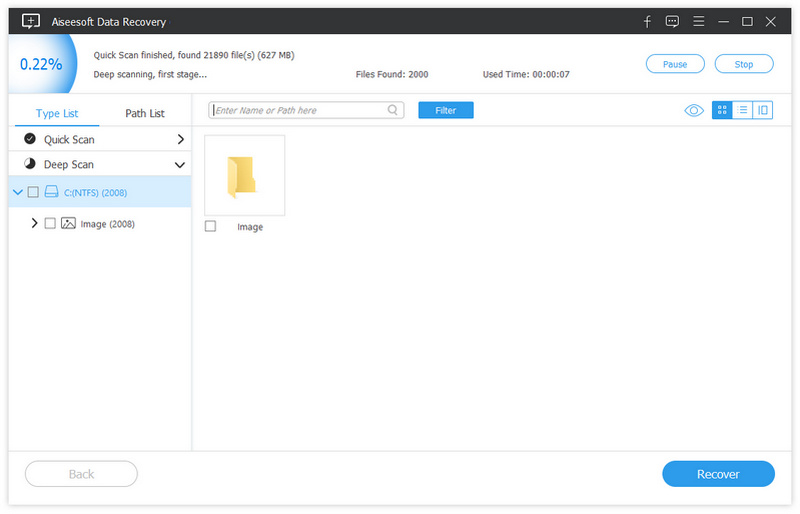 Step 4 After scanning, you can rely on the "Filter" function to quickly locate the lost files. Choose all lost data you want to recover and then click Recover button to restore your HP laptop. With this powerful data recovery, you can handily restore deleted/lost files from recycle bin, hard drive, flash drive, memory card, digital camera, etc.
You can easily reboot your HP laptop after reading this post. Whether you are using a Windows 10 or Windows 8/7 HP laptop, in fact, even you are ASUS, Toshiba, Lenovo, Samsung laptop, you can use the first two methods to reset it. What's more, you can find an effective way to restore HP laptop. Leave us a message if you still have any puzzle.