Tutorial to Rotate Video on Android Devices from Samsung and More
As smartphone vendors continuously improve camera technology, people increasingly prefer take photos and videos with their handsets. But if you have taken videos with smartphone, you would understand that the smaller screen was still a hurdle. That is why many people record videos in landscape mode, which increase the range of the video. Then another problem to be solved is to rotate video on Android. Though you can capture videos with smartphone, it is not easy to edit or rotate video on mobile phone. Fortunately, you can learn about multiple methods to rotate video on Android easily in this tutorial.
Before rotating a video for Android devices, let's talk about why you should do it. We live in a world full of measures and rules. We are used to look at this world from top to bottom, from left to right. Can you imagine looking at this world upside down? It is ridiculous and making viewer dizzy. Most smartphone has the feature to rotate screen automatically; however, the camera does not have such ability. When you take a video in landscape mode, it will play in wrong orientation. That is why you need to rotate video on Android phone, making it displayed in correct direction.

Rotate Video Android
Part 1. How do I rotate a video on my Samsung Galaxy?
Major mobile phone manufacturers will redesign Android or install an operating system based on Android into their products, such as Samsung Galaxy. The electronics giant introduced many services and features into Samsung Galaxy devices, including rotate video Android. So, if you have a Samsung Galaxy phone, you are lucky since you can rotate video Android in the Gallery app directly.
Step 1 Install Samsung Gallery from Play Store
If your Samsung Galaxy phone does not have the Gallery app, you can download it from Google Play Store and install on your phone.
Tip: On latest Samsung Galaxy phone models, the Gallery app is pre-installed.
Step 2 Open the video to rotate in Gallery
Go to the App Menu screen and start the Gallery app. On the library screen, select the video you want to rotate to open it in Gallery, then you will be presented a menu bar on bottom of the screen. Tap "Edit" menu with a pen icon and then select "Video Editor" to open the video editing toolbar.
Tip: If the Video Editor option does not appear, you have to download the video editor from the Galaxy App Store.
Step 3 Rotate video on Android
When the video editor opens, you will see another menu bar on bottom. Swipe the menu bar to left until you find out the "Align" option. Tap it to activate the rotation tools. Then you can select the orientation in which the video should be rotated, such as right or left.
Step 4 Save the rotated video Android
When the video is rotated to the proper orientation, tap "Export" to save the video to your photo gallery or share it to social media directly.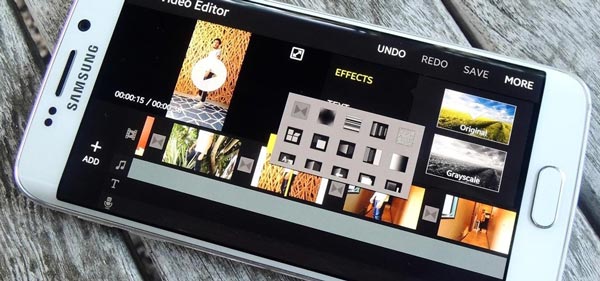 Part 2. How to rotate video on Windows and transfer to Android
Though more and more people capture videos with smartphone, it is not convenient to edit or rotate video on Android phone. The alternative solution is to rotate the video on computer and then transfer it to your Android phone. From this point, we recommend Aiseesoft Video Editor since it is one of the best video editors on market. Its benefits include:
1. Easy to use. With this video editor, you can rotate a Android video in one click.
2. High quality output. It has the capacity to edit or rotate videos without damaging video quality.
3. Basic video editing tools. In addition to rotate Android video, it is also able to trim, crop, flip and de-noise videos.
4. Decorate videos. It provides extensive video effects, customized watermark and text to create special video effects.
5. Optimize video quality. You can enhance the video quality and remove noises after rotating.
6. Support a variety of formats. This video editor could read almost all video formats, including 4K videos. And it could convert videos for portable devices and social media.
In short, Aiseesoft Video Editor is your best choice to rotate video for Android phone.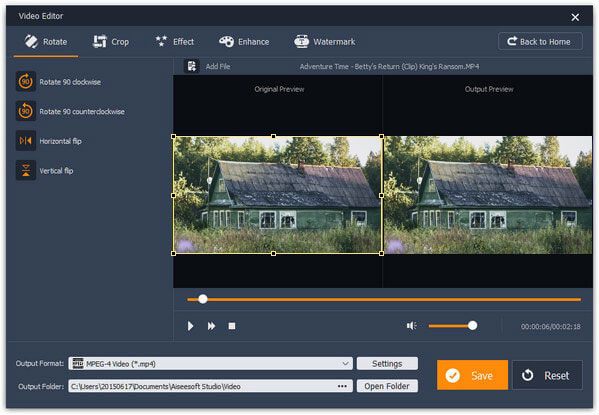 How to rotate video for Android
Step 1 Get the best Android video rotating tool
Download and install Aiseesoft Video Editor on your PC. If you are using a Mac computer, please use the dedicated Mac version. Launch the Android video rotating tool and choose "Rotate" on the home interface. When you are taken to the video rotating window, click the "Add File" button to import the video you want to rotate for Android.
Step 2 Rotate a video in one click
Head to the left sidebar, there are four options to rotate a video, "Rotate 90 clockwise", "Rotate 90 counterclockwise", "Horizontal flip", and "Vertical flip". Click the proper option and rotate the video to desired orientation.
Tip: If you want to edit the video further, click the "Back to Home" button and select corresponding video editing tool.
Step 3 Save and transfer the rotated video to Android
Unfold the "Output Format" dropdown menu on bottom and choose a target device, such as Samsung Galaxy phone. Drop a folder to save the rotated video by clicking the "Open Folder" button. Press the "Save" button to export the result to your computer in full resolution. Then connect your Android phone to the computer using a USB cord and transfer the video to your phone.
Conclusion
In this tutorial, we have discussed how to rotate video Android. As high-end mobile phones become increasingly affordable, people start using their Android phone to record every wonderful moment and share with friends. A good video should be looked comfortable. And an upside-down video is apparently not a good video. So, you may need to rotate a video to the proper orientation before sharing on social media. Luckily, Samsung Gallery app has the ability to rotate a video with several taps. If you are using a Samsung Galaxy phone, you can follow our guides to rotate a video on Android directly. For those people who find it inconvenient to edit videos on their mobile phones, Aiseesoft Video Editor is the best choice to rotate video for Android on computer. It is not only easy to use, but also able to keep original quality during editing. Anyway, we hope our guides are helpful to you. And if you have any questions about rotating video Android, please leave a message below.