How to Copy and Paste on Android
Typing a long text on your Android phone can be really painful, especially when you want to share it with someone else and have to type it all over again. Like on a computer, you can just use copy and paste on Android phone or tablet. Copying and pasting text on Android phone is a little more difficult than right clicking a mouse and copy or paste on computer, but not that much. It just takes a little bit of pressing and holding instead.
In the following article, I'll show you exactly how to copy and paste text on Android phone. Besides, want to know how do I copy and paste on Facebook app for Android? Or is there a way to improve the basic copy and paste functions on Android? Continue to read and you can find the answers.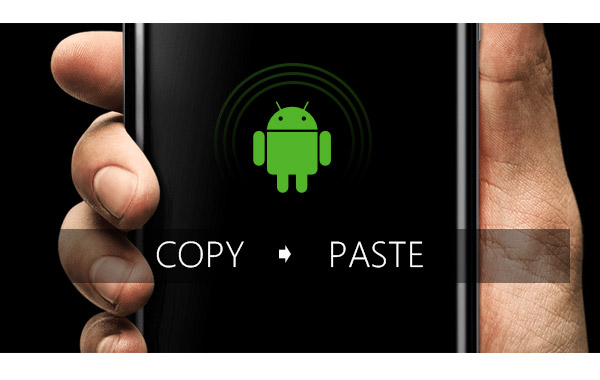 Part 1. How to copy and paste on Android phone/tablet
Here we'll show you how to copy and paste on Android. Be aware that since there are various brands and models of Android phone, the specific procedure might be slightly different.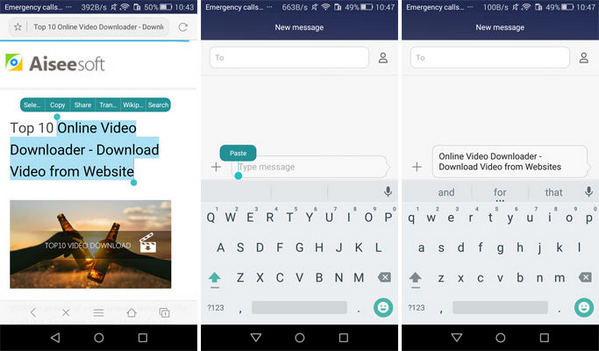 Step 1 Find the text you want to copy and paste. It can be from anywhere, a text message, a website, etc.
Step 2 Press and hold on the text. Wait until there appears the highlight handles and a highlighted area display exactly what is set to be copied.
Step 3 Choose the correct area, press and hold the screen over the highlighted text. Then choose "Copy" in the new box. The text will be copied in the clipboard.
Step 4 Open the app you want to paste the text. Simply press and hold in any valid text box and a new "Paste" option will appear. Hit "Paste" and you're done.
FAQ on copy and paste on Android
Q1. How do I copy text from the Facebook app?
The Facebook app does not allow cutting or copying text. If you have to do this, you can bring up Facebook in a web browser and cut and copy from there.
Q2. How can I copy and paste a link on Android? Is it the same?
If you want to share link with someone, you can copy the link from the address bar in your browser or from linked text. To copy and paste a link is basically the same as copy and paste a text on Android, when you tap on the link, there will appear the "Copy" option, it's actually more easier.
Part 2. Improve the copy and paste function on Android
As a basic function, there are some limitations to copy and paste on Android. For example, after you copy and paste some texts, if you want to copy other texts, the first thing on your clipboard will be wiped. To solve problems like this, you can use a clipboard application to take fully advantage of the copy and paste function on Android. Here are some clipboard apps for Android we recommend.
| No. | Clipboard App | Logo | Features |
| --- | --- | --- | --- |
| 1 | Native Clipboard Manager | | Native Clipboard provides easy access to anything you copied on Android by simply double checking the desired text field. Then you can retrieve anything you've copied. The clips on the clipboard can also be long clicked to view the whole text, or pinned to prevent deleting. |
| 2 | Clipper | | Clipper is a great clipboard manager that automatically saves everything you copy for later paste on Android. It provides a quick and easy access through your status bar. Besides, it allows you to predefine repetitive pieces of text and copy & paste them whenever you need. |
| 3 | Copy Bubble | | As the name indicates, Copy Bubble is seen as a little floating bubble on your screen, which provides super-fast access to your clippings. Anything you copy goes straight to the app, and the number on the bubble increase by one. It is really a very simple yet straight-forward clipping app. |
| 4 | Clipboard Actions | | Clipboard Actions creates actions based on your copied text shows them in the status bar as notification or in a nice list in the app. Compared with other clipboard, this one is more simpler and have very light service. |
| 5 | Easy Copy | | Easy Copy is another fast way to copy and paste in your Android apps. Whenever you copy something, this smart clipboard will pop up, and saves everything you copy. You are allowed to add favorites and use copied elements again and again. |
In this article, we have mainly showed you how to copy and paste on Android phone, and we have offered some easy-to-use clipboard applications to improve copy & paste function for your Android phone. Still have questions on how to copy and paste on Android? Leave us your comment down below!