How to Flip and Rotate a Video for Instagram on iPhone, Android and PC/Mac
Instagram is one of the most popular social networks around the world. According to the latest data, this mobile based social media has over 700 million registered users. Instagram grows so fast, partly because developers continuously improve user experiences and introduce new features, such as live video, face filters and augmented reality stickers.
Many people prefer to capture videos in landscape mode or horizontal mode on smartphone. So, you may need to rotate a video on Instagram to correct the orientation. In this tutorial, we are going to show you how to rotate a video on Instagram easily in detail.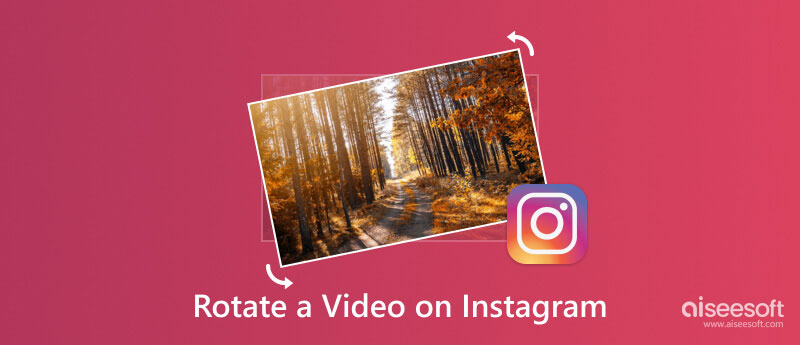 Rotate a Video on Instagram
Part 1. How to flip and rotate a video with no crop on computer
Editing videos on smartphone is not convenient due to smaller screen. The recommended solution is to rotate a video for Instagram on computer. From this point, we recommend Aiseesoft Video Editor. The benefits include:
1. Easy to use. It has the capacity to rotate a video in one click.
2. Lossless editing.
3. Plentiful video editing tools. In addition to flip and rotate a video for Instagram, it also has the ability to crop, split, trim, and enhance videos.
4. Stylize your videos. This video editor also integrates extensive video effects, customized watermark and text tools for creating unique effects.
5. Higher compatibility. It is compatible with all video and audio formats, including 4K video formats.
6. Available to Windows 10/8/8.1/7/XP/Vista and Mac OS.
Now learn how to use this editor to flip and rotate a video for instagram.
Step 1 Install the best video rotating application on your computer
Launch Aiseesoft Video Editor after downloaded and installed it on your computer. Pick "Rotate" on the home interface. When go into the video rotate window, click the "Add File" button to import the video to rotate for Instagram from hard drive.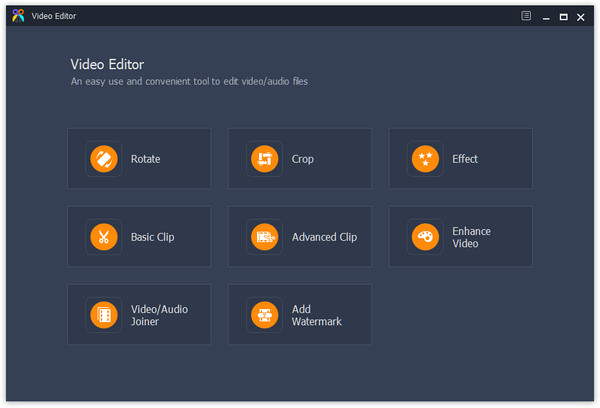 Step 2 Rotate a video for Instagram by one click
Click the "Rotate 90 clockwise" or "Rotate 90 counterclockwise" button on left toolbar to rotate the video to proper orientation. The "Horizontal flip" and "Vertical flip" buttons will rotate the video 180 degrees.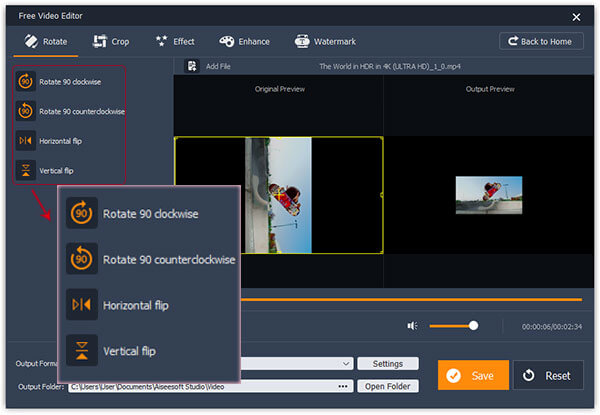 Step 3 Cut off the black edges
When you rotate the sideways video to the right angle, you will get a video with smaller size, just like the above picture shows. This must not be what you want. Next you need to crop the video and make it fill the full screen. Go to Crop, uncheck Keep Aspect Ratio, and drag the bar to fit the screen. Then click Zoom Mode and choose Full.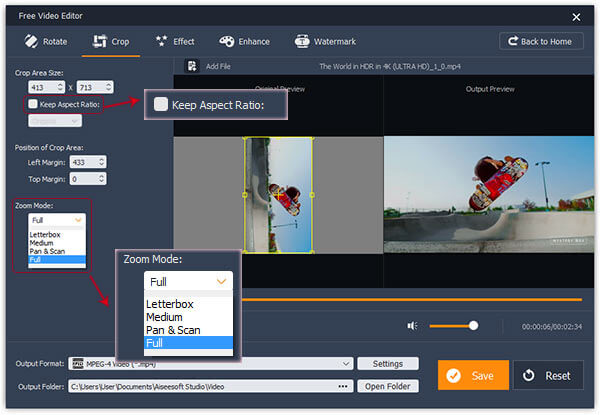 Step 4 Share the rotated video on Instagram
Finally, select MP4 from the "Output Format" option and drop a folder to save the video, hit the "Save" button. Then you can transfer the video to your smartphone and share it on Instagram.
Part 2. How to rotate a video on iPhone with Instagram
Now, Instagram supports to record and post a video no more than 60 seconds. And it has introduced the landscape mode in 2013. That means when you put your iPhone horizontally when capturing video the camera button will rotate similar to other camera apps. So, after recorded, you may need to rotate a video on Instagram with a video editor, such as iMovie.
Step 1 Open iMovie on your iPhone and go to "Video" tab to select the video you want to rotate.
Step 2 When the video is put into the timeline, you can clip it by moving the sliders on two ends of the video. Then Tap on the "Share" icon at bottom of the screen and then hit "Create Movie" option.
Step 3 Then put two fingers about an inch apart on the video and rotate them like turning a dial. Release the screen until the video rotates to the right direction.
Step 4 Preview the video and tap "Done" on top of the screen to save the changes. Then touch the "Share" icon again, select Instagram and pick a proper resolution to share the rotated video on Instagram directly.
Note: At first, Instagram only allowed users to post square videos. Now, it has three dimensions, square, horizontal and vertical. The horizontal videos have a maximum display size of 600×336.5, close to typical 16:9 ratio. And vertical videos are displayed at a maximum of 481×599.484.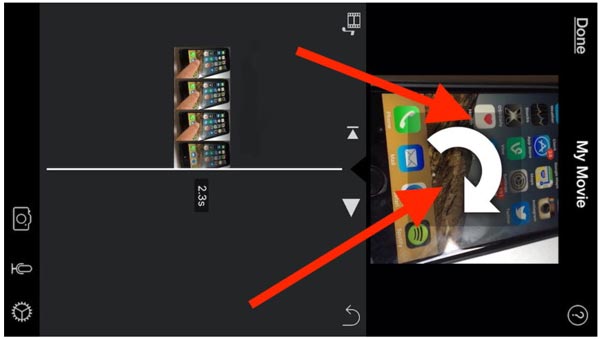 Part 3. How to rotate a video on Android with Instagram
When it comes to Android devices, you can rotate a video on Instagram with video editors as well.
Way 1: Rotate a video on Samsung Galaxy for Instagram
If you have a Samsung Galaxy phone, you are lucky, because you can edit or rotate a video for Instagram with Gallery app directly.
Step 1 Go to App Menu screen on your Samsung Galaxy phone and open the Gallery app. Select the video you want to rotate and then touch "Edit" menu on bottom ribbon.
Step 2 Tap "Video Editor" to open the video editor screen. Swipe the menu bar to the left until you see the "Align" option. Then select the orientation and rotate the video clockwise or anti-clockwise.
Step 3 When it is done, tap "Export" and share the rotated video to Instagram account.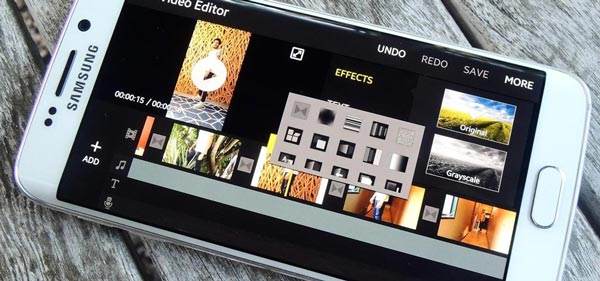 Way 2: Rotate a video on Android for Instagram
For Android users, a simple way to rotate an Instagram video is Google Photos. It is true that Google's Photos app is a good way to back up videos on Android, as well as it also offers several video editing features, such as rotate videos.
Step 1 Start Google Photos app on your Android device and transfer the video you'd like to rotate to the cloud server.
Step 2 Wait for it to complete and tap on the video to open it in a single screen. Then tap the "Edit" menu with a pen icon on bottom of the screen. This will take you to the video editor screen.
Step 3 Drag the white sliders on both ends of the video to clip it first. And then tap on the "ROTATE" button until the video is in proper direction.
Step 4 Finally, touch "Save" on top of the screen to save the rotated video as a new file. Then open the video in Google Photos, tap the "Share" icon on bottom and select Instagram to post it immediately.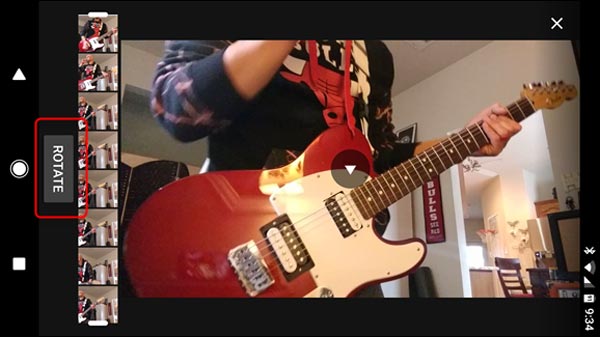 Conclusion
In this tutorial, we have told you how to rotate a video on Instagram. If you post a video in wrong direction on Instagram, your friends will not watch it. That is apparently not the result you want. And Instagram now supports a variety of video modes. That makes rotating a video a necessary skill for Instagrammers. Fortunately, you can rotate a video for Instagram on iPhone, Android and PC easily by following our guides above.