How to Take a Screenshot on Samsung Galaxy S7/S6/S5/S4
There are many times when you need to take snapshot on what is currently displaying on the screen of your Android phone or tablet, and then you can save the screenshots or share them to others. Among the most popular Android mobile phone market, Samsung smartphone takes up a large part of it. How can you take a screenshot on Samsung Galaxy S7/S6/S5/S4? This article lists two methods on how to screenshot Samsung.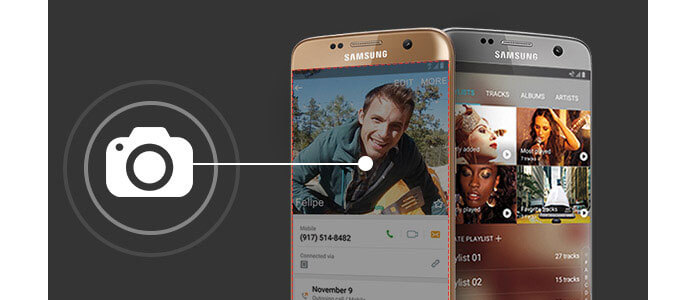 Part 1. How to take a screenshot on Samsung smartphone
In this part, we will show you two methods to help you capture Samsung screen.
You will like this article: How to Take Screenshots on Android.
Method 1. Take a Samsung screenshot by using Device Keys
As the same as iPhone, you can also capture a screenshot on Samsung smartphone by simultaneously pressing and holding "Home" key and "Power" key for less than 2 seconds. The key locations are different up to diverse Samsung type. Here is the step-by-step tutorial: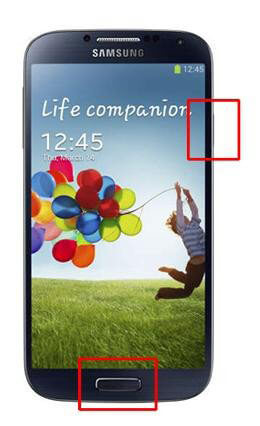 Step 1 Get the screen where you want to capture the screen display.
Step 2 Hold and press "Home" key and "Power" key at the same time for 1-2 seconds. If you do not mute the phone, you should hear the camera shooting sound fire off, which means you have managed to take the screenshot of the phone.
Method 2. Screenshot Samsung with palm swipe
Actually, Samsung smartphone enables you to take screenshot by tilting your hand up onto its side. Yes, it sound pretty cool and simple. Just swipe the screen side with your hand from left to right or vice versa. If you don't have such feature, you may not enable it. Read the following instruction if you don't turn the default on palm swipe.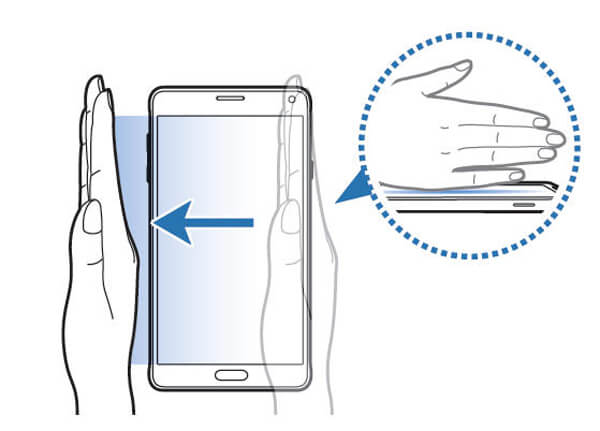 Step 1 Navigate to "Setting" and enter the setting menu.
Step 2 Scroll down and tap "Motion" > "Motions and gestures".
Step 3 Choose "Palm swipe to capture", and toggle it button from "off" to "on".
More reading: Take Screenshot on Samsung Galaxy Note 4/3.
Part 2. Smart capture feature
Smart capture feature will display after you take a screenshot on Samsung, which will prompts you to capture more screenshots, share or crop the capture. Different phones may have different settings. You may need to touch the "Device" tab and find palm swipe feature in "Advanced features".
Capture more: Capture more is useful, for example, when you have to capture a long screen like webpage or text conversation. When you choose the feature, the screen will be scroll down automatically to the bottom and it will capture all that is displaying.
Share: Share the screenshot.
Crop: edit and remove the screenshot part you don't need.
Part 3. How to view screenshot on Samsung
How can you view the screenshot you've captured on Samsung S7/S6/S5/S4? Keep reading.
Method 1. Find your screenshots from Notification Panel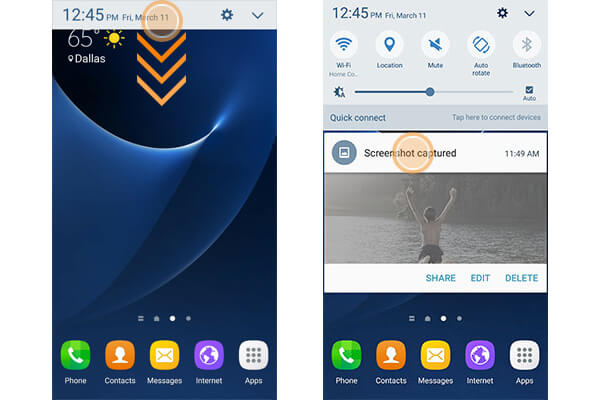 Swipe from the top of the screen to the bottom to open the Notification Panel. Tap Screenshot captured to open the screenshot in the "Gallery" application. You can swipe down on the notification column and quickly share, edit or delete the capture from the "Notification Panel" as well.
Method 2. View Samsung screenshots from Gallery
You can go to "Gallery", tap the drop-down little triangle to choose "Albums". Tap the album of "Screenshots". Then you will find all screenshots you've captured.
In this article, we mainly talk about how to screenshot Samsung. Also, you can download and install an Android screenshot app on your Samsung smartphone, such as Screenshot, Screenshot Easy, Screenshot Capture, Screenshot Ultimate, Take Screenshot and so on from Google Play. If you are interested in how to record Android screen, our site recommends best Android screencast for you.