How to Migrate WhatsApp Chats from Old Android to New Android
It cannot be denied that WhatsApp has successfully made it a popular social media service. No single user can survive without it considering the convenience it has bestowed to us. According to a recent survey, users spend over hours to access WhatsApp every day.
However, it is hard to migrate WhatsApp conversations to new Android phone. In result, you have to leave all your chats to the old device. In fact, there are several methods can help you to do WhatsApp migration. This article will show you the best methods and how they work.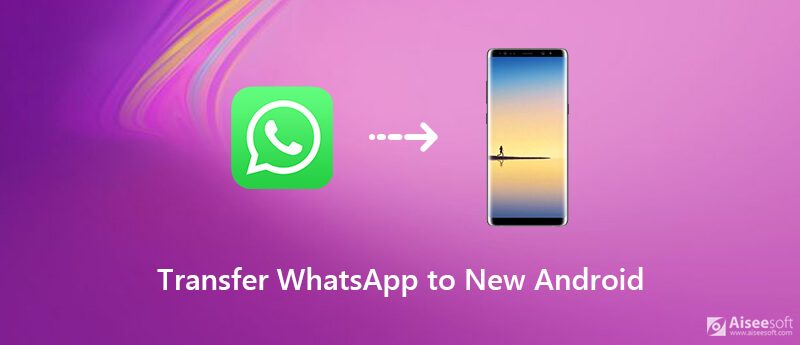 Part 1: The Easiest Way to Transfer WhatsApp Chats to New Android
There are several data types in WhatsApp chats, like messages, emojis, images, voice, and short videos. Therefore, you need a powerful tool to transfer them to your new phone. Aiseesoft MobieSync can meet your need.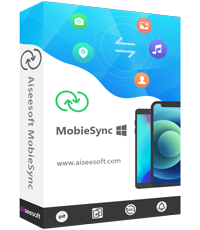 Downloads
Transfer WhatsApp chats from iPhone or Android to new Android.
Support a wide range of data types including photos and videos.
Keep the original condition of WhatsApp messages.
Preview WhatsApp chats for selectively transferring.
Available to almost all Android devices from Samsung, LG, Sony, etc.

In brief, it is the easiest way to move WhatsApp conversations from old Android to new phone.
How to Transfer WhatsApp Chats to New Phone
Step 1: Connect old and new phone
After you get your new Android phone, install the best WhatsApp transfer to your computer. Connect both the old and the new phones to the computer with USB cables. Once you launch the program, it will recognize the two devices immediately. Unfold the dropdown list at the top and select the old device.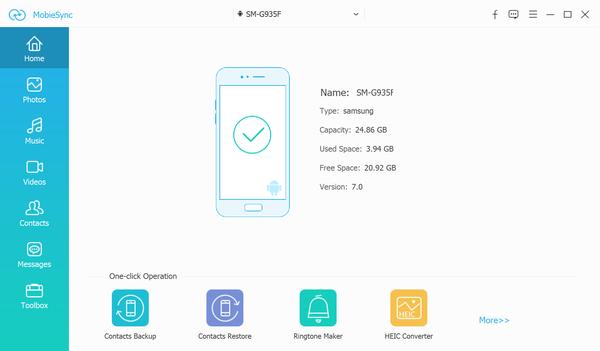 Step 2: Preview WhatsApp chats
You can check all data on your old Android phone by type. To transfer photos in WhatsApp conversations, for example, go to the Photos tab. Check the data you want to transfer to new phone.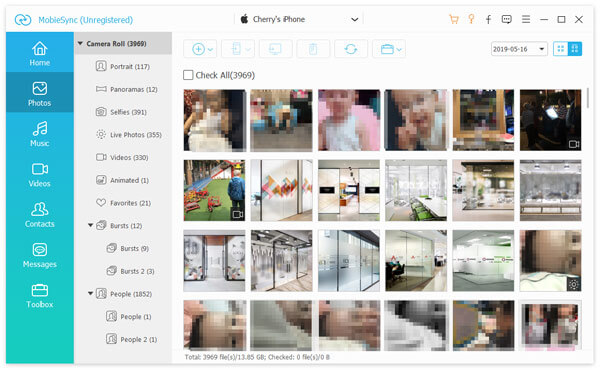 Step 3: Copy WhatsApp chats to new phone
Click and expand the Phone icon on the top menu bar, and select the new Android phone. Then WhatsApp chats will move to the new device. Wait for the process to be done, and remove the two device. Now, you can view the chats on new phone too.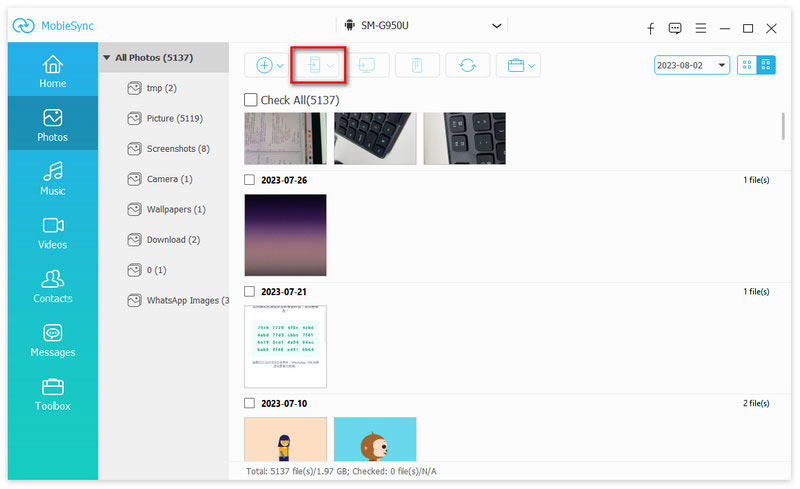 Part 2: Transfer WhatsApp between Android with Local Backup
WhatsApp is a popular instant message app. Unlike other social media, it is primarily designed for mobile devices. Moreover, it has introduced the backup feature to protect your conversations. The good news is that you can utilize it to copy WhatsApp chats to new phone. This way does not require the internet connection, but you need a SD card. Of course, the two Android phones must both support SD card.
Step 1.
Make sure to put the SD card into the old phone, and run your WhatsApp from the app tray.

Step 2.
Tap the
Menu
button at the top right side followed by
Settings
. Go to
Chats
, and tap
Chat backup
. Select
Backup to Google Drive
option under
Google Drive Settings
section, and select
Never
.

Step 3.
Now tap the
BACK UP
button on the
Chat backup
screen. Now, you conversations are stored to your SD card in a folder called WhatsApp .
Step 4.
Next, take the SD card out and put it into the new phone. Install WhatsApp from Play Store, and open it. WhatsApp will scan your device and find the backup. When prompted, select
Restore
and follow the onscreen instructions to complete it.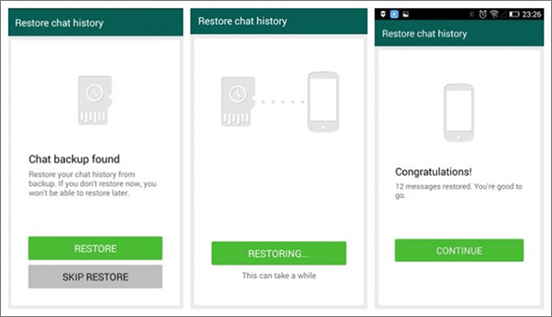 Part 3: Move WhatsApp from Android to Android with Google Drive
In addition to SD card, you can transfer WhatsApp conversations to new phone via Google Drive as well. It is more convenient and does not ask extra hardware. However, you must have a good internet connection. If you set it up correctly, you can complete the process quickly.
Step 1.
On the old Android phone, open WhatsApp by signing the account and
password
, and go to the Settings screen. Tap
Chats
and then
Chat backup
.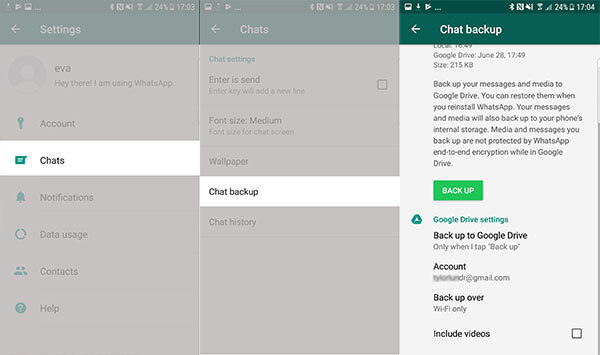 Step 2.
Check the box next to
Include videos
option if you want to backup videos in WhatsApp chats too. Then touch
Google Drive settings
, and then enter your Google account, set the backup frequency and back up chats over Wi-Fi.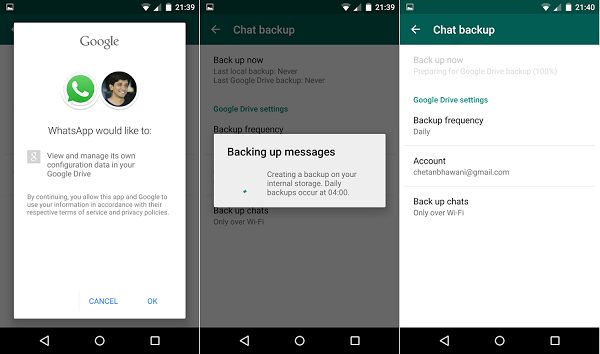 Step 3.
Connect the old phone to a Wi-Fi network. If you select Daily, the backup process should work automatically. If you pick
Only when I tap Back up
, you have to tap the
BACK UP
button on Chart backup screen.
Step 4.
When you prompted the process is done, switch to the new phone. Install WhatsApp and open it. Sign in the same phone number and tap
Restore
once WhatsApp find the backup. A few minutes to an hour, the WhatsApp conversations should copy to new phone.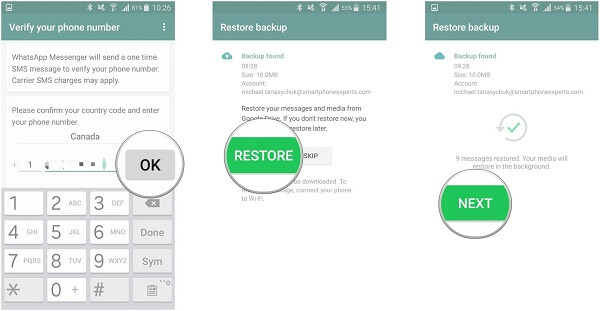 Part 4: FAQs of WhatsApp Migration between Android
Can I transfer WhatsApp from one phone to another?
You cannot transfer WhatsApp from one phone to another. When it comes to WhatsApp chats, conversations and messages, you can utilize the backup and restore feature or a third-party tool to move them to new phone.
Will I lose my WhatsApp conversations if I change phones?
If you just simply install WhatsApp on the new phone and sign in your account, you cannot find the chat history anymore. Alternatively, you have to copy WhatsApp chats from old phone to new one manually.
Can I use the same WhatsApp account on 2 phones?
Officially, it is not possible to use the same WhatsApp account on two devices at the same time. At a particular point in time, you can only use the same account on one device.
Conclusion
Now, you should understand how to transfer WhatsApp conversations to new phone when you upgrading your handset. The built-in backup and restore features can help you do it with a SD card or Wi-Fi network. If it is not working for you, Aiseesoft MobieSync is able to copy WhatsApp from old phone to new phone directly. It does not require internet connection or SD card. If you have other troubles, welcome to leave your message below.

Leave your comment and join our discussion