How to Uninstall Slack on Mac and Windows PC Completely
Slack is a business-oriented workplace messaging application that is mainly designed for creating chat rooms and communicating with team members instantly. It offers a simple way to send messages, share files, create channels for different projects, and more. While for different reasons, you want to uninstall Slack and delete its associated data.
If you no longer need the software's functionality, you can use the 3 methods provided in this article to uninstall Slack from Mac and Windows PC with ease.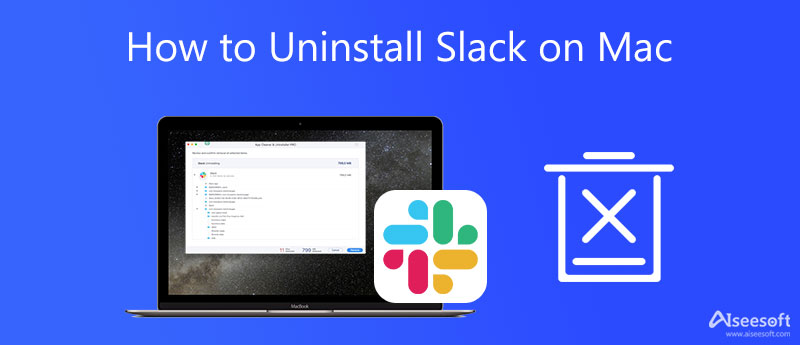 Part 1: Regular Way to Manually Uninstall Slack on a Mac
Mac offers a convenient way to uninstall various applications by moving them to Trash. You can use this method to quickly remove Slack from your Mac.
Step 1:
Before you uninstall Slack on Mac, you should make sure Slack and its related programs are not running in the background. After that, you can click on the
Finder
icon on the
Dock
to open a
Finder
window.
Step 2:
Click
Applications
on the left pane and then scroll down to locate the Slack application. Right-click on it and then click the
Move to Trash
option. Here you can also choose to drag Slack to Trash for uninstalling it. Right-click on the Trash and choose
Empty Trash
.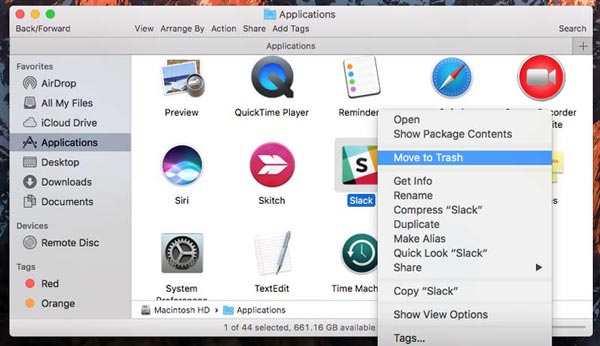 Step 3:
To thoroughly uninstall Slack, you need to manually remove all its leftovers from Mac. Here you should open a Finder window, click on Go and then choose
Go to Folder
. Enter
~/library
in the search box and go to the
Library
folder.
Step 4:
In the
Search for
box, type
Slack
to locate all related files to it. Select all associated data and then right-click on them, choose
Move to Trash
to delete them. Similarly, you need to
empty Trash on Mac
to remove them.
Part 2: Easier Way to Completely Uninstall Slack from Mac
With the method above, you can easily uninstall Slack from a Mac. But you can't ensure that you have deleted all the app leftovers. Considering that, here we strongly recommend the powerful Mac Cleaner to help you permanently uninstall Slack and erase all related data.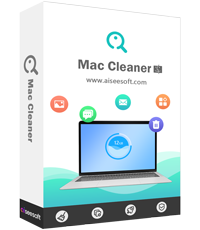 154,940 Downloads
Mac Cleaner - Uninstall Slack Mac
Uninstall Slack on Mac and remove all its associated data.
Delete junk files, duplicates, large and old data, and more to free up Mac space.
Monitor current Mac status and optimize Mac performance in real-time
Remove viruses, adware, malware, and others to protect Mac.
Step 1:
First, you should free download and launch this Mac application uninstaller software on your Mac. It is equipped with 3 key features, Status, Cleaner, and ToolKit. You can simply click on the
Status
to view the current status of your Mac, such as disk, CPU, and memory.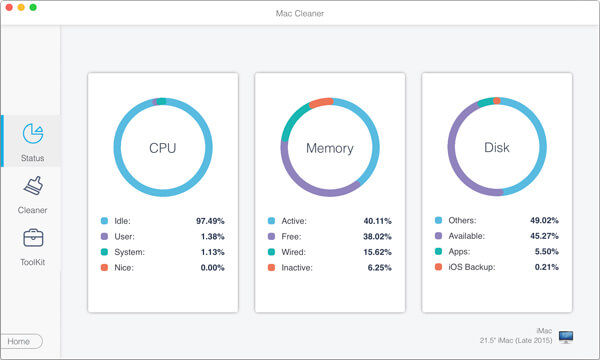 Step 2:
Mac Cleaner is designed with a specific
Uninstall
function in
ToolKit
to help you easily remove applications from your Mac. You can go to ToolKit and use it to uninstall Slack.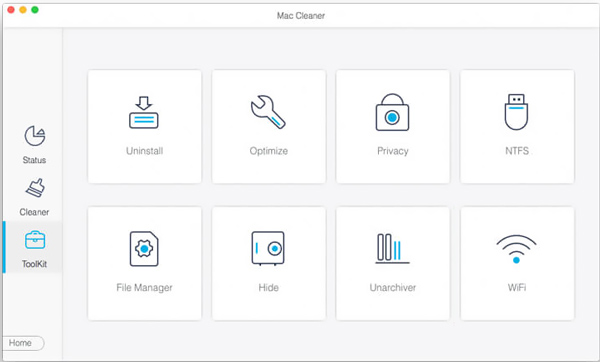 Step 3:
If you want to unwanted files and free up your Mac storage space, you can go to
Cleaner
and then select different options it offered to remove junk files, large and old files, duplicates, and others.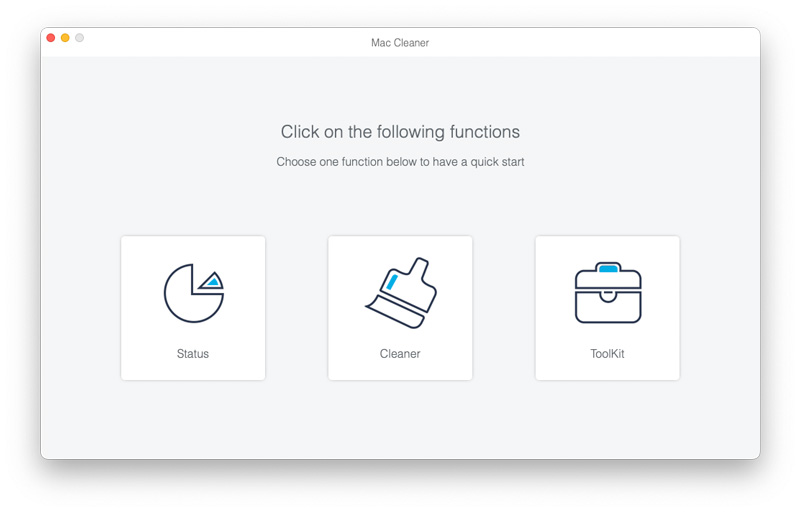 With this recommended Mac Cleaner, you can handily uninstall Slack and delete its leftovers. More importantly, it enables you to keep Mac in a good status, fix various macOS issues, protect privacy, and more. If you want to uninstall Homebrew from Mac, you can use this software too.
Part 3. How to Uninstall Slack from a Windows 11/10/8/7 PC
If you are uninstalling Slack from a Windows computer, you can take the following guide.
Uninstall Slack on Windows 11 or Windows 10 computer
Step 1:
Click on the
Windows
icon on the bottom screen and then choose
Settings
.
Step 2:
When you enter the Windows Settings, click the
Apps
and then select the
Apps & Features
option. Now you need to find the Slack application, click the
Uninstall
, and then follow the on-screen instructions to remove it from this computer.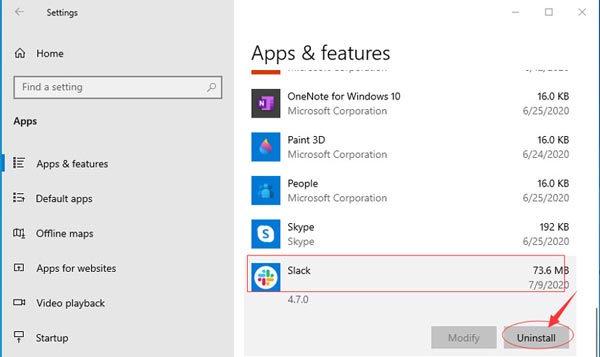 Uninstall Slack on Windows 8/7 PC
Step 1:
On a Windows 8 or Windows 7 PC, click on the
Start
icon and then go to the
Control Panel
.
Step 2:
Choose the
Programs
option and then click on the
Programs and features
. Scroll down to locate Slack under the applications listed.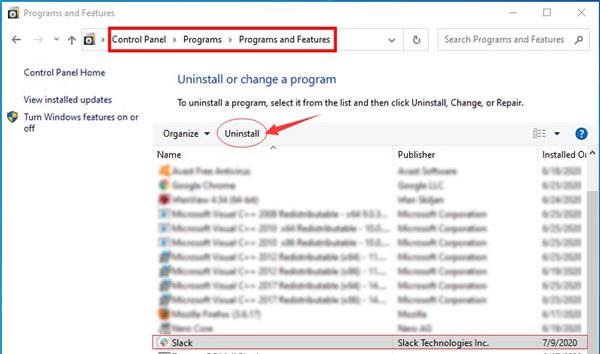 Step 3:
Click on
Slack
to highlight it. Now you can click the
Uninstall
and follow the instructions to confirm your operation.
Part 4. FAQs of How to Uninstall Slack
1. How do I delete a Slack account on my Mac?
Open the Slack application on your Mac and click your workspace name in the top-left corner. Select the Profile & account option from its drop-down menu. On the right side, next to the Edit Profile, click on the More actions icon. Click on Open account settings, scroll down to locate the Deactivate account section, and then click on the Deactivate your account button.
2. How to uninstall Slack app on an Android phone?
You can easily uninstall the Slack app from the Settings app on your Android device. Open the Settings app and then tap on Apps and notifications. Choose the Slack application and tap on Uninstall.
3. Can I use Slack for free?
Slack offers a free version to use its services with some limitations. You need to upgrade to a paid plan to access more features.
Conclusion
When you want to uninstall Slack app entirely, you also need to remove all its service files and other associated data. You can choose to manually remove it, or use an uninstaller like the recommended Mac Cleaner.

Leave your comment and join our discussion