Creat and Manage iPhone Contact Groups on Your Computer
Did you one time or another try to create a contacts group on your iPhone? Or have you tried to manage contact group on your iPhone? Or have you been looking for how to edit or merge iPhone contact groups on your iPhone? Then you have discovered one of the big ways to do all this on your almighty Smartphone. It is impossible to create and manage a contact group to your iPhone without having to use a 3rd party app or service. That's why this article will show you a good and nice app that will allow you to create and manage contact groups to your iPhone, it will also show you how to edit and delete iPhone contacts groups. Using FoneTrans application it can create, edit iPhone contacts.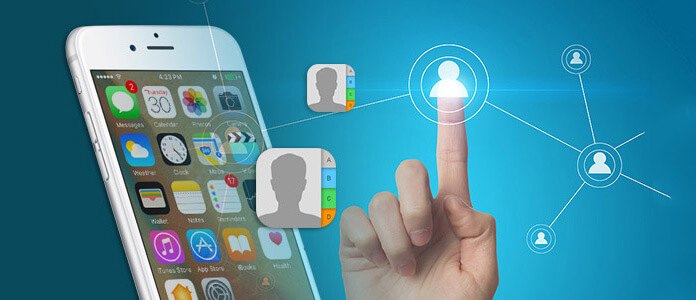 Creating and managing contact group on iPhone is a simple process, however, it requires installing a third party application because the stock Contacts app for iOS doesn't let you create and edit groups on the fly. In this article, we will show you how to group your iPhone contacts by using an iPhone contacts manager, FoneTrans. We are not only going to explain how to create contact groups, but also edit and delete these groups.
Part 1. How to create iPhone contact groups with FoneTrans on computer
FoneTrans provides you three ways to make new contact group(s). After running FoneTrans, connecting your iPhone and coming to the Contacts interface, you can choose any way below to add new contact group.
FoneTrans - Best iOS Data Manager
For Mac
Aiseesoft FoneTrans is the professional iPhone sync tool to transfer data between iOS devices, move data from iPhone to Mac/iTunes, and sync data from Mac to iPhone.
Transfer local files, like video/music/picture etc. between iPad & PC.
Sync iPhone/iPad/iPod photos, music, playlist, etc. to iTunes directly.
Get contacts, calendar, photos, etc. from iPhone to computer (Windows and Mac).
Transfer data from computer to iPhone/iPad/iPod.
Compatible with any Apple product like iPhone, iPad Pro/Air/mini and iPod touch with iOS.
Method one
Step 1Find "Contacts" on the left sidebar and tick "Other Tools". Then choose "New Group".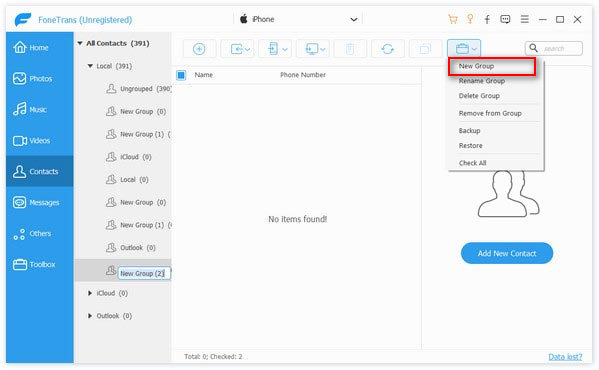 Step 2 Rename the new group and click "Add New Contact" to add contacts you want.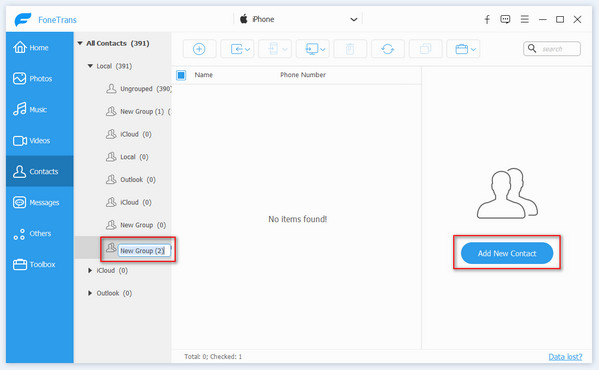 Step 3 You will then be taken back to the main screen of the FoneTrans application. There, you will see the group that is newly created, together with other groups that you have created before.
Method two
Right click any contact group and tick "New Group" to add a new group.
Part 2. How to manage iPhone contact groups with FoneTrans on PC
Rename or delete a contact group
If you want to rename or delete a contact group on your computer, right click the group name. Then you can choose to delete or rename the group.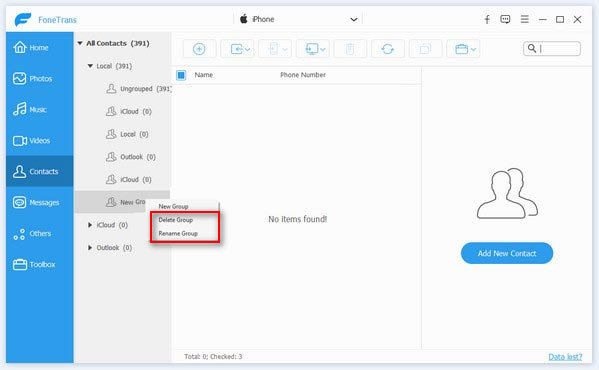 Move contacts from one group to another
By moving contacts to another group, you can manage the contact groups on your iPhone.
Step 1 Click a group and tick the contacts you want to transfer.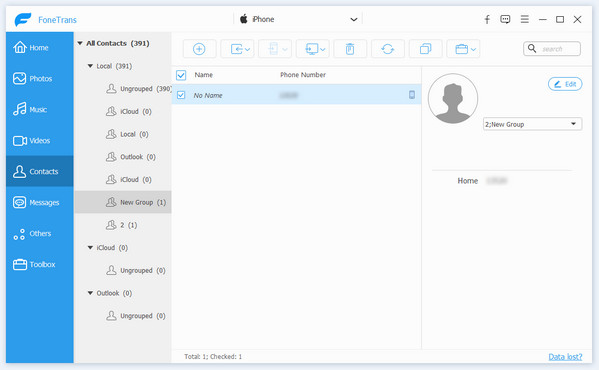 Step 2 Tick "Other Tools" and click "Add to Group". Select the name of the target group in the following down arrow.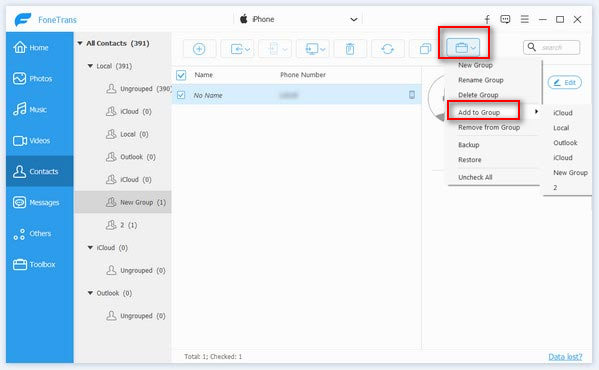 You can also select the contacts you want to transfer. Then right click them and click "Add to Group" to choose the target group.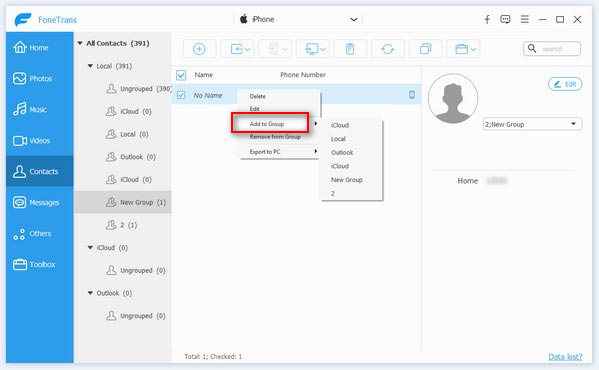 Part 3. How to manage iPhone one contact/contacts with FoneTrans
Apart from contact groups, FoneTrans also allows you to edit your contacts separately.
Step 1 Go to the Contact interface, click the name of the contact you want to edit.
Step 2 Then the detailed information will be listed on the right, including photos, mobile phone, home number, MSN, email address, etc. Edit the information you want and click "Save".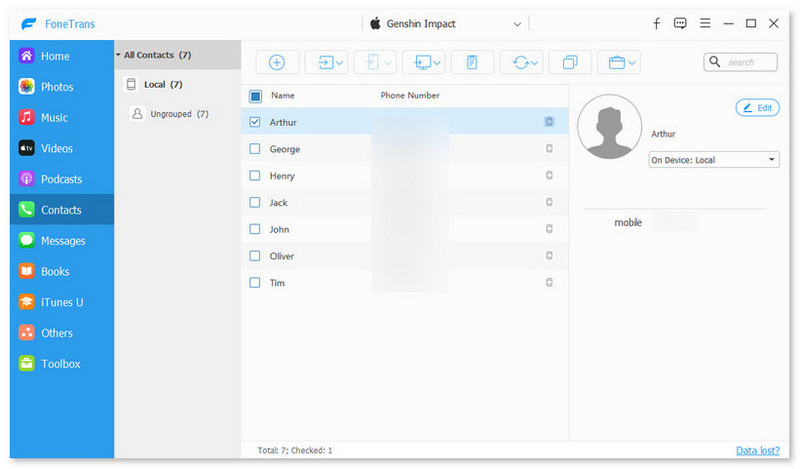 Apart from all the thing metioned above, you could also use this iPhone Manager to delete iPhone contacts and more. Download it and explore by yourself.