How to Save PDF as an Image with the Top Desktop and Online Programs
Unless you have a PDF viewer, which is in the form of a third-party solution, you will not be able to open your PDF files. On the other hand, most PDF files are supported by different browsers. However, it can sometimes be slow to load, and internet access is a must for you to view them. What you can do is convert your PDFs to images.
As we know, images are more accessible than PDF files. Computers and mobile devices have built-in photo applications. In turn, you do not have to download a third-party solution to view your files. Therefore, this post handpicked the best tools to help you turn your PDF files into images. Check them out beneath.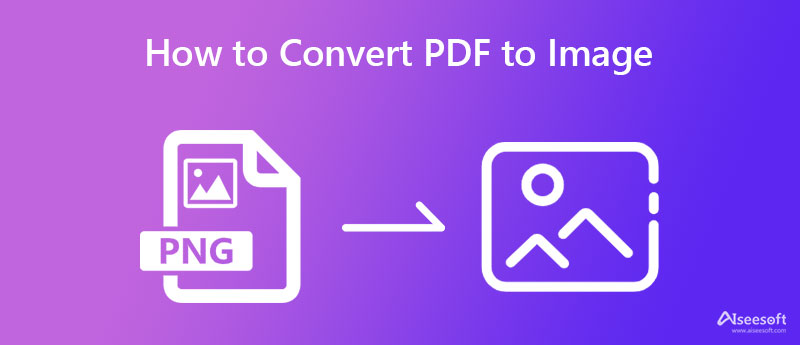 Part 1. How to Convert PDF to Image Offline
For desktop users, you may use offline tools. This method is convenient, especially when an internet connection is not accessible in your case, situation, or place. The only requirement is for you to download the software. Nevertheless, they are powerful enough to help you convert PDFs to image files. Continue reading to get the needed information.
1. Aiseesoft PDF Converter Ultimate
Aiseesoft PDF Converter Ultimate comes with a wide range of conversion output formats. If you wish to convert your PDF files to PNG, JPEG, GIF, TIFF, and so on, that is possible with this program. Moreover, users may switch from PDF to plain text, Microsoft Word, and even rich format text. On the other hand, you will find the tool helpful when converting a large number of PDF files. It can convert multiple PDF files to image formats effortlessly and efficiently.
One great feature why you should choose this solution is it comes with an OCR feature that helps you to scan your PDF and make it an editable file, like text. In addition, it supports many languages besides English. It can recognize Bulgarian, Croatian, French, German, and so much more. If you are interested in converting PDFs to images with the help of this tool, you can rely on the steps below.
Step 1:
First of all, obtain the tool from its official web page. You may also acquire its installer using the
Free Download
buttons provided beneath. Once successfully downloaded, install and launch the program on your computer.
Step 2:
The main interface of the program should show up after launching it. Now, tick the
Add Files(s)
button at the top left corner and select the PDF files you wish to turn into images. You may select multiple photos or upload a folder of PDF files. This option can be selected by hitting the drop-down button.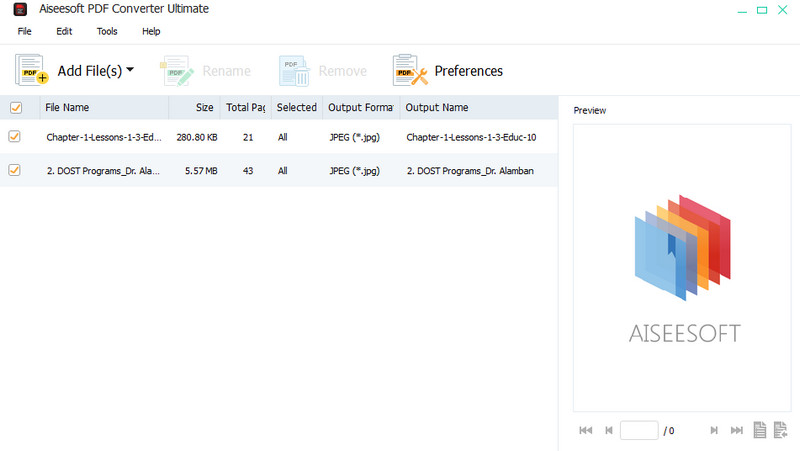 Step 3:
After that, go to the
Output Format
at the lower portion of the interface. From here, select your desired image format.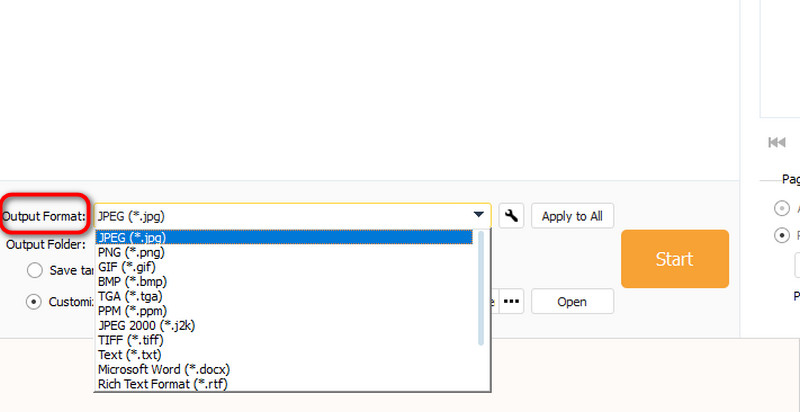 Step 4:
At last, tick the
Start
button. This action will then commence the process of conversion.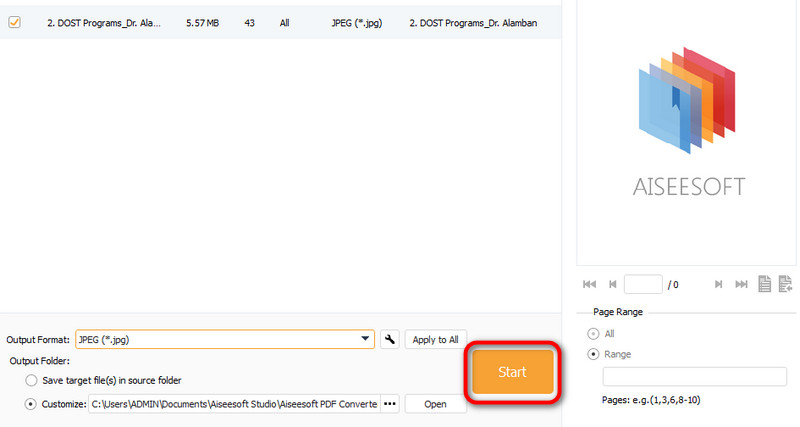 2. TalkHelper PDF Converter
If you wish to learn how to convert PDFs to image files with another desktop tool, you can try TalkHelperPDF Converter. Likewise, the tool enables you to convert your PDF documents to the latest and most famous image formats. The program is often regarded as one of the great solutions available. Apart from its ability to convert to images, you will also be pleased to use the tool because of its simple user interface, allowing you to see all the functions and options. Surely, you will not have any confusion upon using the program.
In other words, functionality, and usability wise, TalkHelper PDF Converter does not lack behind. Besides, you can also use the batch conversion feature to help you process many files in a single session. Check out the procedures for converting your PDFs to images.
Step 1:
First, visit the program's official website and download the program. When you are done acquiring the program, install and launch it afterward.
Step 2:
This time, tick the
PDF to IMAGE
option on the left side menu. This option will convert your imported PDFs to the program to image files.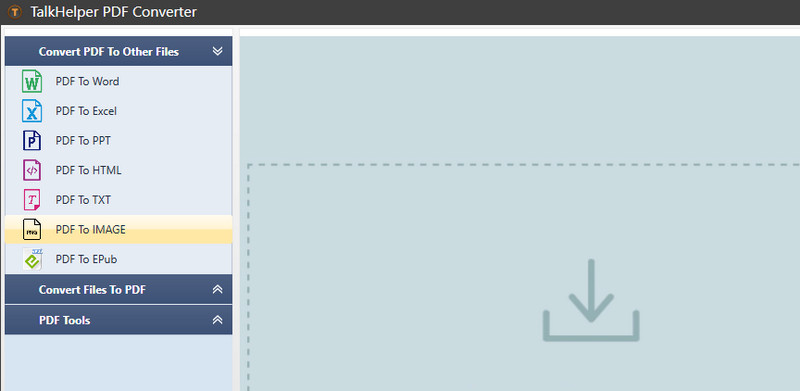 Step 3:
After that, tick the upload area to launch your computer folder. You may also drag PDF files from your computer folder directly to the program. Upon importing PDF files, you will see different formats below the interface. Step 4:
Select an image format and smash the
Convert
button at the bottom right-hand side of the interface to initialize the conversion process.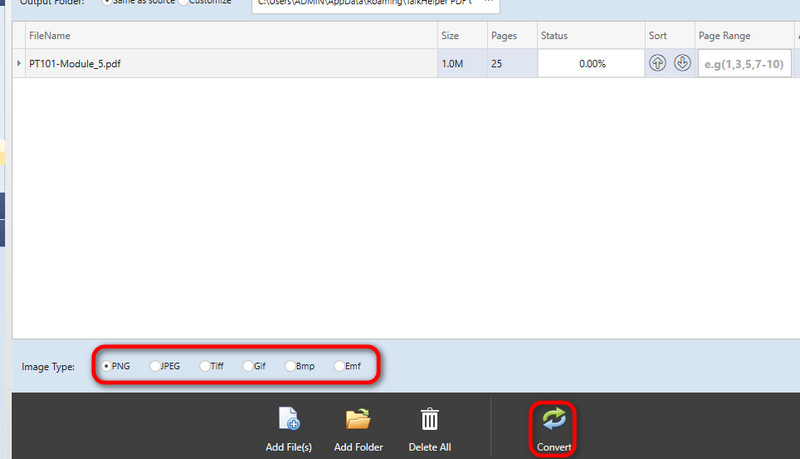 Part 2. How to Convert PDF to Image Online
You may also find it convenient to convert files without the need to download programs on your computer. If that is your thing, then we have programs you should consider to convert PDFs to images online.
1. Free PDF PNG Converter Online
With Free PDF PNG Converter Online by Aiseesoft, you may process PDF files and get them converted to images. You can save your PDF files as JPG, PNG, BMP, GIF, and TIFF. If your target format is included in the output formats, this tool perfectly suits you. Furthermore, converting multiple PDF files simultaneously is possible using this program.
Apart from these features, it is compatible with almost all browsers, allowing you to process conversions across various browsers. Users are not required to pay a cent or register for an account to maximize the program. Meanwhile, using the same program, you can convert images to PDFs when necessary.
Step 1:
Access the tool using any browser on your computer. You will see different functions on the main interface or program's home page. From here, focus on
PDF to PNG Conversion
and hit the
Add PDF Files
associated with this option.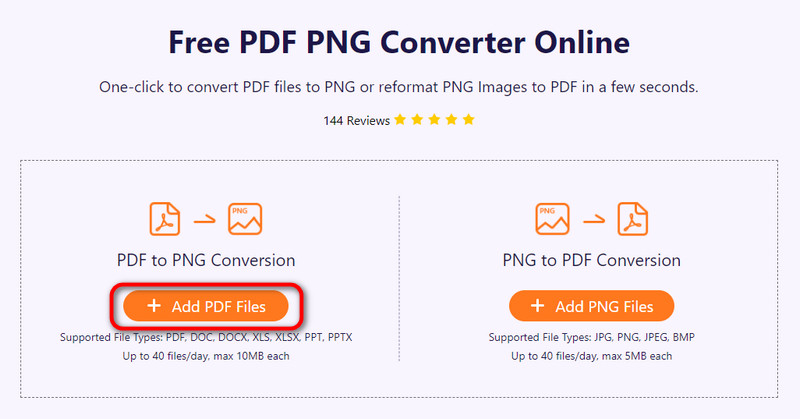 Step 2:
Then, the imported photos will be placed in the
Prepare
section. This time, select an output format by ticking on your desired output format's radio button.

Step 3:
When all preparation is set, tick the
Convert All
button to start the conversion session. The process should be done in seconds. Now, tick the
Download All
button to get copies of the converted PDF files.

2. XConvert
XConvert is another useful online tool that works great in converting PDF files to images. The tool is most desirable for its offered functions. The program can convert PDFs to images and vice versa. Besides PNG and images, it also works as a merger, compressor, and resizer. Therefore, if you wish to resize images, merge files online, or compress videos, you can take advantage of this program. The only thing that worries users is their privacy. Well, there is nothing to worry about if you are not dealing with confidential files. See the process below to learn how to convert PDF to image.
Step 1:
Launch your favorite browser and visit the tool's official website. After that, look for the
Convert PDF to Image
option at the lower part of the page. You may also select the
Convert Tools
to see only the converting tools offered by the tool.

Step 2:
Now, tick the
Add Files
button or the icons for cloud services, like Google Drive and Dropbox. Next, select the photos you wish to import to the program.

Step 3:
Then, choose an output format on the right-side menu. You can choose between
JPG
and
PNG
. Once everything is prepared, tick the red
Convert
button at the bottom right corner.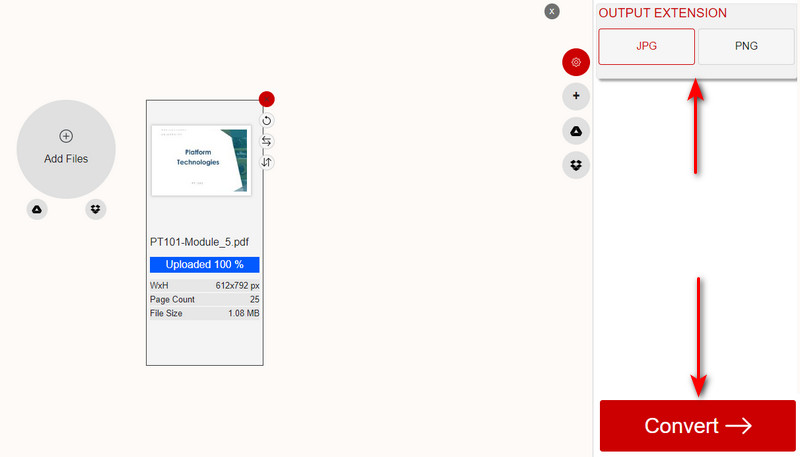 Part 3. FAQs About Converting PDF to Image
Can I edit PDF?
Yes, it is possible to edit PDF files. You can find many PDF editors to achieve your goal. However, most of them are costly. On the other hand, you may opt for the best free PDF editors.
How do you create a PDF file?
There are different manners of creating PDF files. You may scan documents and make them PDF. Also, you can merge documents and compile them into one PDF file. On top of that, you can convert photos to PDF using the above solutions.
What is the main advantage of using PDF?
PDF files allow for incorporating several types of content. Aside from text, you can integrate videos, images, animations, audio files, hyperlinks, and many more.
Conclusion
That is it! You learned how to convert PDFs to images. These are all efficient and free. All you need to do is to pick the right program according to your preferences. Try out each program to see which works best for you.

Leave your comment and join our discussion