How to Unlock PDF to Edit or Write Freely
A PDF document can be secured by many different types of encryptions and restrictions, from password to limitation of editing capabilities for viewers. While it can protect your PDF files, it also makes more difficult to edit and convert. In this post, we will show you multiple ways to unlock secured PDF files without losing content.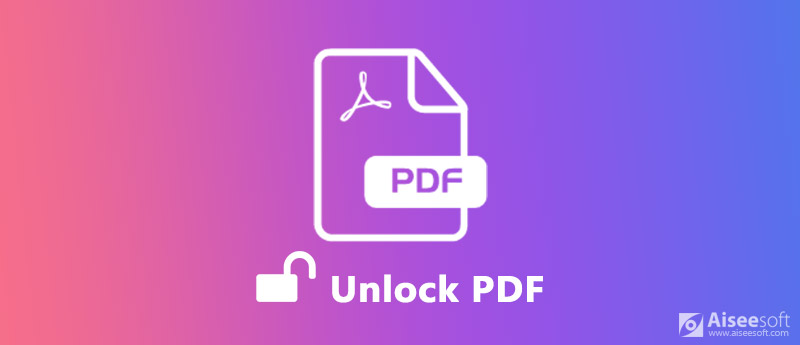 Unlock PDF
Part 1: Is It Legal to Unlock PDF
Unlock a PDF refers to the process of removing the password protection and restriction from a PDF file. When open, view, edit or convert an encrypted PDF, you may require a password.
Of course, you can unlock a PDF simply with the password. In fact, a secured PDF can be unlocked even if you do not have the password.
If a PDF is protected, there is generally a reason for that. Whether the document includes sensitive information or is personal for its author, we should respect it. But you can unlock it to save yourself some inconvenience if you are keeping the PDF in a secure location.
Part 2: How to Unlock PDF Online
Online utilities are convenient and we found that some online PDF solutions offer the capacity of PDF unlock. EasePDF is one of the best PDF solutions including a PDF unlock app. It does not require any extra software or plugins. Moreover, you do not need to pay for it if you only have several secured PDF files. The steps below help you to simplify the process.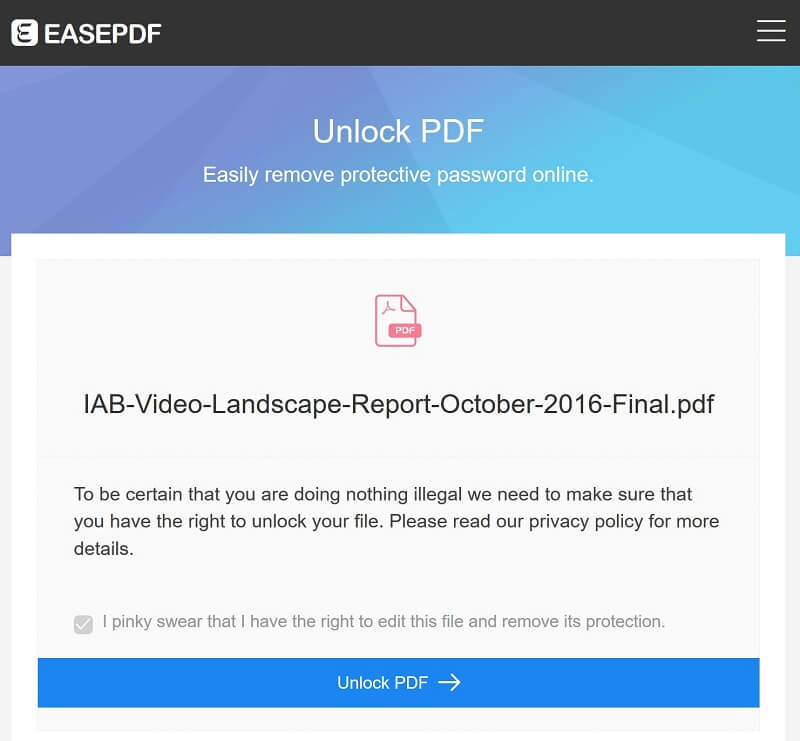 Step 1.
Launch your web browser, copy and paste https://www.easepdf.com/ into your address bar and press the Enter key on your keyboard to open the online PDF toolkit.
Step 2.
Scroll down and select Unlock PDF to open the PDF unlock page. Next, open a Window Explorer, navigate to the secured PDF file and drag and drop it onto the page.
Step 3.
Read the message on the screen carefully and then check the box next to the oath. If you are ready, click the Unlock PDF button to start unlocking your PDF online.
Step 4.
When it is done, click Download File button to save the unlocked PDF to your hard drive.
It will not add watermark on your PDF files, but the free version only allows you to process limited files per hour.
Part 3: How to Unlock PDF with Chrome
If you are using Google Chrome browser on your computer, it is the simplest way to unlock secured PDF. The built-in PDF printer is able to re-print an encrypted PDF to a new PDF without any restriction.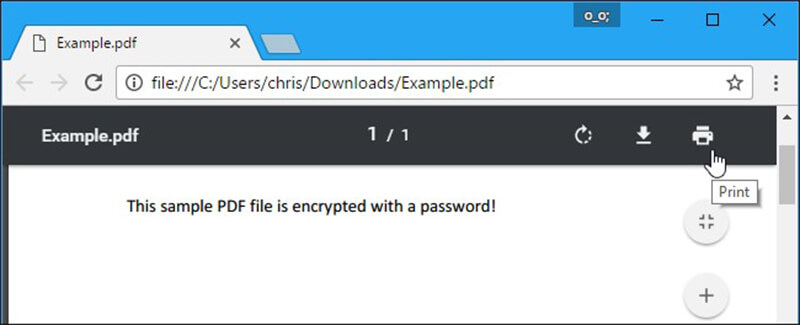 Step 1.
Open the PDF document you want to unlock in your Chrome, and click the Printer icon at the upper right corner to trigger the built-in PDF printer.
Step 2.
Locate the Destination section, click the Change button and select Save as PDF.
Step 3.
Make sure to select All in the Pages area and keep the other options default.
Step 4.
Finally, hit the Save button. When prompted, select a specific directory to store the unlocked PDF. Click Save again to begin unlocking the PDF.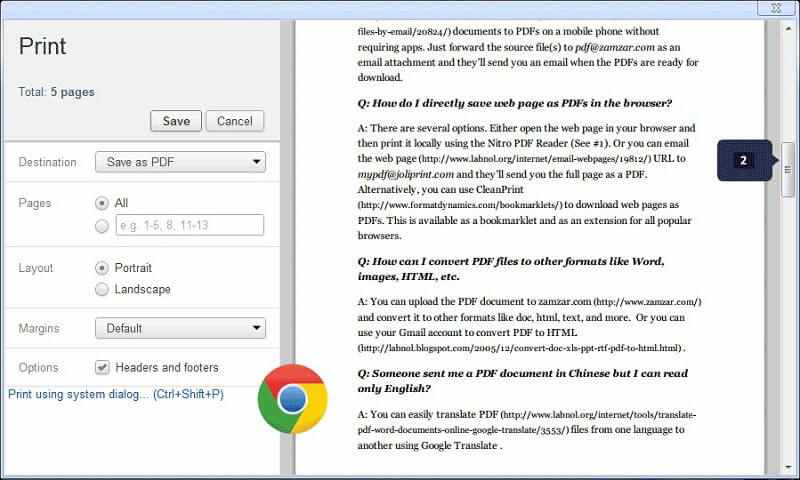 The PDF printing method is convenient to unlock secured PDF files. It works in Chrome on both Windows and Mac. Moreover, Microsoft Edge for Windows 10 and Preview on Mac equip the PDF printer feature as well.
Part 4: More PDF Unlocking Apps Online
If you are looking for more options to unlock PDF online, here are 3 PDF unlocking apps.
Top 1: SmallPDF
SmallPDF is an all-in-one solution for PDF documents. It allows you to process two PDF files per hour for free, including PDF unlock.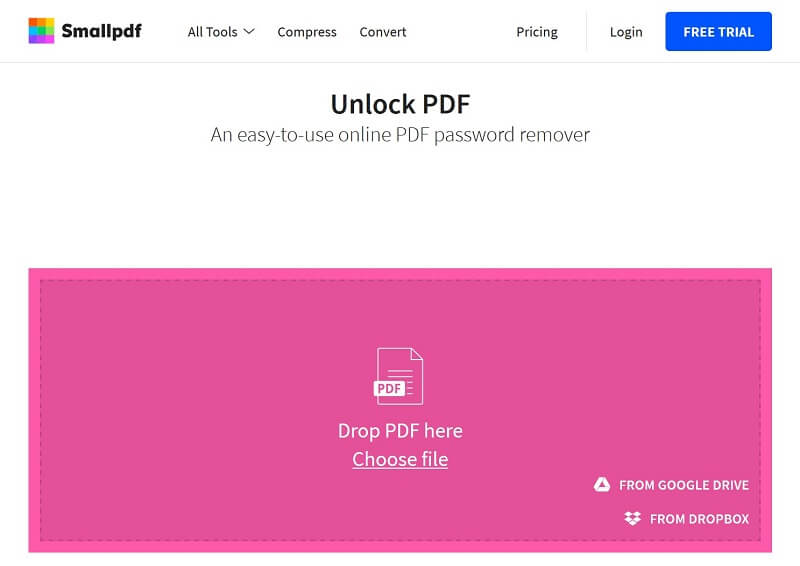 Step 2.
Drag and drop a secured PDF into the page from your hard drive to upload it.
Step 3.
Make sure to tick the checkbox and click the UNLOCK PDF button to trigger the process.
Step 4.
Finally, decide to download the unlocked PDF to your computer or share it via URL.
Though the free version does not have limit on file size, you have to view ads and cannot save your signature.
Top 2: LightPDF
LightPDF is another option to unlock PDF files online without paying a penny. It is able to remove most restrictions from PDF.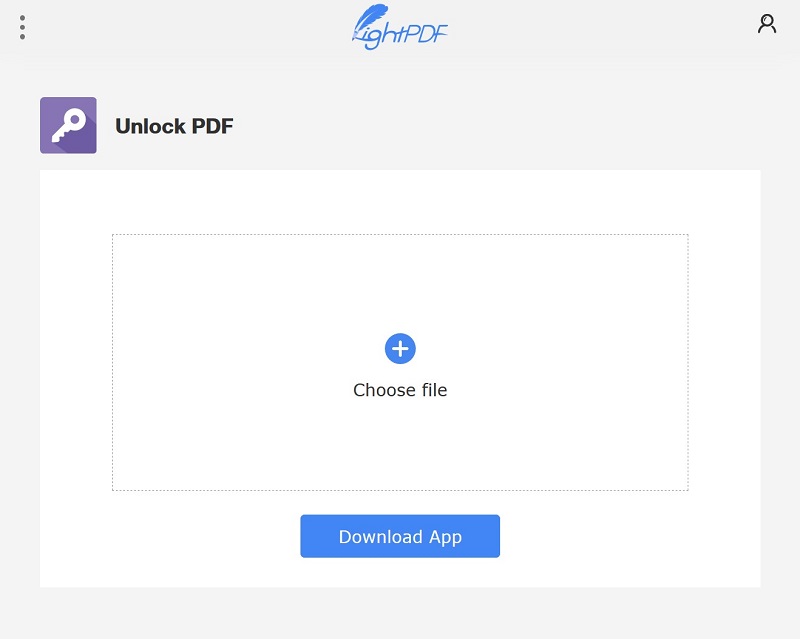 Step 1.
Copy and paste https://lightpdf.com/ into the address bar of your browser and hit Enter key to open the home page.
Step 2.
Pick up Unlock PDF under the Other PDF Tools area.
Step 3.
Click Choose file and upload the encrypted PDF from your computer.
Step 4.
After uploading, the online app will unlock your PDF automatically. Then you can click the Download icon to get the unlocked file.
It can unlock a PDF up to 5MB for free. If it exceeds the maximum file size, you will be required to join VIP.
Top 3: PDF.io
For beginners, PDF.io is an easy-to-use option to unlock PDF online. It does not ask you to register or subscribe. In fact, you cannot find these options on it.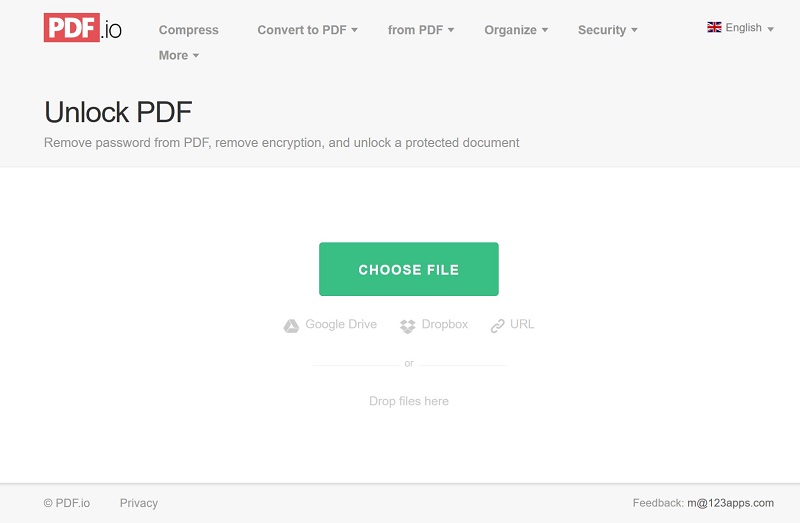 Step 1.
Visit https://pdf.io in any web browser and go to Security -> Unlock PDF to open the PDF unlocking page.
Step 2.
It allows you to upload an encrypted PDF from computer, Google Drive, Dropbox, and URL. To import a PDF from hard drive, click Choose File button and open it.
Step 3.
Wait for loading file to complete, and then PDF.io will unlock the protected document immediately.
Step 4.
After that, you can download the result file to your computer or cloud account.
Conclusion
It cannot be denied that adding password to a PDF could protect your information, but it makes PDF accessing and management more troublesome. Sometimes, you may forget the password and cannot modify the PDF anymore. That is why we shared the 100% working motheds to help you unlock secured PDF files online or on desktop. More suggestions or questions? Please feel free to leave your messages below this post and we will reply it.

Leave your comment and join our discussion