Avid Media Composer and Alternatives – Everything You Should Know About
If you are a video enthusiast, you may have heard of Avid Media Composer. It is a professional video editing solution popular around the world. Actually, some mainstream TV shows and movie professionals also use it to create media products. It is well-known that video editing market is predominated by Adobe.
Compared to Adobe Premiere, Avid Media Composer is more intuitive and customer-oriented. Considering it is a rich set of features and many people are not familiar with it.
To help you understand this video editor, we are going to share the knowledge you should understand about the video editor in this post.
Part 1: Avid Media Composer Tutorial and Review
Key features include:
1. Edit high resolution and HD videos on timeline.
2. Handle any aspect ratio and resolution with extensive parameters.
3. Use Avid DNxHD codec to produce video creatives.
4. Correct color, background, and balance of home-made videos.
5. Preview the video clips before rendering the results.
6. Integrate FrameFlex, 3D movies edit and other video editing technologies.
7. Compatible with Windows 10/8/7/XP and Mac OS X.
Pros:
1. Avid Media Composer offers a free version and Avid pro tool.
2. The interface is user friendly and easy to get what you want.
3. This video editor integrates a wider range of video editing tools, besides clip, crop, rotate and other basic video editing functions.
Cons:
1. It does not support 4K videos.
2. The video formats supported are limited.
3. It only supports up to four video tracks.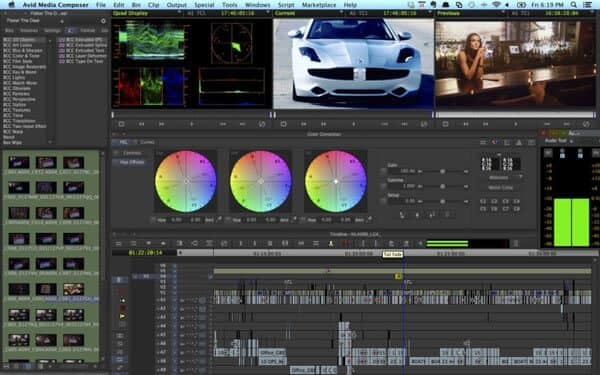 How to get start with Avid Media Composer
Step 1To edit videos within Avid Media Composer, you need to start with a new project. Once open the video editor, you will be prompted to set up a new project. There are three types, "Private", "Shared" and "External". Select a proper one based on your situation. Then choose the format and resolution to create a new project quickly.
Step 2When going into the main window, click on the "Folder" icon in the Bin window on left side and then import a video clip or entire media folder. Then drag and drop a video file onto the timeline.
Step 3Now, you can explore the video editing and adjusting tools in each menu. When it is done, you have to save the entire project and then convert it to a proper video format.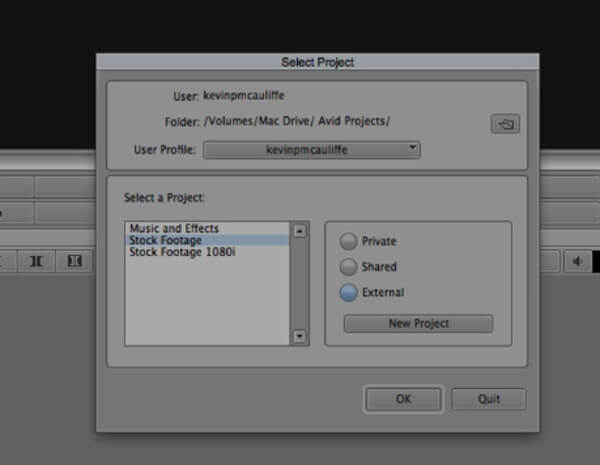 Part 2: Top 5 Avid Media Composer Alternatives to Edit Video Easily and Freely
Best Avid Media Composer alternative: Video Converter Ultimate
If you just begin video editing and feel Avid Media Composer pretty complicate, we suggest you to try Aiseesoft Video Converter Ultimate. It is not only a video converter, but also a video editor with plentiful features.
1. The built-in Video Editor integrates extensive video editing tools, like clip, rotate, flip, merge, watermark, video effects and more.
2. It has the capacity to keep original quality during video editing.
3. Moreover, users are allowed to optimize home-made videos with multiple modes in Video Enhancer.
4. It works on hundreds of multimedia formats as input and output.
5. Start editing videos, you can import clips from local hard drive, URL, and optical disc.
6. The Video Player window shows the video editing effect in real time.
7. In the end, Video Converter Ultimate permits users to export video results in a proper format or for portable devices.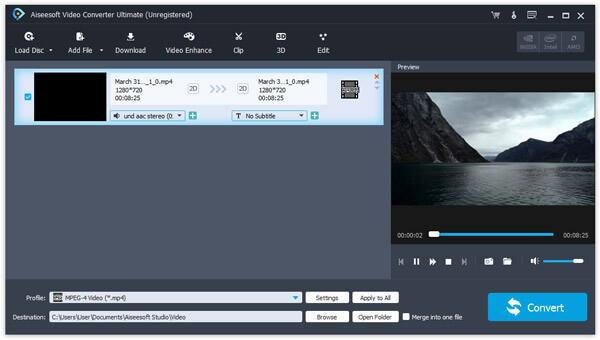 Top free Avid Media Composer alternative: Free Video Editor
Aiseesoft Free Video Editor is the best free Avid pro tool.
Pros:
1. Edit video footage while keeping original quality.
2. Offers basic video editing tools, like crop, trim, combine, rotate and more.
3. Create personalized videos with various effects and watermark.
4. Support almost all multimedia formats, including 4K and ultra 4K videos.
5. Compatible with Windows 10/8/8.1/7/XP and Mac OS X.
6. Compile video results to play on Windows, Mac, iPhone and Android devices.
7. The interface is intuitive.
Cons: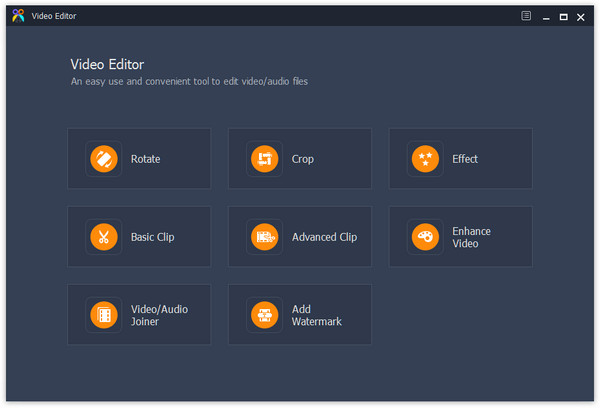 Best Avid Media Composer alternative for Windows: Windows Movie Maker
Windows Movie Maker is the best alternative to Avid Media Composer for Windows computer.
Pros:
1. Edit video clips on timeline or framework based on demands.
2. Provide basic video editing tools, such as split, trim, crop, rotate, etc.
3. Adjust video speed and other parameters to create special effect.
4. Preview the results with integrated media player.
5. Enhance images with Video Stabilization.
6. The interface is straightforward.
Cons:
1. It is not compatible with latest Windows operating systems.
2. The multimedia formats supported are limited.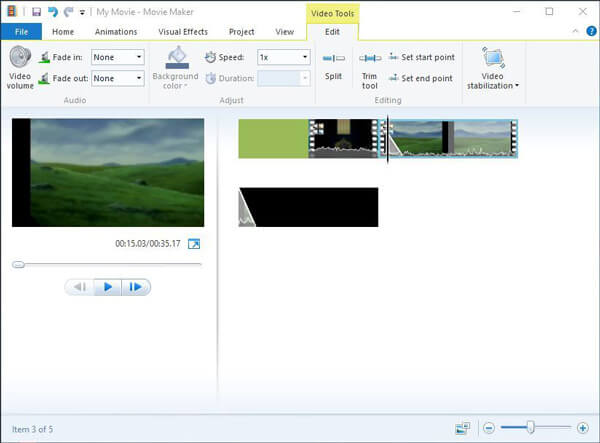 Top Avid Media Composer alternative for Mac: iMovie
iMovie was developed by Apple and a good alternative solution for Avid Media Composer on Mac.
Pros:
1. Put video clips on timeline and start editing.
2. Crop, rotate, flip, trim, split and use other editing tools to customize your videos.
3. Offer plentiful iMovie themes and filters to create special effects.
4. Transfer videos between Mac, iPhone, iPad and Apple TV.
5. Have a user-friendly interface.
6. Offer seamless experiences across Mac and iOS.
7. Co-work with QuickTime and other utilities developed by Apple.
Cons:
1. iMovie is not freeware, and you have to purchase it in Mac App Store.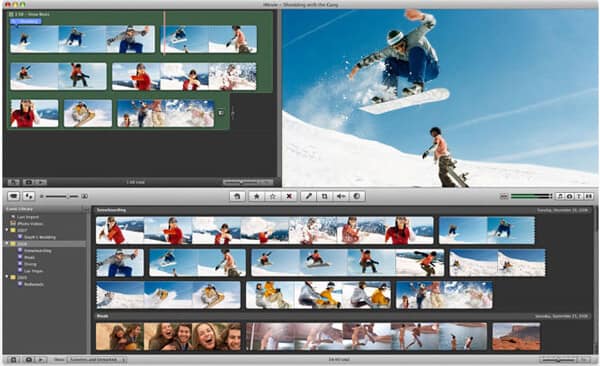 Best online Avid Media Composer alternative: WeVideo
If you are looking for an online alternative of Avid Media Composer, WeVideo is a good option.
Pros:
1. Edit videos on timeline or storyboard without installing anything on computer.
2. Provide basic editing tools.
3. Add subtitle, caption, music, text elements, or watermark on videos.
4. Adjust video speed, audio track, style and other parameters.
5. Export video clips to cloud services or YouTube directly.
Cons:
1. It requires users to register with personal information.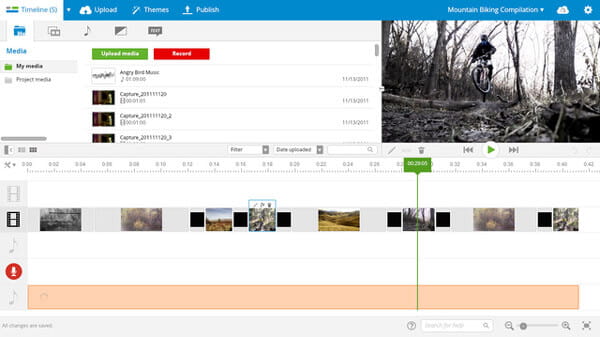 Conclusion
Based on the introductions above, you might understand Avid Media Composer and 5 best alternatives to edit your video clips under various situations. As a professional video editor, Avid Media Composer is a good option to create home-made videos.
On the other hand, we recommend 5 more options. If you just begin editing videos, Aiseesoft Free Video Editor is a good start point, because it is pretty easy to use. Moreover, Video Converter Ultimate is a good choice for people who are sensitive with video quality. You can make a good decision based on our introductions and reviews.