How to Use Clean Master for Android
When you are searching for a professional program to clean your Android device, Clean Master app should be one of the best programs to clean up the Android with ease. For those who know little about Clean Master for Android, you can know what is Clean Master app, and how to download and use this software, as well as the best alternatives of it. Just keep reading and find the detailed information now.

Clean Master for Android
Part 1: What Is Clean Master
Clean Master, also called Cleaner, is an Android app that can keep your Android device always tidy and performing well. It has many optimizing features to help you delete cache from your Android devices and clean your devices, as well as keep your devices secure. The newly added Notification Cleaner feature of Clean Master for Android tablet can block and clean up junk notifications easily to save you time from cleaning them manually.
Clean Master for Android is one of the highest rated apps in the world, 4.7 stars based on 40,000,000 reviews. And over 900 million downloads around the world. According to the data, Clean Master has helped users around the globe clean over 5.1 billion MB of junk files every day, as well as freed up over 3.5 billion MB of RAM every day to provide you a smoother mobile experience.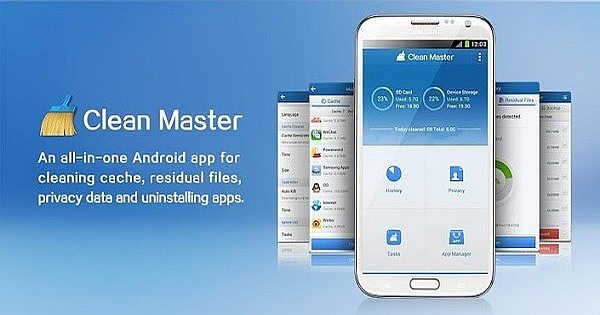 Part 2: Clean Master for Android Download
It is free and safe to download Clean Master app on your Android devices. If you want to download Clean Master antivirus for Androids, you can use Google Play Store, for it is available for free in this store. So just go to Google Play Store on your devices. Then search for Clean Master app. When you see this app showed to you, simply tap on INSTALL button to download Clean Master app on your Android device.
| Site | URL: |
| --- | --- |
| Uptodown | https://clean-master-cleaner.en.uptodown.com/android |
| Google | https://play.google.com/store/apps/details?id=com.cleanmaster.mguard&hl=en |
| Softonic | https://clean-master.en.softonic.com/android |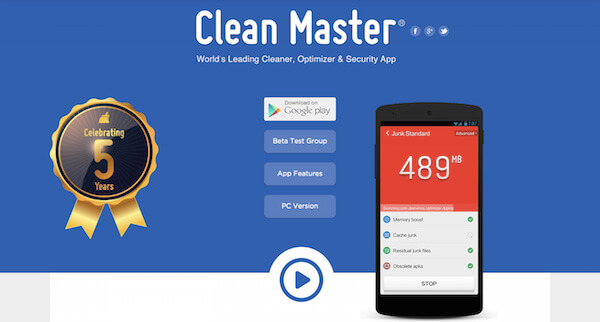 Part 3: How to Use Clean Master for Android
You can use your Clean Master for Android to clean junk files of your device, boost your phone speed, as well as manage different applications. You can follow the next steps to use Clean Master for Android.
(1) To clean junk files:
Step 1 Launch Clean Master for Android on your device. And then select Junk Files option.
Step 2 Wait for the scanning process completes. And it will list all your funk files, you need to check these files carefully.
Step 3 Now you can select the Clean Junk option to clean junks with Clean Master app.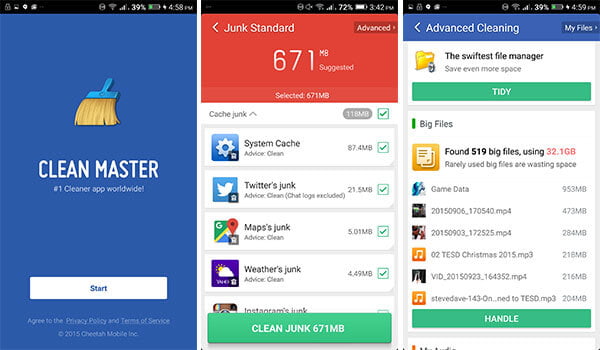 (2) To boot phone speed:
Step 1Select Cool Down option to close all the apps.
Step 2Now select Memory Boost to free up RAM space.
Step 3Select the menu icon and then choose Games Folder and Create. Then a Games folder will be created on your home screen. And whenever you run game through this folder, the game will be automatically boosted by 30%.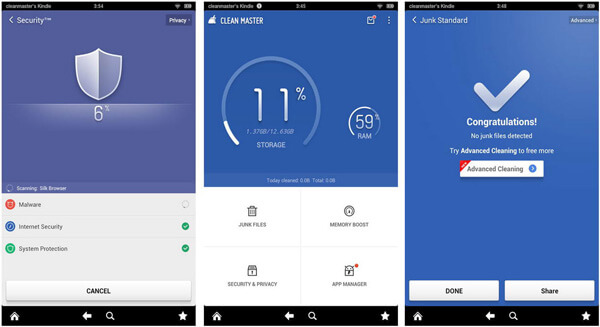 (3) To manage applications:
Step 1If you want to clean up apps, go to App Manager and choose those apps you want to delete, then hit Uninstall button.
Step 2If you want to move applications to SD card, go to App Manager and choose app you want to move, and then simply select Move. manage
Part 4: Top 10 Alternative to Clean Master for Android
Top 1: FoneTrans
Fone Trans is the most professional alternative of Clean Master app. It is regard as the best phone data transfer tool to copy contents between iPhone and Android smartphone. It should be the favorite app you should take into consideration.
Transfer all data between iPhone and Android for various scenarios.
Support all file types you value from any iPhone or Android devices.
Provides backup and restore functions as well.
Safe and simple to use.
Compatible with iOS 11 and Android 8.1.0 now.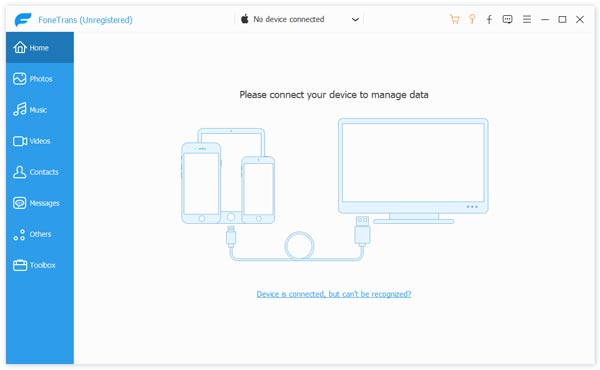 Top 2: TrustGo
TrustGo is also a good alternative to Clean Master app. It is more than an Android cleaner, but also provides the robust protection for your Android Devices.
Delete apps, spyware and malware that cause security issues.
Search and download apps that are safe, which alerts downloading bad and risky apps.
Offer impressive interface that makes it much easier to use.
Free to download and safe to use.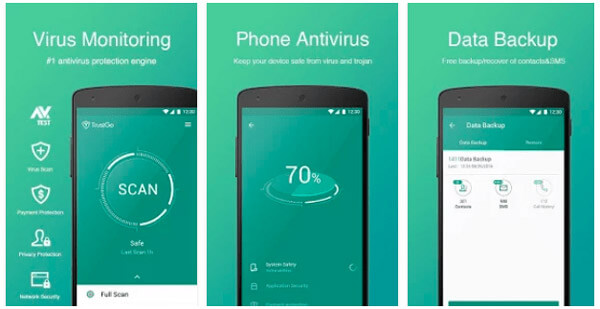 Top 3: CCleaner
If you want to find a good program to help you clean your junk files of Android device, CCleaner is a good choice as the Clean Master Alternative.
Provides three versions for you to choose.
Fewer errors and crashes to clear out this clutter to make your PC more stable.
Erase your browser search history and cookies so any Internet browsing you do stays confidential and your identity remains anonymous.
Protects your privacy and makes your device faster and more secure.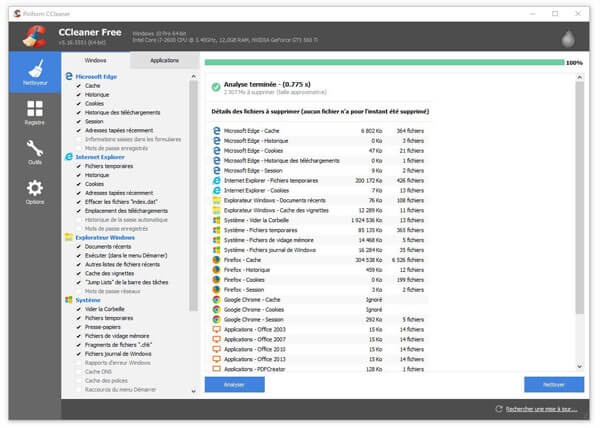 Top 4: Advanced Task Killer
Advanced Task Killer helps you clean your Android phone in a simple way. What is more, it provides a simple way to check out the currently running program.
Clean Android memory by deleting unnecessary files and applications.
It is another Clean Master alternative to clean Android phone with ease.
Adjust the security levels for the Android smartphone.
Display the apps in a list and you just tick the boxes next to the ones you want to kill.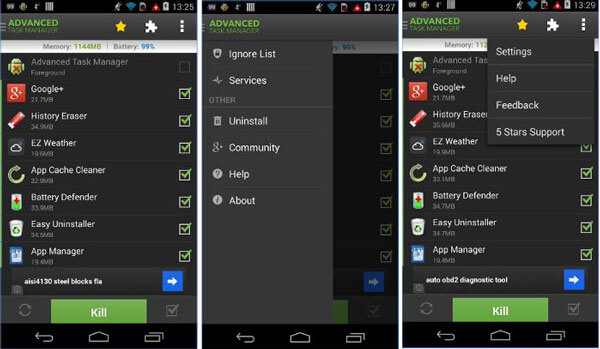 Top 5: App Cache Cleaner
If you want to clean your cache to get more space for Android device, App Cache Cleaner is the suitable Clean Master that cleans the cache files within one click.
Clean cache files of Android smartphone within one click to get more internal ROM storage.
Crucial to anyone who has memory management issues.
Fix multiple issues, such as low memory warnings, buggy Android phone and more.
Get more available storage space by clearing apps created cache/data files.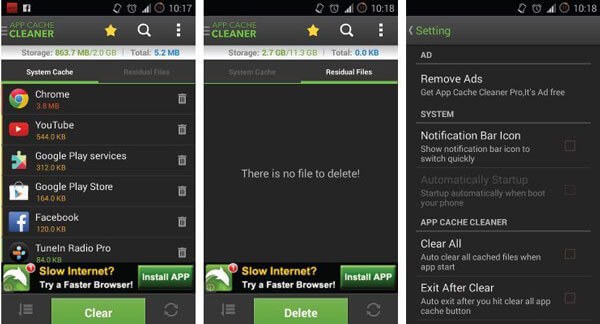 Top 6: Soluto
Soluto is also one of the best alternatives of Clean Master for Android, which analyzes your system and compares its findings with an online knowledge base that proposes solutions to various performance bottlenecks.
Focus on Chop boot, lighten web browser and heal crashes to make Android better.
Analyze Android system's boot process and looks for improvements.
With the growing database, it can find better solutions for the Android phone.
It is only a beta version, which should be improved in the future.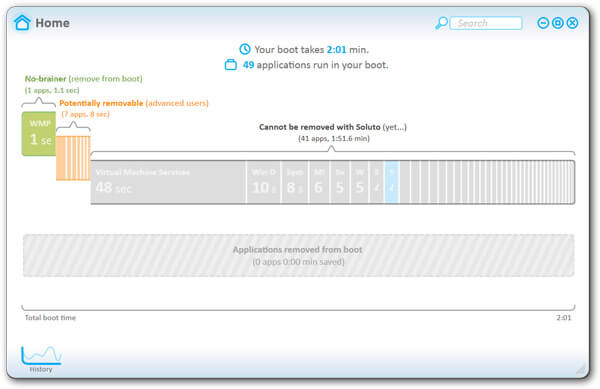 Top 7: Clean My Phone
Clean My Phone to help you clean junk files of your Android and boot phone speed. Just check the features of the Clean Master for Android alternative.
Provide you the function to help keep your device clean and safe.
Locate the applications that cause overheating to make battery better.
Kill unnecessary apps running in background by 1-Tap, speed your device in no second.
Lock applications and photos to make your private information safe.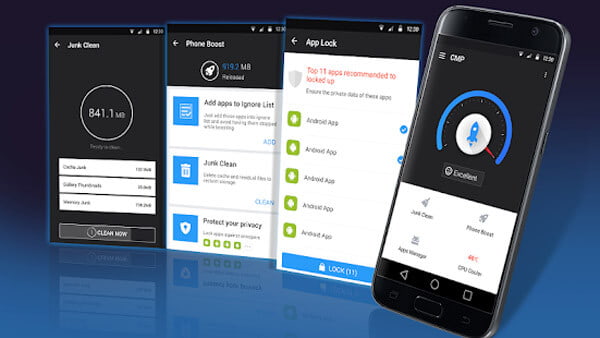 Top 8: Mobogenie
Just as the name of the Clean Master for Android, Mobogenie manages your text messages and create backup with multiple features.
Manage your text messages and contacts and personalize the features as desired.
Create back up your text messages on PC.
Download and install the apps on your smartphone that save your data charges.
Backup entire Android phone to the PC and restore it in case of software issues.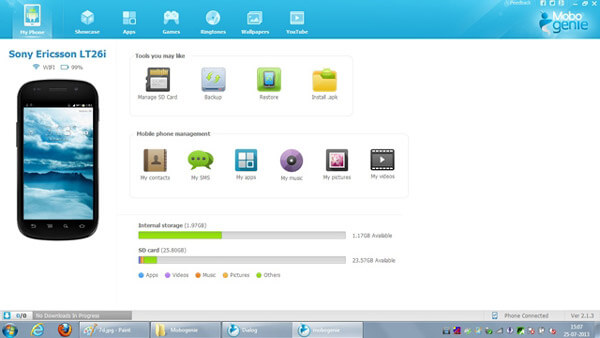 Top 9: Android Booster Free
Android Booster Free is a popular alternative to Clean Master app, which is able to improve the performance of Android phone.
Compatible with almost all the Android devices.
Scan devices and show the percentage your memory is occupies and the suggestion.
Improve the performance of the Android phone and the battery.
4 different modes and allows you to lengthen the battery time of the device depending on the situation.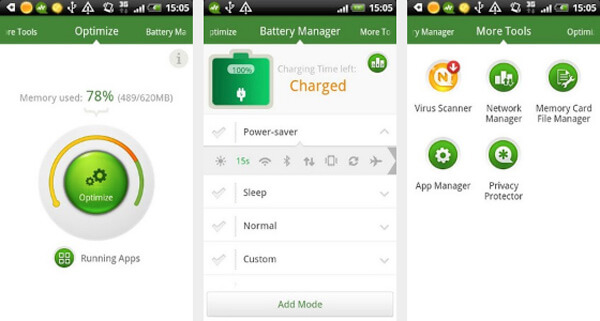 Top 10: AirDroid
AirDroid is one of the most recommended and popular programs as Clean Master alternative, which helps you manage your Android device much better.
Allows you manage your phone's content from web browser.
Offers the function to help you transfer files much easier.
Pays more attention to data transferring and management.
It's also stable and reliable because it's through a local connection.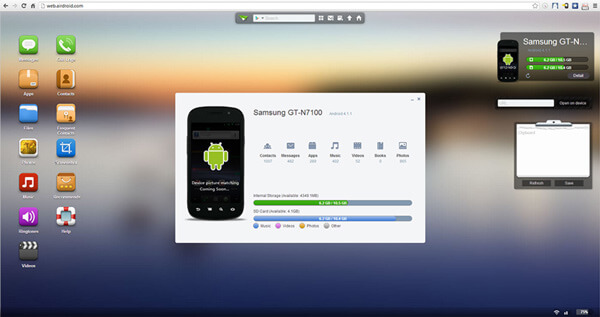 Conclusion
After reading this article, you must know more about Clean Master app, and understand how to use this software. We also list 10 best alternatives to Clean Master for Android for you to choose from. Hope you can gain something helpful from this page.