Ultimate Guide on How to Clear Android Cache on Android
For Android users, whenever you have encountered an app or software problem on Android phone, you may have been given advice like "clear cache on Android", or "clear the app data". Indeed, to clear cache Android can be a really effective way to speed up your Android phone and solve Android problems like Android app running slow.
So how to clear cache on Android? Is there any simple way to remove Android cache? In this article, you'll be taught several easy tutorials to wipe Android cache. Now free up Android space and improve your Android's performance!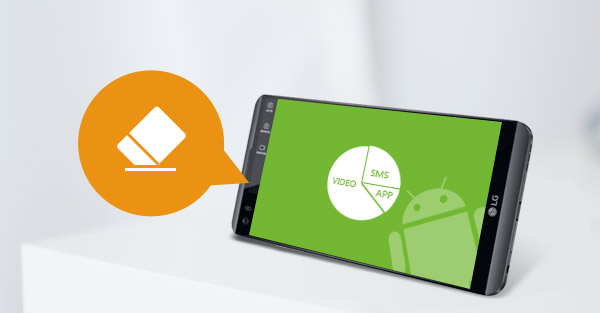 Clear Cache on Android
How to clear cached on Android (data of applications)
Clear cached on Android (data of a single app)
What does cache mean? Every time you are using app on Android, there will be some cache produced, which helps you to improve browsing experience at the time, but becomes useless later. Clearing app cache can be quite good if the app is crashing or lagging. The process is quite simple as follow: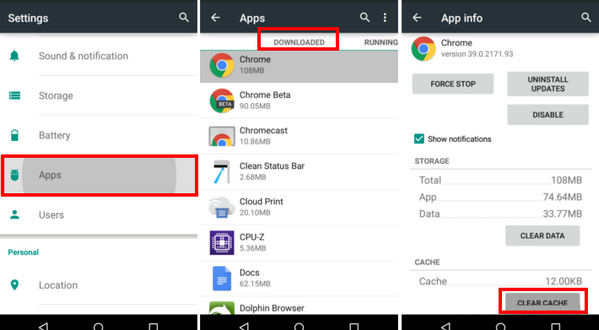 Step 1Go to "Settings" and tap on "Application Manager" (or "Apps").
Step 2Here all downloaded apps will be listed. Tap on the desired app that you want to clear cached data and it will lead to details.
Step 3There you can see the total space taken by cache. Tap "Clear cache", then all cached app on Android will be cleared.
Following the same steps, you can clear Facebook cache or other app cache on Android one by one.
Clear cache on Android (all app)
Of course, the built-in settings of Android phone also allow you to clear cache from all your apps at once. You can take the following guide to clear all apps cache on Android.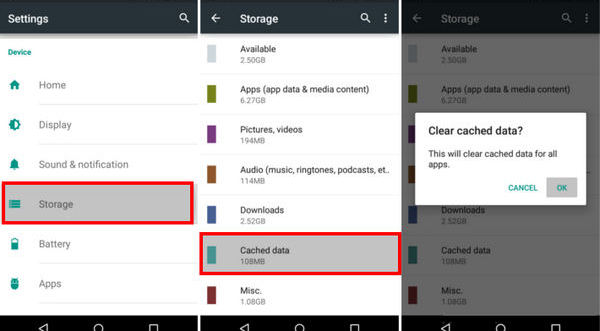 Step 1Go to "Settings" and tap on "Storage".
Step 2You'll see the total storage and other useful information such as Used space, System memory, etc. Click "Cached data option" and then a pop up window will show up saying "This will clear cached data for all apps".
Step 3Tap "OK", all apps cached data will be cleared at one time.
Best iPhone Cache Eraser - How to clear iPhone cache
FoneEraser - iPhone Cache Eraser
FoneLab is the most powerful utility to erase all iPhone contents and settings permanently and thoroughly.
Erase all contents and settings on iOS device.
Three erasing levels to clear cache on iPhone.
Support iPhone iPad iPod.
Romove all iOS data to better protect your privacy.
How to clear Cache on Android (Chrome cache)
Technically, you can take Chrome as an app and to clear app data is fine. But Chrome history can be a bit different from cached data, and there are more needs to clear Chrome history on Android. Clearing browser cache isn't much of a hassle. You can follow these steps: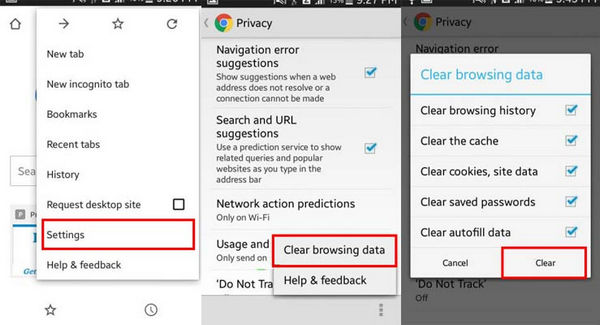 Step 1Open Chrome and tap on the three-vertical-dots at the top right side of the screen.
Step 2Choose "Settings" from the drop-down menu. In "Settings", tap on "Privacy".
Step 3At the bottom of the screen, you'll see another three-vertical-dots, tap on it and then choose "Clear browsing data".
Step 4In the "Clear browsing data" menu, check "Clear the cache" option. You can also choose other options like "Clear browsing history", "Clear browsing history" as you need. Then hit "Clear".
After this, all your browser cache and history will be cleared and you can start fresh again.
How to clear Android cache with Android cache cleaning app
If you think the built-in Android cache cleaning isn't enough, you could turn help to an Android cached data cleaning app. In the following, I have chosen the best Android app cache cleaners to help you clean cache Android.
No.
Android Cleaner App
Icon
Features
1

◆

Most widely used Android cache cleaner app with a wide user base all around the globe.


◆

Clear app cache, history for Chrome, residual files and many other junk files on Android.


◆

Interactive and easy to use interface, additional app manager.

2

◆

The most reputable Android cache cleaning app.


◆

App cache cleaner allows the user identify memory consuming apps based on the size of junk files created by apps.


◆

It can set reminders to let the user know when the cache files need to be cleared.

3

◆

1 Tap Cleaner helps you to clear Android cache and optimizes Android device with a single touch.


◆

It Features as a cache cleaner, a Chrome history cleaner and a call/text log cleaner.


◆

It Allows users to set cleaning interval, which makes Android cached data clearing easier.

4

◆

A multifunctional app to analyze and clear all Android cache and application data.


◆

Additional features like pp manager, CPU, RAM and storage meters, battery and temperature tools.

5

◆

One tap to Clean up all cache and histories to speed up your phone and optimize its performance.


◆

Erase SMS, phone and web browsing history on Chrome or Firefox as well.


◆

Cannot clear the cache for any individual app.
In this article, we have gone through several methods to clear cache on Android phone. You can use the built-in settins app to clear cache on Android, or you can turn help to a Android app cache cleaner. Still have more questions about clearing app cache on Android? Don't hesitate to leave your comments below.