How Does Google Track Your Location and How to Stop It
To ensure you get accurate and helpful information when you use Google's services, Google will use your GPS location, know your interests and habits, and collect other associated data. When it comes to Google location tracking, you may want to figure out how Google tracks your location and the way to turn off the location services. You can keep reading to learn that.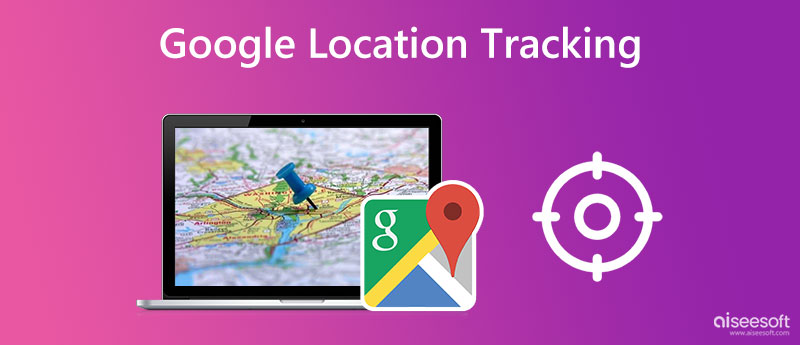 Part 1. How Does Google Track Your Location
Google tracks your location information to offer meaningful experiences. It keeps tabs on what you do on Google products, apps, and services. For instance, it uses your current GPS location to give you driving directions, nearby places, advertising, and more. You should know how far Google location tracking extends, what it collects about you, and how long this data will be kept.
Google can get your location information from many aspects depending on the Google device you are using and the settings you set. Your location can be found in real-time signals, your IP address, device location, your operations, past activities, and more. The following content will list some primary ways Google may find your location information.
Google can know your current location from your IP address. You can browse websites and use services when you connect your device to the internet. The IP address of your internet connection is roughly based on geography. When you visit websites, your general area data will be located. Your location can also be tracked from nearby Wi-Fi and mobile networks.
After you allow Google and other apps to access your GPS location for working, the precise location of your device will be located. For instance, when you search for the quickest way to go to your destination, you have to authorize Google Maps or another navigation app. The results can be more useful when your real-time location is tracked.
Another primary way Google may get location information is from your past activity. Google will collect some items from your previous searches and tell you exactly where you are. What's more, your labeled places like home, company, and others can be used to find your location. There are many other ways that Google will get your location. For example, the associated location information can be stored when you take photos of a place.
Part 2. How to Turn Off Google Location Tracking
You can enable Google location services to use features like navigation, finding or sharing your current address, or locating a lost phone. While for different purposes, you may prefer to turn off Google location tracking or stop some specific apps from using your current location. This part tells how to disable all Google location services and turn the permission off for apps.
Turn off Google Location History
You can disable Location History for your Google account to stop Google from tracking your location. To do that, you can open the Settings app and go to Privacy. Choose the Google location history option and tap the Turn off button.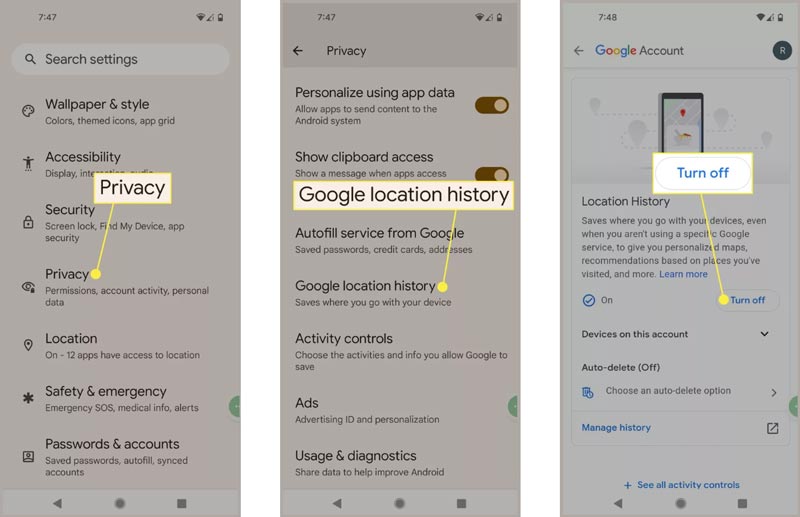 Turn off Google Ad personalization
You can turn off Ad personalization to prevent Google from collecting your web and app activity, location history, and YouTube history. You can go to Activity Controls, tap Go to Ad Settings, and then locate the Ad personalization feature and disable it there.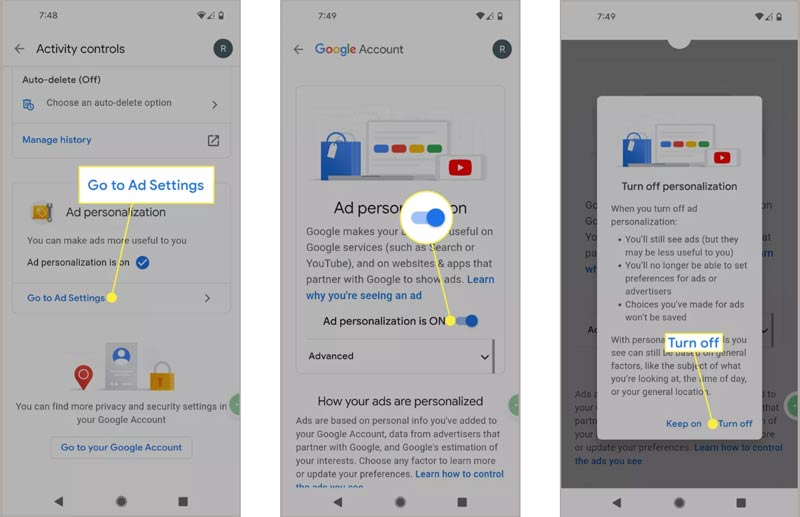 Customize permissions settings to stop apps from tracking you
When you want to stop certain apps from using your location data, you can open the Settings app, choose Apps, tap the app you want to adjust its permission, and then go to Permissions to check related information. Tap Location and select the Don't allow option. If you want to directly turn off Google location services for all apps, you can choose the Location option in the main settings menu and drag the Use location slider to the off position. This operation will disable Google location permission for all apps at once.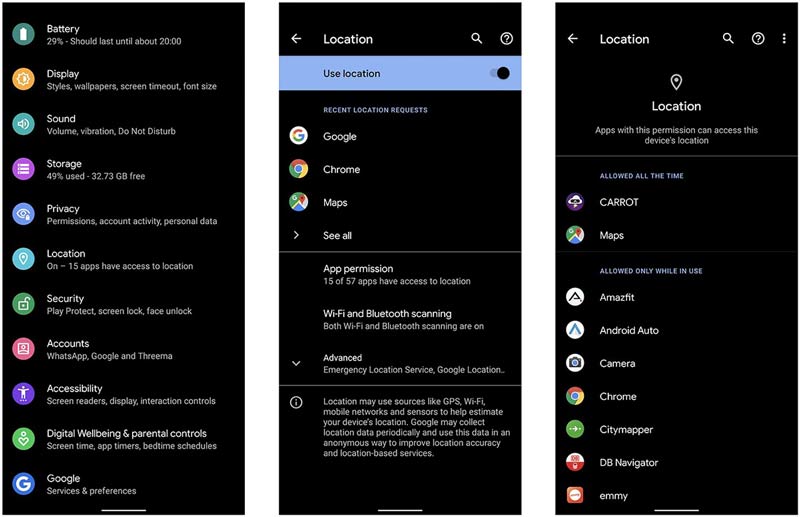 Part 3. How to Stop Google from Finding My Location on iPhone and iPad
You can effectively stop Google and all types of apps from accessing your location on an iOS device using AnyCoord. It enables you to set virtual locations for different needs. You can use AnyCoord to change your real-time location to any place in the world.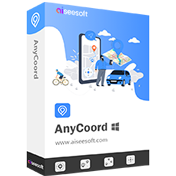 Downloads
AnyCoord - Stop Google Location Tracking on iPhone
Turn off Google location tracking and stop apps using GPS data.
Change the real-time location to another address you need.
Set virtual GPS locations to use region-based apps and play games.
Measure distance and simulate GPS movement along a route.
Step 1:
Free download this GPS location changer on your computer and launch it. Connect your iPhone to it and click the
Start
button.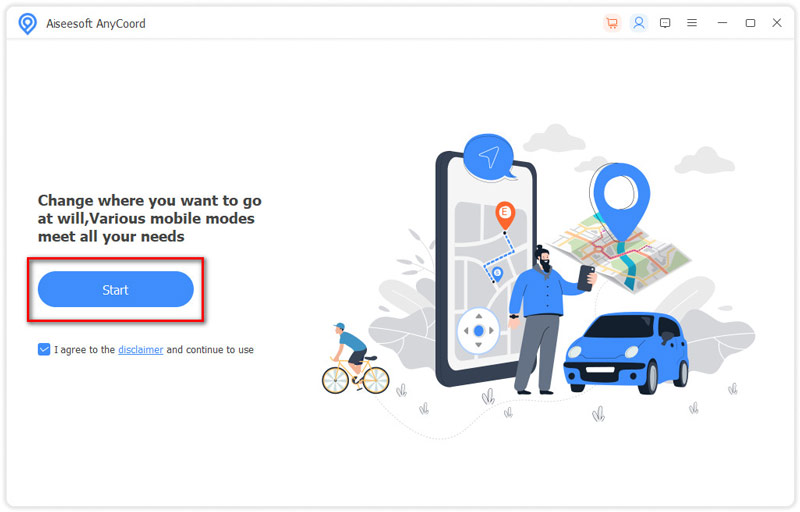 Step 2:
When your iPhone is connected successfully, you get four options to manage your location, Modify Location, One-stop Mode, Multi-stop Mode, and Joystick Mode. To turn off Google location tracking, you can select
Modify Location
.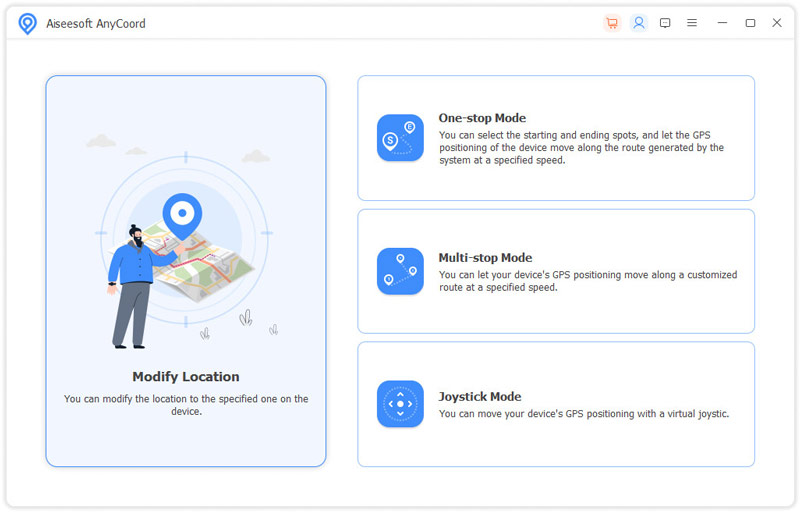 Step 3:
Your actual location will be marked as a blue dot on its map. You can drag the map, zoom in or zoom out to view more detailed information.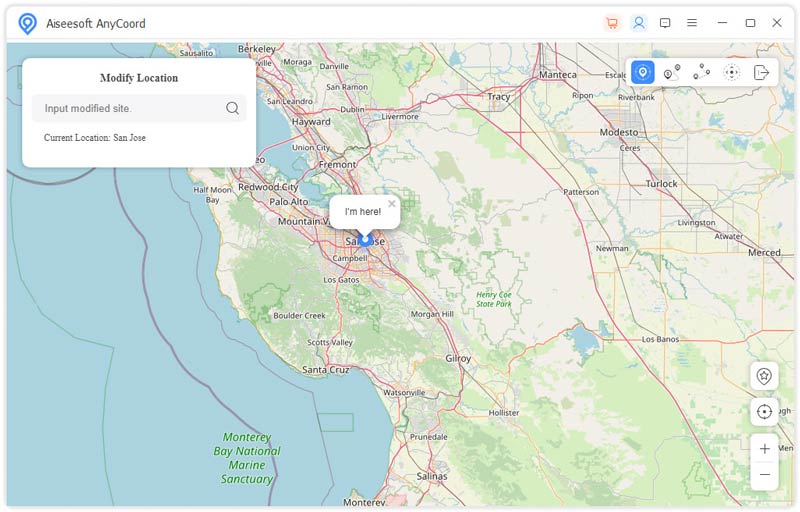 Step 4:
When you want to stop Google, Apple, or apps from tracking your location, you can set a
virtual location
according to your need. It has a Search feature to locate the target place you need quickly. You can also directly select the place on its map. When you get the location, you can click the
Confirm Modify
button to change your current location to there.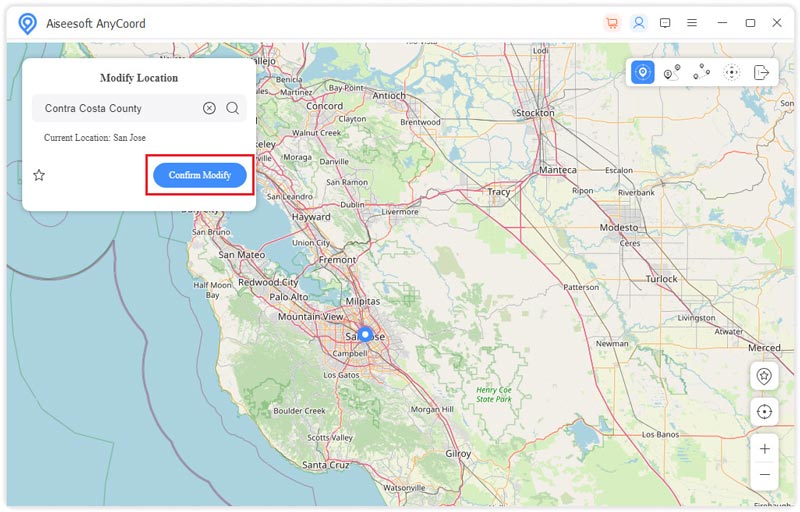 Part 4. FAQs of Google Location Tracking
How to delete all Google Maps location history?
To delete your Google location history, open the Google Maps app, tap your account profile, and enter your Timeline. Tap the More icon in the upper-right corner and choose Settings and privacy. You can tap Delete All Location History under the Location settings section to confirm your operation.
Why does Google track my location?
Google tracks and stores your location information to offer various location-based services. There are various reasons for Google location tracking, such as advertising, navigation, proper and correct search results, improved user experiences for various apps, and more.
How do you allow Mock Location on your Android phone?
When you want to enable Mock Location and change your Android location, you can go to the Settings app, tap About Phone, and then tap the Build Number option 7 consecutive times. That will guide your phone into developer mode. Back to the main menus of Settings and choose Developer Options. Now you can see the Allow Mock Locations option and turn it on.
Conclusion
This post explains how Google tracks your location and how to stop it. For more questions about Google location tracking, you can message us.

Leave your comment and join our discussion