How to Change Your GPS Location on Android
Under most circumstances, you want the GPS location services on your Android phone to be as accurate as possible. You need to rely on them to get various local information. While on some rare occasions, though, you may need to fake your location on an Android device. For instance, you like to spoof your location by playing some GPS-based games like Pokemon Go, watching videos on specific places, using geographically-blocked apps, or stopping others from tracking you. Now we are back to the point, how to change location on Android?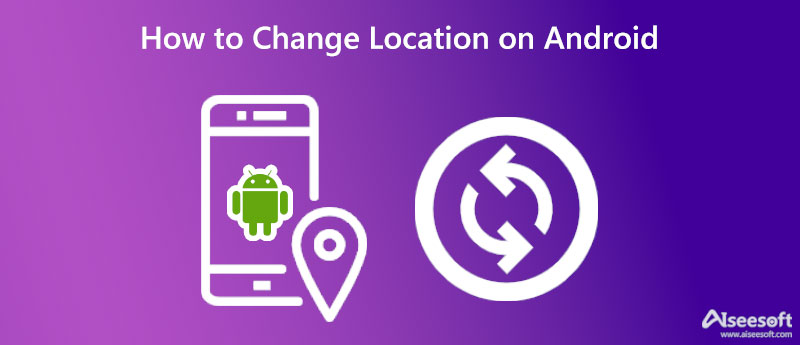 Part 1. How to Change Location Settings on Your Android Device
First, we like to tell you how to view and change GPS location settings on an Android phone. These settings can affect location accuracy and battery life. You can check the following guide to manage the location settings on your Android phone.
Swipe down from the top of your Android screen, find the Location icon, and keep tapping on it. You can enter the Settings app and go to the related location option too. Now you will enter a Location interface, and here you can choose Location Services to check various location settings. Here you are allowed to turn on or turn off the GPS location feature, enable or disable Improve Location Accuracy, customize app location permissions, manage Google Location History, and adjust other location settings based on your need.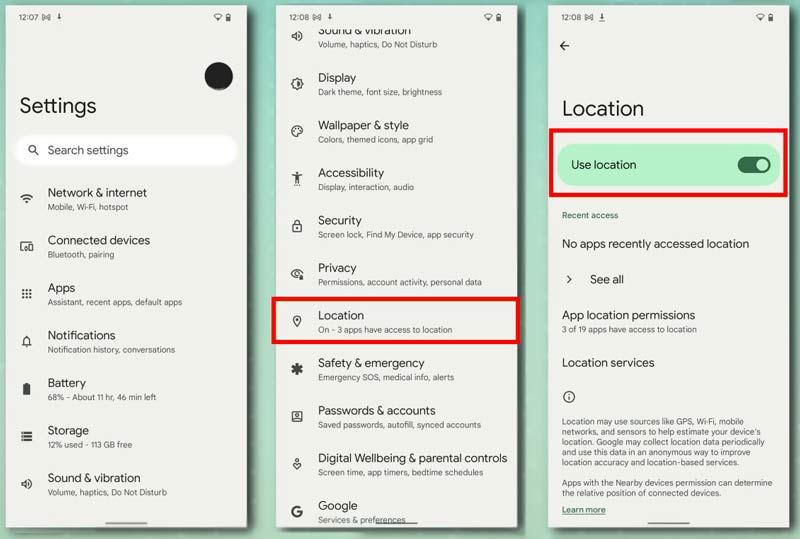 Note that if you choose to turn off location services on your Android phone, all apps and services can't get your phone's location. In that case, you will get local results and ads based on your current IP address. You can't simply disable it to stop your device from being tracked.
Part 2. How to Change Location on Android Using a VPN
When you want to alter where your Android phone really is, you can use a VPN. VPN software can hide your IP address, including some associated information about your geographical locations. When you use a VPN to change your Android location, you should select a trustworthy one. It should guarantee that your Android phone is connected to a secure location over the internet and all your data is secure.
You can try using some famous VPN software like Surfshark, NordVPN, ProtonVPN, or AtlasVPN. This part will guide you to change location on your Android device through a VPN, using NordVPN.
Step 1:
Open Google Play Store, search for the NordVPN app and install it. Open it and tap the
Quick Connect
button to move on. You can follow the instructions to set up the app and sign in to your account.
Step 2:
NordVPN provides you with many useful servers and countries. It also offers a
Search
feature for you to input the name of a country, city, or server number to quickly find the specific location you need. When you get a suitable location address, you can tap on it and make the connection.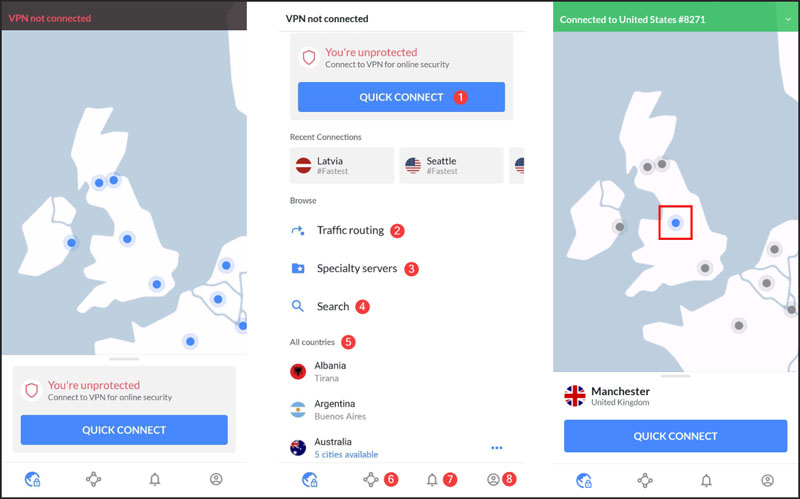 NordVPN is not a free VPN and Android location changer app. To use its stable and security services and access all its features, you need to upgrade to a paid version.
Part 3. How to Fake GPS Location on Android with Dr.Fone Virtual Location
To easily change the current address of your Android phone and set a virtual location, you can also rely on some GPS location-changing apps. Dr.Fone - Virtual Location is a popular location changer that can help you spoof location on Android. You don't need to jailbreak your Android phone to set virtual locations. It is easy to use this app to simulate the GPS movement through the joystick, customized speeds and imported GPX route files.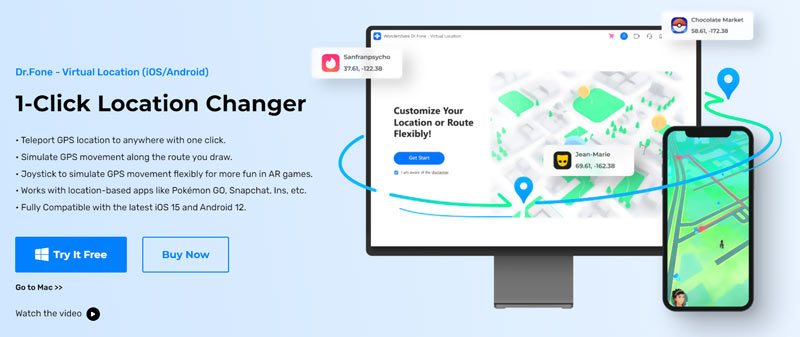 Step 1:
To change location on an Android phone, you need to download Dr.Fone Virtual Location from its official website first. Launch it, open
Virtual Location
, and click on the
Get Started
button.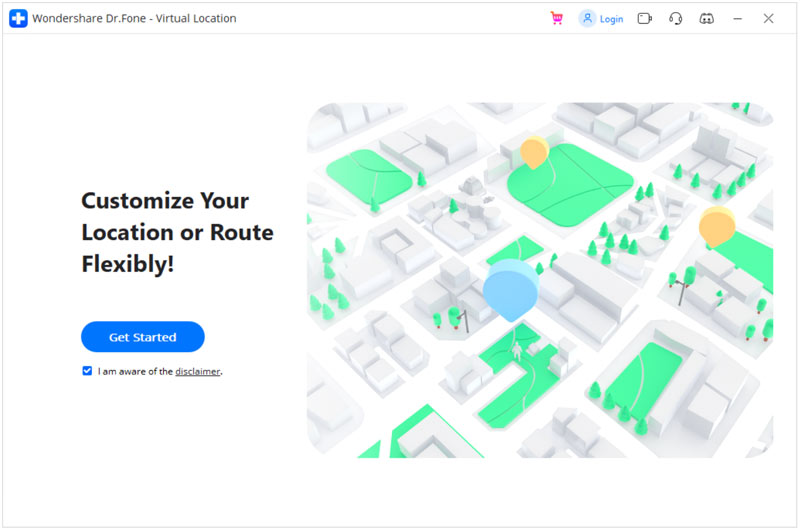 Step 2:
Please connect your Android device to it with a USB cable. Besides
spoofing location
on Android, it also allows you to fake your iPhone's location.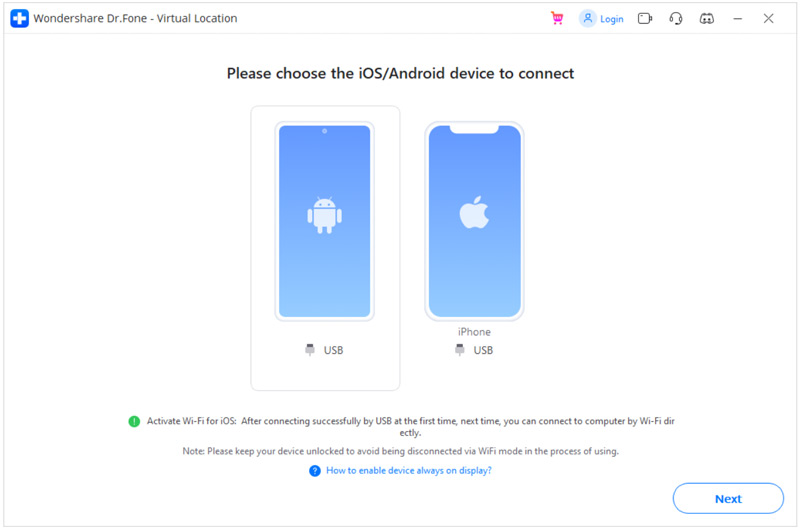 Step 3:
A map will load on the screen and show your current address. You can click on the corresponding icon on the top right to activate the teleport mode. Here you are allowed to input another location and change your Android location to it. When you locate the place, you can simply click on the
Move Here
button to change your location on Android.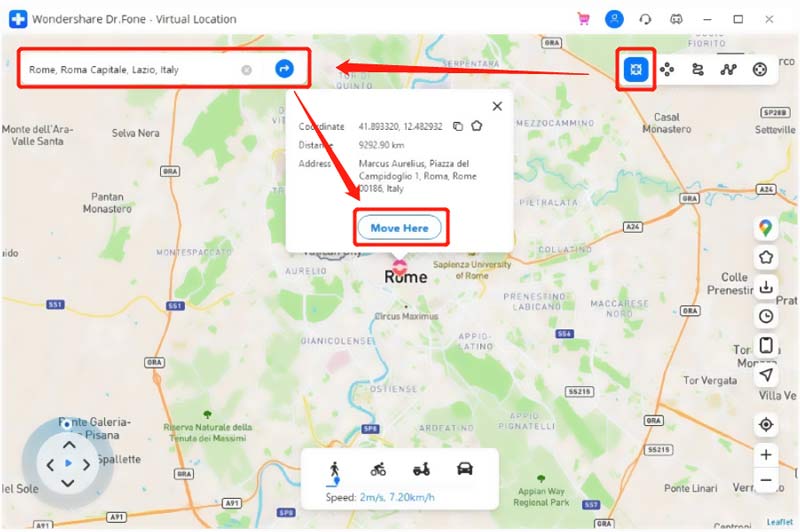 Dr.Fone Virtual Location is mainly used to fake your real location, spoof GPS locations on apps like Facebook, WhatsApp, and Instagram, and bypass Geo-Blocking or Geo-Restriction. But compared with VPN or location changer apps, you need to use a computer to change the location on your Android phone.
Best location spoofer for iPhone and iPad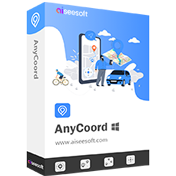 Downloads
AnyCoord - Change Location on iPhone
Set fake and virtual locations for iPhone and iPad.
Change GPS location on iPhone for playing games and using apps.
One-click way to spoof iPhone GPS location to any other location.
Carry One-stop Mode, Multi-stop Mode, and Joystick Mode.
Part 4. FAQs of How to Change Location on Android
Is there any free VPN or location changer apps for Android?
You can easily get many free VPN and location changer recommendations on the internet and in Google Play Store. However, almost all of them are not really free. You need to purchase them to get full features. Some of them only let you use their services for several minutes.
How to stop apps from using my precise location?
On your Android phone, go to the Settings app, and then choose Location. You can tap the App location permissions option to list all apps using your precise location. Scroll down to choose the specific app you want to adjust its location permission, and then switch its Use precise location to the off position. After these operations, this app won't use your precise location anymore.
How to change region or country on an Android phone?
To change your Google Play country or region, you can open the app, tap your profile, and then go to Settings. Tap General, Account, and device preferences, and then Country and profiles to check your current information. Here you can select the country where you want to change to. Just follow the instructions to add a payment method for the country.
Conclusion
This post covers how to change location settings on an Android phone and two methods to fake your GPS location. If you have any free or better recommendations to spoof location on an Android device, please share them in the comment with other readers.

Leave your comment and join our discussion