Change Font Size and Style on iPhone X/8/7/6/5/4
"My father is suffering from presbyopia, so that I want to modify the font size of his iPhone 5. But I have no idea of how to change the iPhone font size." - Lily
"The font style on iPad is too monotonous, and I want to change the font to different styles for my iPad Air 2. How can I customize iPhone font?" - Helen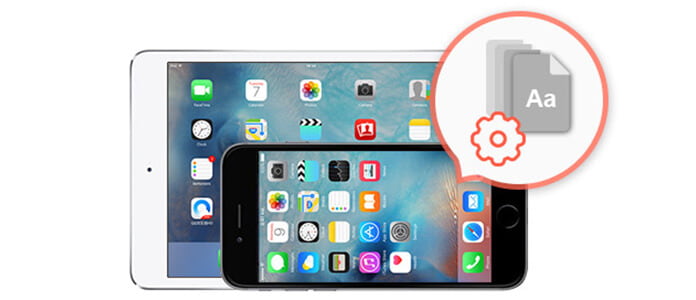 Many iOS users, like Lily and Helen, want to change the font size or font style. It is convenient for old generation or younger children to read big size of font on iPhone or iPad. Are you tired of the monotonous font style on iPhone X/8/7/SE, iPhone 6s Plus/5s/5, iPad Pro/Air 2, iPod touch 6, etc.? That iOS 9 brings users a new font named San Francisco which doesn't satisfy the needs of users, and many of them complain that there seems just a little different with the comparison between the previous font and the latter one. Some users choose to change the iPhone/iPad/iPod font through jailbreak, which seems not very secure. And here, we will introduce you how to change font on iPhone in this step-by-step article.
Part 1. Change iPhone font size and style (for bold text)
Many Lily-like iOS users don't know how to modify the text size in iOS devices. Actually, you can change the font size and style (for bold text) on iPhone/iPad/iPod.
Set font size:
Step 1 Go to the the Settings app on your iPhone/iPad/iPod.
Step 2 Scroll the screen and tap Display & Brightness".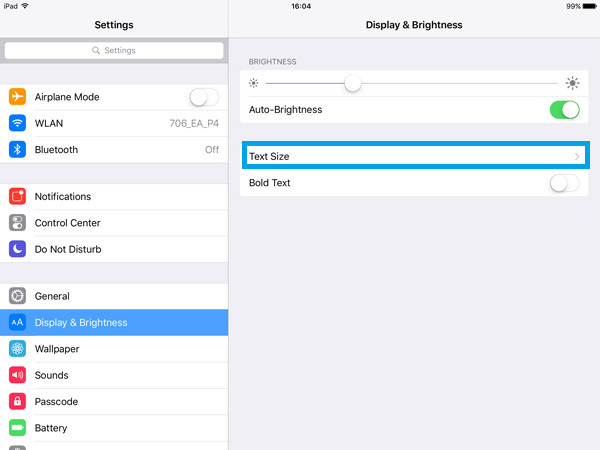 Step 3 Tap Text Size. You can see there will be a sliding bar which can let you to adjust the font size according to your need. Drag it and you can clearly find the font size will change along with it.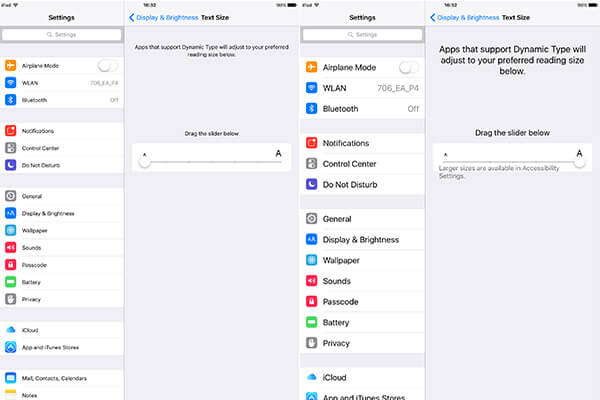 Set bold text:
Step 1 Go the Settings app on your iPhone/iPad/iPod.
Step 2 Scroll the screen and tap Display & Brightness". Or you can go to "General" to active the next step.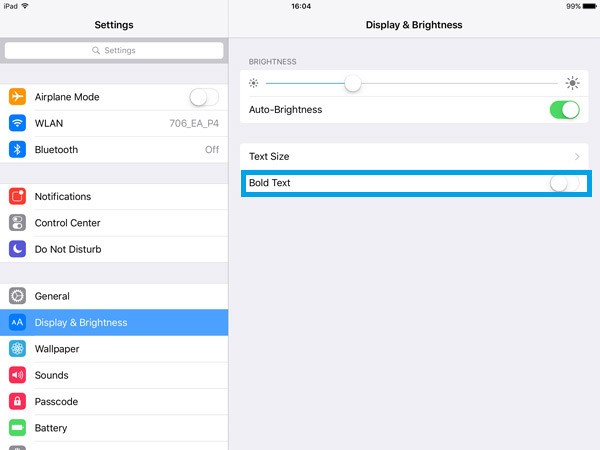 Step 3 Enable Bold Text. This operation will reboot your iDevice.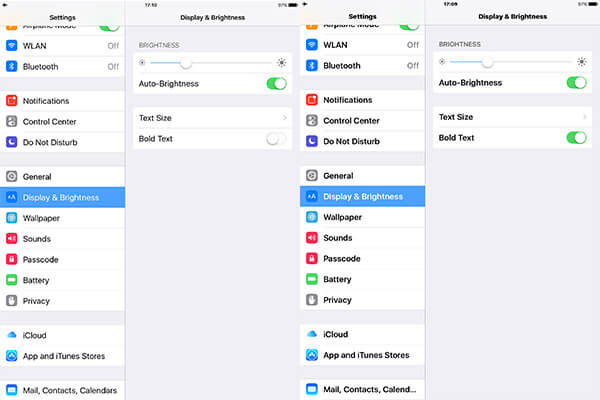 Part 2. Customize iPad/iPod/iPhone font styles
Want to text or email others with colorful or stylish iPhone font? Want to add notes to observably remind you of important date, meeting time or something else? Many people are boring about the default font style of iOS device, though it can change the text style to bold text. In order to get more font styles, many users choose to jailbreak their iOS device. So here we kindly note that you should make a backup of your iPad or back up your iPhone to Mac or PC. Sometimes, wrong actions of jail-breaking will result in some unexpected disaster. Some reviews show it may cause contacts loss, and they have to recover the lost contacts after jailbreaking. In fact, you can choose some flexible third-party font software for iDevice to deal with the font modification, such as Cool Fonts, Font Maker, AnyFont, BytaFont 3, and so on. And here, we will introduce one of the frequently-used font applications - Cool Fonts.
Step 1 Download Cool Fonts from App Store on iPhone/iPad/iPod. This software provides the free version and Pro version (for $4.99).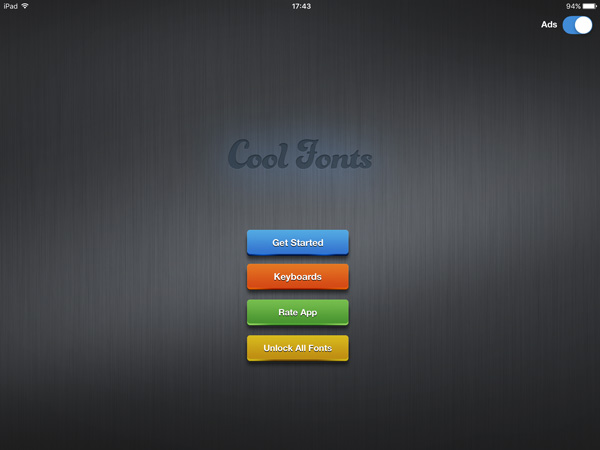 Step 2 Launch the software. You will find the interface as above. Click Get Started to choose the font styles and Keyboards to find more keyboard patterns. You can shut down the annoying advertisements and active more font styles/keyboards by upgrading to the Pro version.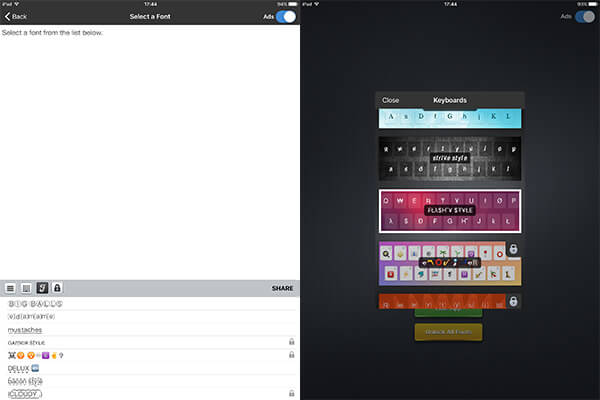 Step 3 When you want to use the feature in apps, you need to add the Cool Fonts as a default keyboard. Go to Settings > General > Keyboard > Add New Keyboard > Cool Fonts.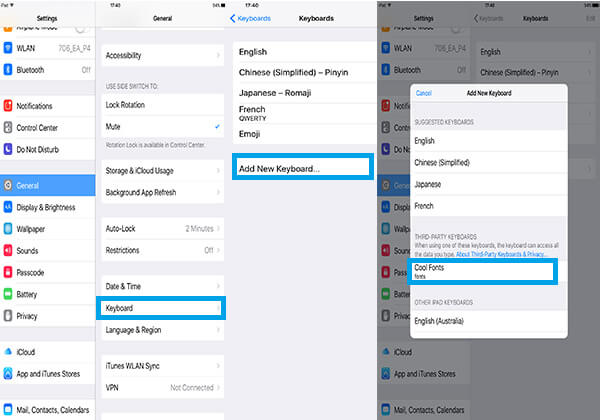 Step 4 Launch the app you want to use Cool Fonts. Tap the globe-like icon from the keyboard until the keyboard of Cool Fonts shows. And then a little icon of Cool Fonts will appear next to the globe-like icon. The keyboard will display as you set before, and you can change the keyboard style by tapping the little icon of Cool Fonts.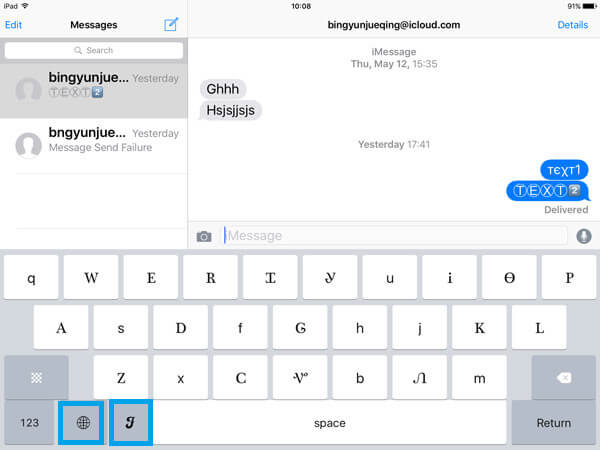 In this article, we mainly talk about how to change iPhone font and introduce Cool Fonts to you. Hope this post can help you.
Changing iPhone font is not only way to animate your spelling, you could also change or add emoji keyboard to iPhone to make more changes for different font sizes or styles.