Part 1. Differences Between Device Storage and iCloud Storage
As we said, iCloud storage can be used to back up your device and update your photos, videos, messages, etc. among your devices. For a start, you can automatically gain 5GB of free storage. If you run that out, you can make room by adding more storage or deleting some of the current contents.
As for the device storage, it is physical storage on your device., which comes with a set storage capacity. For example, when you buy an iPhone, you can choose the storage capacity according to your need, from 16GB to 512GB. Your device storage can locally store the data on your device. And like iCloud storage, your device storage space can also be used up. But unlike iCloud storage, you cannot increase its storage. If you want to get more storage on your iPhone, you can only free up space.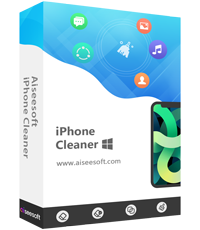 Downloads
Free up your device storage and speed up your iPhone/iPad/iPod Touch.
Clear useless junk files like temporary files, crash logs, caches, and more.
Uninstall unused apps and remove large files permanently and thoroughly.
Back up your photos on your iPhone before you compress or delete them.
Wipe all the data on your iOS device fast and completely.
Part 2. How to Upgrade Your iCloud Storage Plan
When you need more iCloud storage, you can upgrade your current storage plan, if you don't want to delete anything from your iCloud. Apple offers you 3 options for iCloud storage plan: 50GB, 200GB, and 2TB. And among them, the 200GB and 2TB plans can be shared with your family. You can decide which one suits you best based on your need.
Once you pay for the plan, your storage will be upgraded immediately. You will be billed every month for your storage plan. And you will receive a reminding email every month for your upcoming payment. You can downgrade or cancel the plan at any time.
You are able to upgrade your iCloud storage simply on your iPhone, iPad, iPod Touch, Mac, and even Windows PC. Please follow the quick steps below to buy more storage for your iCloud.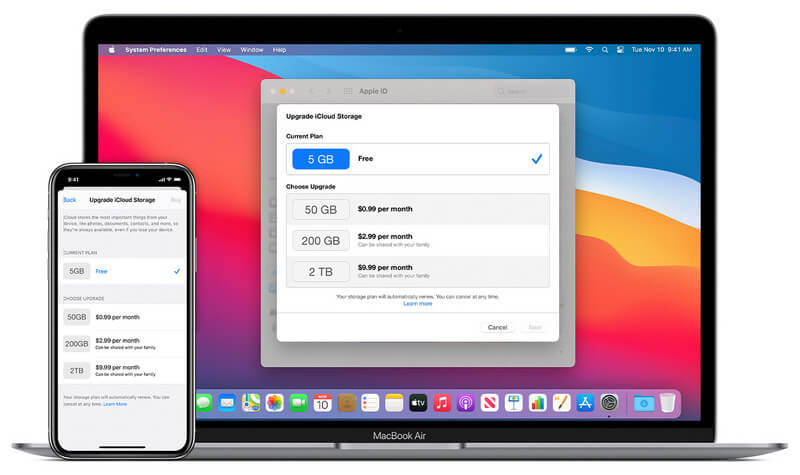 For iPhone/iPad/iPod Touch Users
Step 1:
Go to the
Settings
app on your iOS device. Find
[your name]
, and navigate to
iCloud
. Then choose the
Manage Storage
or
iCloud Storage
option.
Step 2:
Tap
Buy More Storage
or
Change Storage Plan
and pick the plan you want.
Step 3:
After that, just hit
Buy
at the top right corner. And follow the on-screen instructions.
For Mac Users
Step 1:
Go to
Apple menu
on your Mac and choose
System Preferences
. Then if you are using a macOS later than Mojave, you also need to click
Apple ID
.
Step 2:
Select
iCloud
and click
Manage
. Find
Change Storage Plan
or
Buy More Storage.
Choose a plan.
Step 3:
Then click the
Next
button below and enter your Apple ID password.
For PC Users
Step 1:
Download and install iCloud for Windows on your computer. Open the program after the installment.
Step 2:
Find
Storage
and select
Change Storage Plan
. Select the plan you need and click Next.
Step 3:
Input your Apple ID password. Confirm your purchase by clicking
Buy
.
Part 3. How Much Does It Cost for Different Storage Plans
After you upgrade your storage plan, Apple will bill you monthly. You can check the monthly pricing for different plans below.
| | | | |
| --- | --- | --- | --- |
| | 50GB | 200GB | 2TB |
| Australia (AUD) | $1.49 | $4.49 | $14.99 |
| Brazil (BRL) | R$ 10.90 | $4.49 | R$ 34.90 |
| Canada (CAD) | $1.29 | $3.99 | $12.99 |
| China mainland (CNY) | ¥6 | ¥21 | ¥68 |
| Czech Republic (CZK) | 25 Kč | 79 Kč | 249 Kč |
| Denmark (DKK) | 7 kr | 25 kr | 69 kr |
| Euro (Euro) | 0.99 € | 2.99 € | 9.99 € |
| Hungary (HUF) | 299 Ft | 899 Ft | 2990 Ft |
| India (INR) | Rs 75 | Rs 219 | Rs 749 |
| Japan (JPY) | ¥130 | ¥400 | ¥1300 |
| Mexico (MXN) | $17 | $49 | $179 |
| Poland (PLN) | 3.99 zł | 11.99 zł | 39.99 zł |
| Russia (RUB) | 59 p. | 149 p. | 599 p. |
| Sweden (SEK) | 9 kr | 29 kr | 89 kr |
| Turkey (TRY) | 6.49 TL | 19.99 TL | 64.99 TL |
| United Kingdom (GBP) | £0.79 | £2.49 | £6.99 |
| United States (USD) | $0.99 | $2.99 | $9.99 |
Show More
Note: The prices above may be slightly lower or higher due to taxes or other factors. They are only for your reference. And we only list some countries and regions in this table, you can go to Apple's support center to get more information.
Part 4. FAQs of Getting More Storage on iPhone
How can I see how much iCloud storage I have?
If you want to view the iCloud storage on your device, just head to Settings and tap [your name]. Then click iCloud, and you will see how much iCloud space you have used.
How to free up space in iCloud?
If you are running out of iCloud storage, you can free up space in iCloud by deleting content that is no longer in use, like your iCloud backup, photos, files, messages, mails, voice memos, etc. But before you delete them, you can make a copy of important information in case you may need them in the future.
How to fix iCloud storage still saying it's full after upgrading?
You can first try restarting your device. You can also try signing out of your iCloud account and then logging back in. If that doesn't work, maybe your current iCloud storage is still not enough.
In this post, we have introduced how to buy more storage on your iPhone, iPad, iPod Touch, Mac, and PC. To get more iCloud storage, you can either upgrade your storage or manage your iCloud content. But if your device storage is running out, you can only free up some space on your device.

Leave your comment and join our discussion