Best Methods to Upload GIF Files to Instagram
Nowadays, GIF files are admired by a large number of people, and with the popularity of the social media applications, an increasing number of people prefer to share their amusing moments on these applications, such as Instagram. And many people would like to view and care about other people's life as well as learn something important. It would be more interesting if you upload animated GIFs in your Instagram combined with your text. Maybe some ways below can help you figure out how to upload GIF files to Instagram easily.

Upload GIF to Instagram
Part 1. Best Solution to Upload GIF to Instagram
The videos you took with iPhone or Android phone are not GIF images at first. In order to upload GIF to Instagram, you have to convert video to GIF first. Aiseesoft Video to GIF Converter is very professional and helpful software to create your own GIF files, so that you can have a good time sharing your short precious moment with your followers and other people all over the world.
Aiseesoft Video to GIF Converter has the ability to edit your GIFs to make them more interesting. What is more, it is a totally free application. Full of editing functions, you will be allowed to produce the GIF files of high quality at the fast speed, thus making it easy for you to to upload the premium GIF to your Instagram. Now check out more details about from the following tutorials.
How to upload GIF to Instagram
Step 1 Download and install the latest version of Aiseesoft Video to GIF Converter on your Mac or PC. Launch the software and you will see its user-friendly and concise interface.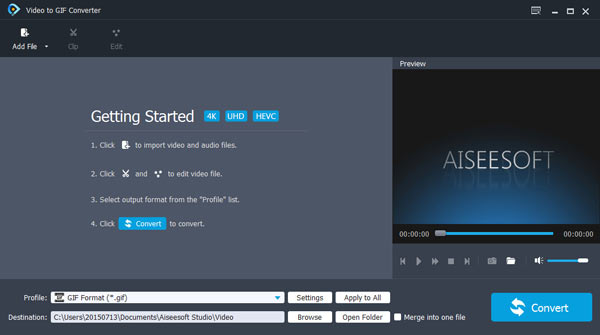 Step 2 Get started by clicking "Add File" from your folders in your computer. Or you can drag your video files directly into the interface. And then you can upload video as GIF to Instagram.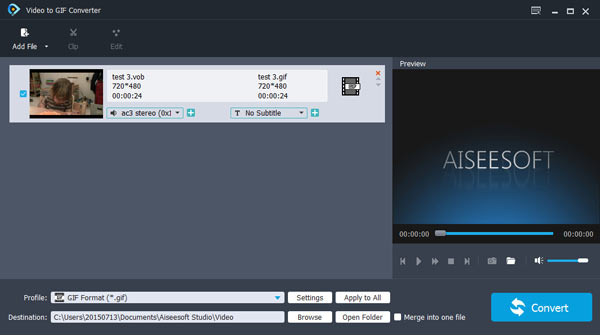 Step 3 Tap "Edit" button and you will see the original preview and output view on the screen. You are able to rotate, flip, crop, adjust the effect as well as add watermark to make your personal GIFs.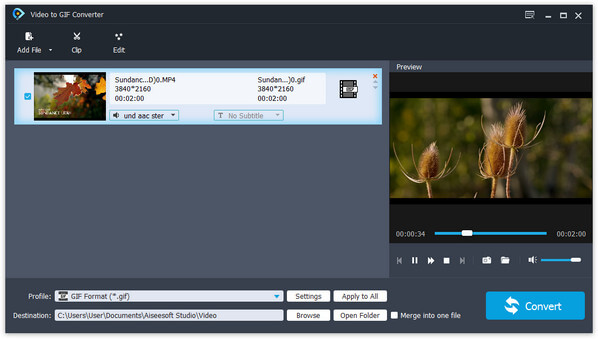 Step 4 Click "Apply" and "Close" to end edition. Select the destination for your output and begin your conversion.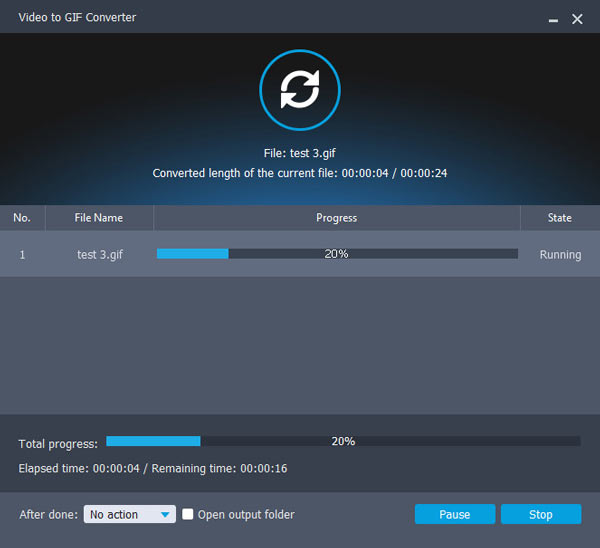 Step 5 Log in your Instagram and with just a few clicks you'll succeed uploading the new GIF to Instagram.
Part 2. 2 Great Ways to Upload GIF Images to Instagram
Top1: How to upload GIF to Instagram in your Mobile Phone with GIPHY Cam
GIPHY Cam is especially designed for GIFs and you will have easy access to upload your wanted GIF files to Instagram. As the world's largest store of animated GIFs, GIPHY Cam provides users with the fastest, simplest way to upload GIF files to social media application such as Instagram, and share your stories with other users. What is more, it allows you to create your own GIF files via GIPHY Capture. Here are some instructions for you to better master the tool.
Step 1 Download and install this application on your mobile phone.
Step 2 Remember to store your GIF files, which will be uploaded to Instagram.
Step 3 Click the camera roll after launching GIPHY CAM.
Step 4 Customize your personal GIF by adding some animated images and hit the button.
Step 5 Just wait for a short while, and then you can open the Instagram to upload your output GIF file.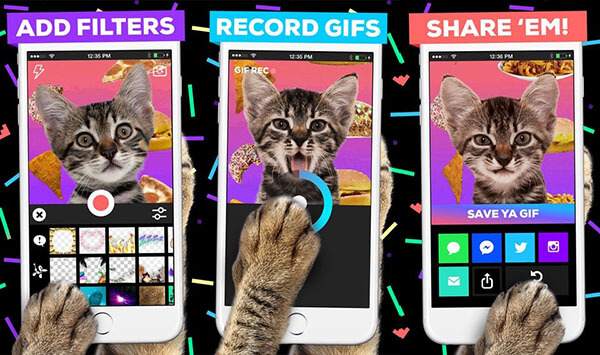 Top 2: How to upload GIF to Instagram via Boomerang
Boomerang is considered one of the most practical and useful applications for uploading GIF images to Instagram. You will have good time recording fun and unexpected moments in your life every day. This app is designed for both iPhone and iPad. Besides, it has a wide range of languages so you do not need to worry about using it with difficulty. It is compatible with iOS 8.0 or later. It is popular among users. Here are some steps for you to consult for better uploading GIF to Instagram.
Step 1 Allow this software to have access to your camera on your phone after installation.
Step 2 Choose either front camera or rear camera on your phone. And press the circle of white, which lies at the bottom of your device when you are ready to film.
Step 3 Shoot up images for the GIF files. This software allows users to shoot up 10 images at a fast speed. And you are able to put them together into a single one. It is easy to create a mini video without sound but it is very interesting.
Step 4 Start to share you GIF file on Instagram immediately. Just hit the share icon and the Instagram button will appear on your screen.
Step 5 Click the Instagram icon and you are allowed to edit it. You have the ability to crop, add some small and lovely images into it and place other effects to make it more attractive.
Step 6 Begin to upload intriguing GIF to your Instagram. It will have a label attached saying it belongs to Boomerang video. And anyone who has a crush on your appealing GIF file has a chance to download this application by tapping the app.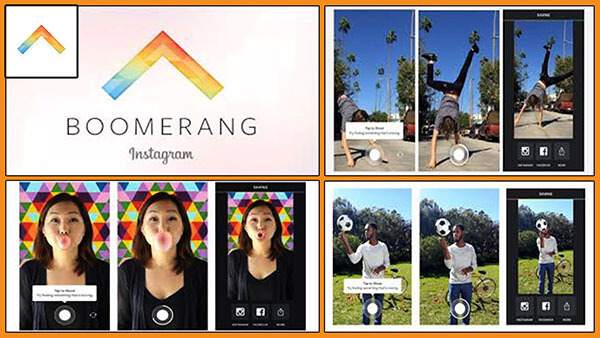 You may be interested in: How to Make a Instagram Story with Photo and Video Collage
Conclusion
As you can see above, you must have a good command of how to uploading your GIF files to your Instagram. Because Instagram is a widely used social media application that people prefer to share their instant and inner thoughts and ideas, some absorbing GIF images or short videos are indispensable, which makes the text more vivid and better express users' emotions. So it is a good choice for you to select one of the most suitable methods. Sincerely hope you can upload GIF files to Instagram with easy and efficiency!