How to Make a Vivid Instagram Story with Photo and Video Collage
How to make some standout Instagram videos for your brand? When you organize photos and video collage for Instagram, it can show off multiple scenes within one photo. But Instagram only accepts 10 separate photos at most in one post. It is difficult to turn photos and videos into a good story for Instagram with some simple picture and video collages for Instagram.
The article explains 7 different solutions to design Instagram story with videos, photos and music on your computer. Moreover, you can also get some easy Instagram video collage makers for simple tasks. Just read the article and download the desired program according to your requirements now.

Top 1. Video Converter Ultimate - Make Instagram Video Collage on Windows/Mac
If you want to create Instagram photo and video collage, you should use a professional Instagram video collage program. Aiseesoft Video Converter Ultimate helps you make amazing Instagram video and photo collages. It is the best video converter, movie maker and video editor. Also, you can select the split-screen layouts, filters and other video editing features.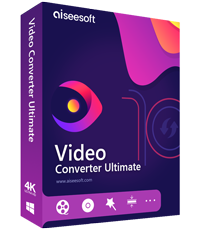 Downloads
Best Instagram Photo and Video Collage Maker
Make two or more videos into frame and play them simultaneously.
Rotate, crop and watermark the video, add effects & filters, add subtitles.
Provide various filters to make the photo and video collage to perfection.
Make photo and video collage with different types of templates to select.
Export the photo and video collage in MP4, MOV, WMV, AVI, MKV, GIF.
How to make Instagram Photos and Videos with Video Converter Ultimate
Step 1.
Click the Free Download button to free download Video Converter Ultimate on your Windows computer. Launch the program and choose the
Collage
feature from the main menu bar. Then, go to the
Template
tab to select a split-screen layout.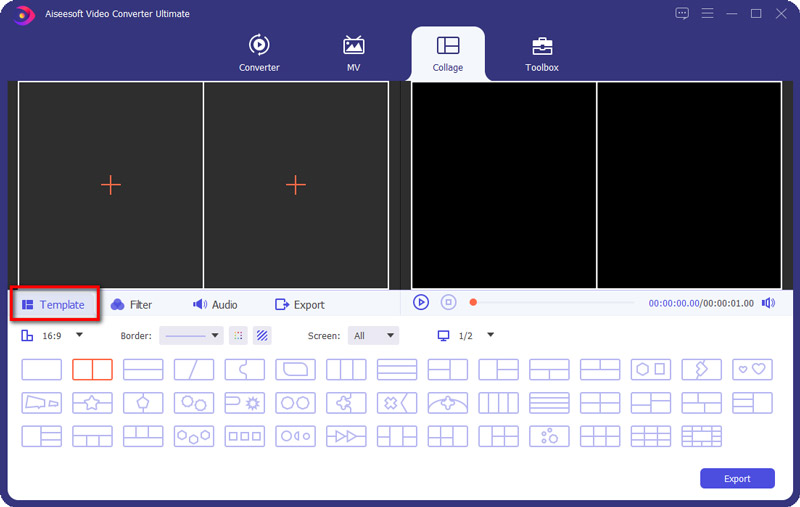 Step 2.
Click + to add the video files and photos you want to position into the collage you selected. You can resize the video and photo by dragging the split line.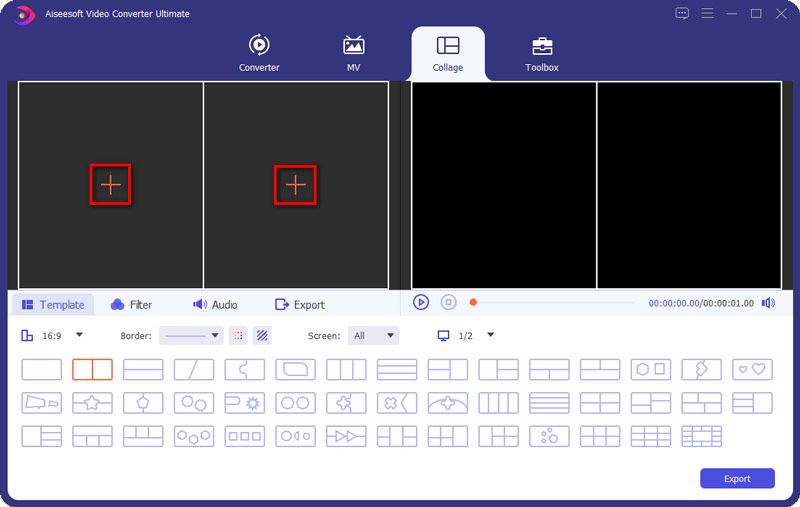 Step 3.
This photo and video collage maker also allows you to edit your video clip. Select the video clip you want to edit and then click the
Edit
icon. Then, you can crop, rotate, add watermark, add subtitle, and more.
After editing your video clips, you can go to the
Filter
tab and select a filter to your photo and collage maker.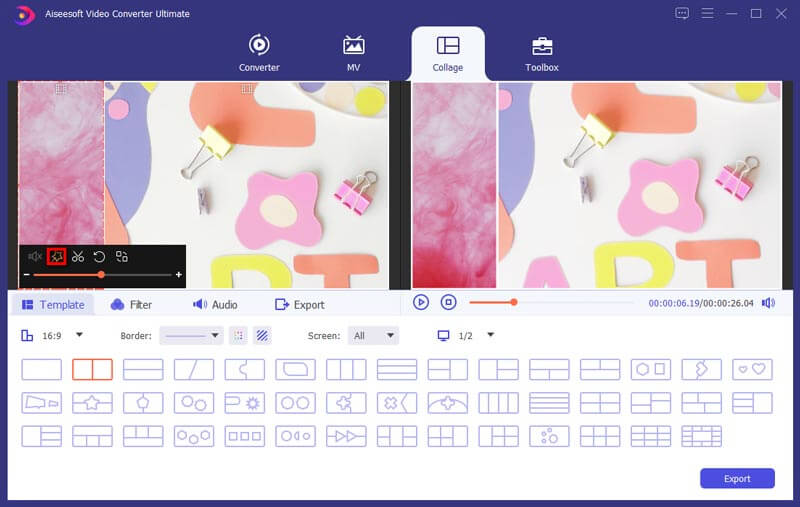 Step 4.
Navigate to the
Audio
tab and add a song as the background music. You can check the box next to
Background Music
and then choose the song from your computer. You can also adjust the audio loop play, fade in or out, volume, etc.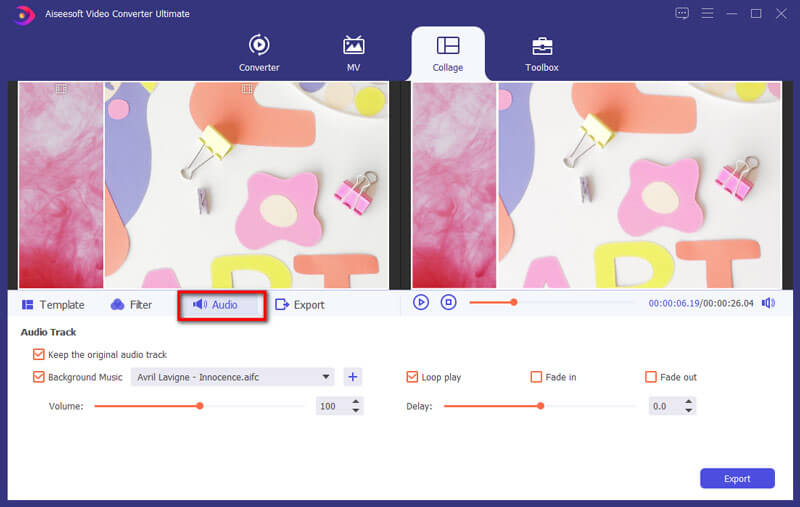 Step 5.
Finally, click the
Export
tab. Here you can change project name, select output format, resolution, destination folder, and enable GPU acceleration. Then click
Start Export
button to save the photo and video collage to your computer.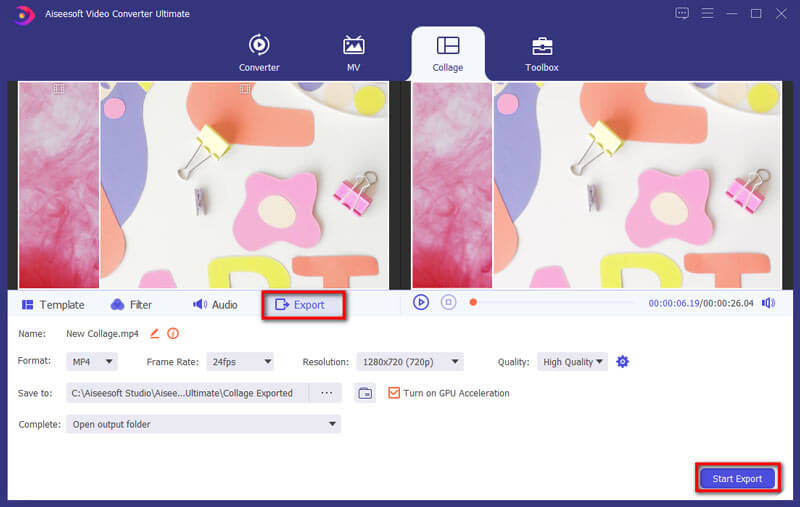 Top 2: Vidstitch – How to Make a Vivid Instagram Picture Video Collage
Vidstitch is able to combine videos and photos to make some Instagram collages. When you choose the desired photos and videos, the program is able to intelligently and auto magically optimizes for Instagram. But videos used from other platforms may cause crashes or instability issues.
Choose the desired frame to combine videos and photos to make a video Instagram with simple interface.
Each square of the collage has its own upload option that you can change the color and width with ease.
Simple and intuitive user interface to design a simple Instagram collage with videos and pictures.
Share the Vidstitch contents on Instagram, Fracebook, or Twitter within the program.
How to make an Instagram picture and video collage with Vidstitch
Step 1.
Choose a frame for photos and video collage. There are 3 different collage modes: ordinary, vertical and horizontal. In order to get some special modes, you have to unlock them beforehand.
Step 2.
Select photos and videos from your image library, or even take a photo or video with camera of smartphone. After that you can adjust the effects for videos and photos.
Step 3.
Once you add and adjust the border of the frame, you can save the Instagram picture and video collage to your smartphone or share to social media account directly.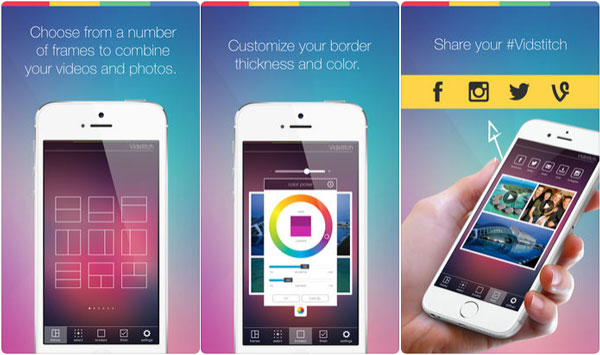 Top 3: Aviary Photo Editor – How to Create Instagram Photo Video Collage
Photo Editor by Aviary is a one-stop solution to make an Instagram collage with pictures and videos. Just use the one-tap auto enhances for a complete range of effects and color correctors. It also adds stickers, frames, overlays and more other elements in photos.
Apply stunning photo effects and frames to photos to make Instagram collages with ease.
It also provides high-resolution output with customize toolset.
Customize brightness, contrast, saturation, color temperature, color splash and color balance.
Multiple portrait retouching features to fix redeye, remove blemishes and whiten teeth.
How to beautify an Instagram picture and video collage with Aviary Photo Editor
Step 1.
Once you combine several photos into the Instagram photo & video collage with Aviary photo editor, you can further edit every single photo within program with special effects.
Step 2.
Tap the photo and choose the "Edit Image" button, which you can enhance quality, remove redeye, draw on photos, change the orientation and apply effects.
Step 3.
Choose the "
Save
" option to save the edited photos to smartphone, or choose the "
Share
" option to share them to social media websites, such as Instagram.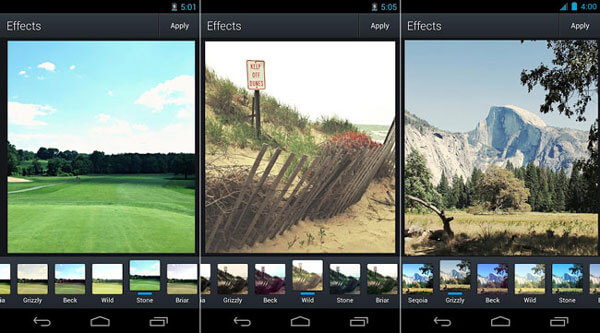 Top 4: PhotoGrid – How to Easy Instagram Picture and Video Collage Maker
Just as the name of PhotoGrid shows, the program is designed for picture collage, video grid and photo editing. Besides the basic features, you can also find some special ones for Instagram, such as the Instagram 1:1 & Instagram story 16:9 ratios.
Combine videos and photos into Instagram video collage with multiple layouts.
100+ filters with multiple colors, 200+ poster templates, 500+ stickers and 400+ backgrounds.
Edit the video collages with text, draw, ratio, crop, rotate, beauty, border, blur, focus, watermark and other powerful features.
The latest version of PhotoGrid also uses the AR face filter for selfies and video recording.
How to make an Instagram photo & video collage with PhotoGrid
Step 1.
Open up the PhotoGrid app on your smartphone. You can tap the "Grid" option to select the photos you want to use for the Instagram pictures and videos collage.
Step 2.
Tap the "Layout" option and swipe to choose a different one. After that you can resize, rotate and edit the photos. You can also move the box border as desired.
Step 3.
Of course, you can also use the Border, Filter, Sticker, Background and other options to save the pictures and videos collage to your camera roll or Instagram.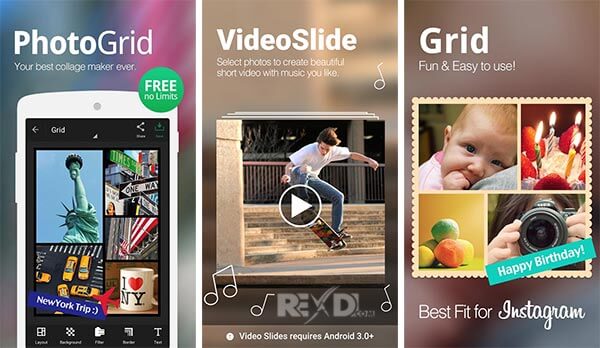 Top 5: Moldiv –User Friendly Picture and Video Collage Maker for Instagram
Moldiv is a versatile photo editor to beautify selfie, edit videos, and make magazine collage style. With the motion graphics video camera, you can create Instagram picture and video collage on mobile. It has some really funny collage design with stunning effects.
Beauty tools with live selfie filters, portrait optimization and live texture effects for camera.
Live video filters, amazing motion graphics, fun animated stickers and video magazine covers
310 different basic frames, 135 magazine style layouts, and freely adjust the collage aspect ratio.
Save Instagram picture and video collage with maximum resolution or share to social media sites.
How to make a collage with pictures and videos for Instagram with Moldiv
Step 1.
Launch the Moldiv app and choose the "Collage" option. You can find 80 free frames and 60 premium stamps; select your shape and photos to make the desired collage accordingly.
Step 2.
When you need to design your own Instagram template, you can tweak the layout by adjusting the frame width and adding a background to fill in the white parts of the frame.
Step 3.
Embellish the photos with some texts and stamps before saving the picture and video collage to smartphone, or share it to Instagram and other social media websites.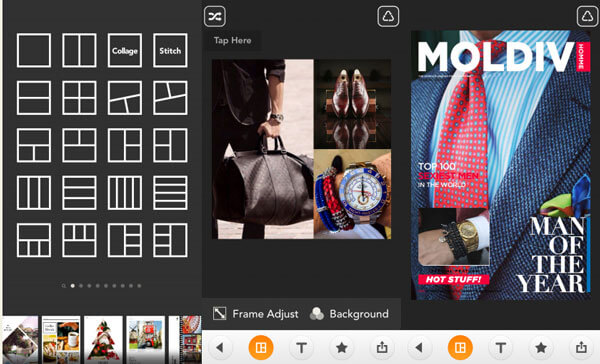 Top 6: PicPlayPost – How to Make Excellent Picture and Video Collage for Instagram
PicPlayPost is available for iPhone, iPad and iPod Touch only. You can make an Instagam video collage with your own music from the library, combine pictures and videos, change border and patterns and apply different filters. It should be an easy app to show your creativity.
Automatically create video slideshow with select photos, videos and multiple songs.
Create 1080P Instagram video collages or slideshow files up to 30 minutes.
Add animated, pin, perspective text, transition, effect and other elements to Instagram videos.
Stitch multiple video collages together and create multiple Instagram collage slideshow.
How to design picture and video collage for Instagram with PicPlayPost
Step 1.
When you need to make a picture and video collage for Instagram, you have to select a ratio first, after that you can import the media files, such as photos and video from your smartphone.
Step 2.
Once you get the photos and videos in the right place you want to showcase, you can rotate files, customize frame styles, adjust the border and use the other editing features.
Step 3.
Preview the instagram photo and video collage before saving the files to your smartphone or share it to Instagram and other social media websites within one click.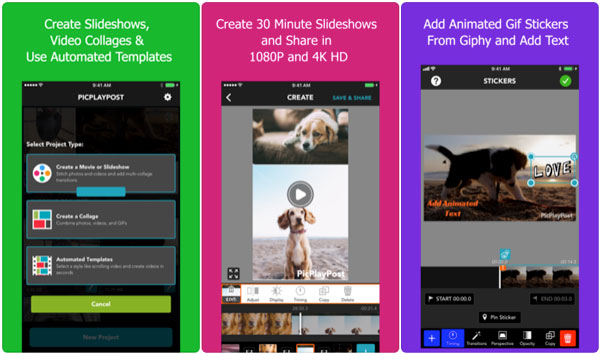 Top 7: PicFrame – How to Customize Your Own Instagram Photo Video Collage
When you need to combine multiple photos and videos into an Instagram collage, PicFrame should be one of the best solutions you should take into consideration. You can share the file to Instagram, Facebook, Email, Twitter and other channels.
73 adjustable frames and combine up to 9 photos or videos in a single frame.
Square format and 3:2, 2:3, 4:3, 3:4, 16:9 and 9:16 ratios according to different requirements.
Change the shape of photos and videos to a circle, heart, hexgon and more others.
Add stickers, music and shadow to photos and video, and even text labels to your frame.
How to make an Instagram photo & video collage with PicFrame
Step 1.
When you download and install the collage maker from App Store or Google Play, you can get 73 frame collage templates with up to 9 photos in one template.
Step 2.
Once you import photos and videos into the Instagram photo and video collage, you can adjust the borders, dimensions, ratio solutions and other parameters.
Step 3.
You can export the collage at a resolution up to 3264 by 3264 pixels. Now you can share Messages, AirDrop, Twitter, Facebook or other online streaming sites.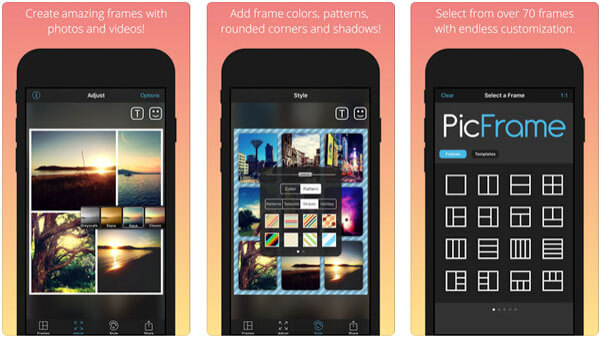 You may want to know: The best pic collage maker apps to free create collages
FAQs of Instagram Picture Video Collage
1. How do I make a photo collage on iPad?
Open Google Photos app on your iPad and sign into your Google Account. Tap Library and select Utilities at the bottom. Choose Animation or Collage under the Create New option. Then you can choose the photos and add to your animation or collage. Tap Create to make a photo collage on iPad.
2. Does Windows 10 have a collage maker?
Yes. You can install PicCollage for Windows 10 and create amazing collages with your photos. If it doesn't work, you can turn to Aiseesoft Video Converter Ultimate and use the collage feature.
3. How to add multiple videos to one Instagram story?
Tap the left bottom icon to head to your library. Choose the Select multiple icon. Now you can browse and select which pictures and videos you want to import to Instagram story.
Conclusion
When you need to make some simple Instagram collages with photos and videos, you can choose Instagram video collage for Android phone or iPhone. But if you want to tell a vivid Instagram story, you can add photos, videos, music, transitions, filters, and even customized elements to the Instagram collage videos. If you have any other query about Instagram picture video collage, you can share your comments in the article now.

Leave your comment and join our discussion