2 Best Mirror Apps for iPhone to Mirror Screen to TV and PC
Screen mirroring is a great way to display your iPhone screen straight on a TV, PC, projector, or monitor. There are many mirror apps offered on the market that can duplicate iOS mobile screen on TV or PC. With a mirror app for iPhone, you can handily mirror photos, videos, apps, and games on a bigger screen.
This post makes a list of 2 best screen mirroring apps for you to mirror iPhone to a TV or computer screen. You can learn key features of each mirror app and then select your preferred one to make the iPhone screen mirroring.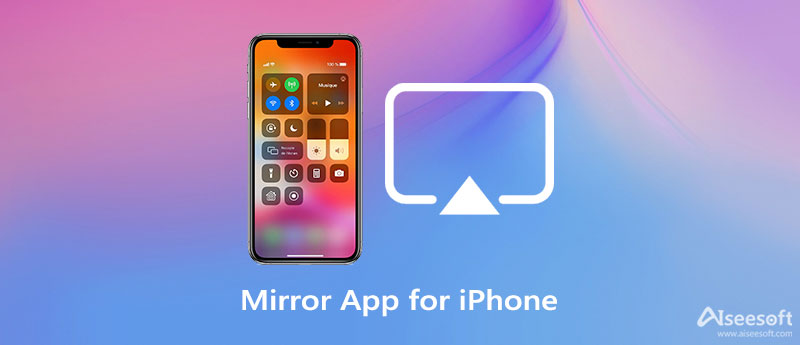 Part 1: Best Mirror App for iPhone to PC
iOS comes with a built-in Screen Mirroring (AirPlay) feature mirror iPhone, iPad, iPod screen, and iTunes to an Apple TV under the same Wi-Fi network. Besides iOS devices, many smart TVs, desktops, and laptops also support for screen mirroring.
But the default screen mirroring on iPhone only works for Apple TV. When you want to mirror iPhone to a Samsung TV or a PC (macOS or Windows), you have to rely on a third-party screen mirroring app. Considering that, this part introduces you to the best screen mirroring app for iPhone to PC, Phone Mirror.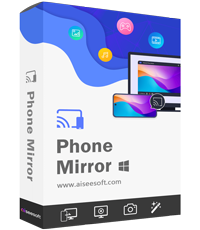 154,940 Downloads
Phone Mirror - Best Mirror App for iPhone
Mirror all content displayed on iPhone screen to PC in real-time.
Offer flexible ways to mirror iPhone/Android to computers via WiFi or USB.
Support all iOS and Android devices like iPhone, iPad, Samsung, Google, HUAWEI, and more.
Record iPhone screen on computer while the screen mirroring with high quality up to 4K.
How to use the mirroring app for iPhone to PC
Step 1:
To mirror your iPhone screen to a computer, you should free download and install this Phone Mirror tool first. When you open it, you can select the first
iOS Mirror
option.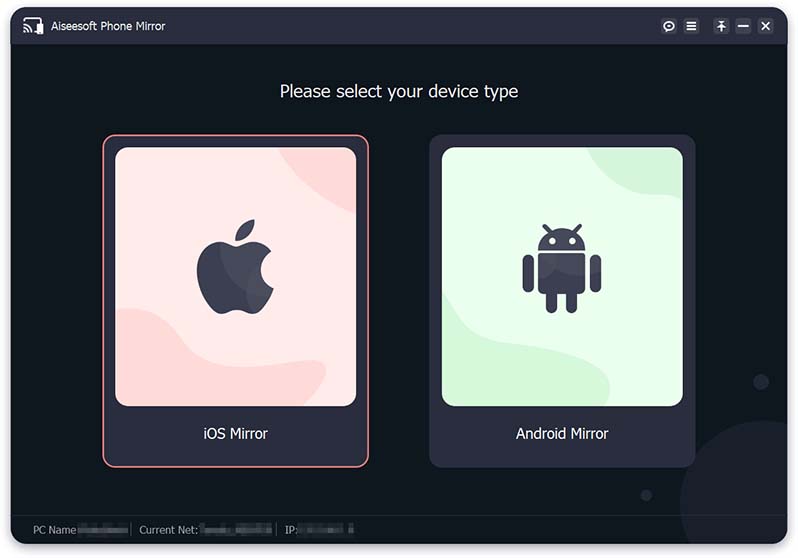 Before the screen mirroring from iPhone to PC, you should make sure that your iPhone and the computer are connected to the same WLAN/Wi-Fi.
Step 2:
On your iPhone, you need to arise the
Control Center
by swiping from the top or bottom screen. Tap on the
Screen Mirroring
icon. Now in the Screen Mirroring interface, you should select
Aiseesoft Phone Mirror
from the device list. With the operation, you can easily make a connection between your iPhone and PC.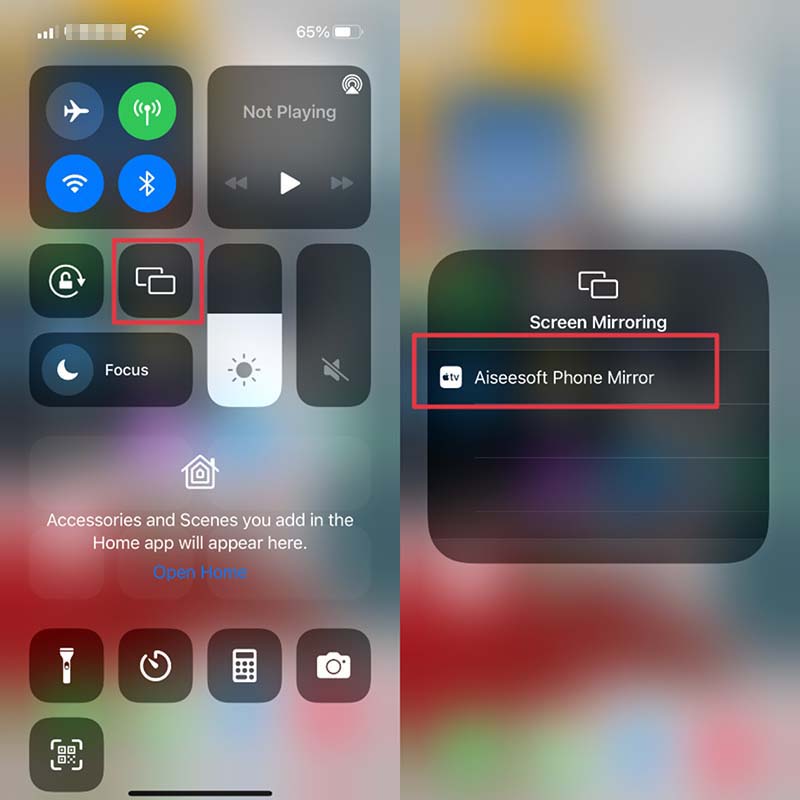 Step 3:
If you want to record your iPhone screen on the computer, you can simply click on the
Start Recording
icon or the Record button.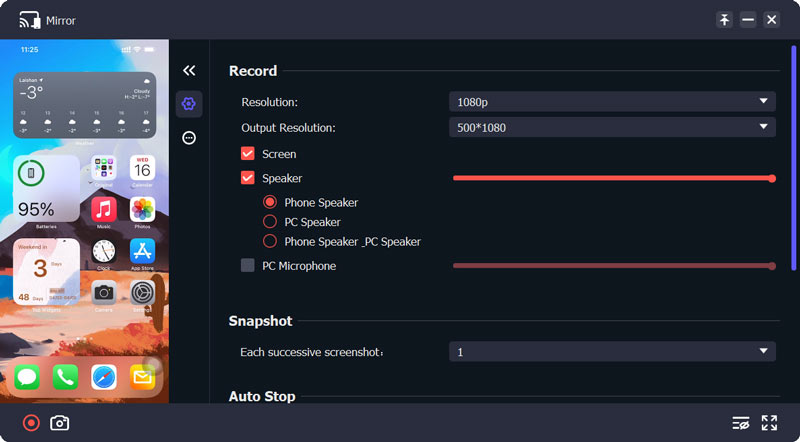 As mentioned above, this Phone Mirror allows you to capture high-quality videos even up to 4K. Also, it offers a Snapshot feature. If you are using an Android phone like Samsung, HUAWEI, SONY, LG, or XIAOMI, you can use it to mirror Android screen to PC.
Part 2: Free Mirror App for iPhone to Samsung TV and SONY TV
Screen mirroring is a common feature on most new smart TVs that enables you to cast content from an iPhone screen to a TV. In general, you can simply enable Screen Mirroring feature on your iPhone and select the Samsung TV or SONY TV from the device list to start the connection. If you prefer a free mirroring app for iPhone to TV, you can try the popular Screen Mirroring Cast Replica app.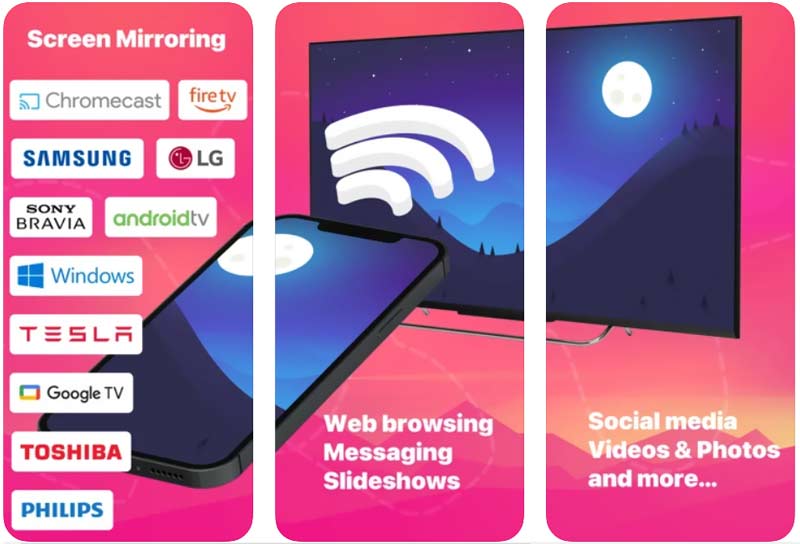 This mirror app for iPhone supports most smart TVs including Samsung, SONY, LG, Toshiba, Philips, Google Chromecast TV, Amazon Fire TV, and more. It allows you to watch iPhone photos and videos on a TV in HD quality. Moreover, it can cast web videos from iPhone to TV with low latency.
How to use the free screen mirroring app for iPhone to Samsung TV
Step 1:
Go to the App Store on your iPhone, search for, and then free install Replica app. Open this mirror app for iPhone and give permission to access the local network as it prompts. After that, Replica app will automatically detect your Samsung TV and display it in the interface. You should enable Bluetooth to make the connection.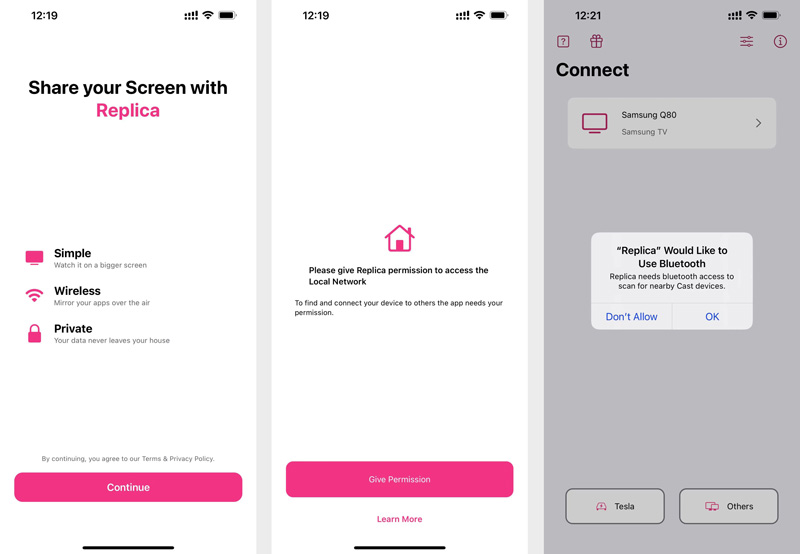 Step 2:
Tap your Samsung TV to open the
Screen Broadcast
popup. Then you can tap
Start Broadcast
to mirror your iPhone screen to Samsung TV. You can tap the
Settings
icon to custom more screen mirroring options based on your need.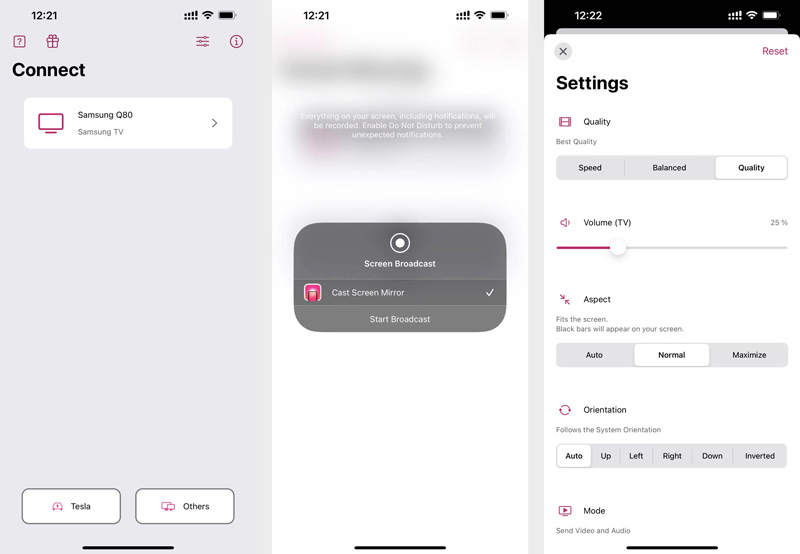 Note that, this free mirror app for iPhone has some limits. You need to upgrade to a paid version to access all features.
Part 3. FAQs of Screen Mirroring App for iPhone and iPad
1. Can I cast my iPhone to any Smart TV?
No, not all smart TVs support screen mirroring. Most traditional TVs do not come with any facility for screen casting because they don't have Wi-Fi integrated.
2. How to mirror my iPhone front camera?
On your iPhone and go to the Settings app. Scroll down to find and choose the Camera option. In the main interface of Camera, locate the Mirror Front Camera option and enable it.
3. Can I mirror my iPhone screen to PC without Wi-Fi?
No. You can't mirror iPhone to PC without Wi-Fi. The screen mirroring technology works over a WiFi connection. Moreover, you should put both your iPhone and PC device under the same network for the screen mirroring.
Conclusion
Screen mirroring provides a convenient way to watch movies, stream online, and display presentations, seminars, and more content from an iPhone to a bigger screen like a TV or PC. This post recommends 2 iPhone mirror apps for you. You can use them to mirror iPhone to TV and PC with ease.

Leave your comment and join our discussion