What Is LoiLo Game Recorder and How to Use It to Record Gameplay
LoiLo Game Recorder released by LoiLo inc. is a piece of software that gives you the possibility to record your gaming sessions and save them as video files. Even though it is free to download, you can find several useful features in the software. In fact, it was developed as a link to the video editing software, LoiLoScope, but LoiLo Game Recorder stays independent and does not require payment. This post will share a complete guide to the game recording software.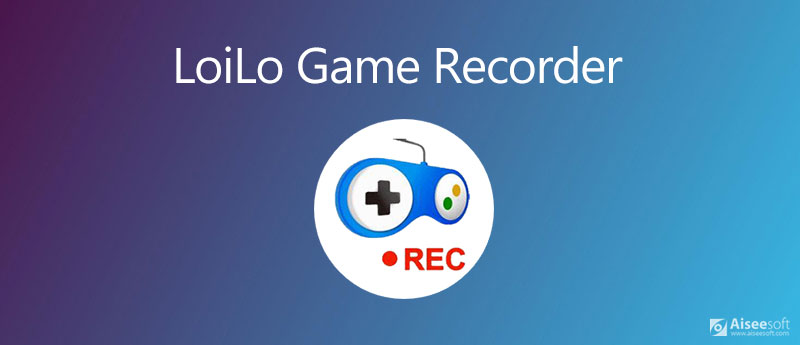 Part 1: Review of LoiLo Game Recorder
Though LoiLo Game Recorder is not available to all video games on PC, it is still worth to use due to the user-friendly design. It can meet your basic need on game recording, such as:
Record gameplay in AVI, Motion-JPEG and other formats.
Balance between file size and image quality.
Produce outstanding Full HD video recordings.
Show the least performance compared to other game recorders.
Easy to use and record gameplay in one click.
Capture both system sound and microphone at the same time.
Brief Review of LoiLo Game Recorder
Pros
LoiLo Game Recorder is free of charge for full feature.
You can upload the gameplay recordings to YouTube directly.
There is not any entitled time restrict for recording video games.
It won't add watermark or ads on your recordings, though it is freeware.
It offers basic custom options, such as output formats and more.
LoiLo Game Recorder is lightweight and needs less resources.
Cons
It lacks advanced features and options.
You cannot capture your clicks and cursor in the gameplay.
It is only compatible with Windows 7/8.
LoiLo Game Recorder has not been updated for long time.
Part 2: How to Use LoiLo Game Recorder
If you do not mind the basic features of LoiLo Game Recorder, follow the steps below to record your gameplay on PCs.
Step 1:
Firstly, you need to install it on your hard disk since LoiLo Game Recorder is the desktop software. The installer is 71.3 MB, but it requires at least 5GB space.
Step 2:
Open the game that you want to record and the game recorder. Click the
Gear
icon to open the settings dialog. Set the location folder under
Save Location
section. Adjust the
Quality
under
Video
section. After setting click
Close
.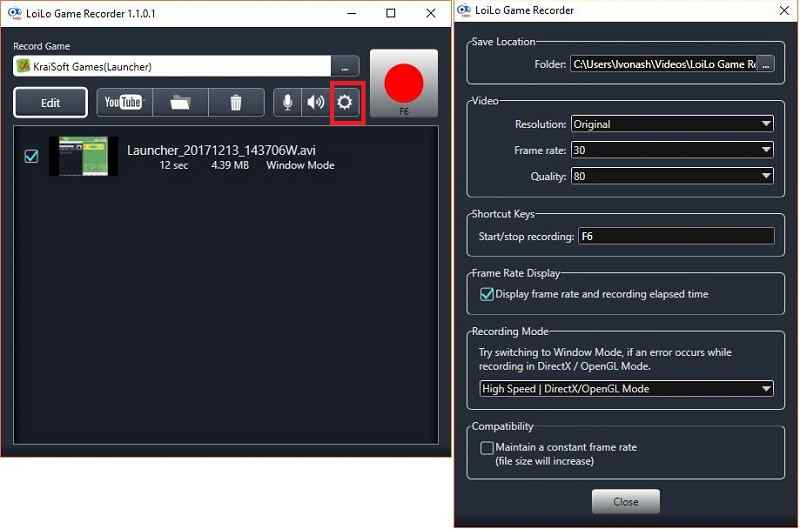 Step 3:
Hit the
Microphone
button and you can decide whether
Record Your Voice
or not.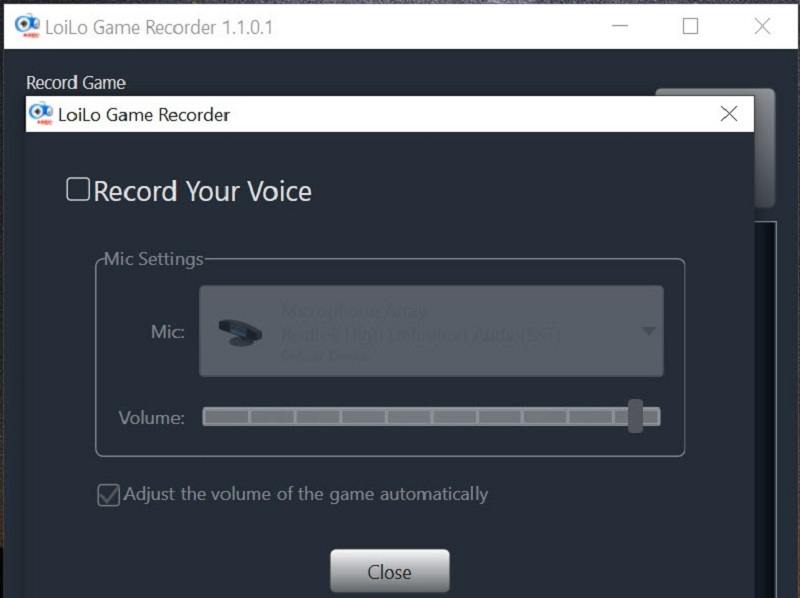 Step 4:
Click the
three-dot
icon and LoiLo Game Recorder will detect all windows on your desktop. Click the
Select
button next to your game. Then hit the large
Record
button to begin gameplay recording.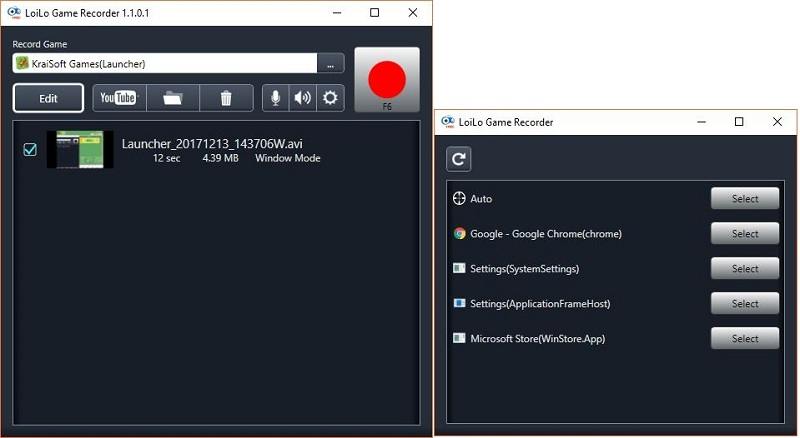 Step 5:
When recording is done, click
Stop Recording
option.
Part 3: Best Alternative to LoiLo Game Recorder
Some users complained that LoiLo Game Recorder is too simple to meet their needs, such as add reactions to the gameplayer. Moreover, it only works on limited systems. Aiseesoft Screen Recorder, on the other hand, is an excellent alternative game recorder.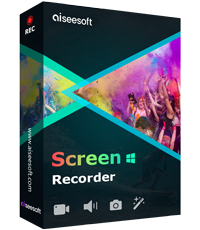 Downloads
How to Record Gameplay with LoiLo Game Recorder Alternative
Step 1: Install Screen Recorder
Run the best alternative to LoiLo Game Recorder after installing. It is compatible with Windows 10/8/7 and Mac OS X. Choose the
Video Recorder
option in the home interface when you need to record gameplay.

Step 2: Record gameplay
Turn on
Display
in the main interface and decide the recording area, such as
Full
screen or
Custom
region. If you wish to add your face into the gameplay, turn on
Webcam
and permit the recorder to access your webcam. Turn on
System Sound
and it will capture gameplayer with audio.
Microphone
is used to capture your voice while recording gameplay, and you can decide whether to enable or disable it. Next, click the
Settings
menu to open the
Preferences
dialog. Then set
Output
,
Hotkeys
, and other options. Hit
OK
to confirm it. Click the
REC
button and play your game to begin recording it with the alternative to LoiLo Game Recorder.
Tip: If you want to record gameplay automatically, click Take Schedule at the bottom and follow the instructions to set it.

Step 3: Preview and save recording
During gameplay recording, you can add text and paintings in real time with the
Edit
button or take screenshots with the
Camera
icon on the toolbar. When game recording is done, click on the
Stop
button to go to the preview window. Here you can play the recording and remove unwanted frames with the
Clip
feature. Finally, click on the
Save
button to export the gameplay to your hard drive.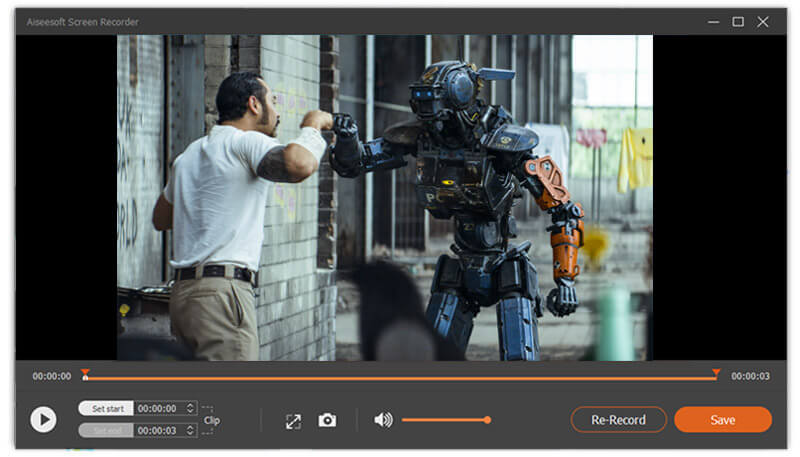 Part 4: FAQs about LoiLo Game Recorder
Is LoiLo Game Recorder really free?
Yes, LoiLo Game Recorder is freeware and the developer just monetize through the video editing software. In fact, LoiLo Game Recorder is both an independent program and a part of the video editing software. As the independent tool, you can use it for free.
Is LoiLo Game Recorder safe to use?
According to our research, LoiLo Game Recorder is virus free and pretty safe, if you download it from the official website.
Can LoiLo Game Recorder record screen?
LoiLo Game Recorder is not only a game recorder, but also a screen recorder. It can detect all windows on your desktop and you can select to record which one.
Conclusion
This article has introduced the main features of LoiLo Game Recorder and told you the advantages and disadvantages. If you just need a simple game recorder with basic features, you can follow our step by step guide to capture what you want. However, we suggest you to try Aiseesoft Screen Recorder as an alternative. Apart from being a game recording application, you can use it to record a conference on ClickMeeting, and more. It is not only easy to use, but also offers advanced features. More problems? Please write them down below this post.

Leave your comment and join our discussion