How to Find and Share Your Current Location on Different Devices
What is my current location? It's quite a common need to send your real-time location with others.
GPS on your devices like iPhone, iPad, Android phone, Mac, and Windows PC can easily identify the current location. Various apps use these location data to function properly. For instance, the Find My app on iPhone and Google Maps on Android phones offers you a convenient way to share your exact location with someone.
This post covers how to find and share current location on different platforms. Moreover, you can learn to change your location address and set a virtual location.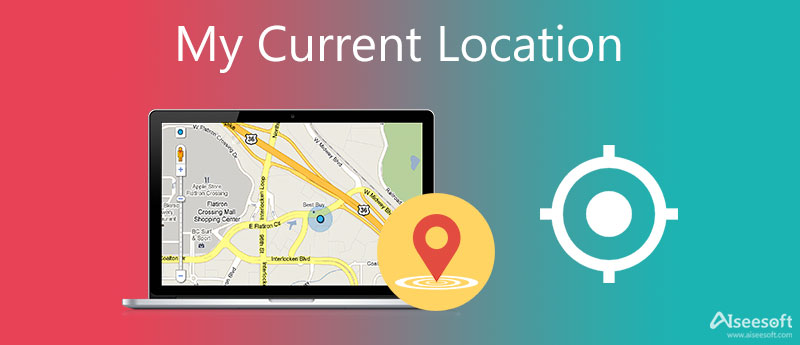 Part 1. How to Find and Send My Current Location on a Computer
You should know that, your location address is tracked by many apps while the daily usage of your computer. After you give permission to the location services, you can easily find the location address you are.
Find my current location on a Windows PC
Windows location settings enable you to set which Windows features can access your current location address and which apps can use the location information. Here we take Windows 10 as an example to show you how to find the real-time location.
Step 1:
First, you should turn Windows location settings on. Click on the
Start
button in the bottom-left corner and then choose
Settings
. When you enter the
Windows Settings
window, select the
Privacy
option and then click
Location
on the left panel.
Step 2:
If the location for the whole device is disabled, you can click on the
Change
button and then switch the
Location service
slider to
On
.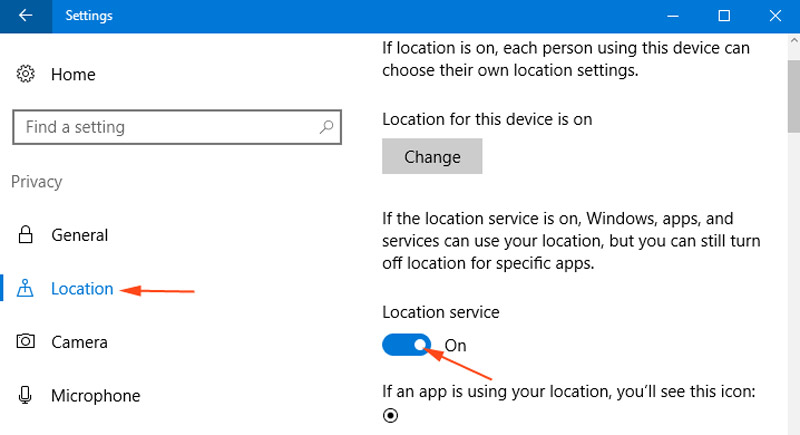 Step 3:
After you have enabled the location services, the Maps and Weather will detect and display the information of your current location. You can open them to easily find your location address. For instance, you can open the Windows Maps app, wait for a few seconds, and it will show the specific location of your address.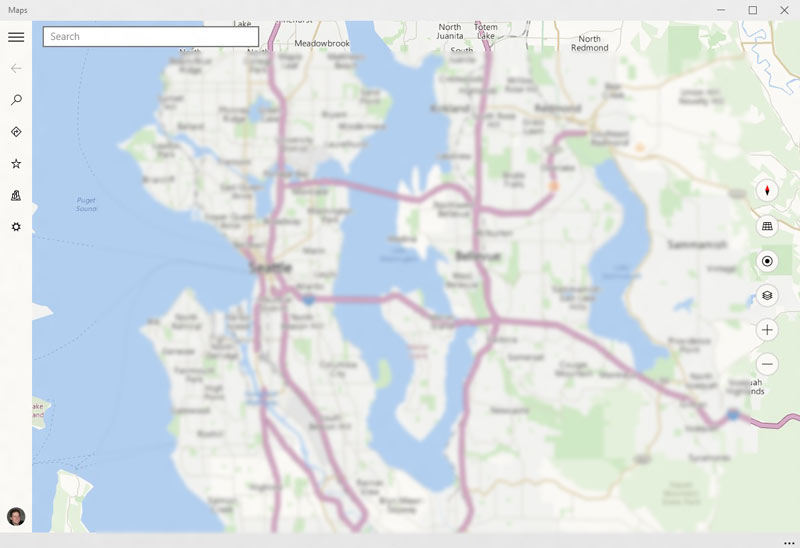 Find my current location on a Mac
As a Mac user, you can rely on its Maps to mark your current location, show businesses, restaurants, and other places nearby, and find directions from where you are to where you want to go.
Step 1:
Click on the top Apple menu on your Mac and then select
System Preferences
from its dropdown. After that, you should go to
Security & Privacy
to turn on
Location Services
.
Step 2:
When you enter the Security & Privacy window, click on the
Privacy
tab, select
Location Services
from the left sidebar, and then tick the box ahead of
Enable Location Services
. You need to allow the
Maps
app to determine your location.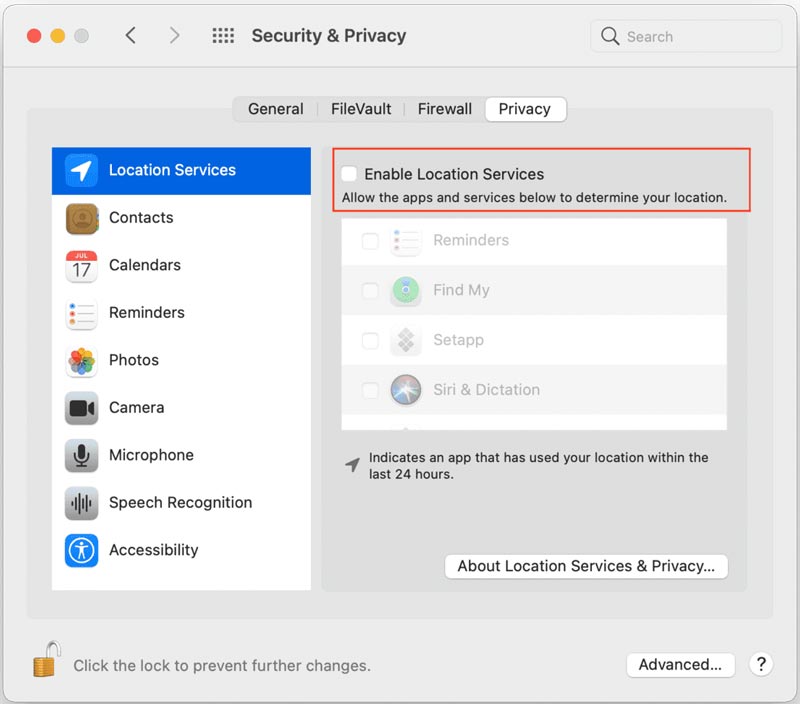 Step 3:
Open the Maps app, and click on the
Current Location
button in the toolbar to identify your current location. You will see a blue dot appears on the map to show your location.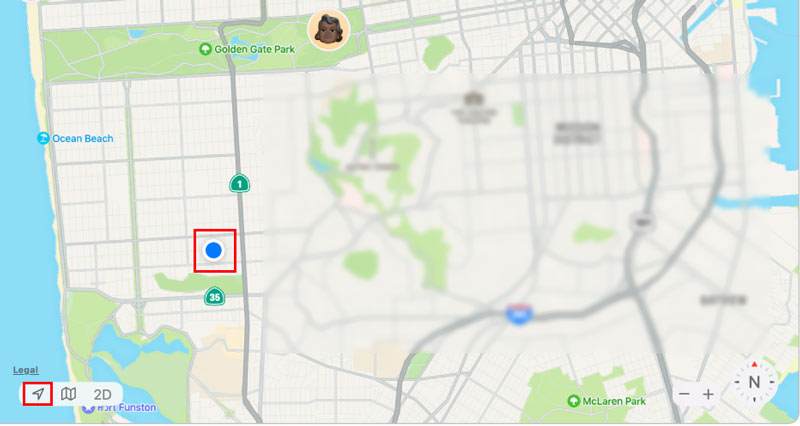 Find and share my current location online for free
Many free online tools can help you figure out where you are. They can grab your location information from the IP address, your wireless network connection, built-in GPS hardware, and others.
When you want to check your current location, you can open a web browser, search for find my location online, and then select your preferred tool to get an approximate location. You may see many ads while using them.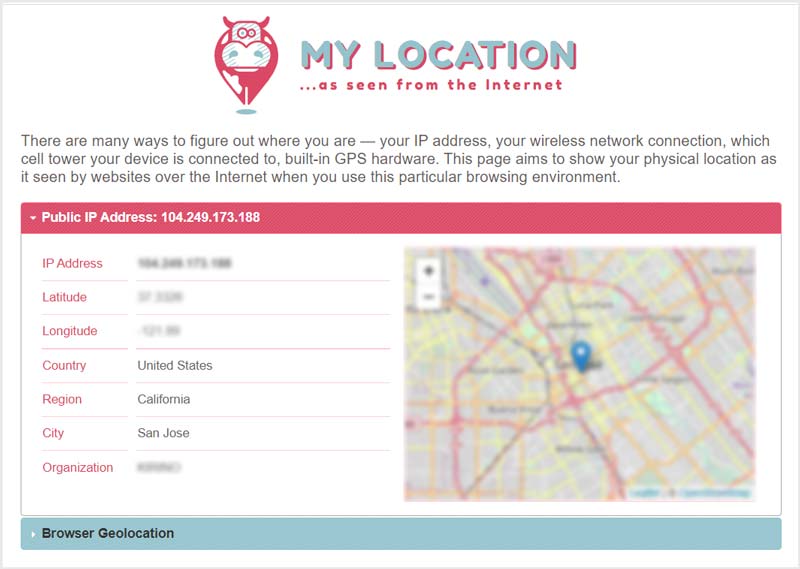 Part 2. How to Find My Current Location on iPhone and iPad
You can easily figure out the current location where you are on your iPhone or iPad. You can rely on Maps, Find My, or some social apps like Facebook Messenger and WhatsApp to find or share your location.
Find current location using Maps
The Maps app is pre-installed on your iPhone and iPad. So, when you need to know your location, you can open it to get detailed information. You are allowed to share your location, mark the current location address, or search for a new place to go.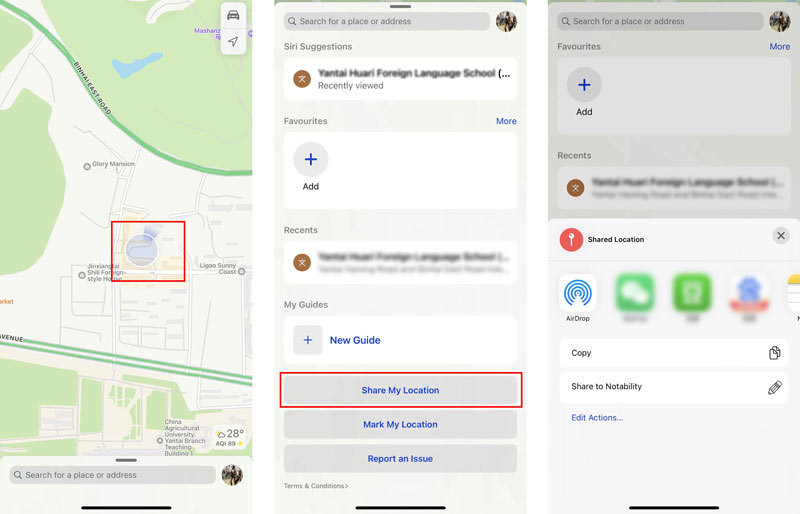 Share your current location with Find My
The Find My app also gives a convenient way to quickly locate where you are. It is pre-installed on your iOS device. If you can't find it, you can go to the App Store or use the Spotlight feature to open Find My.
After you open the Find My app, you can see your current location directly. The blue dot marked on the map is where you are. You can zoom in or zoom out to check the specific location. You can simply tap on the Start Sharing Location button to send your location information to others.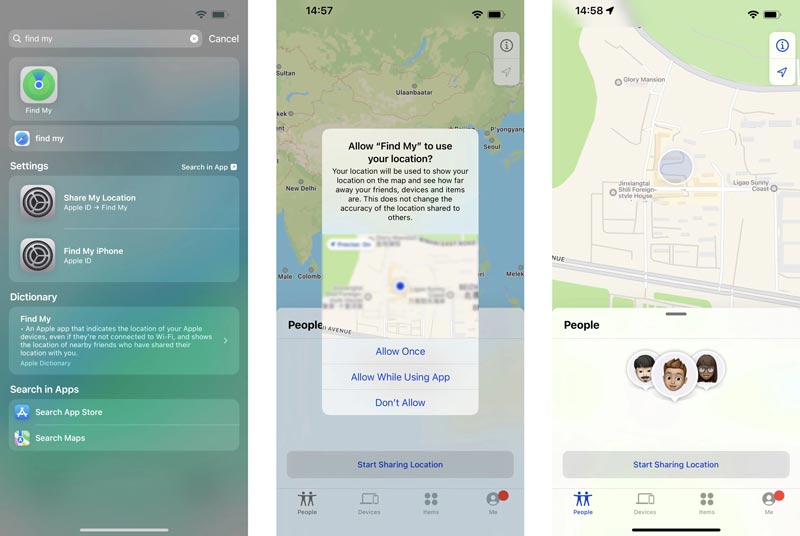 Part 3. How to Find and Share My Current Location on Android Devices
Based on your Android phone's location, you can get more accurate local search results. This part tells how to turn the location on and find the exact address or coordinates of your current location.
Step 1:
To find your current location on Google Maps, the app must have permission to use your Android phone's built-in GPS to access where you are. You can swipe down from the top screen of your Android phone, find the
Location
and enable it.
Here you can tap and hold on the Location icon to access the Location settings. Tap on the App permissions option and then give the location permission for the Google Maps app.
Step 2:
Open the Google Maps app, and tap on the location button locates above the navigation bar in the bottom-right corner. If the location button is grey, you should tap on it. You can find your current location shown on the map as a blue dot.
Step 3:
When you want to share your current location address, you can tap on your account profile, choose the
Location sharing
feature, and then send your location to others.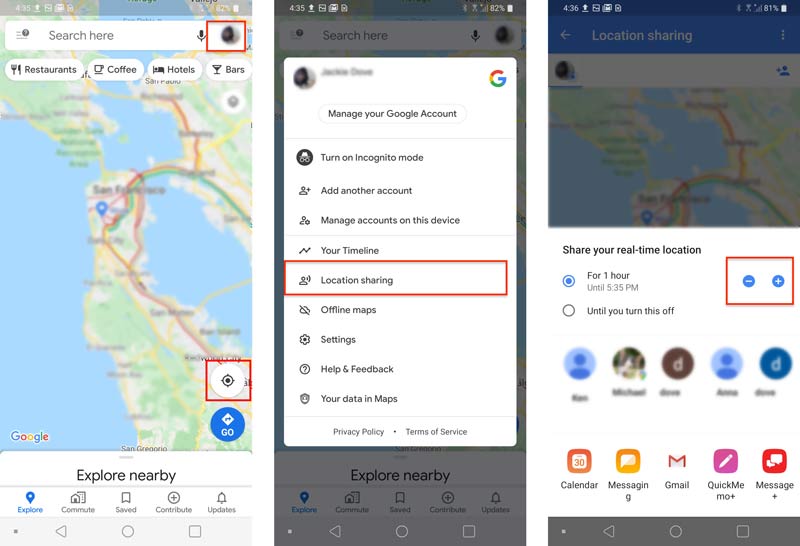 You can also use the Google Maps app on your iOS device to check your location in real-time, or share the location with your family or friends. You can free install Google Maps from the App Store.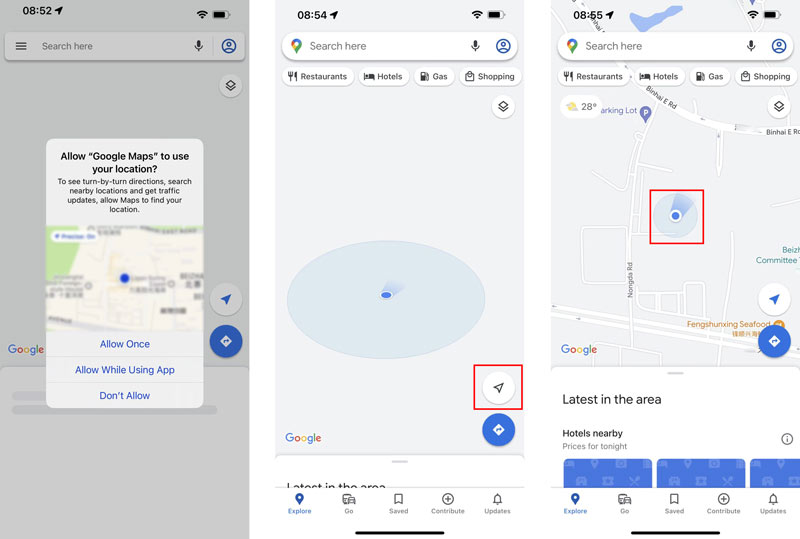 Note that, if you turn off the location on your phone, you won't get the accurate location using apps and services. In that case, you can only get approximate local results and ads based on your IP address.
Part 4. How to Change Current Location Address
For different reasons, you may need to change your GPS location. For instance, you want to stop sharing location with others for privacy issues, or switch to another location for using apps or playing games. Here we strongly recommend the easy-to-use AnyCoord for you to set a virtual location for your iPhone. It allows you to change the current iPhone location on both Mac and Windows computers.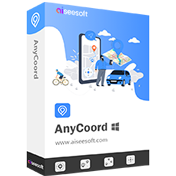 Downloads
Aiseesoft AnyCoord – Best Location Changer for iOS
One-click way to change iPhone GPS location to any other location.
Change iPhone to a virtual location on Mac and Windows PC.
Offer One-stop Mode, Multi-stop Mode, and Joystick Mode to set route.
Move route for the iPhone GPS location to play games or use apps.
Step 1:
First, you need to free download, install, and run this iPhone location changer software on your computer. As mentioned above, AnyCoord offers both Windows and Mac versions. Here you should download the right version according to your system.
Step 2:
Click the
Start
button to move on. You need to connect your iPhone to the computer via a lightning USB cable. Trust this computer and tap
Allow
on the iPhone screen to allow this device to access photos and videos.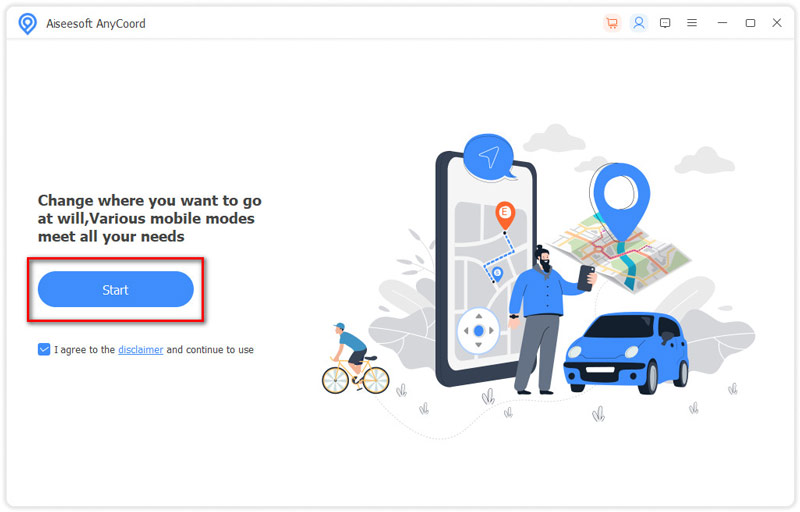 Step 3:
You are offered 3 modes to customize the router and change your iPhone current location. Before you select a mode, you can first choose the
Modify Location
feature.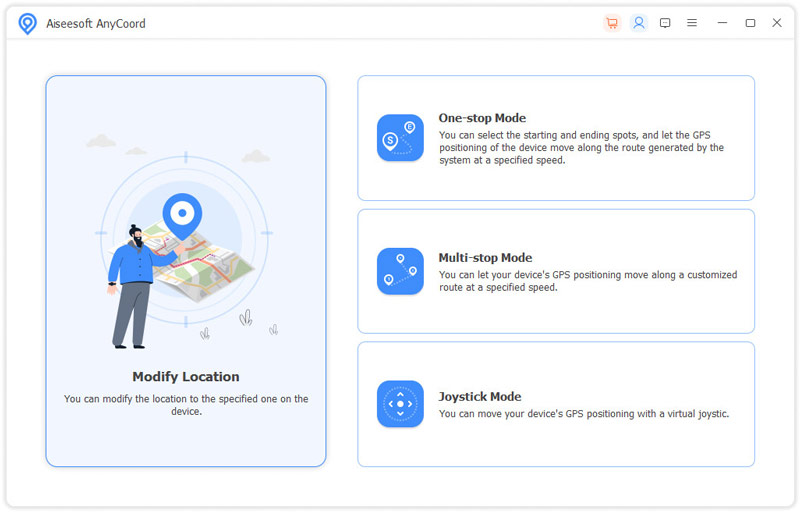 Step 4:
Wait for a while, a blue dot will appear on the map and show your current location. You are allowed to drag, zoom in, and zoom out the map to check more details.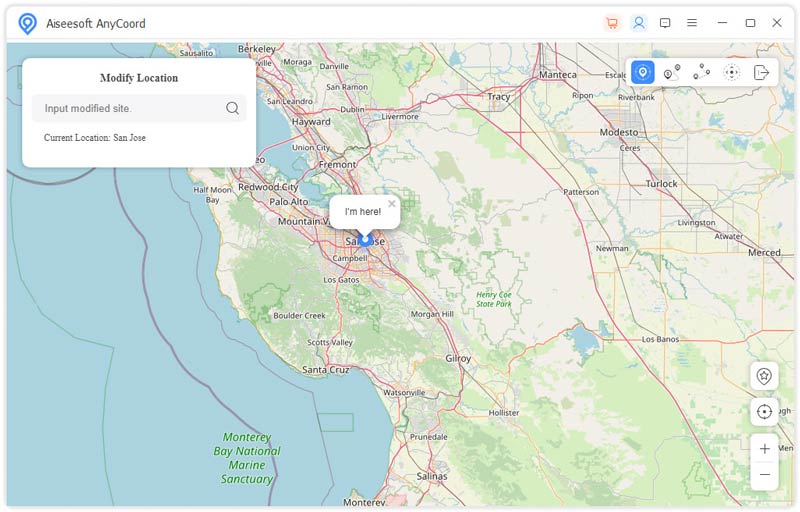 Step 5:
When you want to change your current location address, you can input or search for the destination into the bar, and then click on the
Confirm Modify
button to confirm that. Also, you can select the destination location on the map, and then click the
Move to
button.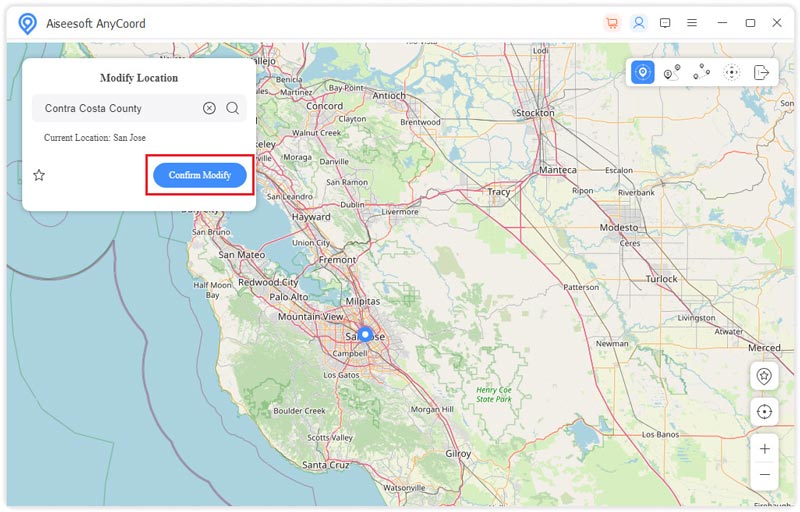 If you want to set your iPhone's GPS location to move along with the route, you can use the One-stop Mode or Multi-stop Mode. To move the GPS location of your iPhone without route limits, you can rely on the Joystick Mode.
Part 5. FAQs of My Current Location
Question 1. How to reset my current location on iPhone?
When you need to reset the location services on an iPhone, you can go to the Settings app. Tap on the General section and then choose the Reset option at the bottom screen. When you get to the main Reset interface, find the Reset Location & Privacy option and tap on it. Now you can reset the current location on your iPhone. During this step, you are required to enter your password to confirm the resetting operation.
Question 2. Can I turn location services off for specific apps on my iPhone?
Go to the Settings app, and scroll down to choose the Privacy option. Make sure the first Location Services feature is enabled and enter it. Scroll down to find the app you want to turn its location service off and tap on it. In the main interface of the app, you can choose Never, Ask Next Time, While Using the App, or Always based on your need. Here you can simply set Never to prevent this app from using your location.
Question 3. How to help your Android phone get a more accurate location?
You can turn your phone's location accuracy on to get a more accurate location. Swipe from the top screen to display more options. Tap and old the Location button to arise the Location Services. Locate the Google Location Accuracy option, and then turn Improve Location Accuracy to the on position.
Conclusion
This post shares several useful methods to accurately find your current location and share it. Whether you are using a computer, iPhone, iPad, or Android device, you can use the related location finder to get your exact location. Moreover, we introduce you to a great location changer tool to easily set virtual locations for iPhone.

Leave your comment and join our discussion