How to Reset Location on an iPhone [Solved]
When you install a new app on your iPhone and enter it, a dialog may pop up asking whether this app can use your current location. Thanks to GPS, your iPhone now is a mobile navigation system. It's every convenient to identify your current location. Many apps rely on GPS and use the location data to function properly.
However, for different reasons, you want to reset the location on iPhone. For instance, sometimes your GPS is not functioning properly. Or you don't want to allow some apps to use information of your current location any more. Then how to reset location on iPhone?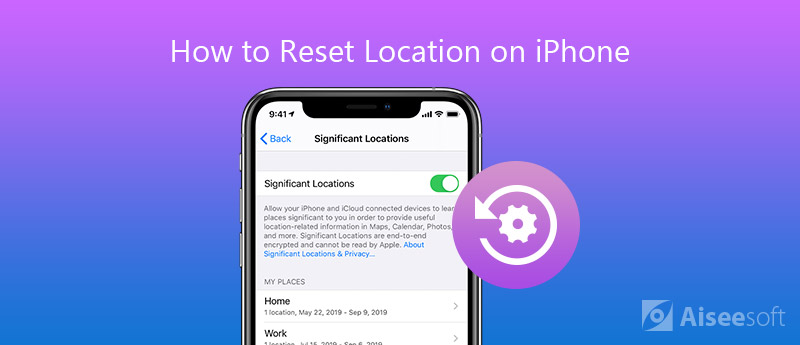 Part 1. How to Reset Location and Privacy on iPhone
As long as you turn on the Location Services and give the permission, some apps like Maps and Weather will use information of your current location and grant them the permission to in the privacy settings. Actually, you are tracked by many apps while the daily usage of your iPhone. Surely you want to turn off some apps and only keep the necessary ones. This part will show you how to reset location on iPhone and remove all the permissions that apps use to keep track of your current location.
Step 1.
Unlock your iPhone and open
Settings
app. Tap the
General
section and scroll down to locate the
Reset
option at the bottom part.
Step 2.
Tap on
Reset
and enter the Reset interface. The last section is
Reset Location & Privacy
. Tap on it to reset the location on iPhone. Here you will be asked to enter your passcode to confirm the operation.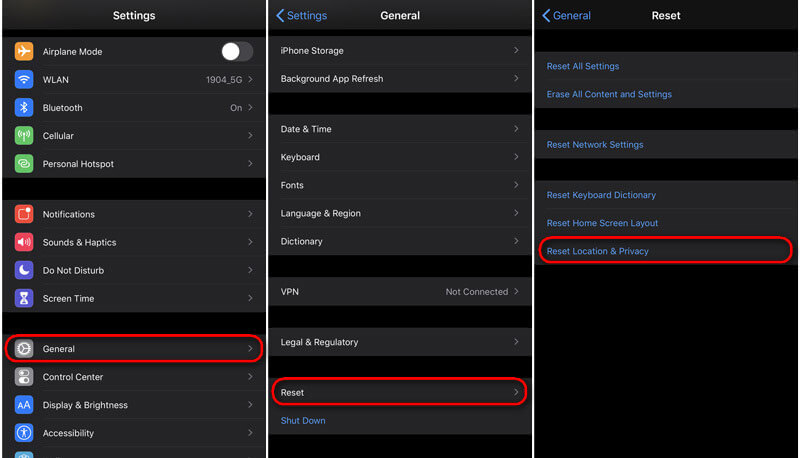 Step 3.
Tap on
Reset Settings
to start resetting your iPhone location.
Part 2. How to Turn Location Services Off for Specific Apps
After you perform the location settings reset on iPhone, apps won't be able to use your current location information. With the method above, you can easily reset your iPhone location. But as we mentioned above, in most cases, you only want to turn off the location service for some specific apps, what should you do?
Step 1.
Unlock your iPhone and go to
Settings
app.
Step 2.
Scroll down to find the
Privacy
section. Tap on it to enter the
Privacy
interface.
Step 3.
Ensure the
Location Services
is
On
. Then scroll down to locate the app you want to turn its location service off. You can tap the app and choose specific setting for it.
You are given 4 options to control the location service for each app, Never, Ask Next Time, While Using the App and Always.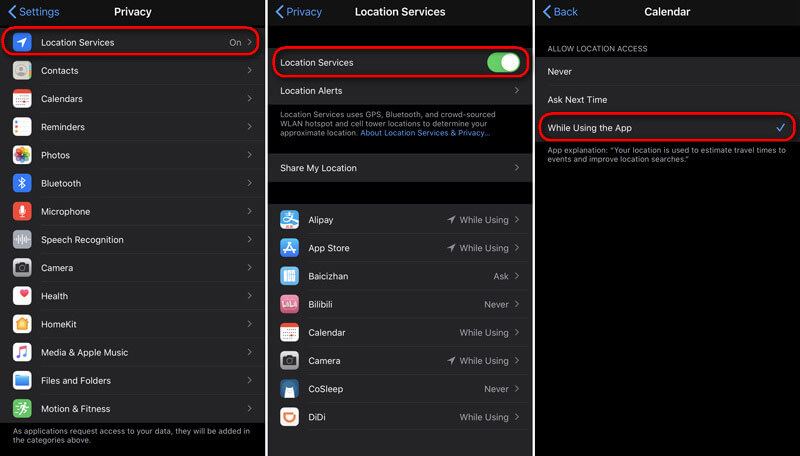 If you choose Always, this app will be allowed to access your location even when the app is in the background. The app will be prevented to get your location information when you choose Never. In fact, in most cases, you will select While Using the App. It will allow app to identify your current location only when the app or one of its features is visible on screen. Here you can pick one choice according to your need.
Part 3. Better Way to Manage and Reset Location Settings on iPhone
The truth is, as long as you give the location services permissions for some apps, they will always track you, even you turn their location services off. When you reset location on iPhone, some built-in apps won't be allowed to get your current location. But some third-party apps still do. In the following part, we will show you a better way to reset location settings on iPhone.
Here we strongly recommend Aiseesoft iPhone Cleaner to help you reset the location settings on iPhone thoroughly. It is specially designed to protect your privacy.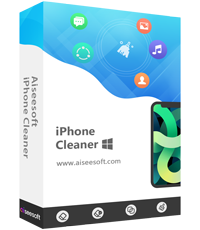 Downloads
Aiseesoft iPhone Cleaner - Erase All Content & Settings Safely
Wipe out and reset your iPhone's content and settings fast and thoroughly.
Offer 3 erasing levels for you to erase any data on iPhone/iPad/iPod optionally.
Erase private data like contacts, messages, call history, photos, etc. on iPhone.
Support both Windows and Mac operating systems.
Step 1.
First, you need to free download, install and run this iPhone location resetting software on your computer. It offers both Windows and Mac versions. Ensure you download the right version.
Step 2.
When you enter the main interface, you can connect your iPhone to it with a lighting cable. For the first connection, you need to tap
Trust this computer
on your iPhone screen to make sure it can be recognized successfully.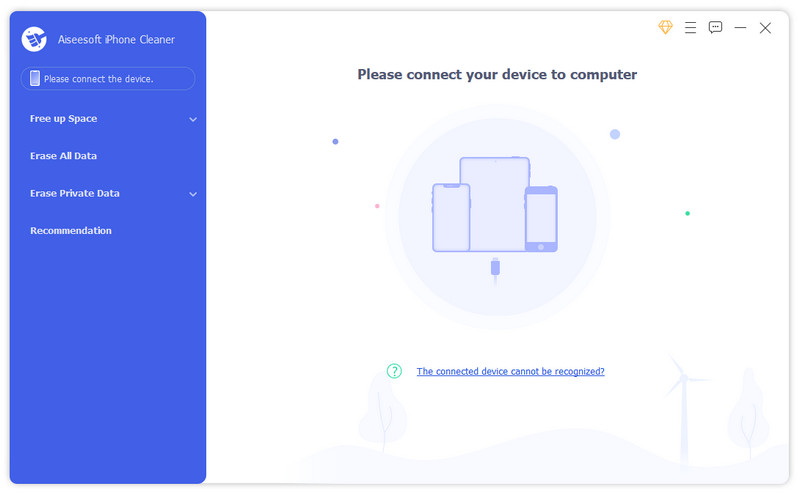 Step 3.
Then navigate to the
Erase All Data
tab on the left side. It provides you with 3 levels to remove the location services,
Low, Middle
, and
High
. Each level will overwrite different times to erase your content and settings on iPhone.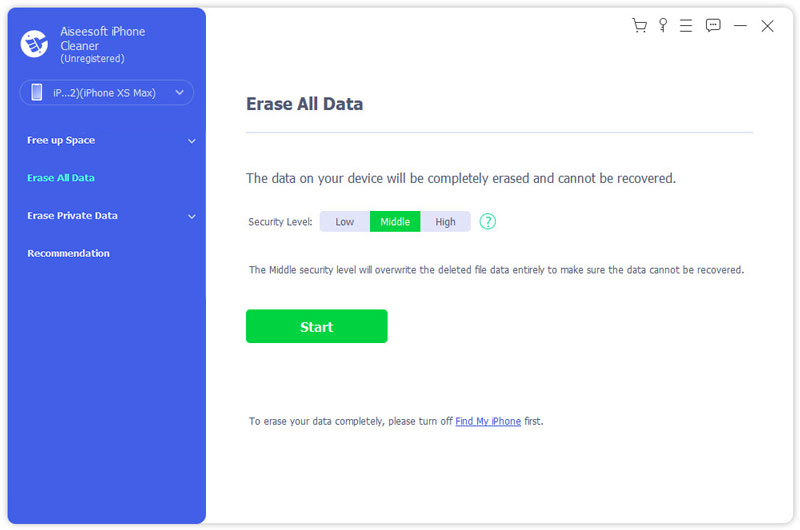 Step 4.
Pick a level and then click
Start
button to
turn off location services
on iPhone. By doing so, all existing iOS data will also be removed at the same time. So, you need to backup iPhone data first.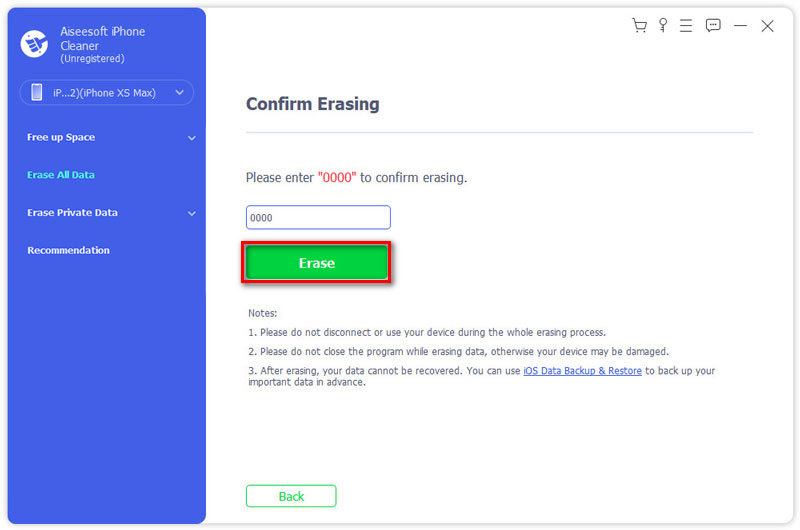 Part 4. FAQs of Resetting Location on iPhone
1. Why is my location wrong on my iPhone?
You can first head to Settings > Privacy > Location Services to see if Location Services is turned on. Then scroll and find Maps. Make sure it is set to While Using the App or Widgets.
2. How can you track an iPhone location?
If you want to help your family member to track their missing device, you can go to Settings > Privacy and turn on Location Services. Then go to Settings > [your name] > Find My > Find My iPhone. Turn on Find My iPhone, Find My network, and Send Last Location.
3. Can you fake your location on iPhone?
It is not that easy to fake the location of an iPhone simply using an app like Android phone. The best solution is to use related software on your computer. You can give iTools or Dr. Fone a try.
Conclusion
We mainly talked about how to reset location on iPhone in this page. We tell you detailed steps to manage and reset location service settings on your iOS devices. If you still have any questions, don't hesitate to leave us a message.