Best Senuti Alternative to Transfer Music from iPod/iPhone to Computer on Windows
Is there any good idea to transfer my songs from my iPod touch 5 to my Dell computer of Window 7? I hear that Senuti for Mac can transfer playlists, music, and videos from iPhone or iPad to Mac. It is a great pity that Senuti has no version for Windows 7. - Emma

What is Senuti
Senuti is related to iTunes. As we all know, iTunes has the capability to sync music files from iPhone, iPad, and iPod to Mac or Windows computer. However, iTunes cannot help us to transfer these files back. Then Senuti works. The word Senuti written by a senior high student named Whitney Young, Senuti was released in the year of 2006. And now, Senuti has been developed as a commercial program sold by FadingRed, which highly supports Mac computer running Mac OS X 10.10 and higher versions, including macOS High Sierra. Though senuti can be free downloaded, it only allows to transfer 1000 songs from iPhone, iPad, iPod with a limited trial period for 30 days. If you want more features, you need to pay nearly 20 dollars for the Senuti full version.
Senuti Key Features
Recover music, playlists and videos to iTunes only in one step;
Mark songs that are already on your computer with blue dot by automatically comparing all songs on your iPhone or iPod to your computer's iTunes library;
Transfer videos and playlists directly from your iPod or iPhone to iTunes on your computer with simple drag and drop motion;
Preview any song before transfer easily.
How to use Senuti for Mac
Step 1Download the latest version of Senuti for Mac from the official website and drag the application to Mac Application Folder.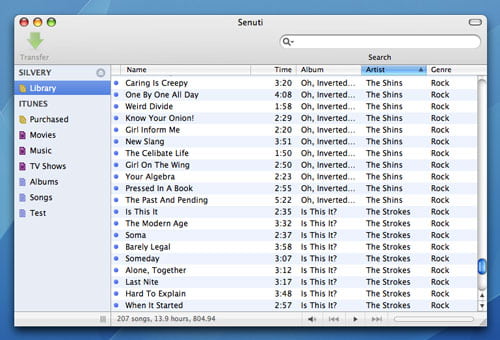 Step 2Please make sure you have iTunes on your Mac, and launch it.
Step 3Connect your iDevice with your Mac.
Step 4Click device icon, and set "Manually manage music and videos" from "options" on "Summary".
Step 5Launch Senuti for Mac. Tab "Preference" > "Copying ", select "iTunes Music Folder".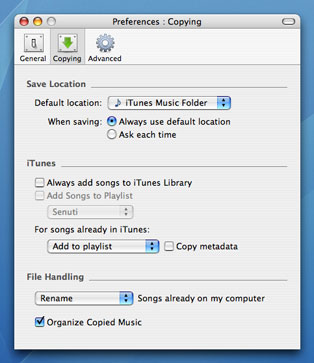 Step 6Choose all songs and highlight them by pressing "Command" and "A" key.
Step 7Click "Transfer", then your iDevice music will be copied from the device to iTunes library.
With Senuti, you can easily transfer iPhone, iPad or iPod music to iTunes in case you want to recreate the iTunes original playlists. Besides, it also helps you to back up and recover videos and podcasts in this way. When you want to transfer files like songs and videos from iOS devices to Mac, Senuti can do great favor for you. But you may encounter such a situation when you want to transfer music files and videos from iOS device to Windows computer, what kind of software like Senuti can help you? As there is no version of Senuti for PC, and here, we will sincerely recommend you the reputable and flexible Senuti for Windows, FoneTrans to deal with your problem.
Best Senuti alternative - Senuti for Windows
Senuti for Windows - Transfer iPhone/iPod music to iTunes Library on Windows
Are there too many music files, videos and other types of data taking up too much space of your iPhone, iPad or iPod? Do you ever want to transfer these files to computer? With this Windows Senuti, you can do what Senuti for Mac cannot do to transfer music, videos and other data like contacts, iMessages, messages, notes, photos, and more to Windows computer with simple clicks. Taking iPhone music transferring as an example, here we suggest you to free download the Senuti for Windows and have a try.
Step 1Install Senuti for Windows.
Step 2Plug your iPhone with PC via USB cable.
Step 3Tab "Media" > "Music", choose the music files you want, and then click "Export to" >"Export to PC" or "Export to iTunes Library".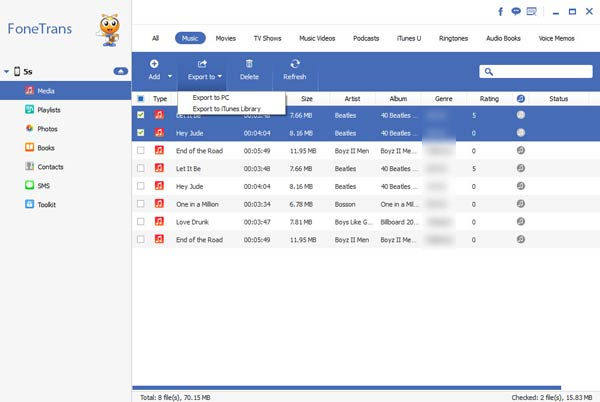 This Senuti alternative can easily transfer music, videos from iOS device to PC local hard drive, so you need not to worry about the decreasing capability of iPod, iPad or iPhone. What's more, simple clicks of the software enable you to recover or recreate the iTunes playlists.
Senuti for Windows - Transfer Music/Videos/Playlists to iPhone and iPod
For iTunes users, transferring iOS device data with iTunes from Mac or PC is not that easy. Wrong actions of iTunes can cause unexpected result. Sometimes, you cannot make sure whether music, videos and other types of iOS device data have been saved well or not. With this data transferring tool, you can easily import local music, videos, photos and other multimedia files from PC to you iPhone, iPad or iPod. Here is an example of transferring local PC video to iPhone 5s:
Step 1Install FoneTrans.
Step 2Plug your iPhone to computer.
Step 3Tab "Media" > "Movies", click the little arrow of "Add", and then choose add video file(s) or video folder.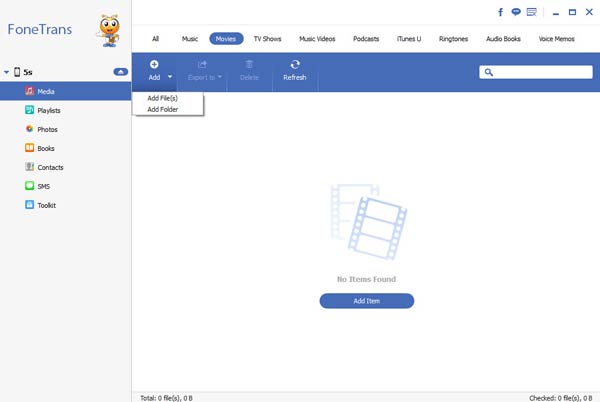 Notes: If the video format is not compatible with iOS device, this advanced software can help you convert it to a suitable video format.
FoneTrans
For Mac
It lets you view and back up data from iOS device to iTunes or PC/Mac.
It transfers contacts, photos, music, movies, etc. between iPhone/iPad and iPod.
This iTunes sync alternative enables you to add photos, music, etc. from computer to iOS device.
De-duplicate contacts and edit contacts from iPhone on computer directly without iTunes.
Automatically convert video and audio to be compatible formats for iPhone iPad iPod.
After that, the local PC video has been on your iPhone. Besides iPhone, you can also transfer music from computer to iPad. You can enjoy local music, videos, photos to your iDevice anytime and anywhere.
Senuti for Windows - Manage iPhone or iPod music on Windows
This Senuti Windows Alternative can also be a good iPhone data editor to better manage the music and more on PC. You can easily pre-listen to the music, preview video files and photos with its built-in media player. Besides, you can also edit music and video ID3 information. On the top-right search bar, you can enter keywords to find your target data file fast. There is an example for music file editing:
Step 1Install Senuti for Windows.
Step 2Connect your iPhone with PC.
Step 3Double-click the music file to play it.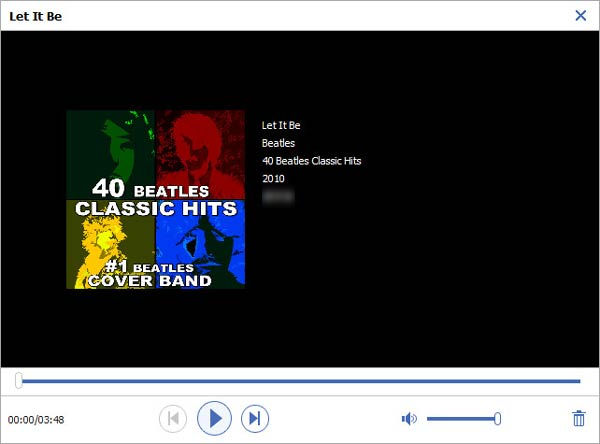 Step 4If you want to edit its information, right-click on the video and choose "Edit info". The existing music ID3 information will show in the interface. You can add or delete information to manage your music file.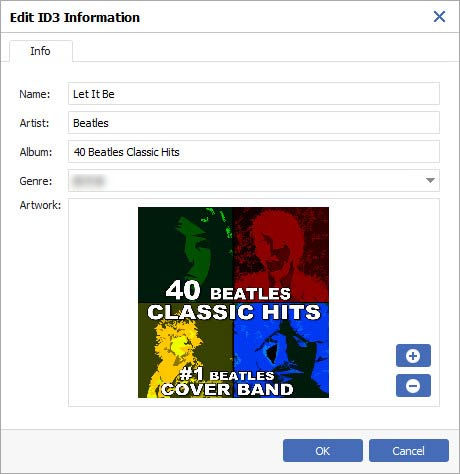 Senuti for Windows - Transfer music/videos between iPhone and iPod
If you want to transfer files from one iDevice to another, this advanced iOS Data Transfer can do it for you.
Step 1Operate Senuti for Windows.
Step 2Plug your iPhones to PC.
Step 3Click "Media" to load all music, movies, etc. from your old iPhone. Tap "Music" and select music you want.
Step 4Click "Export to" > "XX's iPhone", and then your music will be transferred to another iPhone.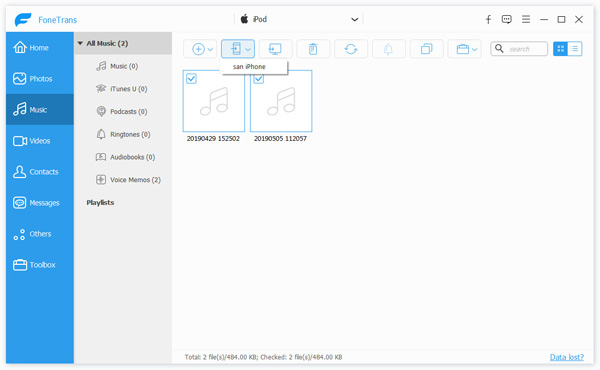 Comparison table between Senuti and its alternative
| Feature | Senuti | FoneTrans |
| --- | --- | --- |
| Operating System | | Both Windows and Mac Version available |
| Transfer items | Music, Playlists, Podcast, Movies | More than 30 types of data including Music, Movies, Playlists, Contacts, etc. |
| Transfer Data to iTunes | | Yes |
| Transfer Data to Computer | | Transfer Data to Mac/PC |
| Transfer Data across iPhone, iPod and iPad | | Yes |
| Sync One Device to Unlimited iTunes Library | | Yes |
| Auto skip duplicated songs and videos | | Yes |
| Recover Music, Videos and Playlists to iTunes | | No |
| Transfer Speed | | 305 Songs/Minute |
| Price | | $34.95 |
FAQs of Senuti for Windows
How much does Senuti cost?
Senuti for Mac is free to try. If you want to enjoy the full features after 30-day trial, you can get it at the price of $18.99.
What is Senuti for Mac?
Senuti for Mac is the utility that helps you manage your media library by facilitating the transfer of music, movies and Podcasts from iPhone or iPod to computer.
Can I transfer iPod music to Mac with Senuti?
Yes. With Senuti, you can transfer music, playlist or videos from iPod to your Mac. Install Senuti to Mac OS X 10.5 or later. Launch iTunes, go to iTunes Preferences > Devices, and enable Prevent iPods, iPhones and iPads from syncing automatically. Plug your iPod to Mac and open Senuti. Select the music in Senuti and click Transfer to transfer them to your Mac.
According to the comparison chart, you can easily see that Senuti for PC can be a good Senuti alternative. Supporting Windows 10/8/7/XP/Vista, Senuti for PC can help you transfer iPhone/iPad/iPod data to PC, move computer local files to iOS device, even between different iOS devices, such as iPhone X/8/7/SE, iPhone 6s, iPad Pro, iPad mini, iPod touch, etc.