Stuck on Android System Recovery 3e? Learn to Fix and Recover Android Files
When you turn on or reboot your Android phone, does it directly display an Android System Recovery screen? Are you interested to know what is Android System Recovery is? When you encounter Android System Recover 3e, you cannot turn off or restart as it should. This article is going to let you know what is Android System Recovery, how to enter into Android System Recover. In additionand, we also provide the best solution on how to get out of Android system recovery 3e without losing data, in case your Android device unfortunately gets stuck on the Android System Recovery screen.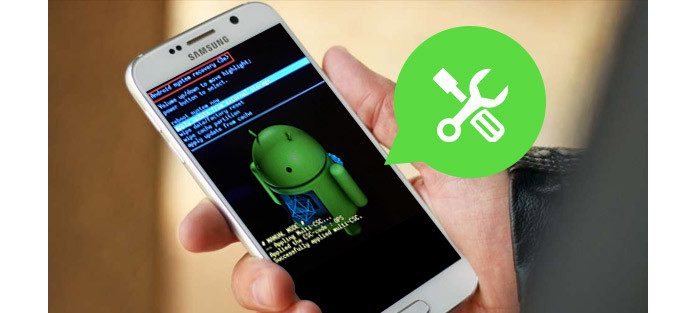 Part 1. What is Android System Recovery and how to get to Android System Recovery?
Android System Recovery is a feature on Android OS, which enables you to restart the system, update from external storage or from ADB, perform a factory reset or erase Android data and cache partition and so on. This can be very useful when your Android phone cannot powered on normally or its touch screen cannot operate properly. When you run into these issues, you can rely on the awesome Android System Recovery to help you get rid of the embarrassment.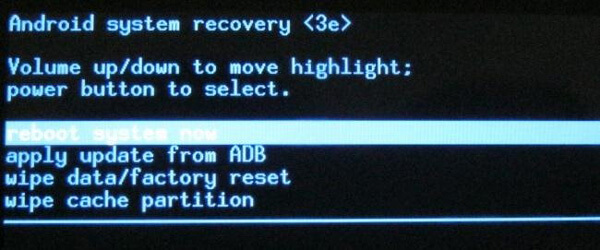 It is easy for you to enter the Android System Recovery screen. Just power off your Android phone. Then hold and press the Volume Up key, Power key as well as Home key at the same time. Now, you manage to boot into the Android System Recovery screen.
Part 2. Stuck in Android System Recovery 3e? Tips to fix & recover lost data
Though Android System Recover is useful sometimes, what if your Android device is being stuck on it and you cannot power on or off the device then? This situation often takes place as well. To get out of Android System Recovery, you need first to check whether the physical keys we referred before can work properly or not, especially the Volume Up key.
➤ Press the keys for a couple of times and release them. Sometime the physical keys may be pressed so deeply so that they cannot work properly.
➤ Try to reboot the Android phone and check whether it can work out.
➤ Take out its battery, wait for some minutes and then power on the device.
Still can't get out of Android System Recovery 3e?
If these method cannot help you, you might consider to wipe data/factory reset. But you should think it over, as this option will erase all your existing data from Android phone, like contacts, messages, videos, pictures and so on. If you have no backup file made before, you may lose more when you choose this method. Actually, why not adopt a reliable third-party software to fix Android phone stuck on Android System Recovery? And here, we would like to recommend Broken Android Data Recovery, the most professional Android system/file recovery tool for you.
Broken Android Data Extraction
Fix locked, frozen, crashed Android phone to normal.
Recover and extract contacts, messages, WhatsApp data, photos and more from frozen Android phone.
Support almost Samsung Galaxy S, Samsung Galaxy Note, etc.
Fix Android System Recovery 3e and recover Android files
Step 1Broken Android Data Recovery can offer solution when your Android phone gets stuck on Android System Recovery 3e mode. Choose "Broken Android Phone Data Extraction" mode, click "Fix Device" button in the interface.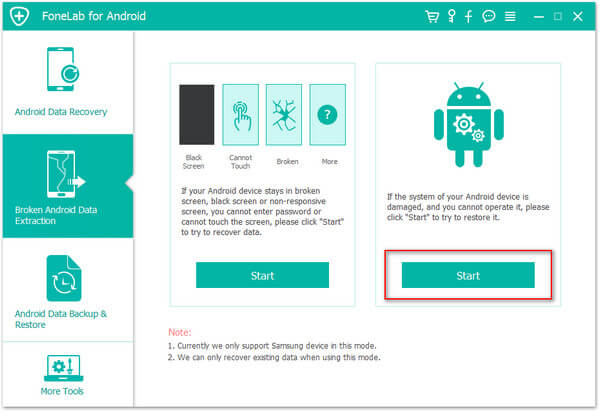 Step 2Check "others" for the corresponding issue your Android device is facing with and then click "Next" button and then select your phone model and name.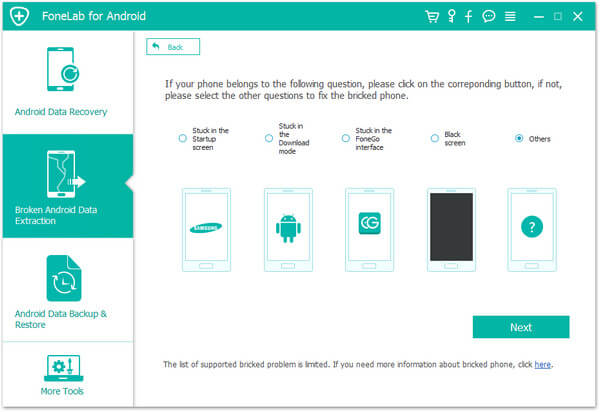 Step 3A simple guide to let your Android phone enter Download mode.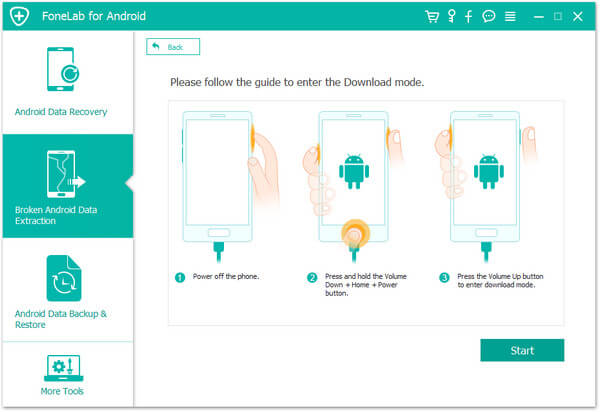 Step 4Then your Android system can be fixed. When your phone get out Android System Recovery, you can use "Android Data Recovery" feature to scan and recover your Android files.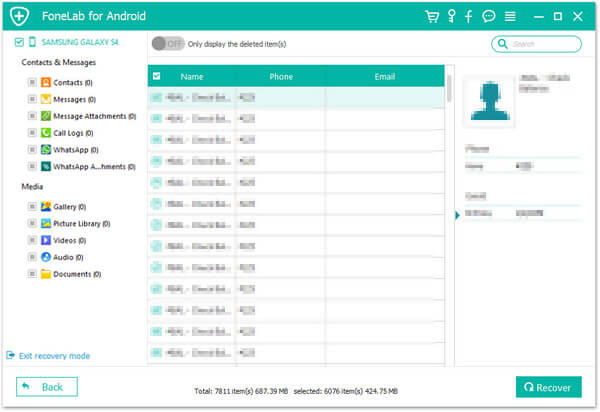 Part 3. FAQs of Android System Recovery
Will Recovery Mode erase everything?
No. Entering Android Recovery will never delete anything on your device. But Android Data Recovery has the option to delete everything and reset the device to factory settings.
Why is my Android phone stuck in recovery mode?
One of the most common reasons is that the key buttons on Android is damaged or malfunctioning. Be sure to check these physical issues carefully to avoid Android phone stuck in recovery mode.
Is there a system restore for Android?
Yes. You can enter Recovery Mode on your Android deevice. Select and press Backup & Restore option from the screen. Tap Backup button to back up Android system to SD card. After backing up, choose Peboot Reboot to restart your Android phone.
In this article, we mainly show you what Android System Recovery is and provide the best solution when your Android phonee is stuck on Andorid System Recovery 3e screen.