How to Recover Gmail Password and Account
I forgot my Gmail password, and cannot log in Google account. Is there any way to recover or reset the Gmail password?
I deleted my Google account. But I keep the phone number of the old Google account. Are there any recovery solutions to help me to get back the Gmail account?
Google is the one of the greatest inventions throughout the world. You can search the information that you want to know with Google. Also, Google facilitates its users by creating the Google account with a single username and password to access Gmail, Chrome, YouTube, Google Maps, etc. However, the accidental password-forgot or account deletion will lead to the regret of yours.
In this page, we will discuss the solutions about Gmail recovery, Gmail account recovery and password recovery.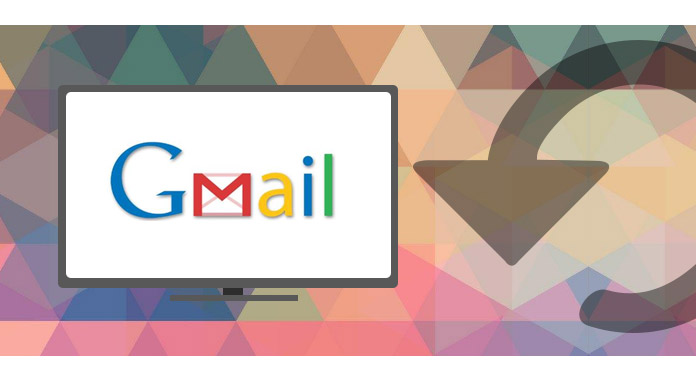 Part 1. Gmail password recovery
Change Gmail password - Still remember Gail password
Step 1Sign in Gmail account with your Google username and password.
Step 2Under "Sign-in & security", click "Signing in to Google".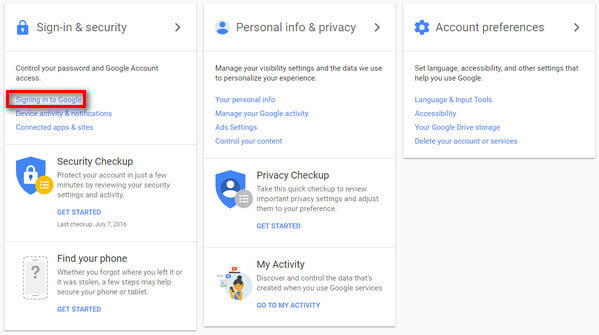 Step 3Select "Password", and you will need to input your password again.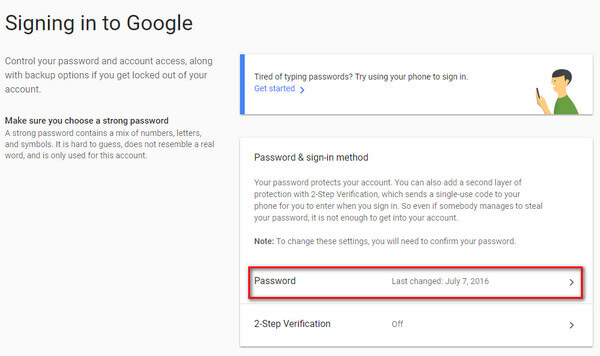 Step 4In the pop-up interface, you could type your new password for Google account. And click "CHNAGE PASSWORD" to make the changes.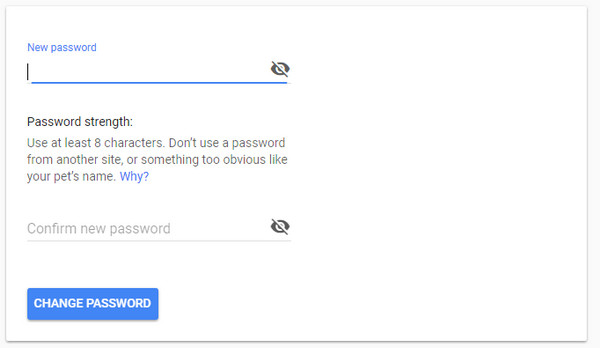 Forgot Gmail password? Reset your password with Email or phone number
If you forgot Gmail password, but you remember the Gmail address or phone number, then you are able to reset the Gmail password.
Step 1Go to the Google account support page.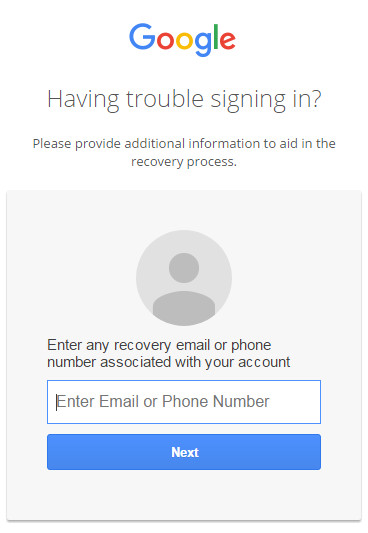 Step 2Follow on the instructions prompted to input your Gmail email address or security phone number to confirm the operations.
No matter which way you select to reset Gmail password, you will be also required to type your first name and last name.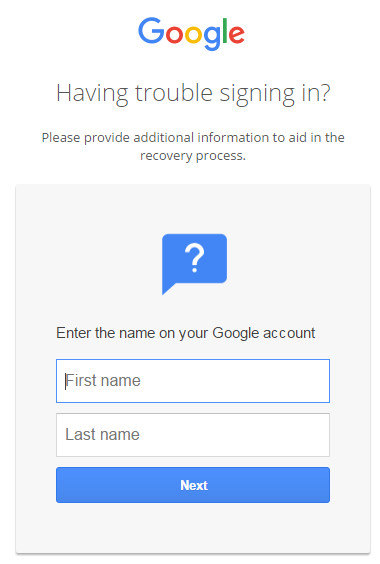 Step 3After that, you could start to create a new password for your Google account.
Password recovery on 2-step verification
If you enable 2-step verification on Google, then here you will take more efforts to get the Gmail password recovery.
What you need to do is as following:
1. Enter the last password you remember.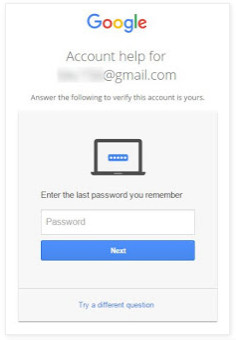 2. Get a verification code by text or phone call at phone number (it doesn't always offer both options).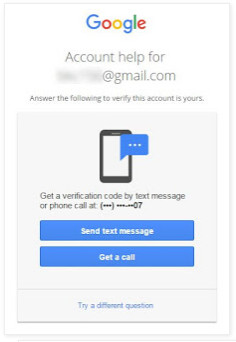 3. Confirm the phone number you provided in our security settings.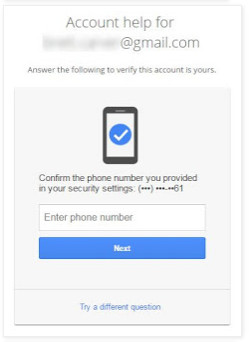 4. Google will send an e-mail containing a one-time verification code to the recovery e-mail.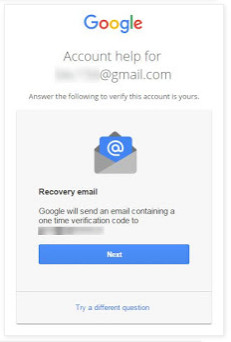 5. Get a prompt on your phone and tap Yes to sign in.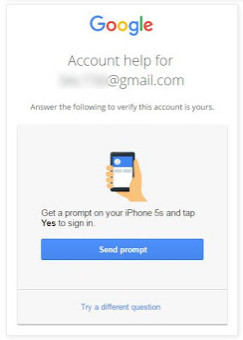 6. Answer the security question you added to your account.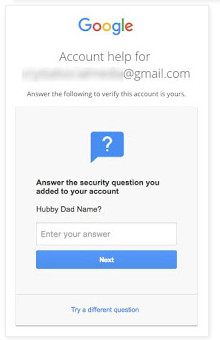 7. When did you create this Google account?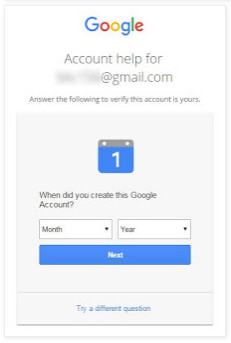 8. If you can, briefly tell us why you can't access your account.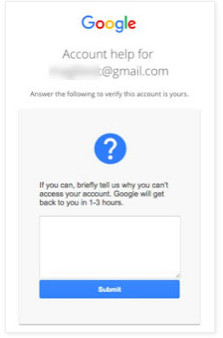 The majority of the options are based on pre-configured information setup in the account prior to losing access. So if an option was never configured that option will not be offered. To some extent, if you set as much information as you can before, then you will get a big chance to recover your Gmail password. But you must make sure you did remember all the pre-configured information correctly.
Part 2. Gmail account recovery
If you are in one of the following situations about your Gmail account, then you come to the right place to recover your Gmail account here.
1. If you are told "Sorry, Google doesn't recognize that email".
2. If you do not remember the account name.
Step 1Go to Google sign in recovery page.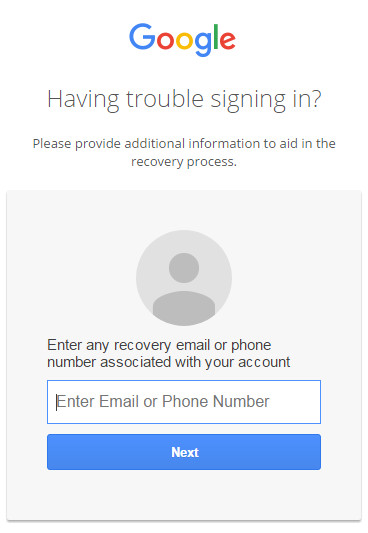 Step 2In the pop-up interface, you can click "Find my account".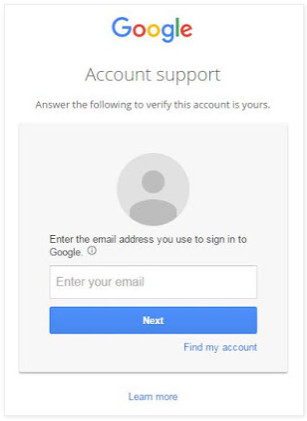 Step 3You are directed to enter any recovery email or phone number associated with your account. Here we will input the email as the example.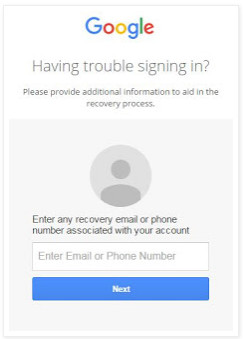 Step 4Input the real first name and last name on the account.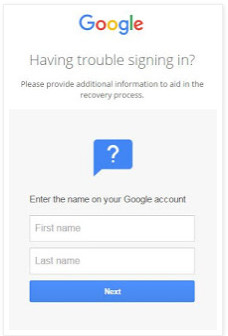 Step 5After your input name match your account information, Google will remind you that you will get an email containing a one-time verification code. What you need to do is to enter the verification code to the email.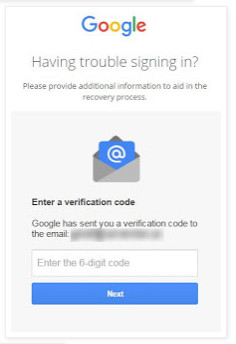 After that, you will receive a list of accounts that match that information and you can proceed to sign in, and you will know both the e-mail/phone and the name on the account.
Part 3. Tips of using Google account
1. Google app account
Google app accounts that not end in @gmail cannot be recovered using the standard Gmail recovery procedures. You have to contact Google Apps administrator for the domain that can reset the password allowing you to regain access.
2. How to enable 2-step verification on Google
Step 1Go to https://myaccount.google.com/signinoptions/two-step-verification/enroll-welcome > "GET STARTED" to start the process.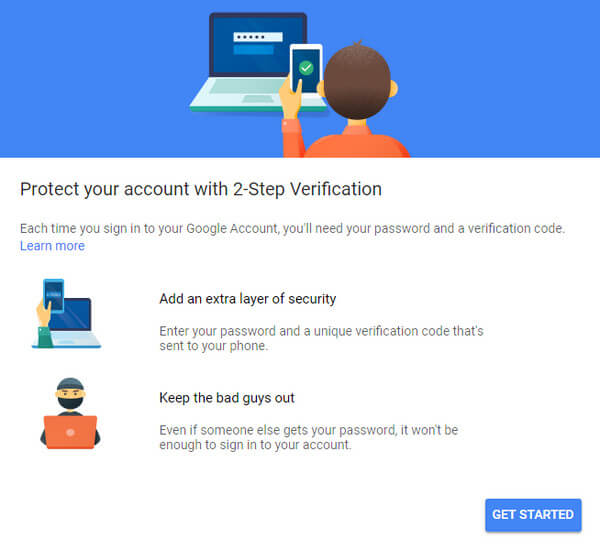 Step 2You are required to input your Gmail password to confirm the next operations. Input your phone number and select to get codes via "Text message" or "Phone call" > "Next" to proceed the steps.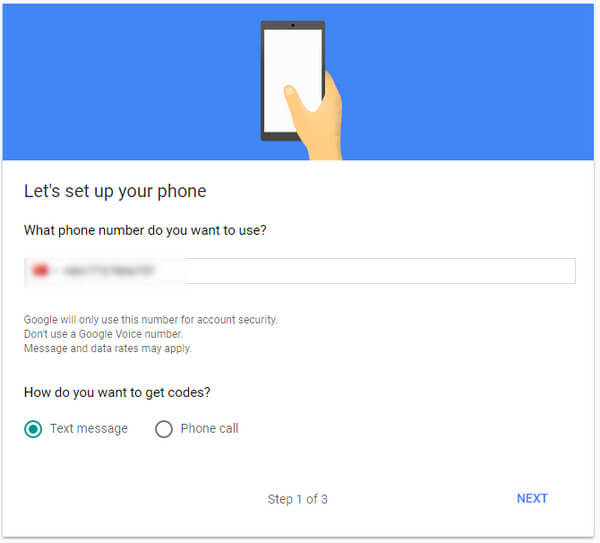 Step 3Your phone will receive the code via text message or call (based on the option you made just now). Input the verification code and click "NEXT".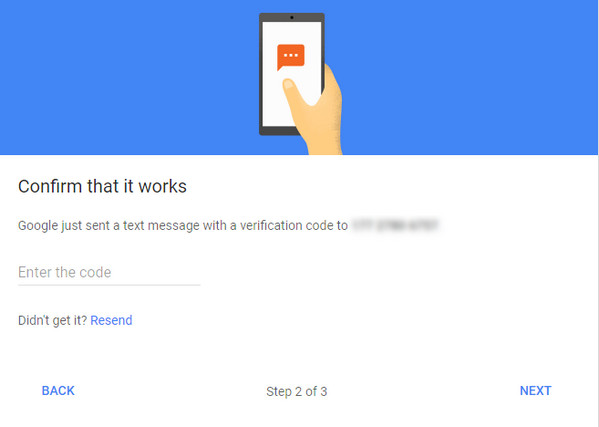 Step 4The pop-up window will remind you that if you are sure to turn on 2-step verification. Here just click "TURN ON".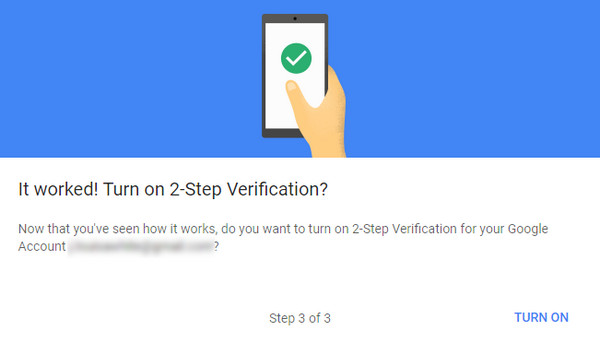 Step 5After that, you have completed your first step. And you will find the second step to get a Google prompt on your phone and just tap Yes to sign in instead of the verification code. Also, you can find other alternative second step set-ups (Backup codes, Google prompt, Authentication app, Backup phone and Security key). Take the one that you want to set up as you like.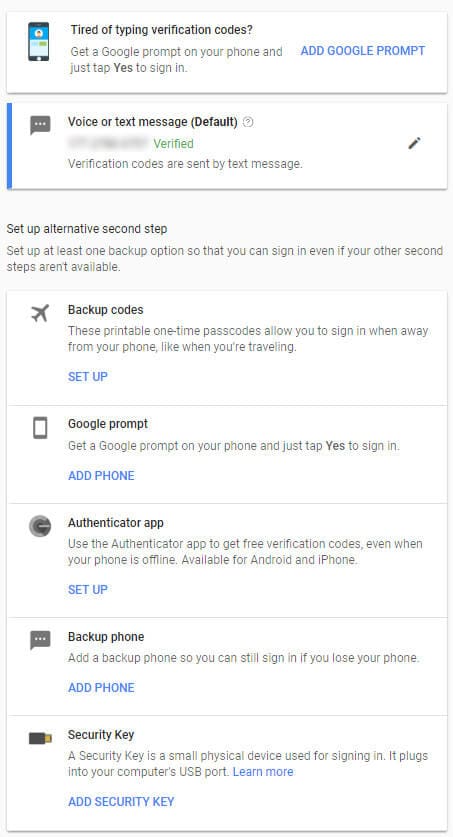 3. Factor that you can control during the account recovery
For recovering the Gmail account, you can get a bigger opportunity via the following factors:
Past password
Security question
Creation data
Browser that you always use to log in Google account.
Physical location where you always accessed the Gmail account like home, office, etc.
IP Address that you always use to sign in Google account.
4. Gmail account management
From the above description, you may notice that Gmail account is very important, and all the recovery solutions are based on the real information you enroll when you create the account. So you should take care of your Google account information no matter you create or delete Gmail account.
This post is a little long and will take you some time to read it to get the solutions to get the Gmail password and account recovery. More advice are welcome to supplement the content to help more like you.