How to Clear Google Browsing History and Cache/Cookies
Google is the number one searching engines in the world. It is famous for its rich content as you want to know, so many of you use Google to search any content including very private information. Like Firefox, Google search also records you searching history with Chrome.
When you use Google's browser, Chrome, on your computer or mobile, you will find your browsing history will be kept in Google, and some cookies and cache will also be saved in Google.
For getting your search history safe enough without disclosure, you had better delete your Google history. If you are reading here, then you come to the right place.
The following description will show you the detailed ways of clearing Google history and cache on web pages and mobile app.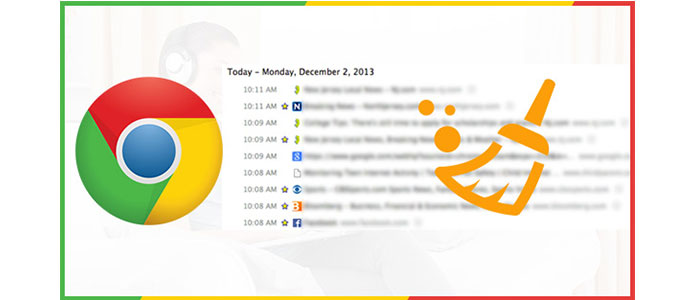 Delete Google history on your web browser
If you use Chrome as your web browser, then you can get the Google history clear directly with your Chrome on your computer. Commonly your history pages in the last 90 days will be stored in the browser, so you only delete the Google history from last 90 days.
1Run your Chrome on your computer, and click the three-dot option on the right corner.
2Select "History" > "History" > "Clear browsing data" to delete your Google history. In this way, you could delete all history in your last 90 days.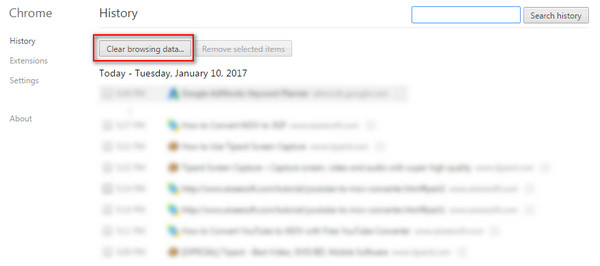 If you only want to delete some of the Google search history, then you need to checkmark the history that you want to delete, and then click "Remove selected items" to clear some searching history.
Delete all search history from Google on iPhone iPad
If you like to use iPhone or iPad to search content on Google, then you can delete the Google history through iPhone or iPad's browser, Safari.
1 On your iPhone, go to "Settings" > "Safari".
2Scroll down to tap "Clear History and Website Data" to delete all Google history. For your iPad, the process of clearing Google history is the same.
In this way, you are able to block cookies or clear iPhone cache.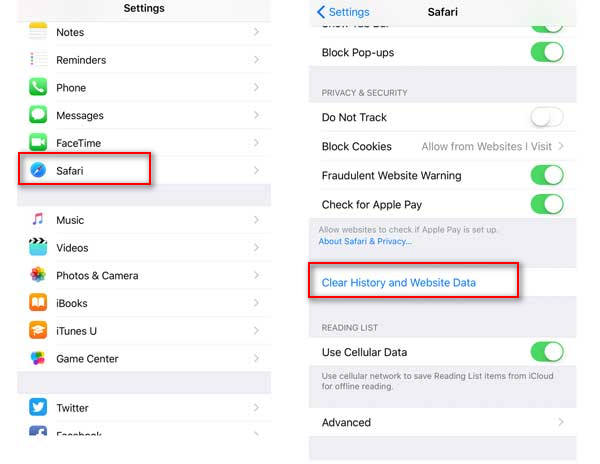 You need to notice that you have to clear all Google history at one time on iPhone or iPad, but no option to delete some or single Google history
So if you accidentally deleted some important Google history on Safari, then you should recover deleted Safari history here.
Clear Google history on Android phone
For Android phone, Chrome app is the frequent-used searching engine. If you have kept some Google history in this app on your Android phone, then you need to follow the following steps to delete Google history.
Delete all search history on Google
1On your Android device, open the Chrome app.
2At the top right corner, tap "More".
3Select "History" > "Clear browsing data".
4Check the box next to "Browsing history". It may be checked by default. Uncheck any other boxes you don't want to delete. And then tap "Clear data" to delete search history.
Delete the selected Google history on Android
If you want to delete an item from your Google history, then you need to use the search bar at the top to help you make it.
1Open the Chrome app, tap "More" to find "History".
2Find the history that you want to remove.
3 To the right, hit "Remove" to delete the selected Google history from your Android phone. .
If you want to hide your location history, you can check the post to delete Googel location history.
Alternative of deleting browsing Google history to protect your privacy
From the above description, you can know that deleting Google history is one way to protect your privacy. However, if you even do not want Google record your any history, you can use Incognito mode, which will enable Google not to keep your searching history or cache or cookies.
Incognito mode on online web page and Android
1Select "More" in the top-right corner.
2Choose "New Incognito Window" on computer or "New incognito tab" on Android phone.
Then you can search anything without recording your Google history.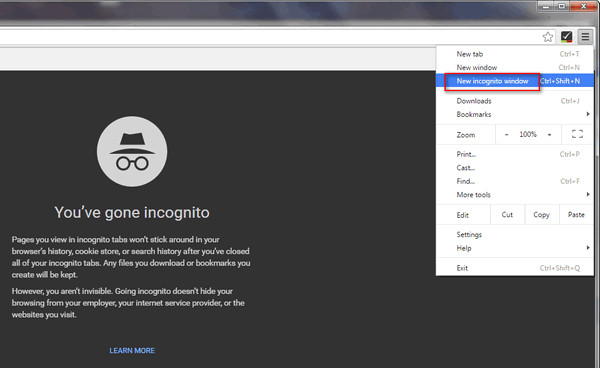 Private browsing on iPhone or iPad
Incognito mode on Safari browser is called private browsing. You need to make the following settings to avoid any Google history recording.
1Open "Safari" on your iPhone or iPad.
2Hit "show pages button" on the bottom right of your screen.
3Tap "Private" > "done" to start to use private browsing mode.
If you want to exit the private browsing mode, you just repeat the steps as above to do it.
This post focuses on deleting Google history from your web browser or mobile phone to protect your privacy. You can learn it to manage your life easily.