How to Recover iPhone Backup Password to Unlock iPhone Backup
What is your iPhone backup password
When you back up your iPad/iPod touch/iPhone with iTunes, you can choose "Encrypt iPhone Backup" for protecting your iPad/iPod touch/iPhone backup files. Then iTunes will remind you to create passcode for locking and encrypting your iOS backup. According to Apple Support, if you encrypt your iPhone backup, the encrypted iTunes contains more things than your unencrypted iTunes, such as your saved passwords, Wi-Fi settings, Website history, and Health data. Once you created your encrypted iTunes backup password, iTunes will automatically make encrypted backup every time you use it to back up iPhone data. Also, you can enter the encrypted backup password to unlock your iPhone backup when you want to restore your iPhone backup files from iCloud or computer.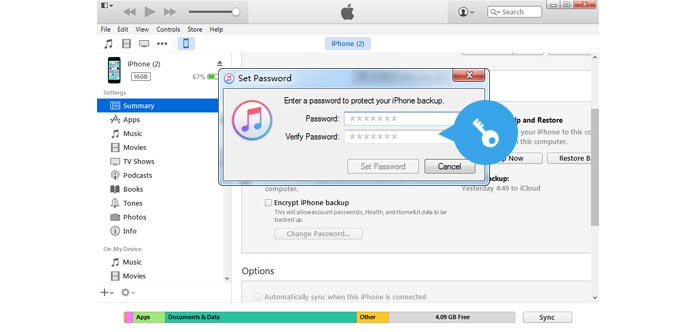 Unfortunately, you are likely to forget your iPhone encrypted backup passcode occasionally. You may ask: "God, how can I recover and reset the encrypted backup password?". Not like iPhone restriction passcode, iPhone backup password will get you into the trouble to lose important data. Especially when you want to restore iPhone backup, you have to recover this iPhone password. Here we recommend you the ways to recover iTunes backup password. After that, you can reset this encrypted passcode or disable it and then restore your backup files from iTunes.
Retrieve forgotten iPhone backup passcode
Erase iTunes backup password from iPhone Settings
Maybe people know iPhone allows you to erase everything about your iPhone. You can reset iPhone to factory settings. In this way, you can erase all the data of your iPhone, including the iPhone encrypted backup password. But before doing this, you need to back up your iPhone with iCloud or transfer your iPhone data to another iOS device for backup.
Except for erasing your iPhone backup password, we highly recommend you using some iPhone password recovering apps to retrieve your encrypted iPhone backup password. Then you can unlock iPhone backups without resetting your iPhone.
How to recover iPhone backup passcode with iPhone backup password recovery software
There is much iPhone backup password recovering software to recover you iPhone password, including iSunshare iTunes Password Genius, Jihosoft iTunes Backup Unlocker, Smartkey iTunes Backup Password Recovery, and Keychain Access and so on. Here we introduce you one of these recovery programs, iSunshare iTunes Password Genius, to recover your iPhone backup password.
How to recover iPhone backup password with iSunshare iTunes Password Recovery Tool
If you want to unlock your iPhone backup and restore your iPhone data, you have to recover iPhone encrypted backup password, let's see how to use iSunshare iTunes Password Genius to recover encrypted password. First, you need to download it.
Step 1 Install the software and open locked iTunes backup.
After downloading the Encrypted Backup Password App, you need to install it and launch it on your Windows computer. Then click "Open" to choose your locked iTunes backup and tap "OK" to add your locked iPhone backup to this recovery program.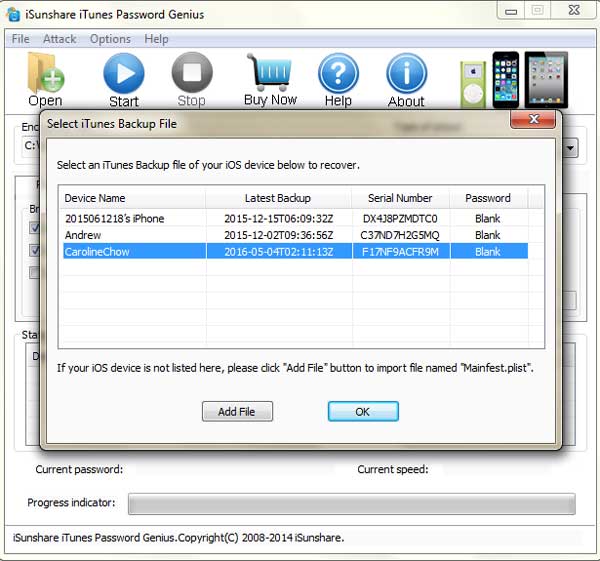 Note: The software is able to automatically assist you to find iTunes backup file on PC.
Step 2Set your password type.
When you have added locked files into the program, you will see many options in the interface, including type of attack, range, length, dictionary, auto-save, and option. Please set "Type of attack", you can select any one of "Brute-force", "Mask", "Dictionary" and "Smart". Then set the password range and length.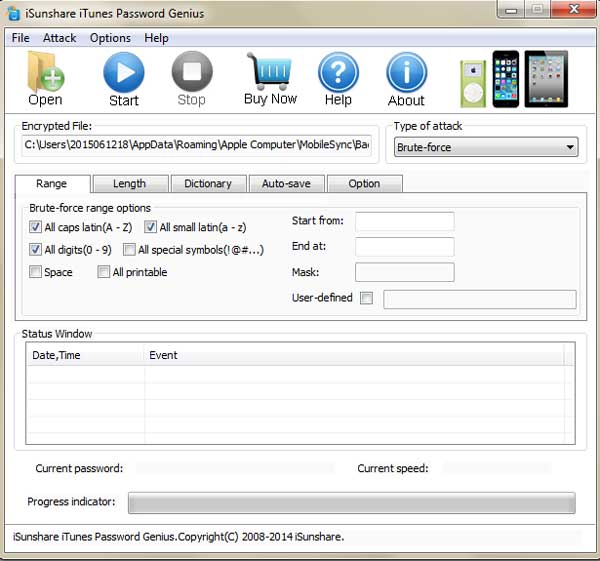 Tips: These settings you set will increase the probability of finding your backup password.
Step 3 Recover backup password and restore your iPhone backup data.
Click "Start" to calculate possible password. This iTunes backup password retrieving software will decrypt lost iPhone backup password and find it for you. Just wait a few minutes, and you will view the forgotten backup password showing in the new window. It is called "iTunes File Password".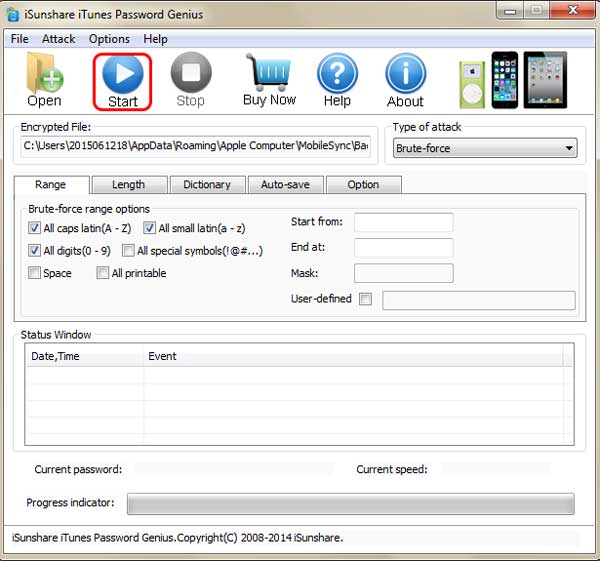 After the password appeared in the window, you can copy it and use it to unlock and restore your iPhone backup in iTunes on your computer. Then you can easily transfer data to anotehr iPhone wiht the unlocked backup.
iSunshare iphone backup passcode recovery can recover the forgotten iPhone encrypted password with advanced cryptography algorithms with simple clicks. But the software only has Windows version. In addition, the password recovery can be free downloaded for free trial, but if you want to more times to recover the password, you have to buy it.
So if you are afraid to forget the iPhone encrypted backup password again, you can reset your encrypted iPhone backup password to the password you can remember or just disable it. We suggest you do not set the encrypted password if you cannot remember it.