How to Delete Gmail Account Safely and Easily
"I do not want to use my old Gmail account as my primary account on my LG. How do I permanently delete my primary Gmail account? I am being harassed and have tried everything." - Brainerd
"I have multiple Gmail accounts opened on my Android phone (Samsung Galaxy S6), and I no longer need them. So, is there any way for me to remove Gmail account from my phone?" - Vera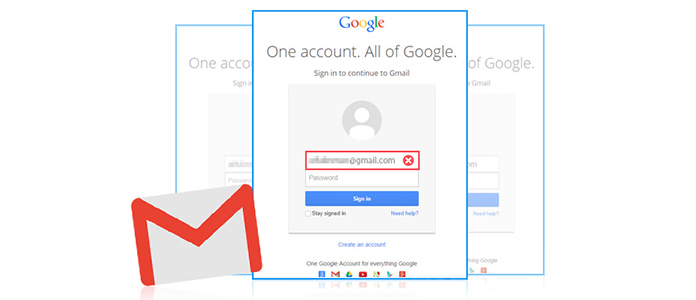 Gmail, a free email service provided by Google, is open to users throughout the world. You can set up Gmail account to send and receive Emails freely. Google provides you Gmail, Google Drive, and Google+ Photos only if you sign in your Gmail account, and lets you share free 15GB storage space to store your personal data. You can set paid plans to get up to 30 TB for personal use. By the time of May, 2015, it has created 900 million Gmail account users.
For Android users, Gmail became the first app on the Google Play store to hit one billion installations on Android devices. Android users are allowed to transfer Android contacts to Google for backup. For iPhone users, Google support Google Sync with Gmail for iPhone and iPad. You can easily sync iPhone contacts to Gmail for backup to your Google Drive, which is similar to iCloud for iPhone users. For getting applications from Google Play, you also need a Gmail account. If you want to create your own Google Plus profile, you need Gmail account. Gmail works great in life. However, Gmail also finds its problems. With limited storage, you may create several Gmail accounts to back up your phone. But if you create several Gmail accounts, and download or purchase the apps from Google Play with different Gmail account, then you will be confused for every login with the exact account. And if you want to set new Gmail account and delete old Gmail account from your phone, then you will want to delete Gmail account from your phone. How to remove Gmail account from your phone? Keep reading this post to find the solutions.
Remove Gmail account from phone
As mentioned above, Gmail plays an important role in Android and iPhone users. Whether you want to delete Gmail account on iPhone, or remove Android Gmail account, it works similarly. Here we will talk about how to delete a Gmail account on Android phone. There are two situations for deleting Gmail account from Android phone.
Delete primary Gmail account
If you set up Gmail account as your primary account (The first time you set up your Android device, you are required to add a Google account to this phone, and the Google account is primary account.), then you can do nothing but restore your Android phone to factory settings to delete your Gmail account.
On your Android phone, tab "Settings" > "Backup & Reset" > "Factory data reset" to restore your Android. But before you do that, you had better use Android backup apps to back up Android messages, contacts, photos, video, etc., because resetting Android will lose your data on Android. In this way, you are able to permanently delete your Gmail account from Android phone.
At this point, you can delete a Gmail account from your phone, but meanwhile, you will delete all data and settings on your phone.
Delete common Gmail account from your phone
If you only want to delete a common Gmail account, then it becomes easier.
Step 1 Tab "Settings" > find your Gmail account on your phone and tab it.
Step 2 Hit the menu icon (three-dot) > "Remove account" to delete your Gmail account on Android.
Step 3 If you have set your Gmail account to receive Emails, then you could clear Gmail data to free up more space to speed up iPhone or Android phone. Tab "Settings" on Android phone > "Applications" > "Manage applications" > "All" > "Google Apps" > "Clear data" and repeat the process to clear cache.
If you delete your Gmail account in this way, you cannot sign in to any Google products, like Maps, or YouTube.
You may need: How to delete Twitter account on iPhone.
Delete Gmail account from web
Not only associated with phone applications, Gmail account has its website version for your login to manage your products like Blogger, Calendar, Docs, iGoogle, etc.
Step 1 Login your Gmail account, and click your "Account" in the pop-up window.
Step 2 Click "Products" > "Edit" to be given two options, "Delete a Product" and "Delete Account".
Step 3 If you choose to delete a product, then you can remove Gmail permanently or remove web history permanently. In this way, you will need to provide a new primary Gmail address to associate with your Google account.
Step 4 If you want to delete Google account, then you are able to remove Gmail account from its associated products optionally.
It is easy to remove Gmail account from your phone and create your new account, right? Also you can delete a Gmail account from its web version conveniently, but you must be cautious to do that.
Regret deleting Gmail account? Just get Gmail recovery here right now.