iCloud Sign-in Pop-up Loop? Here Are 6 Solutions
iCloud is a cloud storage offered by Apple company which allows you to store, backup, and sync all data including photos, contacts, emails, notes and more across every iPhone/iPad of yours. When you sign in to iCloud with Apple ID, it becomes incredibly easy to keep your data updated.
Although iCloud is of such convenience, many people have run into iCloud sign-in issues. For instance, how to sign in to iCloud.com on iPhone/iPad? Forget the Apple ID password to log in to iCloud? Can't get rid of the repeated iCloud sign-in request? iPhone stuck in iCloud Sign-in?
Among all the iCloud sign in problems, the most common one is when you are using iPhone, iCloud sign-in window keeps coming out. Even if you entered the right Apple ID and log in, the popup loop won't stop. In this article, we have offered 6 solutions for iCloud login popup loop, hope they can help you.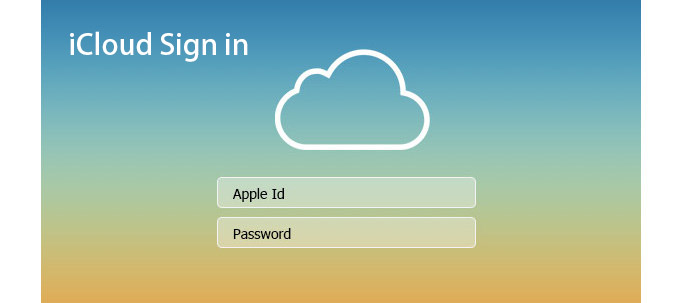 iCloud Sign-in Pops up
1

Re-enter iCloud password to sign in iCloud

Generally speaking, some of these situations can be solved when you re-enter the password of your iCloud email address and log in to iCloud. But entering the password of Apple ID in the popup window will not help.

Go to "Setting" > "iCloud" and tap on the email address, re-enter the password there. (iCloud password forgot? Recover iCloud password here.)
2

Log out and log in to iCloud

If this doesn't work, try logging out of iCloud and then logging in again. The specific steps are as below: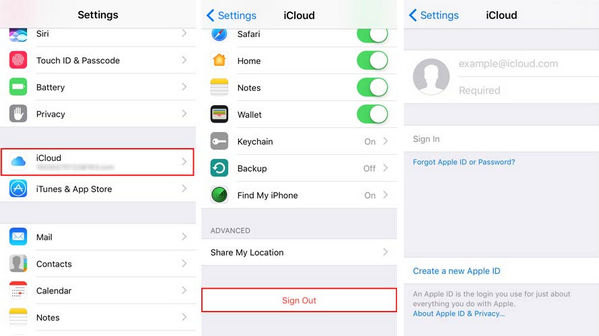 1Find "Setting" > "iCloud" on iPhone, scroll to the bottom and tap Sign out.
2Tap "Delete from My iPhone" in the second popup menu and then Turn Off.
3Once you sign out of iCloud, hold down the Power and Home button to reboot your iPhone or iPad.
Sign back into iCloud in Settings.
3

Hard reset and Wi-Fi settings

Wi-Fi has been the cause of plenty of bugs in iOS for so long. iCloud sign in problems could be very related to Wi-Fi compatibility and stability. If your Wi-Fi condition is bad, there are chances that iCloud login run into such problems. In order to solve iCloud sign in pops up, you can try to hard reset your iPhone and change Wi-Fi settings.

Learn the details here to Reset network settings on iPhone.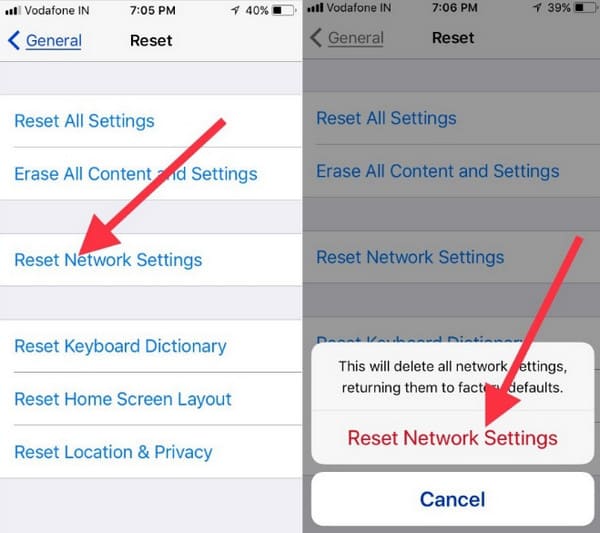 4

Check your iCloud Email Address and Apple ID

Another reason for perpetual request for iCloud password is kind of funny. That is, when you keyed your Apple ID during iCloud login, you may have mistaken them in different cases. For instance, your email address to sign into iCloud might be in uppercase alphabets, but you keyed them in lowercase letters. Instead of "can't sign into iCloud" or "iCloud password isn't correct", you can log into iCloud successfully, but iCloud would keep on prompting you to re-enter password.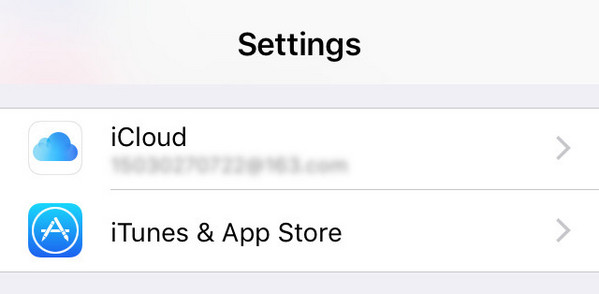 To solve the mismatch, you can go to "Settings", and update your Apple ID login details from "iCloud" as well as "iTunes & Apple Store".
5

Reset iCloud Password or Apple ID

If none of the methods we mentioned work, then your iCloud account must have more serious issue. Try to reset iCloud password, and login iCloud with the new password. See how that works out.

Or you can try to reset Apple ID.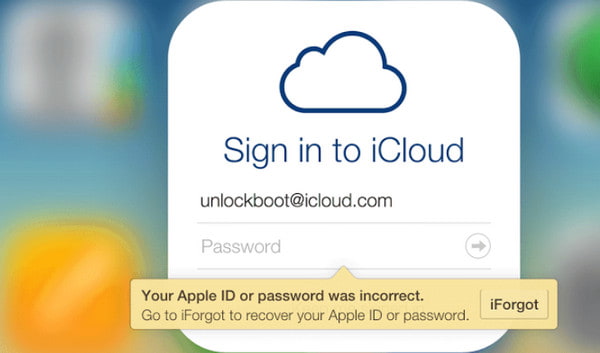 6

Bypass iCloud sign-in by restoring to factory settings

Without password, you could also stop iCloud sign-in pop-up. What you need is FoneEraser, which can erase all settings and content on your iPhone or iPad, including iCloud sign-in password. It works in iOS 12/11 greatly.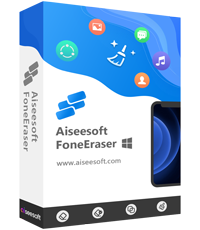 Restore iPhone to factory settings without password.
Bypass iCloud sign-in pop-up windows easily.
Reset iPhone to factory settings with 3 optional levels.
Work for iPhone 12/11/XS/XR/X/8/7/6/5, iPad Pro, iPod, etc.
Before you follow the steps below to restore your iOS device to factory settings, you had better backup your iPhone, because this solution will erase all data and settings on your device.
Step 1. Connect iOS device to computer
Connect your iOS device where iCloud sign-in keeps popping up, to computer with the USB cable. Meanwhile, download FoneEraser on your computer, install and launch it.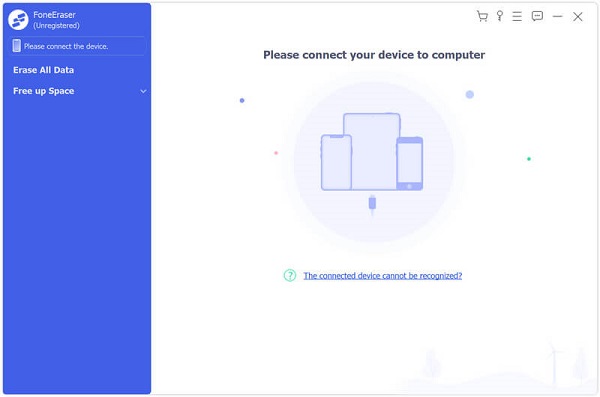 Step 2. Select erasing level
After this software detects your iOS device, you need to select the erasing level to factory reset your device. Click "Low", which is the default erasing level. In the pop-up window, you can choose the erasing level according to your needs.
Here we only want to factory reset your iOS device, so Low is OK.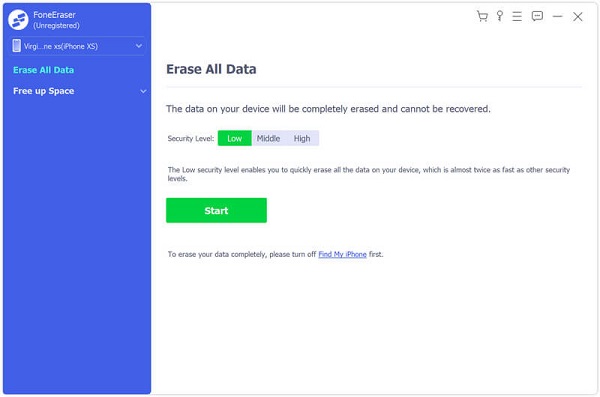 Step 3. Remove iCloud sign-in pop-up
After deciding the erasing level, just click "start" to factory reset your iOS device. Meanwhile, the problem that iCloud sign-in keeps popping up is solved.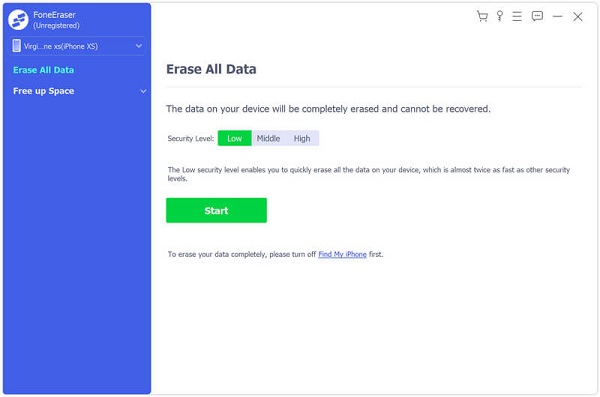 Conclusion
This page shares 6 solutions to fix iCloud sign-in pop-up on your iPhone, iPad and iPod. You can use the common 5 solutions to fix the problem manually, or just factory reset your iOS device by erasing the settings including the iCloud password.
This is the updated post and aims at helping more users like you. Any suggestion or solutions, do not hesitate to leave comments below.