How to Delete iCloud Account from iPhone and iPad
This guide will show you how to delete iCloud account. If you are looking for the best way to delete an iCloud account, you can keep reading to find the answer.
Delete iCloud Account
How to Delete iCloud account from iPhone and iPad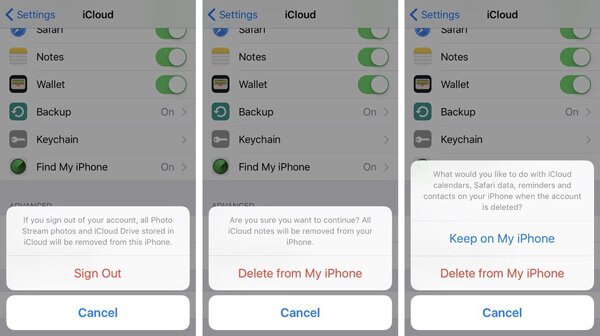 Unlock iOS device, go to Settings and tap iCloud, scroll down to the bottom to find the red Sign Out.
You might be asked to confirm this operation: If you sign out of your account, all Photos Stream photos and iCloud Drive stored in iCloud will be removed from this phone. Under this statement, you should make sure that all the photos on your iPhone have been transferred to a safe place.
Tap Sign Out again, confirm to "Deleted from My iPhone" and input the Apple ID Password for your iCloud account to turn off "Find My iPhone", and then tap Turn Off.
Waiting for a few seconds, your iCloud account will be deleted from your iPhone or iPad.
You are allowed to change your Apple ID or iCloud account now. Input your account and password if you like to change a new one.
Best iOS Data Manager you may want to know
FoneTrans
For Mac
Transfer from iPhone/iPad/iPod to computer
Transfer from computer or iOS device to iPhone/iPad/iPod
Sync from iPhone/iPad/iPod to iTunes
Support any popular iOS device and all types of data
How to delete your iCloud account from computer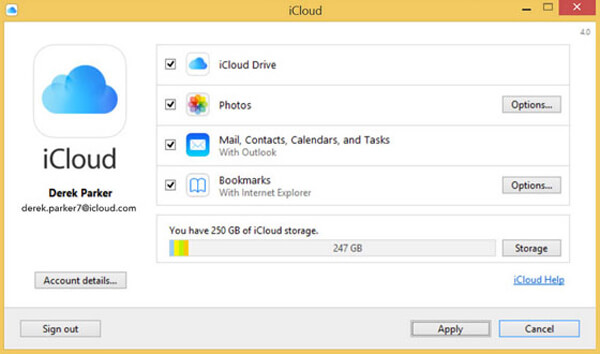 If you have the iCloud App on your computer and want to remove the existing iCloud account from this iCloud app, you can follow the steps below:
Open iCloud on your computer, and click "Sign out" in the left bottom, few minutes later, you can remove iCloud account easily.
How to delete iCloud account without password
If you want to delete iCloud account without password, you should go to settings, tap Forgot Apple ID or Password? on your iOS device or click this hint on computer iCloud app, when you go to the website of My Apple ID, please follow the prompt information to find your iCloud account back and reset the password iCloud account. Finally, follow the two ways above to erase your iCloud account.
Warm reminder: in case of any data loss before you deleted iCloud account, you are suggested to back up iPhone to computer.
Reasons for deleting iCloud account from iPhone and iPad
After discussing the question of deleting icloud account from iPhone and iPad, let's talk about the several situations which push you to delete an iCloud account.
☞ If you are using the same iCloud account as your family members, it will cause some trouble. For example, your contacts may disappear for no reason, or you might receive some messages which do not belong to you. All the personal information might be mixed if one of you does not know how to manage your common iCloud account. The direct results of sharing one iCloud account are that, you are not capable of protecting your personal information as well as enjoying the super services such as backup your personal data.
☞ Someone may worry about leaking out the private photos and other data which has been backing up on iCloud. Under this circumstance, you should find a way to transfer data from iPhone to computer and clear up your iCloud account backup for saving these iCloud photos.
☞ The email address which you used as Apple ID and iCloud account is not valid any more. So you need to change another email address and delete the iCloud account from your iPhone and iPad.
☞ The password of iCloud Account is missing, and you need to create a new one.
You may need: How to delete iCloud email from your iPhone
In this article, we mainly talk about how to delete iCloud account. Whether you want to delete an iCloud account from iPhone/iPad, or delete iCloud account without passward, you can easily find the best answer here.