Get & Download Free Music, Videos and more on iTunes
iTunes has been inseparable from entertainment life of Apple users. Many people love finding favorite music from iTunes. But because lots of songs, videos, radio, apps and more other items on iTunes are paid, is there a way to get free iTunes music, movies, apps and other items?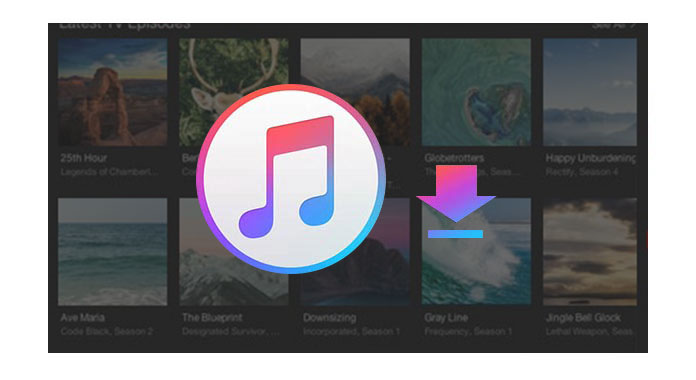 Here we will introduce you how to get and download free iTunes music, videos, audiobooks, apps, etc. So you can enjoy totally free songs, movies on your iPhone/iPad/Android phones/other portable devices.
Part 1: Get & Download free iTunes music, books, apps from "Free on iTunes" section
If you use iTunes frequently, you must know "Free on iTunes". "Free on iTunes" is one feature in iTunes Store that Apple published in 2015. And it allows you to free download music, books from iTunes Store. Now, you can follow the paragraphs below to learn how to get free iTunes music, radio, books, etc. from "Free on iTunes".
Step 1Download and run iTunes on your computer
For Windows users, you need to download iTunes for Windows, for Mac users, you can use iTunes directly, but Mac/Windows versions should be the lastest versions of iTunes.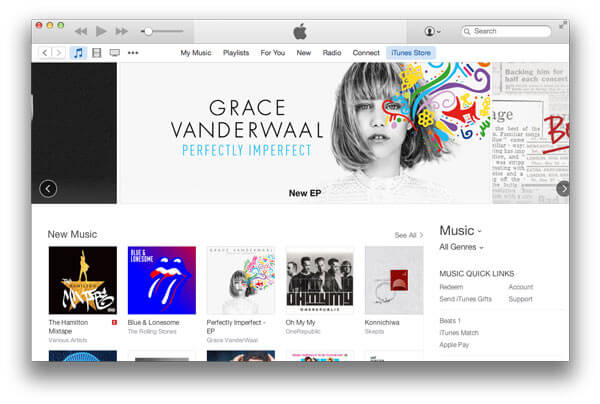 Step 2Search "Free on iTunes"
Enter iTunes Store homepage, and input "Free on iTunes" on the search bar. And you can see all the free apps, courses, iTunes U, audiobooks, podcast episodes and songs, etc. Choose one you want to download, just click "Get" button to download it for free.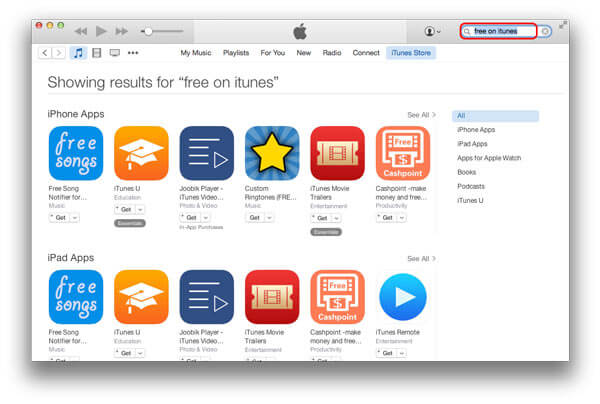 Step 3Free music-oriented podcasts.
Music podcasts include songs and commentary. So if you want to listen to music podcasts that belong to your favorite singer, you can search the free ones. Go to iTunes Store homepage, click "Podcast" in the drop down menu on the top bar, and click "All Categories" > "Music". Now, you can get all free music podcasts that iTunes offer automatically. Choose the ones you like, and enter the podcast page to click "Get" for downloading.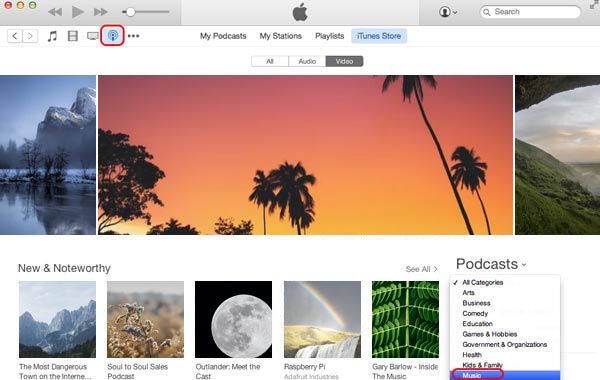 Step 4Free TV shows and books.
For Tv shows and books, you can go to their hemopage and find "Free TV Episodes" & "Free Books" from the rigt bar. We show you the picture below.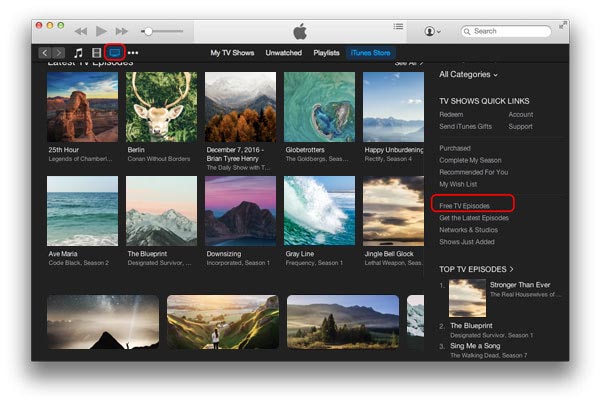 Part 2: Get & Download videos, songs and other items with free iTunes gift cards
Instead of get free iTunes music or videos, you can take use of free iTunes gift card to get and download almost any music, movies, radio, audiobooks or others you want. Let's see how to get and download songs, music, etc. with free iTunes gift cards.
Step 1Get Free iTunes Gift Card Codes Generator
This is one top online iTunes free gift card codes generator to unlock and get unlimited number of free codes. You can search it on Google to enter the generator page.
Step 2Redeem iTunes gift card codes in iTunes Store
After you get free iTunes gift card codes with this free iTunes gift card codes generator, you need to go to iTunes Store for redeeming them in the "Account" > "Redeem". And the amount will be automatically added to your account. You can also send the codes to your family, friends, etc. After all, Christmas Day is coming.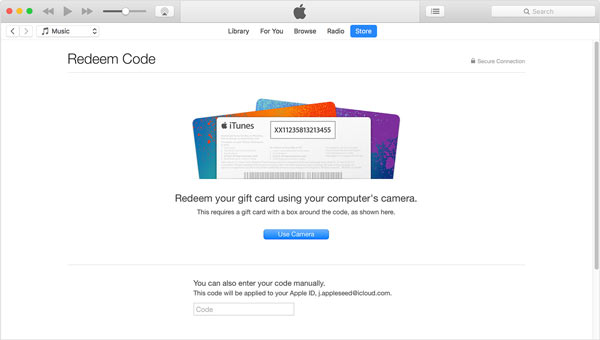 Step 3Get and download itunes movies, music, apps, audiobooks, etc.
Now, you can buy, no, free get songs, videos, radio, apps, courses, and any other items could be bought in iTunes Store. See, free iTunes music and movies are wiating for you.
Part 3: Play free iTunes movies, music, etc. on your portable devices
For now, you have know how to get free iTunes music, movies, radio and more. But this is not the end. If you want to play these iTunes music, videos on your iPhone or Android, you may need to convert iTunes format to the formats that suit for portable devices. Here we recommend you Free Video Converter, one top video converting software to help you convert AAC songs, M4A videos to MP3, WMA, MOV, MP4 and more audio/video formats. The most important is this converting program is totally free. Just download and try it!
Free Video Converter
Convert Between 300+ Formats for Free
Convert Video for Different Mobile Devices
Edit Video with Opening and Ending Title
We will be pleasure if this article help you solve your problem. And, if you have better idea to get free songs, videos, apps from iTunes, you can tell us by giving us a review. Anyway, good luck to you.