Part 1. How to Convert HEIC to SVG
1. Online-Convert
The first program will help you convert HEIC to SVG in a simple, easy-to-use interface. It is an internet-based program that offers different conversion processes, including switching from HEIC files to SVG, to BMP, ICO, PNG, JPG, GIF, and a lot more. Besides image conversion, this also enables you to take advantage of other converters. The tool offers an archive converter, CAD converter, audio converter, ebook converter, etc. It also works as a compressor to help you reduce the file size of your video and image files. Now, let us check the process of how to convert HEIC to SVG.
Step 1:
Launch a browser you commonly use and navigate the program's home page. Right after, you may explore the program's other tools and features.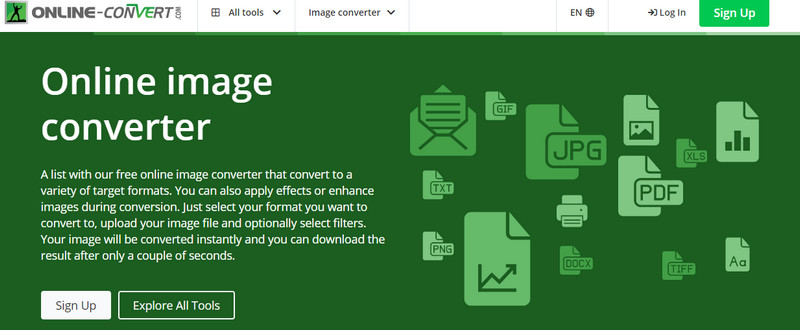 Step 2:
Next, head down the page and choose the
Convert to SVG
option. Then, the program will bring to another page, which is the SVG converter of the program.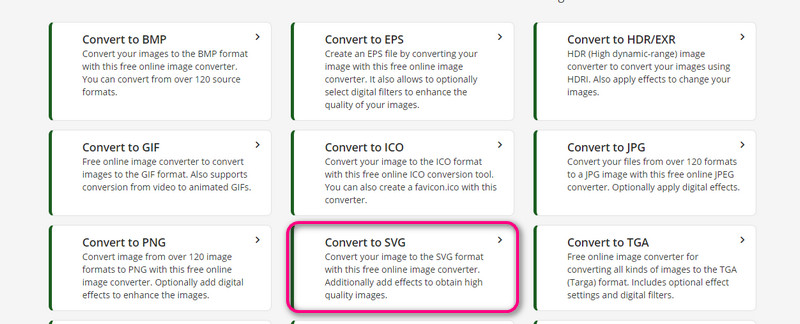 Step 3:
From the converting interface, hit the
Choose File
button to HEIC files from your local drive. You may also load files from a cloud service, such as Google Drive and Dropbox, or via the URL of the photo.

Step 4:
After successfully loading your HEIC photos, you can modify some additional settings below the page. You may adjust the size, apply a color filter, remove background, crop pixels, and many more. Once all is set, hit the
START
button to begin the session.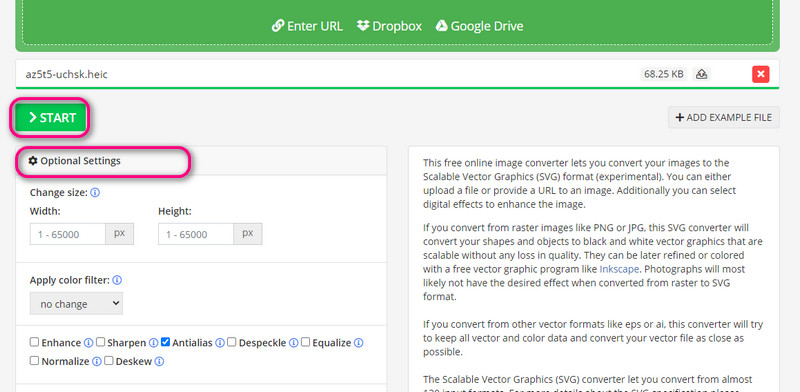 2. Converseen
If online programs are not your thing, you can always opt for an offline tool, like Converseen. The program offers various advantages and features. Using this program, you can convert multiple images at once, resize many images, and many more. Apart from photos, you may also switch from PDF to photo files if necessary. One of the major highlights of this tool is that it can read 100 formats. That is possible because Converseen uses ImageMagick, which is responsible for reading and writing different formats. On the other hand, rely on the steps to learn how to convert HEIC to SVG.
Step 1:
First, acquire the program from Converseen's official website and install it. After that, launch it on your computer to see its working interface.
Step 2:
Now, circumnavigate the tool to get familiarized. From the main interface, hit the
Add images
button and select your desired photo to manipulate.

Step 3:
Next, edit the output format and select
SVG - (Scalable Vector Graphics)
. Then, you are all set.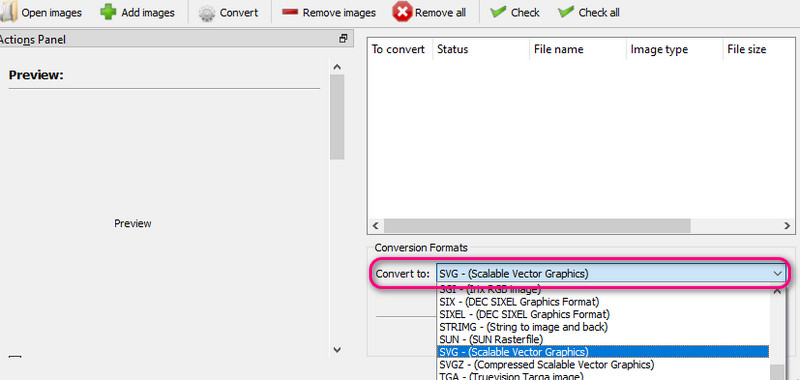 Step 4:
Lastly, tick the
Convert
button on the top menu to begin the session.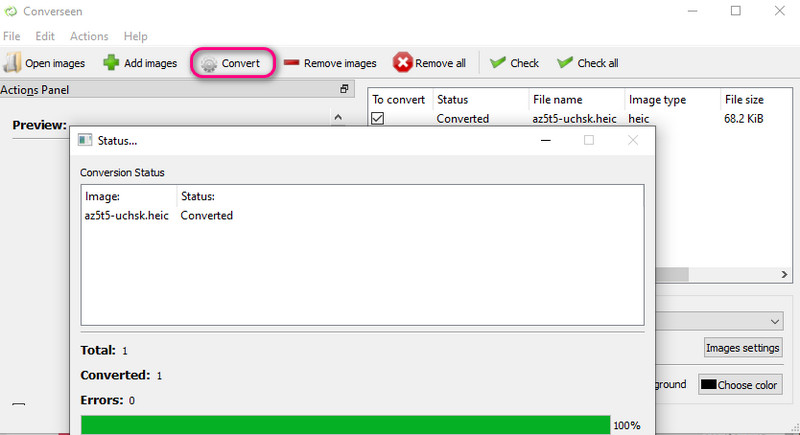 3. The Image Converter by Float Tech
There are also those times when you want to convert using your handheld devices, like iPhone and Android smartphones. You should try The Image Converter by Float Tech. The tool enables you to convert various photos to other formats. That includes converting HEIC to SVG, HEIC to JPG, and so on. What is captivating about this tool is that it comes with integration with other programs. What that means is that you can access more features and functions.
The free version is suitable if you are using it for several conversions. On the other hand, you may upgrade to Premium Pass if you are a professional, or you will use it regularly. Discover the program's steps to convert HEIC to SVG.
Step 1:
Primarily, get this mobile program from the App Store. Simply type the tool's name on the search bar of the program.
Step 2:
Open the tool to see the home screen. Now, choose the file source which you wish to upload your HEIC files from. Then, select it to load into the program.
Step 3:
Expand the output format menu on the next screen and select
SVG
as your target format. After that, tap the
Convert File
button to commence the conversion session. Then, you can access the resulting file on your album.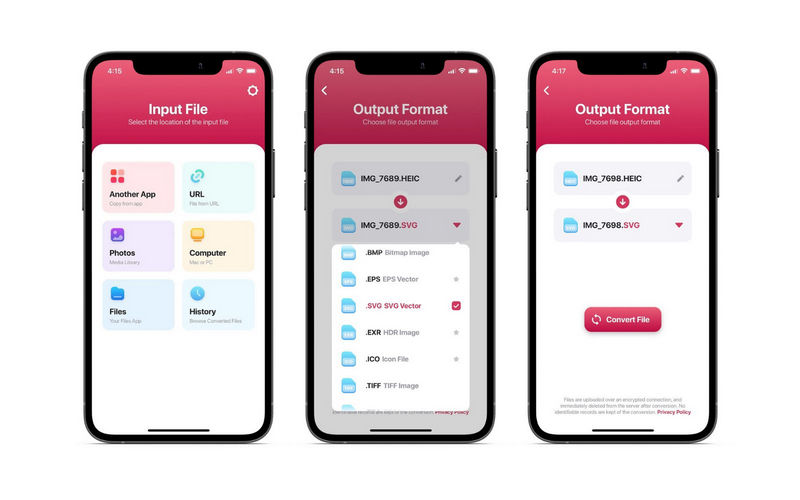 Part 3. FAQs About Converting HEIC to SVG
Can I convert images in Windows 10 with built-in programs?
The tool does not have a built-in program for converting files. Alternatively, you can search HEIC converters from the built-in application store of this computer, which is Microsoft Store.
Is SVG a lossless file?
Yes. SVG photos utilize lossless compression, allowing you to scale the data without any quality loss. Hence, it is the ideal photo for graphic designing and log making.
Is HEIC better than SVG?
Each image format is useful in its own way. These file types deliver high-quality resolution and small file sizes. The sole caveat with HEIC is its compatibility. The format is developed solely for Apple devices, like iPhones and Mac computers. On the other hand, SVG allows you to work on different platforms and devices. Luckily, you can convert HEIC to PNG, JPG, and even SVG.
Conclusion
If you seek ways to convert HEIC to SVG, these solutions are meant for you. Some of them run with an internet connection, like online tools. Now, you can opt for offline tools for those who do not always have access to Wi-Fi. If you are after convenience, you should go with mobile programs.

Leave your comment and join our discussion