A Review of the Best SVG File Compressor Tools for Desktop and Online
SVG stands for Scalable Vector Graphics. It is an image file made for sharing photos over the internet. Unlike other image formats that use pixels to create images, SVG uses lines and points, which is why it is commonly used for Cricut and crafting machines. Therefore, images for printing, crafting, and cutting are cleaner.
Meanwhile, you must have encountered a situation where your SVG photos take up so much disk memory on your device. Or the transmission process of your SVG photos is too long to wait. This issue has mainly something to do with the photo's file size. Hence, many users want to shrink SVG photos. This post will teach you how to constrict SVG files using the best SVG compressor programs. Check them out below.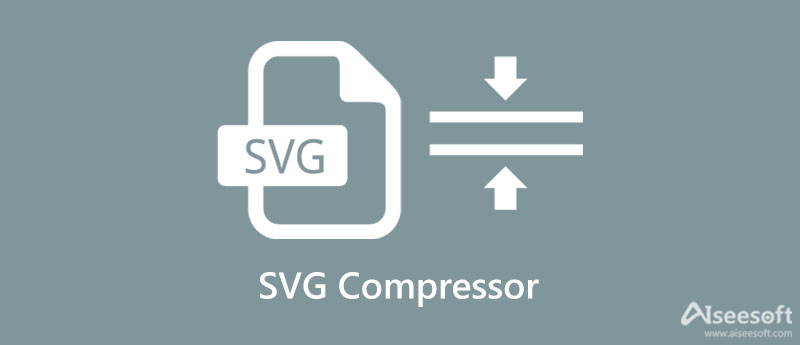 Part 1. Best SVG Compressor Online
You may not be fond of downloading or installing anything on your device to save memory disk space. That is what makes the online SVG compressors perfect for users like you. Here, you will discover programs to help you shrink SVG photos efficiently and effectively from the web page directly.
1. Aiseesoft Image Compressor Online
Aiseesoft Image Compressor Online is one of the best image compressor programs you can use online for free. You are not required to sign up for an account to use its full service. Moreover, this compression tool allows you to process various image formats, including SVG, JPEG, JPG, PNG, and many more. More importantly, it uses the top-notch AI compressor algorithm, which reduces the distortion of your SVG photos. In this way, you will achieve the balance of file size and image quality.
Aside from that, this program also enables you to compress multiple files of different image formats at once. The process will not take too long if you have a stable internet connection. Over and above, it comes with a simple and easy-to-navigate interface. Even non-tech-savvy users can run it independently, quickly, and efficiently. As soon as you upload your images, they will be compressed instantly, and all you gotta do is download them. On the other hand, you can refer to the pros and cons below to learn further about this program.
PROS
It works with all major browsers, like Edge, Safari, Chrome, Firefox, etc.
Process multiple SVG photos at once.
AI-enables SVG compressor online.
Achieve the balance of image quality and file size.
CONS
It is dedicated to compressing photos alone.

2. ImageResizer.com
If you wish to save time from downloading and installing software, this SVG compressor online tool is for you. ImageResizer.com is also a web-based app similar to the former solution. It lets you upload images from your local folders using the traditional method of locating your images or the drag-and-drop feature. Therefore, you have choices of which method is convenient for you.
In addition, you may use the URL uploader of the tool in case you want to load photos online. Moreover, it can compress different image files at once while keeping the quality intact. Equally important, users do not need to register or pay anything to use its full service.
PROS
It allows you to process SVG photos in bulk.
No software registrations and watermarks on outputs.
Compress images up to 80% and more.
CONS
It delivers a 0% percent file reduction on some photos.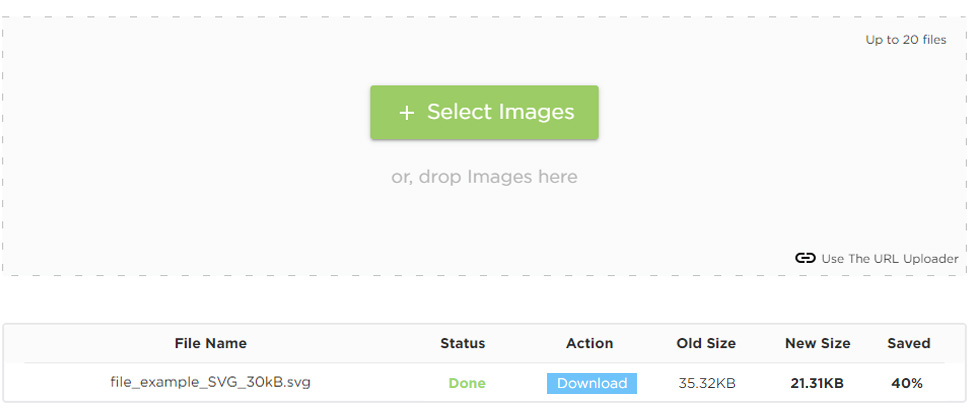 3. ILoveIMG
Another SVG code compressor that will help you make your SVG photos smaller is to consider using ILoveIMG. This program has the most flexible uploading methods among all the online programs discussed here. It allows you to upload from a local drive and cloud storage services like Drive and Dropbox. Besides compressing, you can resize images by pixel and percentage depending on your needs.
You can edit the width and height by pixels and enable some output options. By percentage, you can make SVG photos smaller by 25%, 50%, and 75%. Both methods could help you in resizing and shrinking photos.
PROS
Upload images from cloud storage platforms.
Crop image photos.
Convert compressed photos to JPG.
CONS
SVG photos tend to have a low reduction percentage compared to other image formats.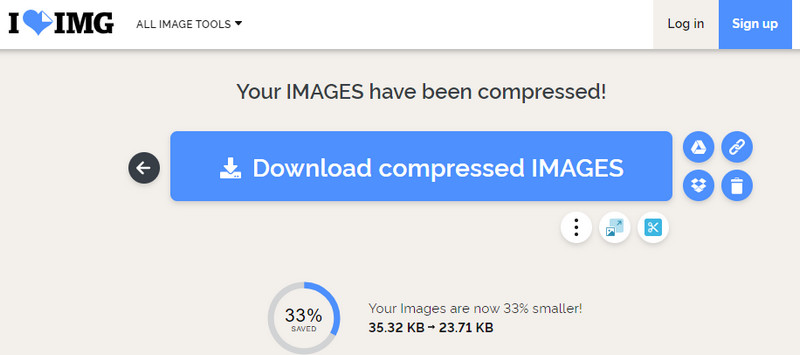 Part 2. Great SVG Compressor Offline
These online programs are perfect if you are not worrying about the storage on your devices for installing software. Get the information you need by reading below.
1. Adobe Photoshop
Adobe Photoshop is great for editing and compressing photos on your desktop. The program offers image size editing, which gives you access to the photo's dimension and resolution. Moreover, it comes with a resample feature, an additional option for achieving quality outputs. Aside from reducing image size, it also lets you fix flaws in any photo using touch-up tools. Overall, it is an excellent SVG code compressor for professional photo editors.
PROS
Access to width, height, resolution, and resampling options.
Auto resolution feature with a draft, good, and best quality options.
Advanced photo editing tools.
CONS
A quite expensive photo editor.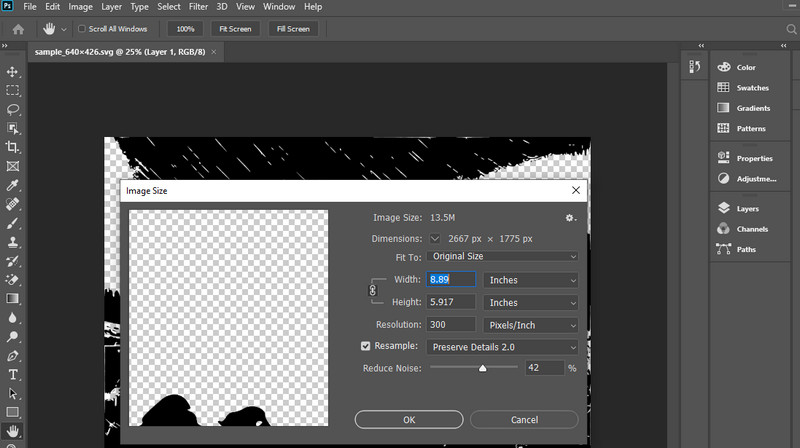 2. GIMP
GIMP is a cross-platform photo editor with tools and features similar to Photoshop. You can use this program on Linux (Ubuntu), Mac, and Windows operating systems. Likewise, it allows you to edit the dimension and resolution of your SVG photos manually. Additionally, you may modify the X and Y ratios or aspect ratios according to your needs.
PROS
Free SVG compressor program.
Offer many professional photo editing tools.
Adjust color, brightness, exposure, and more.
CONS
Not suitable for beginners.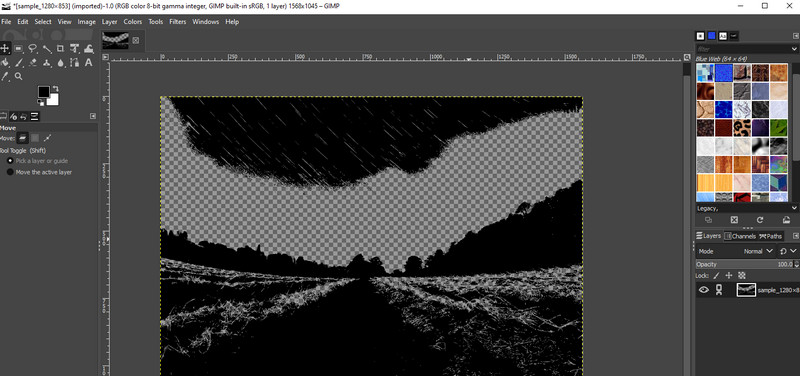 Part 3. Comparison of Compressor Programs
You may refer to the table below if you need a comparison of all the tools discussed in this post.
| | | | |
| --- | --- | --- | --- |
| Tools | Platform | Bulk Processing | Supported Formats |
| Aiseesoft Image Compressor Online | Web | Supported | SVG, JPG, JPEG, GIF, and PNG. |
| ImageResizer.com | Web | Supported | JPG, PNG, and SVG. |
| ILoveIMG | Web | Supported | JPG, PNG, SVG, and GIF. |
| Photoshop | Windows and macOS | Not supported | JPG, PNG, SVG, and GIF. |
| GIMP | Windows, Mac, and Linux | Not supported | JPG, PNG, SVG, and GIF. |
Part 4. FAQs About SVG
How does image compression work?
Image compression works by reducing image redundancy. It specifies all similar pixels and removes redundant pixels where one pixel represents thousands or hundreds of pixels.
What is lossless compression?
A lossless compression retains the quality of the photo as before but reduces the photo's file size. Lossless images include BMP, PNG, and RAW images.
Conclusion
Those are the SVG compressor tools you can rely on to shrink your SVG photos website optimization, sending, and uploading pictures on the web. Online programs are helpful if you wish to save disk space and time from downloading software. Anyhow, you can use the desktop programs for stable and offline processing of SVG photos.

Leave your comment and join our discussion