Full Guide to Open YouTube Desktop Full Site on iPhone and Android
To optimize mobile experiences, most websites offer mobile versions for smartphone users. It is true that mobile apps load faster and look conveniently on mobile phones.
However, some mobile versions may hide many functions or provide fewer options than desktop version. Moreover, as the large screen smartphones prevalent (which is called phablet), many people asked how to force desktop version on mobile phone.
YouTube is one of them.
They want to view the YouTube desktop full website on mobile phone without any trimming and omission. Luckily, there are several ways to gain YouTube desktop version in full site on iPhone and Android devices easily.
Let's take a drive right in.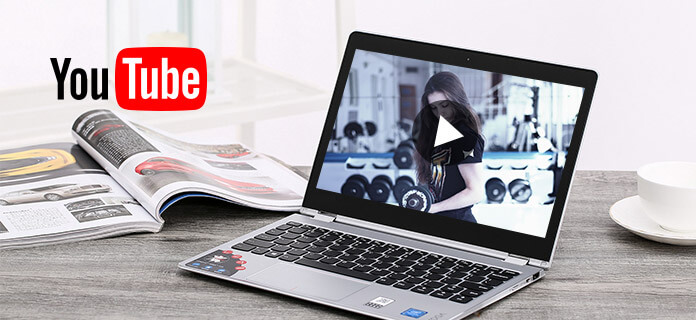 Part 1. Recommend: How to watch YouTube offline (Free)
If you want to view YouTube videos on mobile devices offline, we recommend Free Media Downloader. It is one of the best YouTube downloader tools. Most importantly, it is totally free.
Download online YouTube videos to your computer with high quality.
Convert online videos to MP4, MOV, AVI, MKV, MP3, FLAC, etc.
Support 1080p HD video downloads and conversion from online sites.
Support any popular format, Windows/Mac version, iOS/Android device.
Get the detailed steps to download YouTube videos for offline playback.
Part 2: How to force desktop version of YouTube on Android
If you have YouTube app on your Android phone, you have to disable the app before switch to YouTube desktop version in browser. The operation is simple: go to "Settings" > "Apps" > "YouTube" and press the "Disable" button to turn it off.
Method 1: Open YouTube desktop version in Chrome
Step 1 Run your Chrome browser from home screen and tap on the "Menu" icon with three dots at upper right corner.
Step 2 Scroll down and find out the Request desktop site option. Tick the checkbox next to the option to complete settings.
Step 3 Then input Youtube.com in the address bar of your Chrome to access the YouTube desktop site immediately.
To visit mobile version of other sites in Chrome browser, you only need to uncheck the "Request desktop site" option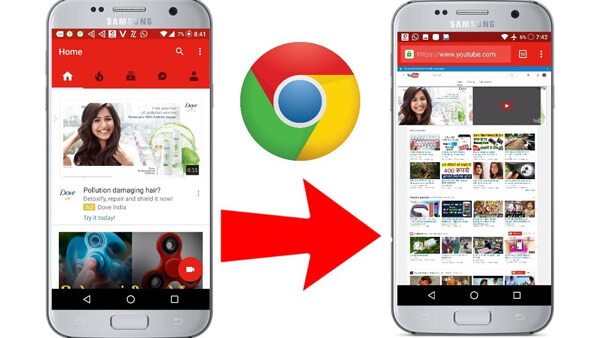 Method 2: Open YouTube desktop site in Firefox
Step 1 Launch Firefox for Android on your mobile phone and tap the "Menu" button with three-dot icon at top right corner.
Step 2 Unfold the More option on menu list and then check the box of "Request Desktop Site".
Step 3 Then access the YouTube desktop site in Firefox.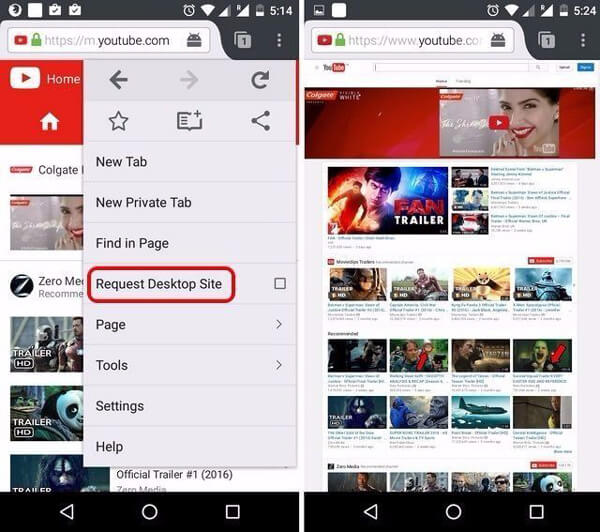 Method 3: Force YouTube desktop sites using user agent
Firefox for Android allows users to set the user agent, which will open desktop version of every website permanently. If the methods above are not feasible, you can try this one.
Step 1 Launch your Firefox mobile browser, enter about:config in the address bar and press "Enter" key on the virtual keyboard.
Step 2 Press the "+" icon to add a line, and then set the "Name" option to "general.useragent.override" and change "Boolean" to "String". Set "Enter the string" to your desired desktop user agent string. Tap on "Create" to finish settings.
Step 3 When you visit YouTube in Firefox next time, it will open YouTube desktop version automatically.
Part 3: How to force YouTube desktop version on iOS device
When it comes to iPhone and iPad, there are also multiple methods to access YouTube desktop.
Method 1: Access YouTube desktop with Desktop menu
Step 1 Start a new tab in Safari browser, input youtube.com in address bar and press "Go" to open the mobile site.
Step 2 When YouTube home page opens, tap on the "Menu" button and choose the "Desktop" option to switch to YouTube desktop version.
This way lets you to access desktop version temporarily. And it cannot be guaranteed to be effective.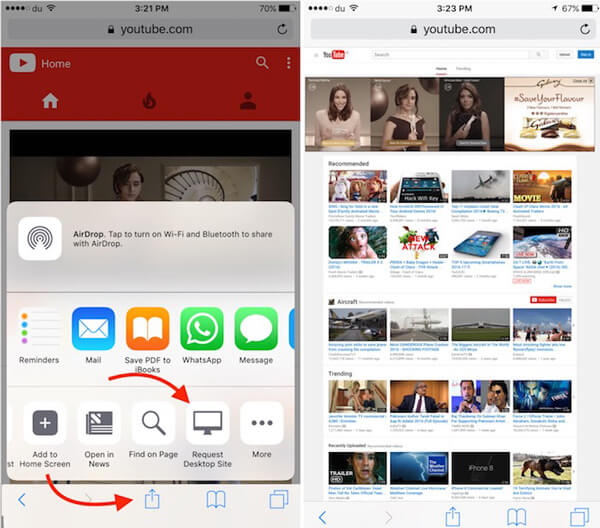 Method 2: Visit YouTube desktop with Safari setting
Step 1 Visit YouTube in your Safari browser. The mobile version will open automatically.
Step 2 Tap on the Share icon at top ribbon to open the Safari settings menu. Find out and tap on the "Request Desktop Site" option in bottom row to visit the YouTube desktop site. Or you can long-press the refresh icon in address bar and then select "Request Desktop Site" option.
Step 3 Then the YouTube mobile site will switch to desktop site automatically. Tip: If you use iOS 8 and earlier, you need to evoke the "Request Desktop Site" option in Bookmarks menu.
Method 3: Force YouTube desktop site with JavaScript
If the methods above are not feasible, you can try this method.
Step 1 Uninstall YouTube app if you have it installed on your phone.
Step 2 Open the "Settings" app from your home screen and go to "Safari" > "Advanced". Make sure to turn on the "JavaScript" option.
Step 3 Launch Safari browser, type www.youtube.com/?app=desktop in the address bar and press "Go" to force YouTube desktop site.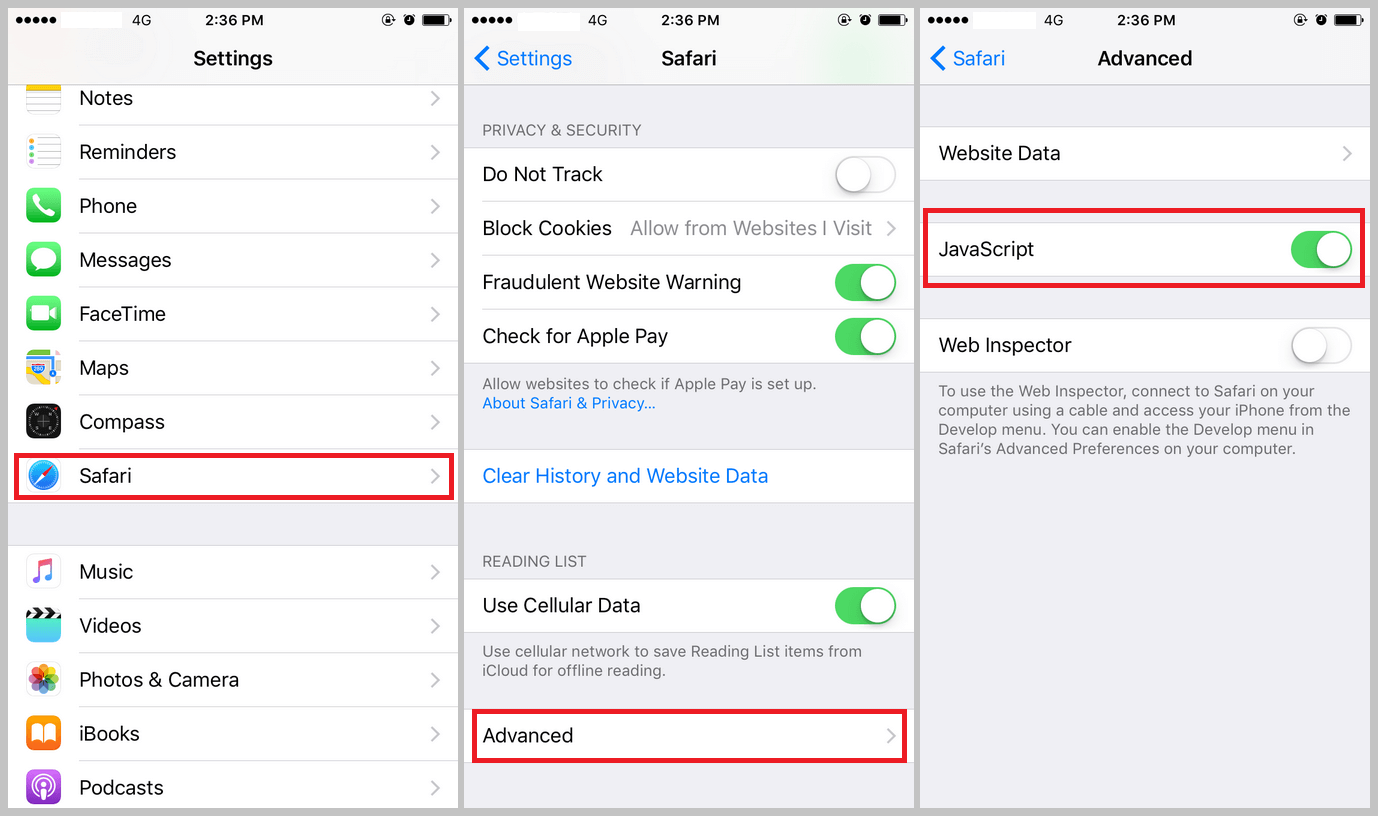 In this tutorial, we have talked about how to force opening YouTube desktop site on iOS and Android devices. There are plentiful reasons that people want to access the full desktop version of YouTube on mobile devices. Some people prefer to browse the desktop site on their smartphones. Others want to use certain features which is not available on YouTube mobile site. Anyway, When you have the need to force YouTube desktop on portable phones, you can follow our step-by-step guides to switch to desktop version easily. Moreover, we have shared multiple methods. If one is not feasible, you can try another one.
Moreover, we also share another one free downloader program, so that you can watch YouTube video offline easily.