How to Create iMovie to DVD with iMovie
For Mac users, iMovie is always the first choice when you want to edit your videos. iMovie can polish your videos with professional effect with Apple designed theme, title, subtitle, images and video clips. After editing, you are provided with many options to publish/share your videos, such as upload to YouTube/Facebook/Vimeo/CNN iReport, burn iMovie to DVD, share to iTunes and email your movies to your friends.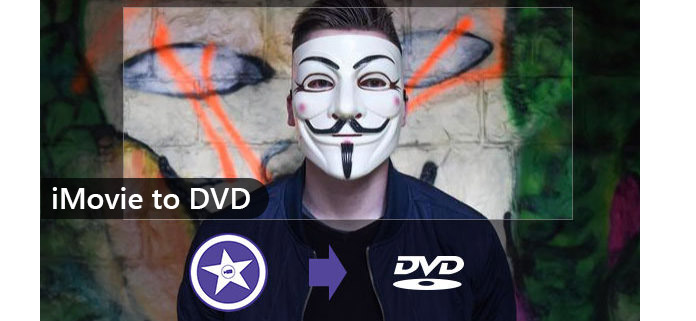 Create iMovie to DVD
Many users still keep the habit to make DVDs for their family/birthday parties, sports games, travels and so on. If you have iDVD on your Mac, you can easily burn iMovie (What is iMovie?) to DVD with iDVD. However, if you are running macOS High Sierra or later version, you might find it no longer available to share iMovie to DVD. It becomes difficult to burn iMovie to DVD since all the references about iDVD and burning iMovie to DVD are removed from iMovie 10. You can find an easy way to burn iMovie to DVD with a professional DVD Creator.
Part 1. How to Burn iMovie to DVD on macOS High Sierra or later version
The initial step for burning iMovie to DVD, you should export iMovie to a video format. You might also find the answer for your problems for exporting iMovie to DVD.
Export iMovie video to your Mac
Step 1 Create an iMovie project file in iMovie 10.
Step 2 Click the Share button and select the File option.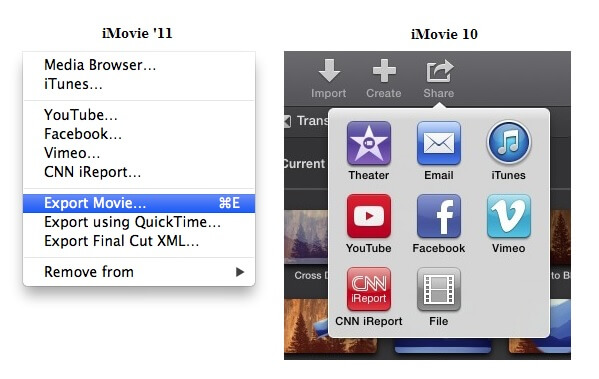 Step 3 Select the Format type, Resolution and Quality.
If you want to export the file with the background music, you can choose the Audio only option. When you burn iMovie to DVD, it is recommended to choose 480P, iMovie to HD DVD with 720P.
More details abour saving iMovie to Mac are here.

Problem for sharing iMovie to MP4
If you cannot find the MP4 option or cannot export iMovie to DVD, you can try the following method first.
1. Uninstall MacKeeper that disable the sharing function.
2. Check whether a certain iMovie project is damaged.
3. Uninstall the application and have it reinstallation.
Burn iMovie to DVD
If you are looking for any program that can create the iMovie project to DVD, you are highly recommended with Aiseesoft DVD Creator. The professional DVD Creator can burn iMovie to DVD with ease.
Step 1 Launch iMovie to DVD Creator
Download iMovie to DVD Creator from the official website. Launch the program accordingly.
Step 2 Load iMovie project to DVD Creator
Click the Add Files to load the exported iMovie file to DVD Creator. You can also add other files from camcorder or other device.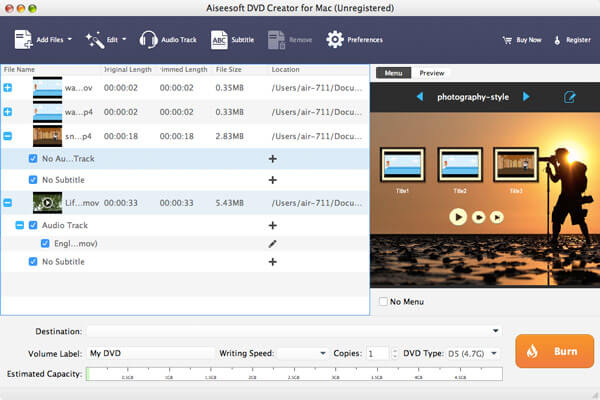 Step 3 Personalize iMovie in DVD Creator
After you import the videos to the DVD creator, you need to choose iMovie themes and menu for your DVD. Click the Edit button at the upper-right of the preview window. Then you will see all the themes listed here. Also you can download more themes from the internet when you click download button next to the menu drop-down list.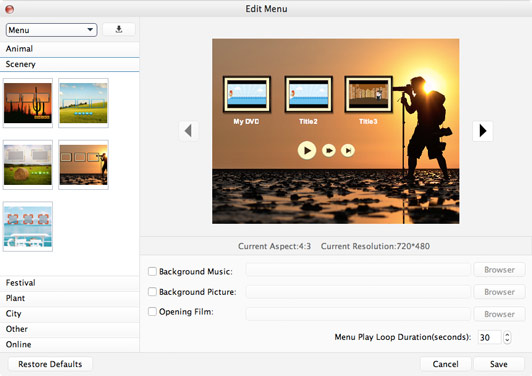 Step 4 Burn DVD from iMovie videos
You can easily click the disc on the Burn button at the lower right of the interface. The software will export your iMovie video to DVD for you easily.
If you are using iMovie file with iPhone or other portable devices, you can simply use iMovie theater. But if you want to preserve the iMovie file, you need Aiseesoft DVD Creator to burn iMovie to DVD.
Part 2. How to burn iMovie to DVD with iDVD
iDVD is also provided by Apple to Mac OS users to burn DVDs on Mac. Apple stopped preinstall it on Mac OS computer from Mac OS X 10.7 (Lion). So if you are still using the old version of the Mac OS X and still have the iDVD on your Mac, please follow the tutorial below to know how to make DVDs from iMovie with iDVD.
Step 1 Export iMovie to iDVD
After you have finished all the editing work with iMovie, you can click Share button on the menu bar. Then you will see an option iDVD. Click it and the iMovie will export the movies to iDVD automatically.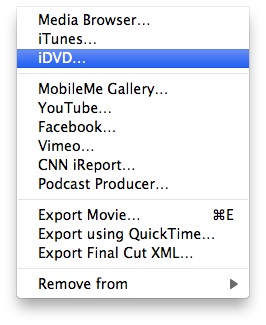 Step 2 Burn iMovie videos to DVD with iDVD
iDVD will automatically load your videos from iMovie and you can choose themes, button, text and other settings before burning DVD. Then you can easily click the burn button next to the play button. iDVD will burn iMovie to DVD easily for you.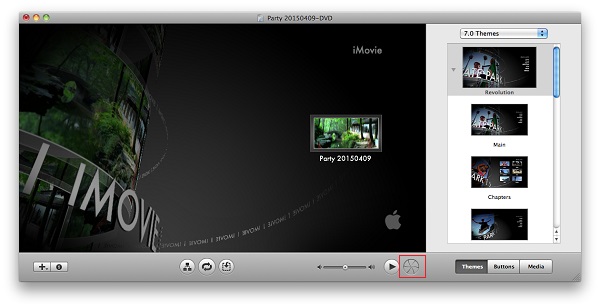 After you burning iMovie videos to DVD, you can easily share the DVD disc with your families, friends. They can enjoy the videos on their on the computer and TVs via DVD player and keep this memory forever. So you can see that it is really easy to burn iMovie to DVD with/without iDVD.
Some times, iDVD is not ideal to use. If you meet some error using iDVD, you can fix iDVD error.
Part 3. FAQs of Burning iMovie to DVD
Can iMovie play on a DVD player?
Yes. You can burn iMovie videos to DVD with Aiseesoft DVD Creator first. Then play it on your DVD player.
How can I burn a DVD from a QuickTime player?
Insert a blank DVD into the DVD drive on your computer. A disc icon labeled Untitled DVD will appear on your desktop. Type a name for your DVD and double click the icon. Drag the QuickTime file into the window. Select the Burn Speed and click Burn button to start burning DVD from a QuickTime player.
Can iMovie convert MP4 to DVD?
No. You can't convert MP4 to DVD in iMovie directly. You have to use the professional DVD burning software like Aiseesoft DVD Creator. If you are using a Mac, you can convert MP4 to DVD with iDVD.