How to Fix iDVD Error While Burning DVD
Attempting to burn a DVD from iDVD, but there was an error during rendering/encoding of the menus/slideshows. The DVD burning process has been canceled. If offers no course of action, so in Project Info I tried each quality, widescreen and standard, but each time I attempt to burn the DVD it will process the menu, render menu 1 of 1 and all 3 transitions and at the end of this segment I receive the same error message before it starts to process the slideshows of which there are three. Any help and advice will be appreciated. Thanks. – Daniel
Some Mac users would choose the built-in DVD converter – iDVD when they want to burn video to DVD disc. However, when you burn an iDVD project, you may encounter the error message "Error during rendering/encoding" like Daniel. So how to fix this error? In the following article, you'll see the easiest way to get rid of iDVD error, and the best way to burn MP4/MOV/MKV/WMV and other video to DVD without iDVD.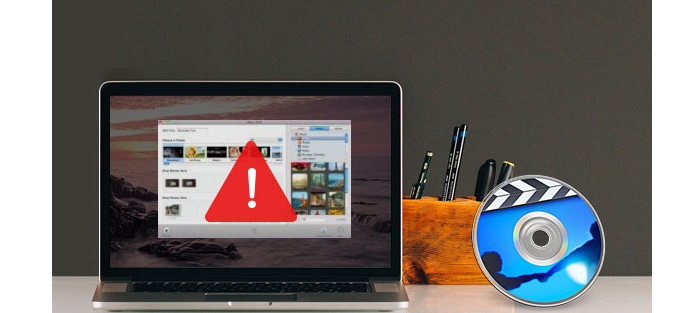 Part 1. How to fix iDVD error?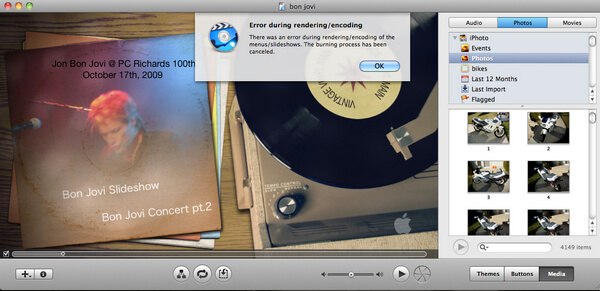 Mostly, "Error during rendering/encoding" displays when you created a slideshow in Photo and chose Send to iDVD from the share menu while you've never started iDVD before. To prevent this issue, make sure that you have started iDVD at least once before using the Share feature of other app like iMovie to burn DVD. Follow these three steps to burn a slideshow easily:
Step 1 Quit iDVD and reopen iDVD.
Step 2 Create a new iDVD project.
Step 3 Go back to iPhoto and export the iPhoto slideshow to iDVD again.
Part 2. Find better way to burn DVD on Mac
Getting tired of the iDVD video encodes error when burning to DVD? Don't worry. There is a better way to help you burn video/iMovie to DVD without iDVD on Mac. If you are looking for such a program, you are highly recommended with DVD creator for Mac. The best and fastest DVD software could help you burn MP4/WMV/MKV/iMovie and more DVD discs/DVD folders/DVD ISO images with ease. Take iMovie to DVD as an example, let's see how to burn a DVD disc without iDVD on Mac:
Step 1 Free download and launch DVD burner for Mac
Step 2 Click "Add Files" and load the iMovie file to DVD creator. Here you can also add other files from other apps or devices.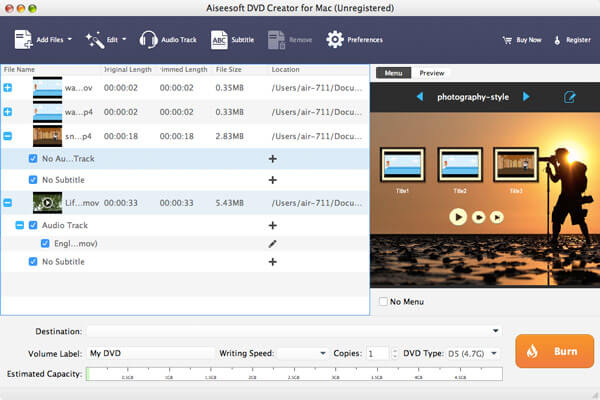 Step 3 Before burning a DVD disc, customize video in DVD creator. You can add themes and menu to your DVD, or edit video and more.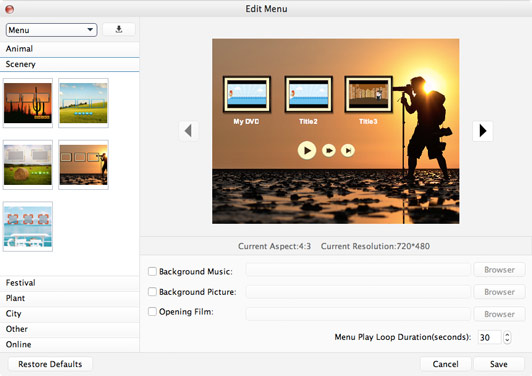 Step 4Click on the "Burn" button at the lower right of the interface. DVD creator will export your iMovie video or other to DVD for you easily.
Compared with iDVD, DVD creator for Mac can be more flexible and stable. The best advantage is, it could avoid iDVD error like "Error during rendering/encoding" completely. If you are in great need of burning DVD, download and give it a try.
Want to burn videos to DVD for free? Then go to burn movies to DVD for free.
Burnova - Best DVD Creator
For Mac
Burnova is the professional BD and DVD Burner
Burn any video like MP4/MKV/AVI/M4V to DVD disc/folder/ISO file
Create local videos from computer to Blu-ray disc/folder/ISO file
Burn DVD with various menu templates
FAQs of burning DVD with iDVD
What is iDVD used for?
iDVD is Apple's DVD authoring-and-burning tool which can help Mac users burn QuickTime movies, MP3 music, and digital pictures to a DVD. It works with internal and many external DVD burners, letting you walk through all the usual DVD creation projects.
Why can't I burn a DVD on my computer?
Perhaps the disc you use for burning is not compatible with the type of disc drive in your computer. You can try with another type of disc.
How to burn a DVD on Mac?
Many cases you want to burn DVD on Mac. Open Disk Utility on Mac and click Burn on the top menu. Select the ISO file and open Burn Disc pop-up window, and then click Burn to burn DVD on Mac.