How to Save iMovie Project on Mac
If you are a Mac user, you may feel familiar with iMovie. iMovie is the powerful video editing software for Mac and iOS device (iPhone/iPad/iPod). It is easy to browse your clips and create Hollywood-style trailers and stunning 4K-resolution movies. Even some professionals use iMovie because of its useful functions. iMovie enables you to edit videos with ease.
However, it is a little bit hard for many users to save a video in iMovie. Don't worry, we will show you how to save iMovie in this post. You can keep reading to find how to save iMovie project on Mac.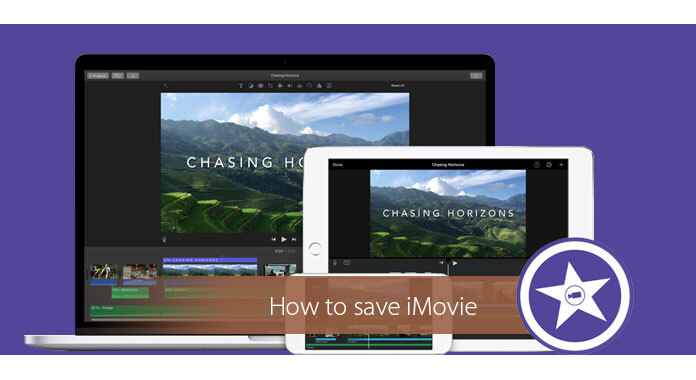 Part 1. How to Save iMovie Project on Mac (Finished)
iMovie provides many frequently-used output formats for you to choose from. You can save iMovie project in a format that suits you best. When you want to create a slideshow in iMovie and save the video, you should export it to Mac. Then you can access it on Finder folder. If you exit iMovie without saving the project, the iMovie video will be lost. You can take the following guide to learn how to save iMovie.
Step 1.
Open iMovie on Mac, click "File" to import your project or create a new one. After you edit the video in iMovie, click on "Share" > "Export Movie". Then you will see a new pop-up window.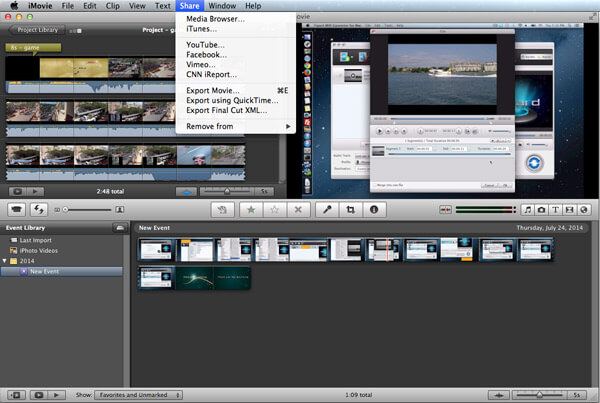 Step 2.
Enter your project name and choose the destination file folder. You are allowed to select a suitable video size according to your needs.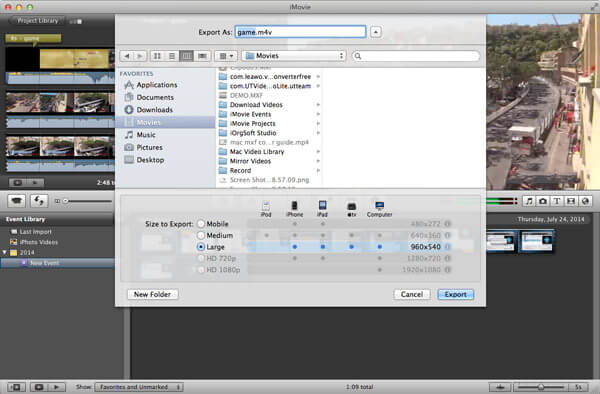 Step 3.
Click "Export" button to save the finished project in iMovie.
Within just a few seconds, the project in iMovie will be saved on Mac.
Part 2. How to Save iMovie Project on Mac (Unfinished)
Sometimes, for the unfinished projects in iMovie, you also need to save them. In this way, you can edit the project on another Mac, or continue editing on your Mac when you have free time.
Moreover, when your iMovie crashes, will you lose your iMovie project?
Of course no. iMovie will save a project automatically. It saves all of its data and assets (video, images, audio) into a library file, which is called iMovie Library. When you run iMovie next time, the unfinished project will also come.
Here comes the question, how to save unfinished iMovie projects on Mac? If you want to do that, you should follow the next steps.
Step 1.
Open iMovie on Mac, and you can see a "
Project Library
" part on the left side of the main interface. All projects you ever edited will be displayed in this part. It takes some time for iMovie to load all the projects. (
iMovie is not responding
?)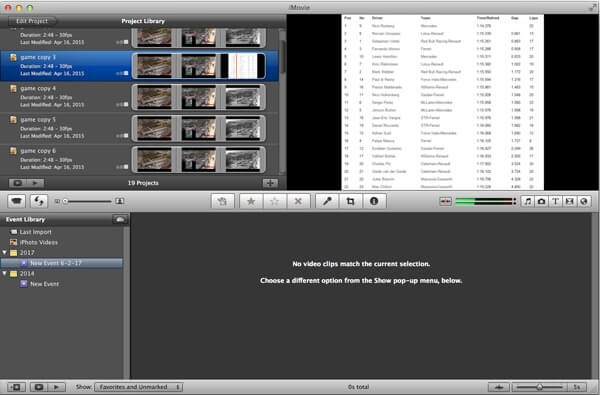 Step 2.
Locate the iMovie project you want to save. You are allowed to edit project.
Step 3.
Click on "Share" on the menu bar and then select "Export Movie". Then you can rename the iMovie project and choose the right place to save this unfinished iMovie video.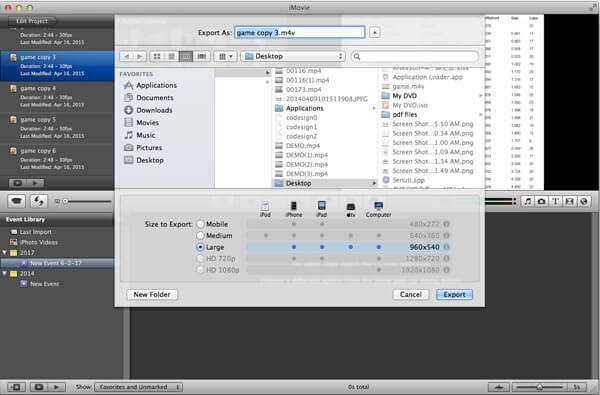 Step 4.
Click "
Expor
t" button to save a video in iMovie to your Mac.
Just like the first method above, you can easily get the unfinished iMovie project saved on Mac. After that, you can continue editing it when you want to.
For the exported iMovie project, you can easily save it in hard drive on Mac. Or add the project file to your other memory card, like USB, flash drive, etc.
For iMovie users on iPhone, the steps are similar. Check this guide here to learn how to export iMovie on iPhone.
Part 3. Best Alternative to iMovie for Mac/Windows
iMovie is a good video editor for Mac users. But here we still sincerely recommend the best alternative for Windows/Mac - Mac Video Converter Ultimate. Compatible with almost all Mac computers, like MacBook Air, MacBook Pro, iMac, iMac Pro, Mac Pro, Mac mini, etc.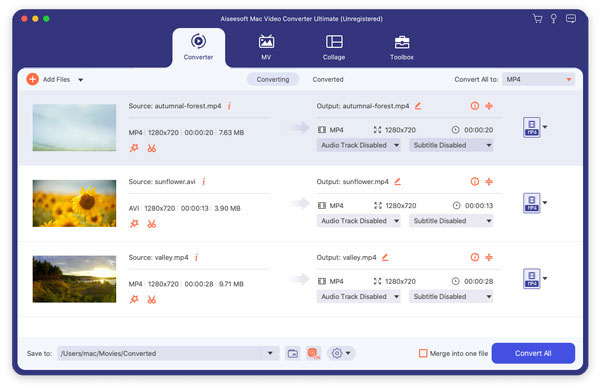 Compared with iMovie, it provides more powerful video editing features. What's more, even you are the first time to use it, you can use it to edit video and adjust output effects to create a video you like.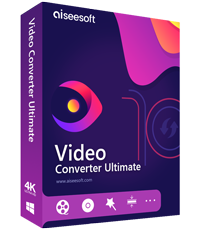 Downloads
Powerful editing video effects like clip, merge, crop, watermark, 3D effects, etc.
Adjust output settings like codec, format, resolution, frame rate, bitrate, etc.
Add new subtitle/audio track and remove the original audio track.
Support 1080p HD/4K UHD video conversion and video to iMovie MOV converting.
Part 4. FAQs of Saving iMovie Project
Why can't I save my iMovie?
Many reasons may cause your iMovie project failed to export, like lack of computer space, corrupted project, or wrong export file name. To solve it, you need to make sure your Mac has enough storage space. You can also check if your project is corrupted or the file name is wrong.
Do projects automatically save in iMovie?
Yes. There is no Save option on the menus of iMovie. Your projects will be saved to iMovie Library automatically. You can share the project to email, iTunes or external device.
Where are iMovie projects stored?
All the iMovie projects will be auto-saved to iMovie Library. Just go to Home (your name) > Movies > iMovie Library to check your projects.
Conclusion
In this post, we mainly talk about how to save iMovie. We show you the simple way to save an iMovie project (finished/unfinished) on Mac. Moreover, we tell you the best alternative to iMovie. We hope you can handily edit your video after reading this post.

Leave your comment and join our discussion