PowerPoint Narration - How to Add Narration to PowerPoint with Audio/Video
When you are reporting or preparing a lesson using PowerPoint, it is a little monotonous only using picture and text. So many people want to add narration to PowerPoint with video and audio, and they can show a beautiful and attractive PowerPoint presentation to others. Here, we will tell you how to add narration to PowerPoint presentation on your Mac/PC.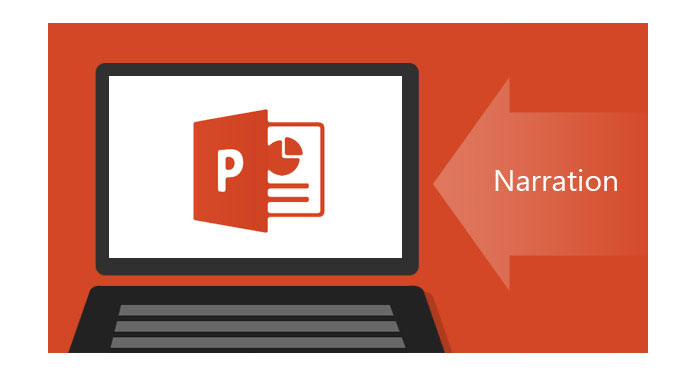 Part 1: Add voice-narration to PowerPoint presentation
If you want to add audio narration to PowerPoint, you need to record audio narration first, and then add recorded voice narration to your PowerPoint. You can only use PowerPoint program to finish the process.
1. Open PowerPoint, create a new PowerPoint presentation and save it.
2. Go to "SlideShow" > "Record Narration" > "Set Microphone Level".
3. At this time, you should speak into your microphone. And you can see the green and yellow sliders moving with your voice, adjust the slider when you speak.
4. Also, you can change sound quality by choosing "Change Quality". "22.050, 8-bit, mono" is a good choice. And click "OK".
5. Go to "Recording" > "Record From the Beginning" to start recording, and press "Space" bar to go to each step of presentation as well as click "Esc" bar to end. In the popup windows, choose "Save".

After that, you should check your voice and timing as well as preview the recorded PowerPoint presentation and audio narration. Choose "Slide Show" > "From Beginning" to view slide show, and in "Normal" view, click the sound icon in the lower right corner of the slide, and then click "Play".
If you want to set the slide timing manually, find "Normal" > "Slide Show" > "Set Up Show" > "Advanced Slide" > "Manually". You can enter the number of seconds for the slide sppearing on the screen. Repeat to set the timing for each slide show.
Part 2: Add video narration to PowerPoint presentaion
for adding video narration, you need to take use of one PowerPoint add-in, iSpring Presenter, to combine slides and video in a customizable player, and convert your PowerPoint presentation with video narration to online mobile-ready formats. This PowerPoint add-in also applies on adding audio narration to PowerPoint.
1. Download iSpring Presenter first, and open PowerPoint presentation to find iSpring Presenter on the toolbar.
2. To record video narration, go to "Record Video" button. To record video for one slide, select the "Process current slide only" checkbox.
3. Click "Start Record" button to begin record video narration, and you can click the "Next Slide/Next Animation/Skip Transition" buttons to replace the "Start Record" button, so that there is an effect in your narration.
4. Click "Stop" and "OK" to stop the recording.

5. Import video narration by clicking "Manage Narration" > "Video" in iSpring Narration Editor.
Tips: When you are going to import video/audio narration to your PowerPoint, you need to pay attention to if the narration is inserted at the current cursor position or at the beginning of the chosen slide. To let iSpring Presenter automatically adjust each slide duration to the duration of a narration, select the "Adjust slide duration" option.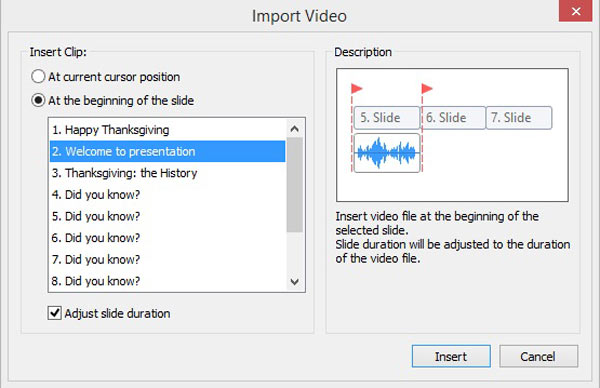 If you want to use this iSpring Presenter to add audio narration to PPT, it also works.
Now, you must have known how to add narration to PowerPoint, just use PowerPoint or the third-party iSpring Presenter, you can add narration to PowerPoint with audio or video.
PPT to Video Converter
Convert downloaded or local PowerPoint to video for easier presentations.
Burn PowerPoint files into DVD or ISO image files for forever preservation.
When you turn PowerPoint to video/DVD, Auto and Advanced modes are optional at your leisure.
It lets you add batch PPT files or folder for burning to DVD or video.
Part 3. FAQs of adding narration to PowerPoint
How to add background music to PowerPoint behind narration?
For PowerPoint 2010: On the Insert tab, select Audio > Audio from File. In the file explorer, locate the background music you want to add and select Insert. Click the Audio Tools at the top, and select Playback tab. Select Play across slides from the Start list.
Why can't I hear my narration on PowerPoint?
a. Perhaps your microphone didn't connect to computer's sound card correctly.
b. The audio settings in the Windows Sound window were not well configured.
How do I get PowerPoint to narrate automatically?
On the Audio Tools at the top, click Playback tab, and select In Click Sequence or Automatically in the Start list.
Where is PowerPoint recording saved?
The default location for saved PowerPoint recording is in your documents folder. You can also save the PowerPoint recording manually. Just click File > Export > Create a Video. (or on the Recording tab, click Export to Video.)