Full Guide to Record Desktop Screen with Video and Audio on Computer
The reasons why you want to record your computer screen vary, like a demo show, error report, video tutorial for business or entertainment, etc. The solutions to recording computer screen video and audio also various.
Read this guide, and get the easiest approach to capturing desktop screen, including video and audio on your computer.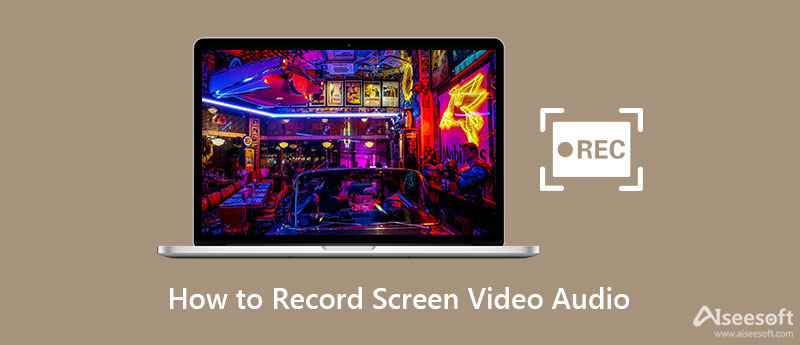 Part 1. Preparations of Recording Desktop Screen
No matter what you want to record on desktop, you should get the screen recorder software firstly.
While Mac users can benefit from QuickTime Player to record screen, Windows users seem to get nothing, because there are no helpful screen recorders built-in on Windows OS.
Where there is a problem, there is a solution.
Aiseesoft Screen Recorder can be the perfect companion for Windows and Mac users. Screen Recorder is the professional screen capture software to help you record any screen on your desktop, online videos, gameplay, webcam videos, online meeting, etc.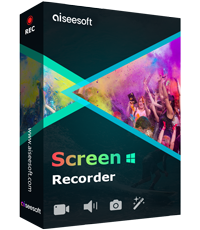 Downloads
Professional snipping tool to capture pictures from Mac screen with keyboard shortcut.
Equipped with key editing functions to make a screenshot and add text as you want.
Save the screenshot as PNG, JPEG, BMP, GIF, TIFF, etc. according to your need.
For getting a high quality recording, you should follow the below system requirements.
For Windows 11, Windows 10, Windows 8, Windows 7 users:
CPU: At least dual-core CPU, clocked at 2.0GHz above
RAM: 4G RAM or more
Processor: Intel i3 or better multicore processor, 2GHz or above
Graphics card: NVIDIA GeForce 8 and above. Or AMD HD 3800 and above
For Mac OS X 10.9 or above (macOS Big Sur and macOS Monterey included) users:
CPU: 1GHz Intel Processor and Apple M1 chip
RAM: 512MB or more (1024MB recommended)
Now, we will come to the point today, how to record desktop screen.
For making it clear, we explain the steps with 2 parts, how to record video and capture audio separately.
Part 2. Record Desktop Screen Video with Audio
Step 1:
Run Screen Recorder
Free download this software on your computer. It has the Windows and Mac version, get the exact version you need. Follow the onscreen instructions to install and run it.
Step 2:
Recording settings
In the main interface, you should click "Video Recorder" to record video with/without audio.
Now, you need to get the following settings before recording.
Recording area

It gives you several options to confirm the recording area.
Full/Custom > Full Screen: You could capture the whole screen via this option.
Custom > Select region/window: You are able to use the mouse the draw the rectangle area to decide the recording area. Or you can simply click the window you want to record.
1920×1080 (1080p): You could select the fixed region and drag the cursor to put the fixed frame where you want to record.

Whether you want to capture a certain window, or want to exclude some a window, the advanced recorder settings are suitable for you.
Around mouse: It means you can select a recording area, and then when you move your mouse, the recording area will also move and always center on your mouse.
Follow the mouse: It lets you change the recording area while you move the recording frame with your mouse.
Window Recorder: When you open the window, and use the function, it will record the window while you can open other windows to do other things. The only condition is that you should always keep the window open, not minimize or closed.
Exclude window and record: This function is very practical when you are making a video tutorial and do not show other unnecessary windows.
Recording audio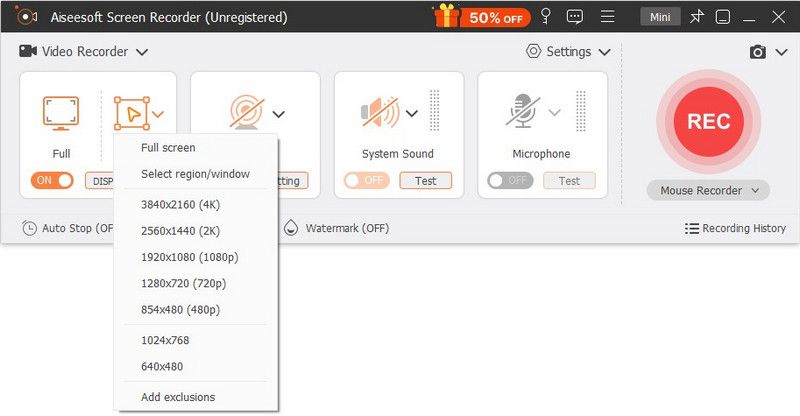 Here, this software supports audio recording from system sound and microphone. You can turn on/off both of them or either of them.
System Sound: When you want to record video with audio from the computer system, you should turn it on.
Microphone: When you want to keep the voice from microphone from yourself or around yourself, you should turn it on.
Besides, the audio drop-down option next to speaker and microphone allows you to optimize audio recording via the settings.
From microphone recording, you can enable "Microphone noise cancellation" and "Microphone enhancement" to improve audio recording and reduce audio recording echo efficiently. Moreover, you can select the speaker and microphone audio source to decide which audio you want to record. The volume mixer will let you adjust the application volume separately and quickly.

You can click the "Sound check" option to get detailed settings for those audio parameters.
While you wish to keep the online video call with your friends, like record the Skype chat, Omegle video call, you should turn both of them.
Preferences settings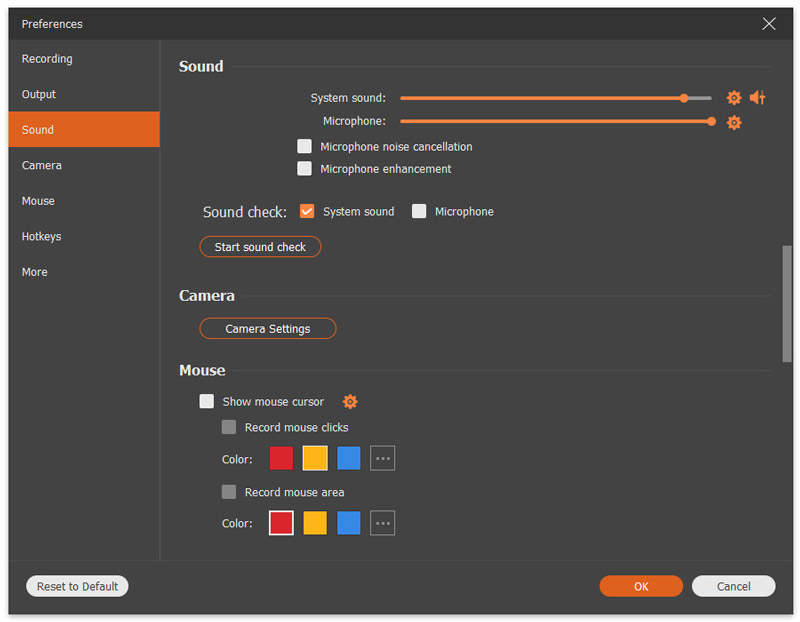 When you click "Record settings" in the main interface, you will be directed into the preferences settings, where you could set the recording, mouse, hotkeys, output and others.
Recording: Here you could show countdown before recording, hide float bar, desktop icons, etc.
Mouse: Show or hide mouse cursor and change the mouse click colors.
Hotkeys: You could set the hotkeys to stop, pause, and resume recording, snapshot, etc.
Output: Here you could adjust the recording location, snapshot format, video/audio format (MP4, MOV, F4V, AVI, TS, GIF, WMA, MP3, AAC, M4A, FLAC and Ogg, Opus), video/audio quality, etc.
More: Hardware acceleration, software updates, etc. are optional for you here.
Task Schedule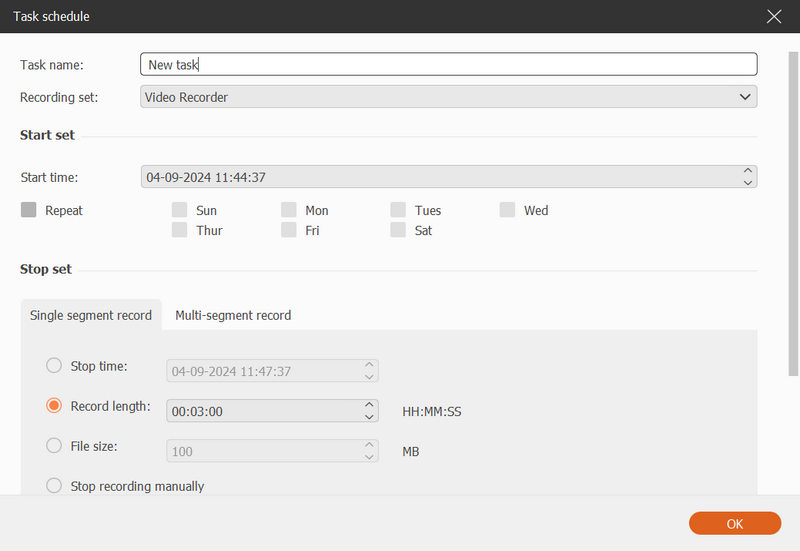 This option is like the alarm, which can let you set the task time and recording length to launch the preset task when you are not in front of your computer.
Step 3:
Record and edit screen video
Now, all the things have been prepared well, and you just need to click "REC" button to start the screen recording. While recording, you could click edit button to draw, add caption, callout, blur, airbrush, etc.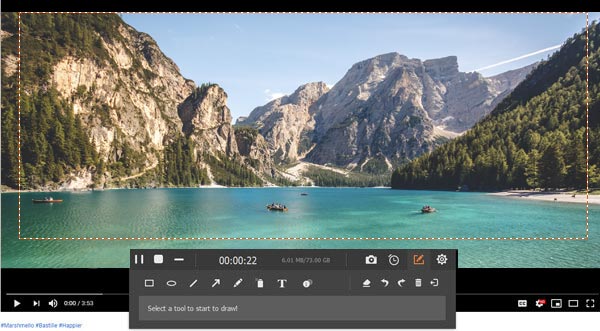 Step 4:
Preview and save screen recording
After you complete the recording, just click the stop button and preview the recording.
Here the trim feature is available for you to cut the unwanted recordings.
Click the "Export" button to save the recordings on your computer.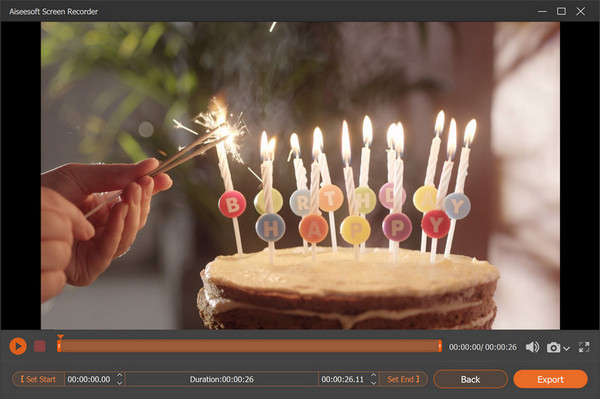 Part 3. Record Screen Audio from Microphone or/and System
For capturing sound from online video or your own microphone, it comes to be easier.
Step 1:
Run Audio Recorder
Still download and install this software on your computer. In the main interface, you need to click "Audio Recorder".
Step 2:
Get audio recording settings
Here, you are given the easy audio settings. Similar to video recording, here you should turn on or off both microphone and system sound, or either of them.
Moreover, do not forget to set the preferences settings for output format, quality, etc.

If you want to record your voice from a microphone, just tick the options of "Microphone noise cancellation" and "Microphone enhancement" under the microphone drop-down option, which will reduce video noise and amplify audio to stop audio echo while recording.
Similar to recording video in part 1, you can also choose the audio source from speaker and microphone and open the "Volume Mixer" to adjust the speaker audio for individual applications.

For more detailed settings, you should click the "Sound Check" option.
Enable the audio you want to record are playing or speaking. Then click "REC" to start to record the screen audio.

Step 4:
Trim and save audio recording
After the audio recording is done, just click the stop button to preview the audio recordings. Moreover, it also lets you clip the audio recording, and save it on your computer.
The above steps are easy to follow to start a screen recording on your Windows 10/8/7 computer. If you are using Mac, QuickTime Player is easy to record a screen on Mac. Check the details here.
Part 4. Tips on Recording Computer Screen
With Screen Reorder, it is very easy to record your computer screen on computer.
However, still some tips you should bear while recording desktop screen.
Keep quiet circumstance
Whether you want to record your own narration or voice with microphone, or wish to record computer music from system, you should keep quiet. The noise will disturb the screen audio recording and your job.
Manage your computer desktop
If you want to make video tutorial, and share your computer screen, you had better clear your computer desktop, and remove the unnecessary icons, because the icons on computer may disclose your private information and interrupt your recording effects.
Get a good equipment
Your computer screen resolution, CPU, graphics card, etc. will also affect your screen recording quality.
It is impossible to create a high resolution 4K screen recording with the 1080p resolution screen. The poor CPU will also affect your recording speed.
Practice makes perfect
If you want to create a perfect video tutorial, just try to record screen for several times. Nobody can make the perfect things only one time, except you are a genius. Pay more patience, and improve your recording process after several times.
Part 5. FAQs of Recording Screen Video and Audio
Does Windows have a screen recorder?
Yes. Windows 10 has a native feature that lets you record video clips. Using Game DVR, you can record video game footage for sharing on YouTube or Twitch.
Can OBS record screen with video and audio?
Yes. Open Broadcaster Software Studio is a free and open source video streaming and recording program. You can use OBS to capture video and audio from your computer.
Does VLC capture screen with audio?
Yes. You can capture the screen with audio in VLC Media Player. Just go to Media > Open Capture Device, and select Desktop as the Capture mode. Then click Stream from the drop-down button at the bottom. Select Video - H.264 + MP3 (MP4) and click on Stream to start recording.
Conclusion
This page mainly talks bout the easiest way to record your computer screen with video and audio. Aiseesoft Screen Recorder is the best choice for beginners who want to get a good video recording. We share the tutorial step by step, and everybody can easily follow it.