How to Clear Cache in Safari on MacBook Pro/Air, iMac, and More
Similar to many other web browsers, Safari for Mac also keeps cache data and browsing history on your hard disk. Safari cache is used to load the web pages that you have accessed before quickly. Generally speaking, it can help websites run faster. However, too much cache data can bring problems, such as slowing down the performance of your MacBook. This tutorial explains how to clear browser cache from Safari on Mac in various situations.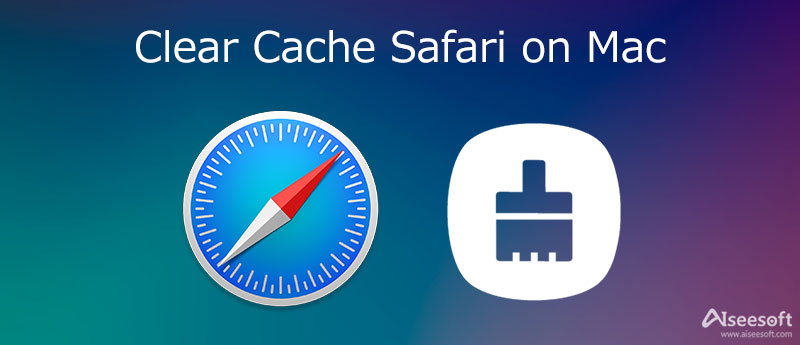 Part 1: Clear Safari Cookies and Caches Using Mac Cleaner
When you visit a website in Safari, all your activities and footprint are recorded and saved as cache data. It also saves elements, like site address, text, images, and more. Fortunately, Aiseesoft Mac Cleaner can help you clear cache from Safari on Mac easily.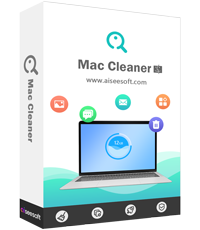 Downloads
How to Clear Safari Cache and Cookies on MacBook
Step 1: Scan Safari cache
When you need to clear cache and cookies from Safari, install the Mac Cleaner on your computer and launch it from the 
Applications
 folder. Now, you will get the status of your machine including 
CPU
, 
Memory
, and 
Disk
.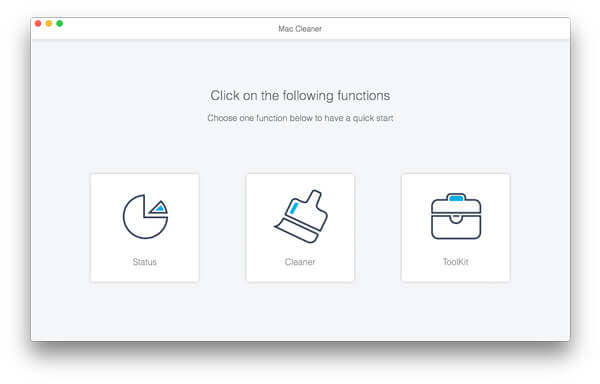 Step 2: Clear Safari cache
Press the 
Cleaner
 option in the home interface, and click on the 
Scan
 button to begin looking for Safar cache, cookies, and other junk files. When scanning is done, check 
System Cache
 and 
Application Cache
. Then make sure to tick the checkbox next to Safari and relative apps on the right side. Once you click on the 
Clean
 button at the bottom right side, the app will do the job immediately.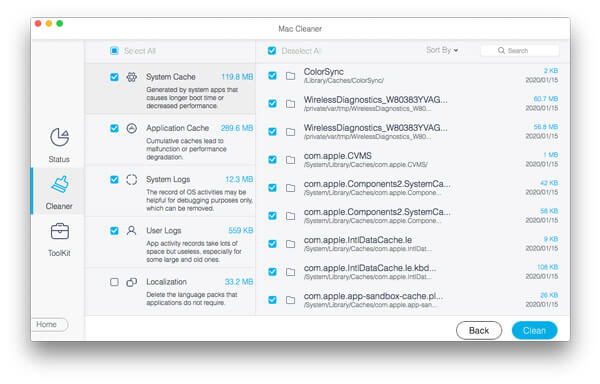 You can also use this tool to clear space on Mac with ease.
Part 2: Clear Cookies, Caches, History in Safari
The design of Safari is not as intuitive as other browsers. Therefore, you have to clear cookies, cache data, and history in Safari respectively. You have no way to get rid of them at one time. Most Mac apps can sync data between multiple devices. It means that clearing caches, cookies, and browsing history from Safari on Mac will remove them across any synchronized devices as well as your iCloud backup.
How to Clear Caches from Safari on Mac
Step 1:
Fire up the built-in browser on your MacBook/iMac.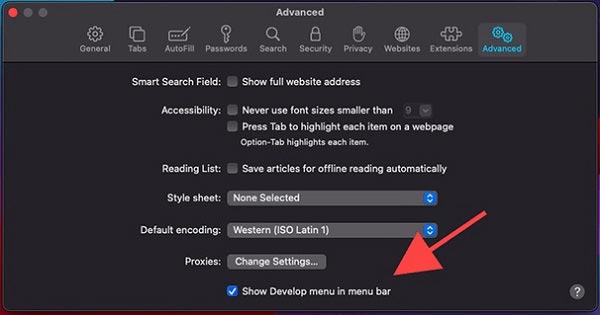 Step 2:
Go to the 
Safari
 menu on the top ribbon and choose 
Preferences
. Head to the 
Advanced
 tab on the popup dialog, and check 
Show Develop menu in menu bar
.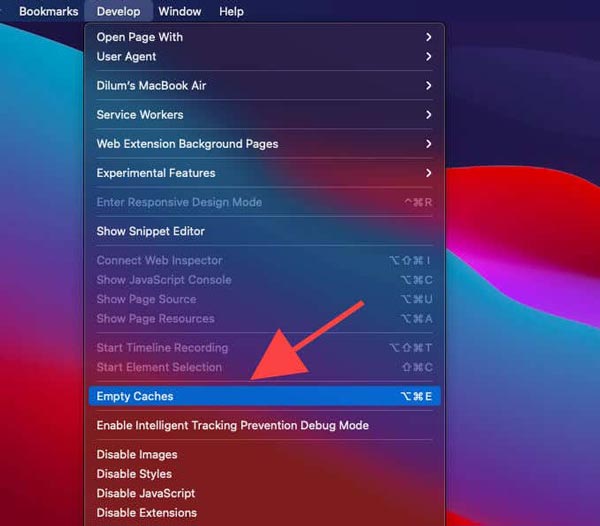 Step 3:
Go back to the main interface, and click and expand the 
Develop
 menu from the menu bar. Select the 
Empty Caches
 option to clear cache from Safari on Mac immediately.
After clearing the Safari cache, you can go back to the Preferences dialog and disable the Develop menu. This way won't delete websites' data and history.
How to Clear Cookies from Safari
Step 1:
To clear all cookies from your Safari browser, open the 
Preferences
 dialog from the 
Safari
 menu too.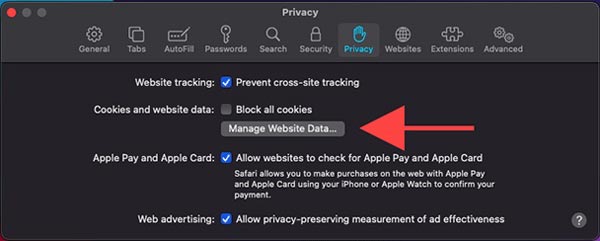 Step 2:
Head to the
Privacy
tab from the top of the dialog. Click the 
Manage Website Data
 button, and you will be presented with another dialog.
Step 3:
Click the 
Remove All
 button at the bottom, and hit the 
Done
 button. Now, all cookies are cleared from your Safari.
Bear in mind that you have to log in your account to each website and service in Safari after deleting cookies. However, that is a good way to prevent websites from tracking your browsing activities and protect your privacy.
How to Clear Browsing History in Safari on Mac
Step 1:
If you wish to clear history in
Safari
for a specific time, go to the Safari menu, and choose 
Clear History and Keep Website Data
.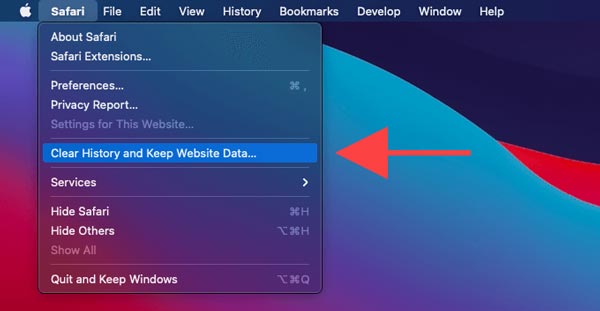 Step 2:
On the popup dialog, pull down the drop-down menu, and choose a proper option, like 
all history
, 
the last hour
, 
today
, or 
today and yesterday
.
Step 3:
Now, click the 
Clear History
 button to clear browsing history from Safari.
The quick way to clear Safari history is to go to the History menu, and choose Clear History. That will delete all history from Safari quickly.
Part 3: Clear Data for Individual Site from Safari
As mentioned previously, Safari cache, cookies, and history are not useless at all. They can help you to access and load a website quickly. Cookies can sign in to a website or your email automatically when you access it in your Safari. Therefore, you may wonder whether you can clear cache and history for a specific site in Safari. The answer is yes and you can get it following the steps below.
How to Clear Cache and Cookies for Individual Site in Safari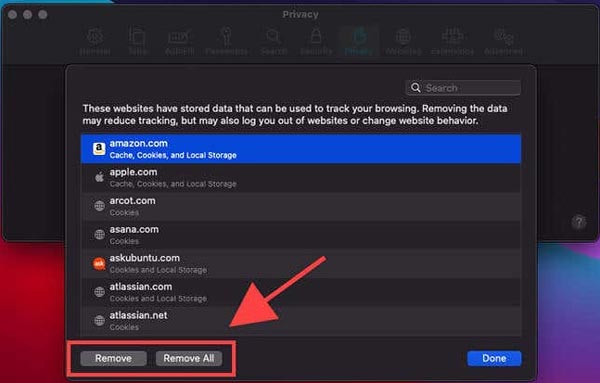 Step 1:
Open the 
Safari
 menu, and choose 
Preferences
.
Step 2:
Switch to the 
Privacy
 tab from the top of the dialog, and click 
Manage Website Data
.
Step 3:
Highlight the website that you want to clear and click the 
Remove
 button. Now, the cache and cookies involved with this website will be gone.
How to Clear History for a Specific Site from Safari
Step 1:
Click and expand the 
History
 menu on the menu bar, and choose the 
Show History
 option.

Step 2:
Now, you can see all browsing history. You can select the target website or quickly locate a specific one with the search bar.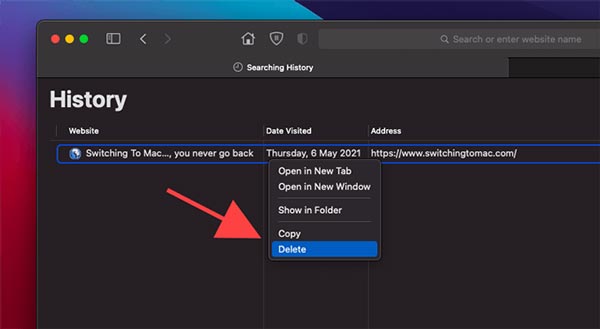 Step 3:
Right-click on the item and choose the 
Delete
 on the context menu.
If you intend to clear several websites, hold down the Command key and highlight each one, and press the Delete key on your keyboard.
Part 4: FAQs about Clearing Safari Cache
How to clear cache in Safari on iPhone?
Go to the Settings app on your iOS device, select Safari, and tap Clear History and Website Data. That delete your history, cookies, and browsing data from Safari. If you hope to keep your history and clear cookies, tap Advanced on the Safar Settings screen, and hit Remove All Website Data.
What happens after you clear cache in Safari?
Firstly, it can free up storage space and help your system run faster. It takes less time to open and load the new websites in Safari. However, it spends long time to open the websites that you have accessed or load the YouTube videos that you have opened in Safari.
Is deleting caches on Mac safe?
There is no universal answer to this question but cache clearing might help if you have a problem using Safari. If everything is running normally, cache clearing is probably counter-productive. Anyway, before deleting Safari cache, cookies, and history, make sure that you understand the consequences of your actions.
Conclusion
This guide explained how to clear cache, cookies, history, and website data from Safari on Mac. You can do it manually. Moreover, you can delete specific websites or remove all of them. However, we suggest beginners and average people use Aiseesoft Mac Cleaner. It is easier to use and won't damage your files. If you encounter other problems related to this topic, please feel free to leave a message below this post and we will reply with it as soon as possible.

Leave your comment and join our discussion