How to Clear Space on Mac? Find the Efficient Tips Here
How to clear space on Mac?
Optimized storage on Mac can save a lot. Cluttering various items on your Mac hard disc will be running out of the storage space and slow down your Mac. How to clear space on Mac? Here in this post, we are going to show you several efficient tips to free up Mac storage space.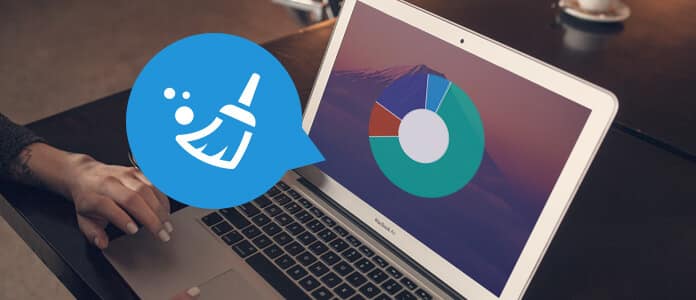 How to Clear Space on Mac
Question: What Is in Storage Space on Mac
To begin with, you need to know what is in storage space on Mac. Click the Apple menu, and choose About This Mac.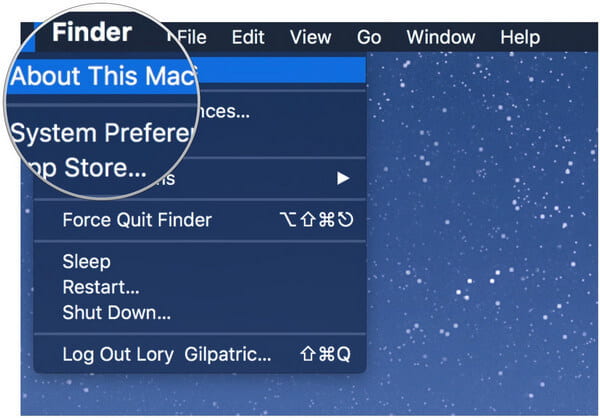 Hit Storage and there will be an overview of Mac free space and the space taken up by diverse categories of files, including apps, audio, movies, movies, photos, other, etc.

What is "Other" in the Mac storage? Here is a list.
• Documents and various file types (PDF, Word, PSD, etc.)
• Various types of personal user data
• Custom library (Application Support, plugins, extensions, etc.)
• Temporary audio, recordings and others
• System Caches
• Archive and disk images
• Files that cannot be recognize by the Spotlight
Tip 1: The Most Efficient Way to Clear Space on Mac
Apple has made macOS Sierrato easier to clear space on Mac, but you may not be able to or want to run macOS Sierra. So what do you do to free up Mac storage? Don't worry. There is one best Mac cleanup software that suits you, Mac Cleaner. With this tool, you are able to easily clean your Mac and don't need to worry about Mac OS. Let's see how to clear space on Mac with Mac Cleaner.
➤ Search and clean all junk files, unneeded files as well as large & old files.
➤ Monitor Mac performance, including disk utilization, battery status, memory usage and CPU usage.
➤ Support iMac, iMac Pro, MacBook, MacBook Air, MacBook Pro.
➤ Support Mac OS X 10.10 or above (macOS High Sierra included)
How to use Mac Cleaner to clear space on Mac
Step 1Launch Mac Cleaner on your Mac
Download Mac Cleaner and launch the software. Mac Cleaner is able to monitor system status of your Mac, and you can see the details in the interface.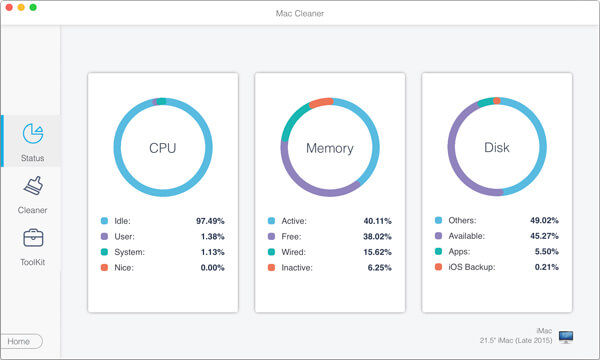 Step 2Scan junk files
Choose one module from the left side. Mac Cleaner enables you to clean like "Junk Files", "Unneeded Files", and "Large & Old Files". Click Junk Files, for example, and hit the Scan button to scan your Mac junk files.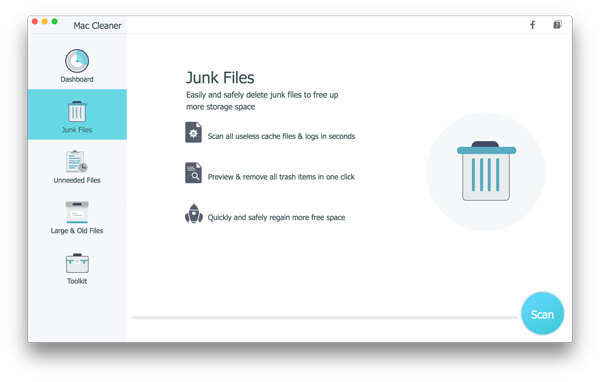 Step 3Click Review button
When the scanning done, you can click Review button to see the scanning results. Or you can hit "Re-scan" to scan your Mac computer again.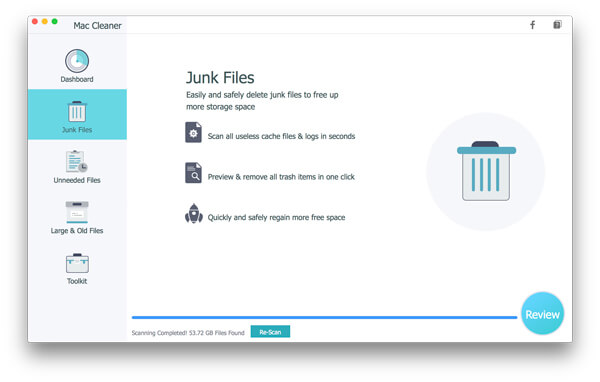 Step 4Review and select items
Junk files like the application cache, system logs, photo junks, systm cache and more are listed in categories. Choose whatever to clean space on Mac, such as "Application Cache", and the detailed junk data are displayed on the right. Finally click the Clean button.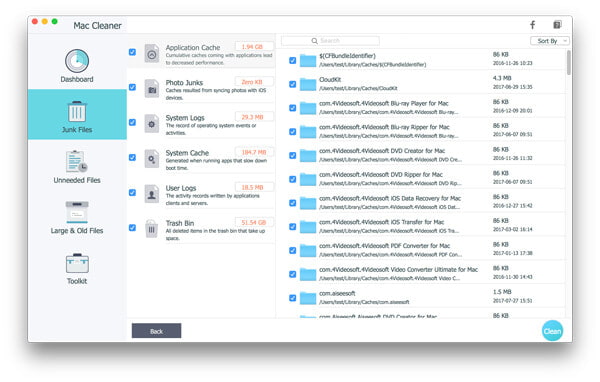 Step 5Cleaning done
Quickly, all selected junk files are deleted from your Mac. That's it. You've manage to clear some space on Mac.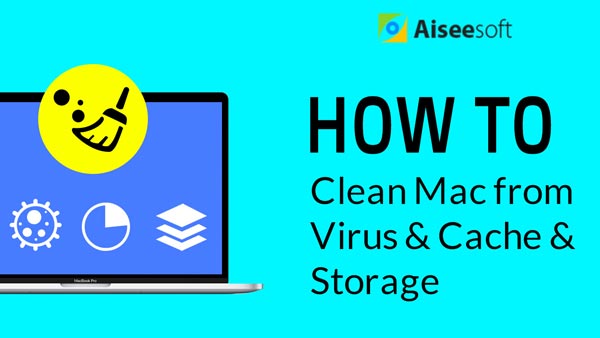 Tip 2: Manage Mac Storage Space Directly (macOS Sierra)
Want to clear space on Mac directly? Here we are going to show you this method, but it only applies to macOS Sierra. If you are able to adopt this tip, you can go the the Tip 1.
Step 1Click the Manage button in the overview window.

Step 2You'll see some recommendations for you to manage storage space on Mac.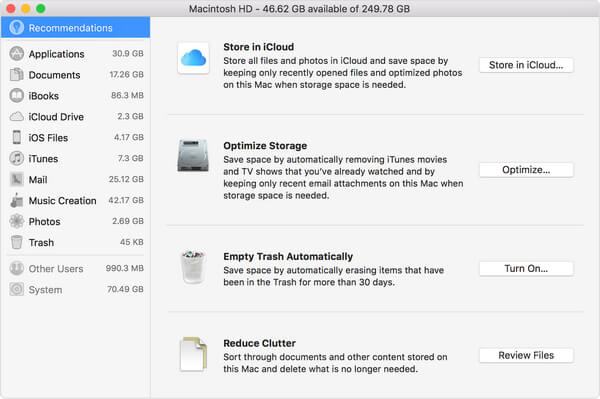 Store in iCloud

Store in iCloud saves all files in iCloud, including files from Desktop and Documents in iCloud Drive as well as photos and videos in iCloud Photo Library. As long as storage space is needed, only the recent files you opened are kept on Mac, so that you are able to easily work offline. Files that are saved only in the cloud will show a download icon, so that you can double click it to get the original file. All original, full-resolution photos and videos are saved in iCloud Photo Library. As long as storage space is needed, only optimized photos are stored on your Mac. To download the original photo or video, just download and get it. When you store files in iCloud, it can efficiently optimize storage space on Mac.
Optimize Storage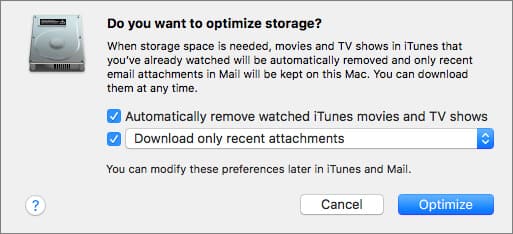 Click Optimize Storage button, watched iTunes movies and TV shows will be automatically removed. When storage space is needed, iTunes movies or TV shows you watched are deleted from your Mac to free up space. But you can click the download button to retrieve it.
Download only recent attachments. Choose this, your Mail will only download the recent attachments you received.
Never automatically download any email attachments. Mail downloads an attachment only when you open the email or attachment, or save the attachment to your Mac.
Empty Trash Automatically
Empty Trash Automatically permanently deletes files that have been removed to the Trash over 30 days. Click Turn On button, and confirm to dot it.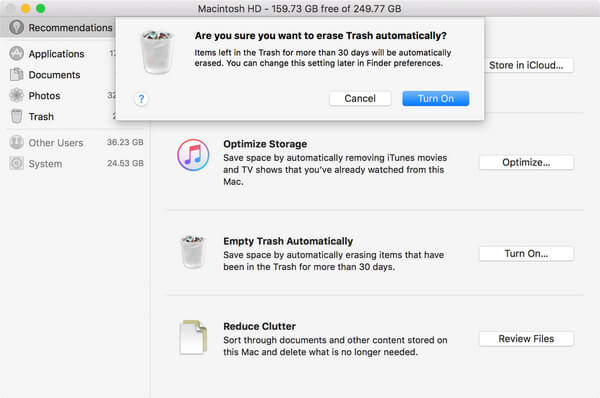 Reduce Clutter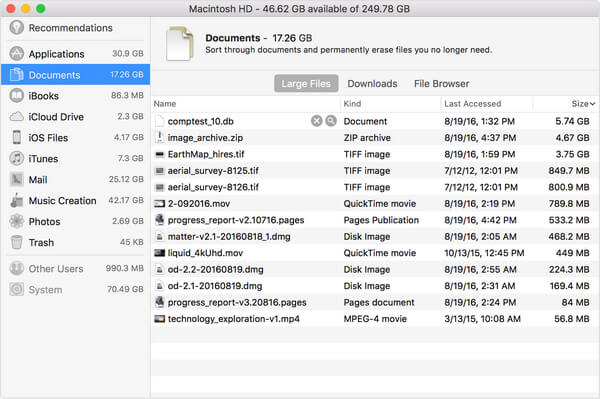 Reduce Clutter helps you know large files and unneeded files. Click the Review Files button, then select any file category in the sidebar, like Applications, Documents, GarageBand, iOS Files, iTunes, Mail, Music Creation, Photos, Trash, etc.
Some categories enables you to delete files directly. Choose the file name, and then click the x button to permanently remove the file.
Other categories show the total storage space used by the files in each app. You can then open the app and decide whether to delete files from within it.
Note: As for the other modules like "Unneeded Files" and "Large & Old Files", steps of them are the same.
Mac Cleaner should be a perfect choice to clean your Mac and free up storage space. Don't hesitate. Download and install Mac Cleaner on your Mac.