How to Clear Cache on Mac (MacBook/iMac/Mac Pro/mini)
Along with the daily usage of Mac, various caches will be piled up in the background. Cache is used to avoid recreating or re-downloading some information for the operating of system and apps. It can bring you a better user experience, especially when you browse on Safari and Chrome.
However, over time caches become bigger and bigger and will start slowing your Mac instead of making it work faster. You need to empty cache on Mac periodically.
Here comes the question, how to clear cache on Mac? How to delete Safari and Chrome cache on Mac? In this post, we will show you 3 ways to empty browser cache files on Mac. If you don't know how to do it, you can keep reading to find the effective methods.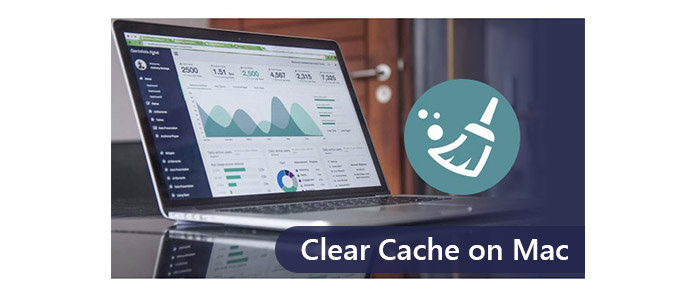 How to Clear Cache on Mac
Method 1: Shortcut to clear cached on Mac automatically
Mac Cleaner is a free and professional Mac data management tool to help you remove useless cache data and history quickly and safely. It can also help you to delete unneeded files and large and old files.
Step 1Download and install Mac Cleaner on your Mac and launch it. On the main interface, you can check the system status of your Mac.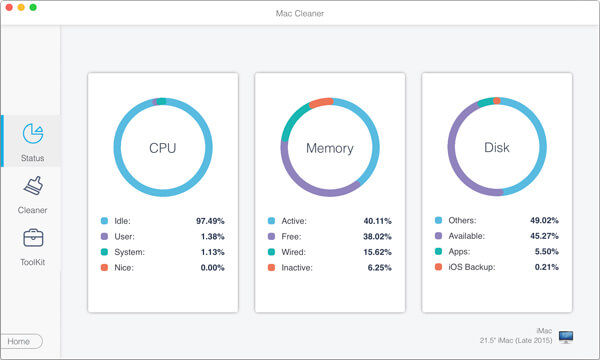 Step 2Click "Junk Files" on the left sidebar and click "Scan" to let Mac Cleaner scan all useless cache files and logs in seconds.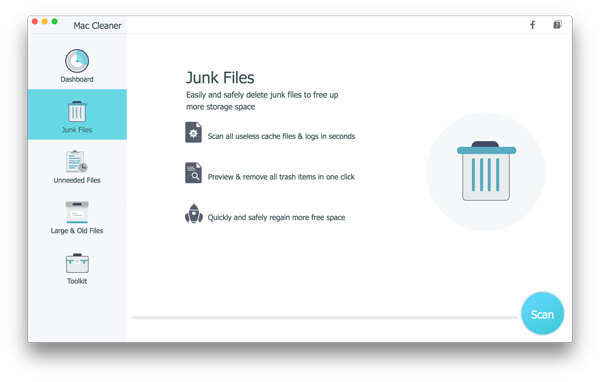 Step 3Preview the junk files like application cache, photo junks, system logs, system cache, etc. and its related detail junk files after scanning. Choose all or some items you want to clear up. Then click the "Clean" button and all the cached, history and cookies on your Mac has been cleared up in seconds.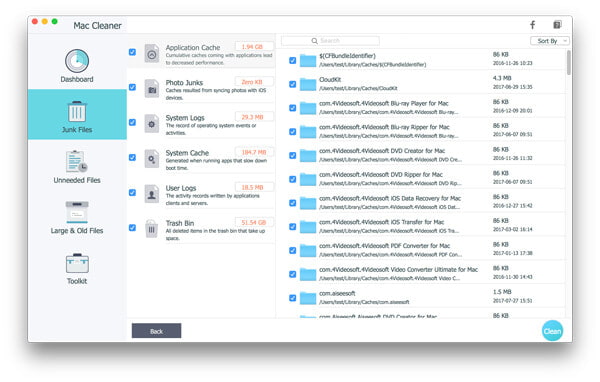 Don't Miss: How to clear app cache on iPad.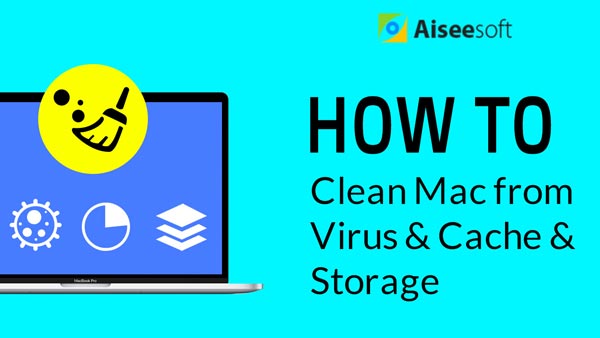 Method 2. How to clear cache on Mac manually
If you want to clear user cache and system cache on Mac, you can take the following guide.
Step 1Open "Finder" app on Mac and select "Go to Folder" in the "Go" menu.
Step 2Type in "/Library/Caches" and hit "Enter" key to proceed to this folder.
Step 3Enter each of the folders and clean up cache files.
Step 4Type in "~/Library/Caches" and hit "Enter" key to clean up cache on Mac.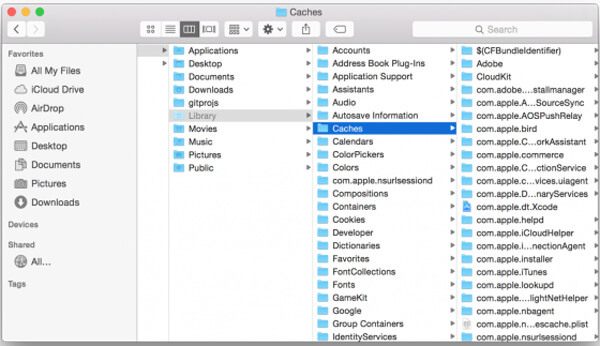 After that, you should navigate to "Trash" and empty the folder. To do that, you can control-click on the "Trash" icon and choose "Empty Trash." Then the cache files on Mac will be deleted. Of course, you cannot clear most of folders in Caches with this method and you have no idea how much space they take and if those files can be deleted without app or system crash or freeze.
In such situation, the deleted cache will go to Trash, and can be recovered with some data recovery software. So we will recommend you the method 1 to make clear cache on Mac permanently.
Method 3: How to delete cache on Safari/Chrome/Firefox
1. Clear Safari cache on Mac
Launch Safari browser on your Mac. Then Click "Preferences" > "Advanced" to make "Develop" show in the upper menu bar. In the drop-down menu of "Develop", select "Empty Caches". Then the safari cached will be cleared up on your Mac. Just make sure to close or quit the browser and restart it after clearing cache.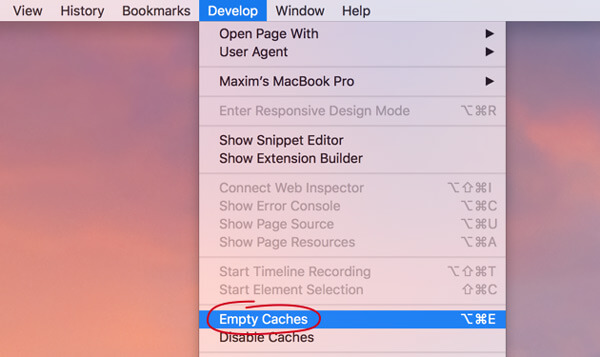 You can also click "Preferences" on Safari menu, choose "Privacy" on the pop-up window and then click "Manage Website Data...". Click "Remove All" and then "Remove Now" to clear all your Safari cache and cookies.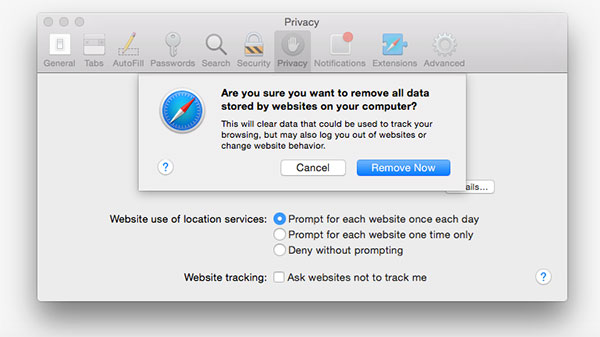 2. Clear Chrome cache on Mac
Open Chrome browser and click the "Chrome" menu icon on the toolbar. Then click "More Tools" > "Clear browsing data". Choose the time range in the drop-down menu of "Data" and mark "Cookies and other site and plug-in data" and "Cached images and files".
Click "Clear Browsing Data" to empty cache on Chrome.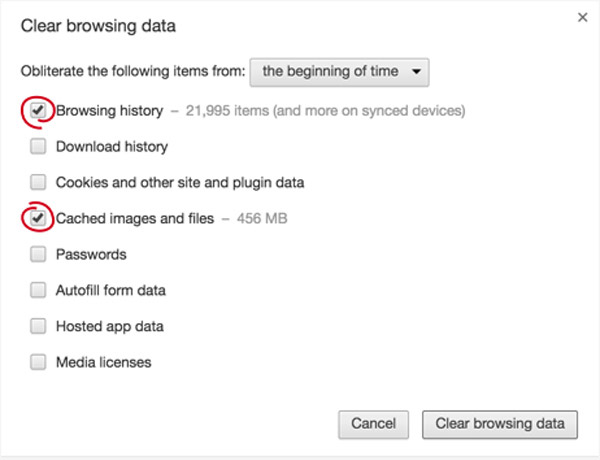 3. Clear Firefox cache on Mac
Run Firefox click "Firefox" option in the menu bar. Then click on "Preferences" > "Privacy". Under the History heading, Click "clear your recent history" under the "History" heading. Mark "Cache" checkbox and then click "Clear Now" to delete cache on Firefox.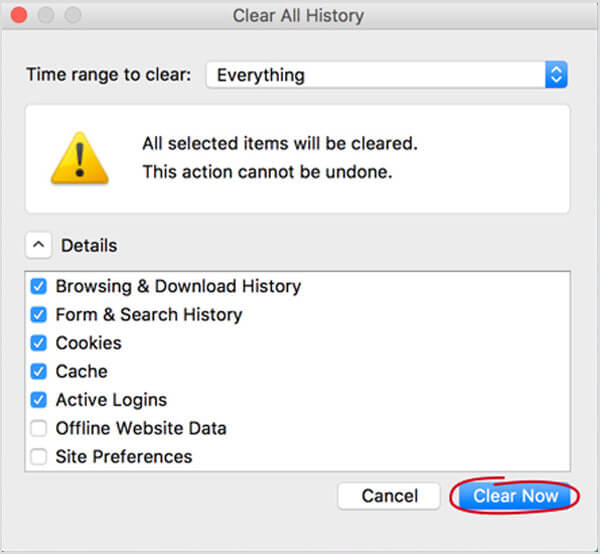 In this post, we mainly talk about how to clear cache on Mac. We show you the guide to empty cache files on Safari, Chrome and Firefox. Moreover, we tell you a simple way to empty cache on Mac manually and with the professional Mac clear up software. Hope you can delete the unnecessary data and make your Mac work faster after reading this article.